Potato Facts
Potato facts and general information about potatoes.
Kids Cooking Activities Teaching Materials
Make teaching easier with our activities and recipes compiled in theme sets and books with an easy to read format
Perfect for teaching!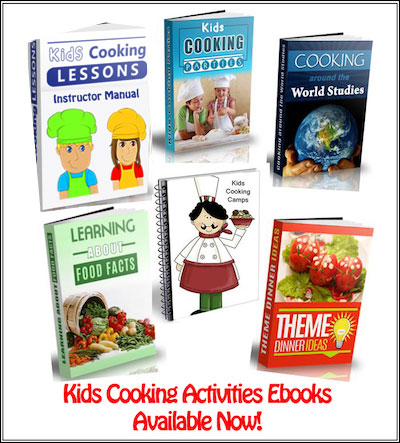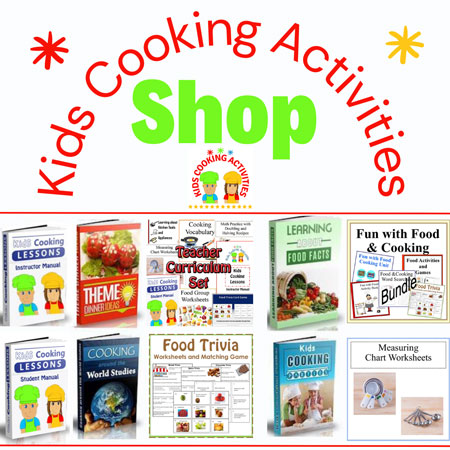 ~This post may contain affiliate links and I'll earn a small commission if you shop through them. There is no extra cost to you. This is how we help support our family and continue to bring you amazing content. To learn more see the
affiliates disclosure here.
~
Potatoes are Available:
Available all year
How Do Potatoes Grow:
Potatoes grow underground and are dug up in autumn time.
What to Look for When Buying Potatoes:
Choose potatoes that are firm, heavy and with no cuts or cracks. There are different varieties available to choose from including red potatoes, baking potatoes and Russet potatoes.
Potato Storage Tips:
Store in a cool dark and dry place.
How to Cook with Potatoes:
Peel and cut in cubes or slices. Boil, fry, bake as is for a baked potato. Make potato salad, mashed potatoes and side dishes.
Potato Nutrition Facts:
Potatoes are a good source of carbohydrates. 1/2 cup potato, cooked is one serving. They are full of Vitamin C and Vitamin B6. Potatoes also have fiber in them.
Potato Recipes:
Baked Seasoned Fries
1/4 Cup Parmesan cheese
1 Tablespoon olive oil
1 Tablespoon basil
1/2 teaspoon seasoning salt
4 medium potatoes, cut in fries
Place potato fries on cookie sheet. Toss oil and seasonings together and toss over potato fries. Bake 425 for 15-20 minutes.
Easy Baked Potato Chips
Potato Wedges
Potatoes
Olive Oil
Pepper
Sea Salt

Cut potatoes like apples slices, or wedges. Sprinkle salt and pepper, and generously brush with olive oil. Put pan on stove (preferably nonstick) and toss in all potato slices. Fry on high heat for approx. 5 minutes, or until reaching crisp golden color. Stir regularly to ensure all sides are fried evenly. Put on low heat and pour a small amount of olive oil. Turn off stove in 3 minutes.
More Potato Recipes
How to Make Mashed Potatoes
How to Make Twice Baked Potatoes
Potato Salad Recipe
Potato Soup Recipes
Potato Pancakes
Potato Skins
Spicy Potato Skins
Potato Gnocchi
Fanned Potatoes
Potato Nests
Kids Cooking Video: Garlic Mashed Potatoes
Share your food facts and recipes
Do you have a food facts or recipe to share?
Reader's Submitted Recipes
Click below to see contributions from other visitors to this page...

---
Related Food Facts Pages:
~
Apple
, ~
Apricot
, ~
Avocado
, ~
Banana
, ~
Berry
, ~
Cherry
, ~
Coconut
, ~
Cranberry
, ~
Dates
, ~
Figs
, ~
Grapefruit
, ~
Grapes
, ~
Kiwi
, ~
Lemon and Limes
, ~
Mango
, ~
Melon
, ~
Orange
, ~
Papaya
, ~
Peach
, ~
Pear
, ~
Pineapple
, ~
Plums
, ~
Tomato
, ~
Artichoke
, ~
Asparagus
, ~
Beets
, ~
Broccoli
, ~
Brussels Sprouts
, ~
Cabbage
, ~
Carrot
, ~
Cauliflower
, ~
Celery
, ~
Corn,
~
Cucumber
, ~
Eggplant
, ~
Garlic
, ~
Green Beans
, ~
Kale
, ~
Lettuce/Salad Greens,
~
Mushrooms,
~
Okra
, ~
Onion
, ~
Parsnip,
~
Peas,green
, ~
Peppers,
~
Potato
, ~
Radish
, ~
Rhubarb
, ~
Spinach
, ~
Summer Squash and Zucchini
, ~
Sweet Potato
, ~
Turnip
, ~
Winter Squash, including Pumpkins
, ~
Beans
, ~
Eggs
, ~
Nuts
, ~
Seeds
, ~
Meat
, ~
Dairy
, ~
Grains
---
Follow Kids Cooking Activities