Students making salsa
by Ms. Andrea Turner & Students
(Quincy, IL)

Students hard at work in the kitchen!

Hacemos Salsa!

Food Items needed:
• 1 lb tomatoes
• 1 can green chilies (mild)
• ½ green pepper
• ½ bunch of cilantro
• ½ bag frozen corn
• 1 small onion
• 1 can black beans (PROTEIN!)
• Juice of ½ lime
• Garlic powder- to taste
• ¼ tsp salt
• ¼ tsp black pepper
• ¼ tsp chili powder
Tortilla Chips!

Kitchen Items needed:
• 1 large bowl
• 1 cutting board
• 5 small bowls
• 1 sharp knife
• 1 Small plate for each group member


1. Wash tomatoes, green pepper, cilantro, and lime in a sink full of COLD water.

2. Two group members will need to pull the leaves off of the cilantro and place in a small bowl.

3. 1 group member will open the bag of frozen corn and pour ½ into a small bowl. Fill the bowl with cold water to allow the corn to thaw out, then DRAIN the water out.

4. 1 group member will use the can opener to open both the black beans and the green chilies. Drain both cans into the garbage disposal.

5. Next very carefully chop the tomatoes, green peppers, onion, and the lime. Each group member may be allowed to try this part.

6. Once corn is thawed out, put it into Large bowl.

7. Add beans.

8. Add green chilies.

9. Add cilantro, green pepper, and onion.

10.Finally add the tomatoes and mix together.

NOW FOR THE FUN PART!

Your group will season your salsa according to your own taste.

• Add salt, pepper, garlic powder, lime juice and chili powder according to your group's taste. (DO NOT ADD MORE THAN 1 tsp salt!)
• Each group member may taste the salsa today but ONLY a small taste!

Once each group has finished perfecting their special recipe…. we will have a TASTE TEST! The taste test will be on FRIDAY during life skills! (Our salsa needs to sit in the refrigerator over night because it will taste better the next day.)
The judges will be Mrs. Allen, Mr. Martin, and Ms. Turner. Each member of the winning group will get 5 bucks towards shop-a-lot OR a soda !!!

Join in and write your own page! It's easy to do. How? Simply click here to return to Food Facts.
Kids Cooking Activities Teaching Materials
Make teaching easier with our activities and recipes compiled in theme sets and books with an easy to read format
Perfect for teaching!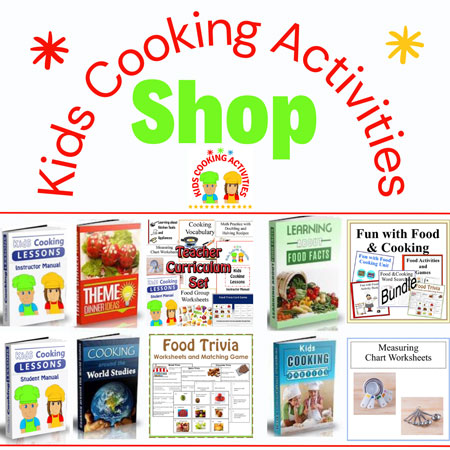 ~This post may contain affiliate links and I'll earn a small commission if you shop through them. There is no extra cost to you. This is how we help support our family and continue to bring you amazing content. To learn more see the
affiliates disclosure here.
~
Follow Kids Cooking Activities