Vegetable Kabobs
Veggie kabobs are fun, colorful and delicious and healthy. They are also a great way to get your kids to eat more veggies because they come on a stick. I don't know why kids like to eat things on a stick but they do so what better way to get some veggies in them.

There are a variety of veggies you can use for veggie kabobs, so choose your favorites, or veggies you've been trying to get your kids to eat!
Some suggestions are:
Tomatoes: cut into quarters
Cucumbers: sliced into one inch thick pieces
Mushrooms: whole
Onions: cut into quarters
Peppers, green, red or yellow: Slice the pepper into quarters and remove the seeds
Zucchini squash: sliced into one inch thick pieces
Yellow squash: sliced into one inch thick pieces
Broccoli: Use pieces big enough to stay on the stick
Cauliflower: Again, you will need to use pieces that won't break when you put them on the stick.
Carrots: baby carrots work great or slice regular size carrots into one inch size pieces

Put the veggies on the stick by inserting the stick in the center. For crispier veggies you will need to be more careful when inserting the stick into it so they won't break. Alternate veggies as you place them on the sticks. You can have any variety of veggies you like in any order you like. I like to put a piece of onion in between each veggie piece for flavor, but that's me, I like onions. Some like a piece of pepper between each, which is good too.

Use your imagination; use a variety of color like green, red and orange. This will entice your kids even more. Brush each veggie with olive oil before placing on the grill and be sure to leave enough room on the stick for handling! When grilling, turn frequently to prevent burning. I prefer a little burnt flavor around the edges, but again, that's me!

Grill them to your families taste. Veggie kabobs are a great side dish for any meat including steak, chicken and hamburgers; they brighten up a plate and are full of flavor and yummy healthiness.
Join in and write your own page! It's easy to do. How? Simply click here to return to Submit your kids recipe.
Kids Cooking Activities Teaching Materials
Make teaching easier with our activities and recipes compiled in theme sets and books with an easy to read format
Perfect for teaching!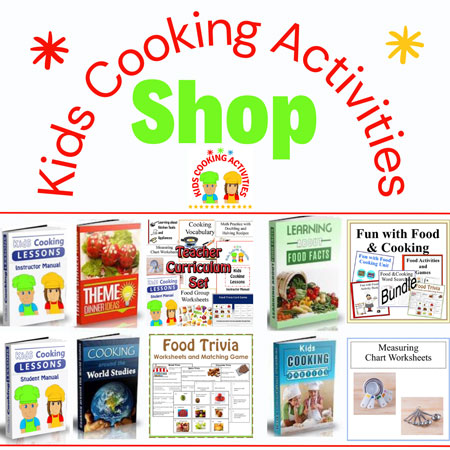 ~This post may contain affiliate links and I'll earn a small commission if you shop through them. There is no extra cost to you. This is how we help support our family and continue to bring you amazing content. To learn more see the
affiliates disclosure here.
~
Follow Kids Cooking Activities