Home

›
Non Reader Recipes
Non Reader Recipes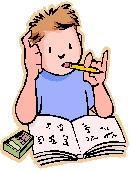 Whether you call them non reader recipes, rebus recipes, or picture recipes we have what you are looking for. If your kids aren't old enough to read yet they most likely shouldn't be cooking on the stove, using knives or kitchen appliances. This limits your options of what your non reader can create in the kitchen.
They should always have an adult present to supervise but if you want to give them a chance to follow a recipe and create something on their own, here are a few recipes they can "read" that you can download.
A great idea is to print off the recipes and put them in sheet protectors. Place pages in a three ring binder and it can be your kids very own cookbook.
**Please note some recipes may require an adults prep work (cutting fruit or cooking chicken) before they can start with the recipe themselves.
Non Reader Picture Recipes
Please note: you must have Adobe Reader to open these recipes. These picture recipes will open in a new window and may take several seconds to download.
Blooming Flowers picture recipe

Cat Eyes picture recipe

Chicken Salad picture recipe

Cucumber Stacks picture recipe

Easy simple snack mix picture recipe

Fruit Dip picture recipe

Pudding Pops picture recipe

Triple Snack Kabob picture Recipe

Yummy Sunflower picture recipe
You are AMAZING. Thank you for putting together the recipes for non-readers. I've been looking for something like this to use with my kids for a long time. Thanks for putting the time in to put these together and then post them for others to use.
Jessica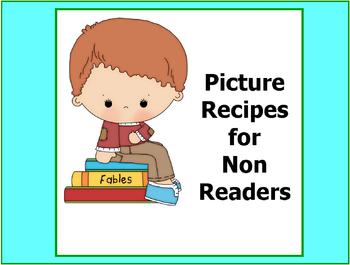 20 picture recipes for non readers ebook
Ideas to make your own recipes for non-readers
Find simple recipes your kids will or do enjoy making. Then make your own non reader recipes with any of the following ideas:
Cut out pictures from magazines
Print off clip art pictures on your computer
Take actual pictures of ingredients
More Preschool Recipe Ideas
Check out our
Favorite Preschool Snack Recipes.

Easy No Bake Recipes
Would you like more recipes to print off to add to your collection?
Here are some kids free recipe cards.

Fun with food worksheets