Chocolate Caramel Apples
These apples are a lot of fun to make. The variety of combinations you can come up with make it even more of a great activity for kids.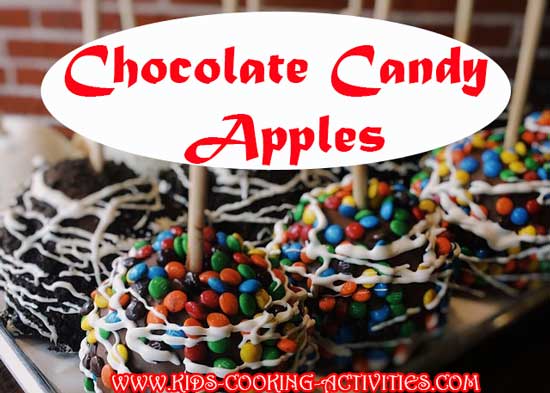 Kids Cooking Activities Teaching Materials
Make teaching easier with our activities and recipes compiled in theme sets and books with an easy to read format
Perfect for teaching!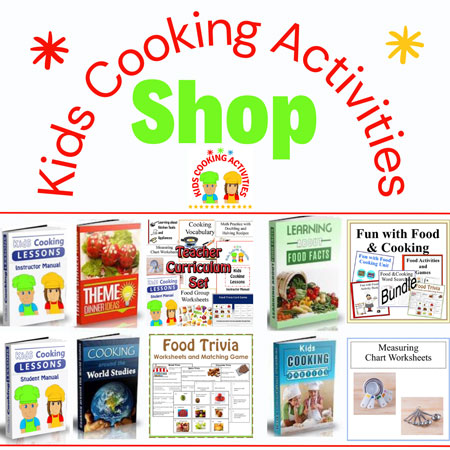 ~This post may contain affiliate links and I'll earn a small commission if you shop through them. There is no extra cost to you. This is how we help support our family and continue to bring you amazing content. To learn more see the
affiliates disclosure here.
~
Chocolate Caramel Apples Directions
Ingredients
: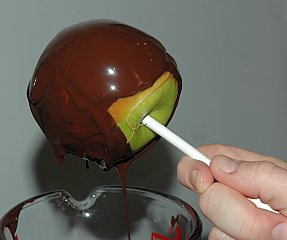 4 cold apples washed and dried well
4 sucker sticks
Place sticks into apples and place on a sheet of wax paper. Prepare caramel layer.
Caramel Layer:
1 pkg. caramels
2 Tablespoons water or milk
Place unwrapped caramels and milk in a measuring cup. Using a measuring cup that the apple can fit in, will make it easier to cover the apple with caramel. Heat caramel for 30 seconds in the microwave.
Stir and continue to heat 1 more minute until caramel is completely melted. Dip apple into caramel swirling around to cover. Place on sheet of wax paper. Continue with all apples. Now prepare chocolate layer.

Chocolate Layer:

1/2 Cup chocolate chips
2 teaspoons shortening
In a measuring cup, add chocolate chips and shortening. Heat 30 seconds in a microwave. Stir and continue to heat until chocolate is melted. Dip apple in chocolate. Immediately roll in your toppings. Place on wax paper. Allow to set. You can store these in the fridge for several days wrapped up in plastic wrap.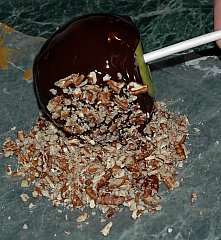 Topping Ideas:
Chopped pecans or peanuts
Crushed Oreo cookies or other chocolate cookies
Chopped graham crackers
Sprinkles
Toffee bits
Mini M&Ms
Melted white or milk chocolate for drizzling
See more topping ideas in our list below.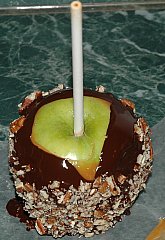 Cut your chocolate caramel apples into slices so it's easier to eat! Or cut in slices first then dip them. Serve immediately.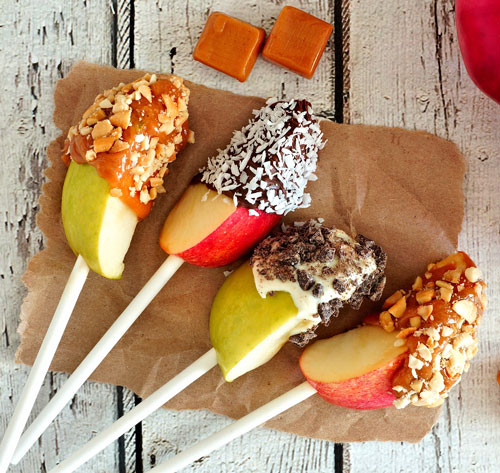 Apple Nachos
This recipe makes a great way to serve your caramel apples at a party.
Ingredients:
apples
caramel sauce
melted chocolate
chocolate chips
chopped nuts
Directions:
Cut apples into slices and lined in a serving dish. Drizzle with caramel sauce. Then drizzle with chocolate sauce. Sprinkle top with nuts and chocolate chips. Let everyone take out a apple slice with all the toppings, like they would nachos.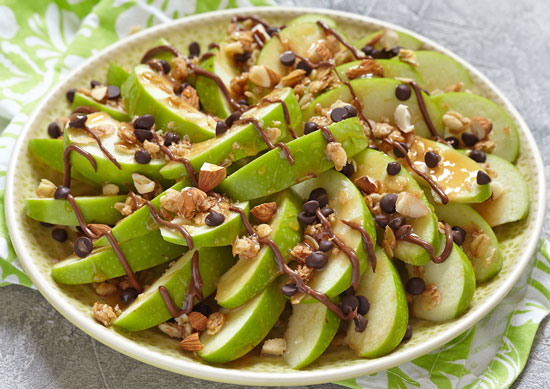 Easy Caramel Apples Recipe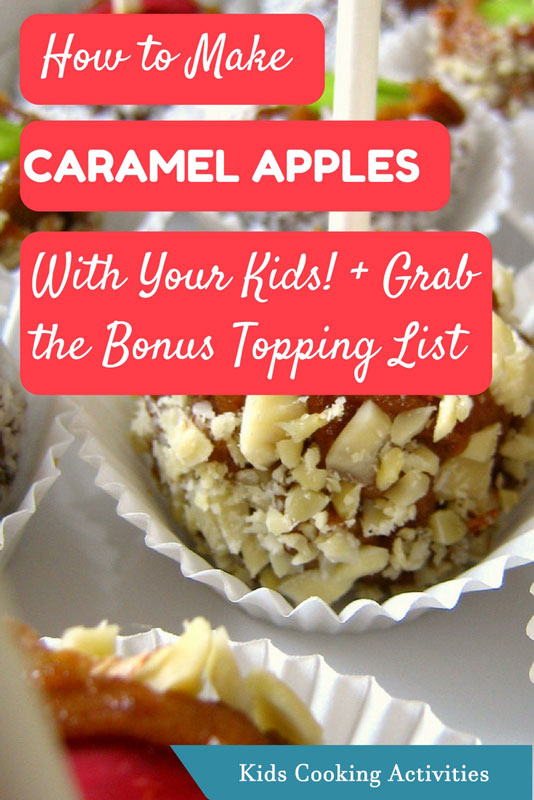 Ingredients
6 apples - your favorite
1 (14 oz) pkg caramels
A little bit of milk
6 Popsicle sticks
Wax Paper
Cookie Sheet
Directions
Line a cookie sheet with wax paper. Spray the wax paper with cooking spray. Stick the Popsicle sticks into the apples and set on the wax paper. Next, get out a knife that you can use to spread the caramel sauce on the apples. Unwrap all of the caramel pieces and drop them in a heavy saucepan. Then, add the milk.
Turn a burner on medium-low heat and stir. Stir constantly or you will burn the caramel. Once everything is melted and all blended together, remove the pan from the heat. Then, start coating the apples and placing them back onto the wax paper. If you are adding any toppings, sprinkle the toppings on at this point before the caramel hardens. See topping ideas below.
Getting Younger Kids Involved
You might be wondering what exactly kids can do to get involved in this project. Actually, they can do quite a bit.
Have them get out the wax paper
Have the kids get out the cookie sheet
Have the kids open up the caramels, unwrap them and toss them into the saucepan
Stick the Popsicle sticks into the apples (this is probably only if your kids are a little older because it does take some strength to push those into the apples.)
They can stir the sauce
They can chop up any toppings for you that you might be using
They can wash the dishes
The above list are just a few simple ways that you can get your kids involved in making the apples. They will feel like they've been so helpful and it's a fun way that you can spend time in the kitchen with your kids.
Caramel Apple Topping List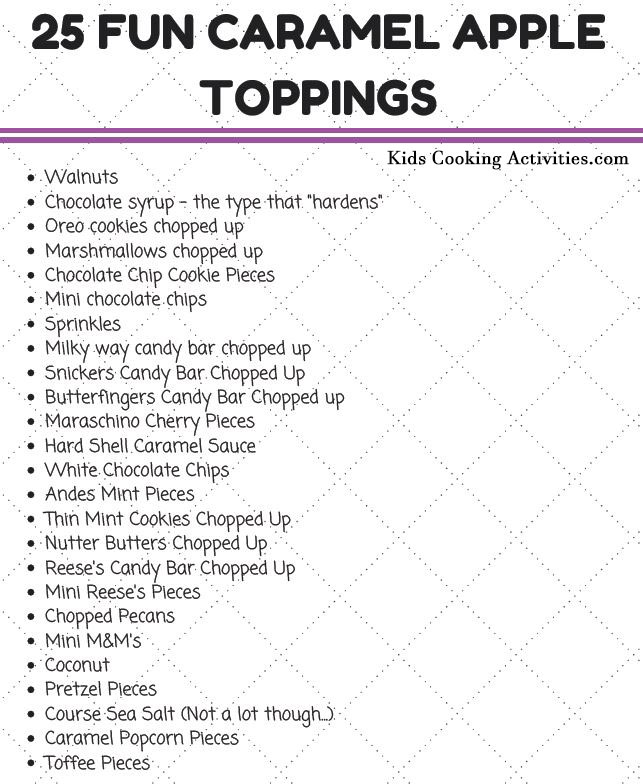 Follow Kids Cooking Activities