Apple Recipes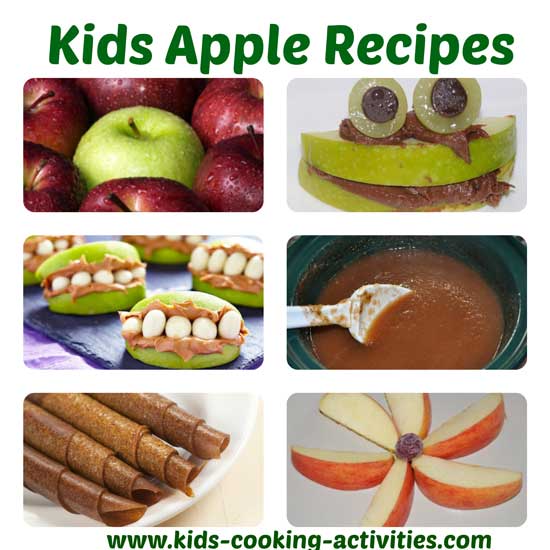 Apple recipes and autumn time go hand and hand. In September school's decorate their classrooms in apples, families go to apple orchards and many families bake apple pie. If you are lucky enough to have an apple tree at your house you are busy harvesting apples in September. Whether it is yellow, red or green, there are well over 20 different varieties of apples, which makes for a lot of apple recipes throughout the world!!
Kids Cooking Activities Teaching Materials
Make teaching easier with our activities and recipes compiled in theme sets and books with an easy to read format
Perfect for teaching!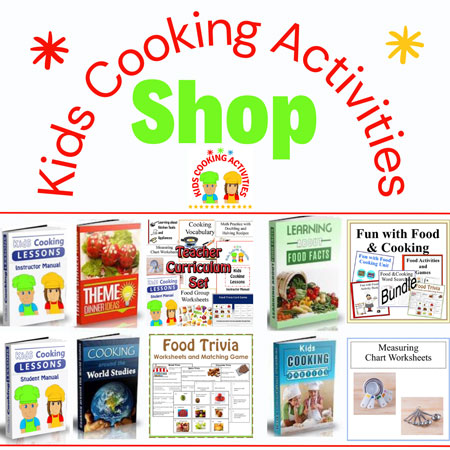 ~This post may contain affiliate links and I'll earn a small commission if you shop through them. There is no extra cost to you. This is how we help support our family and continue to bring you amazing content. To learn more see the
affiliates disclosure here.
~
Fun with Apple Recipes
Apple Turnover
This recipe is one the kids will love to put together but it has many steps. So if you have a younger chef break the steps into smaller tasks. For example, prepare the dough and the filling yourself, then call the kids in to help put the turnovers together.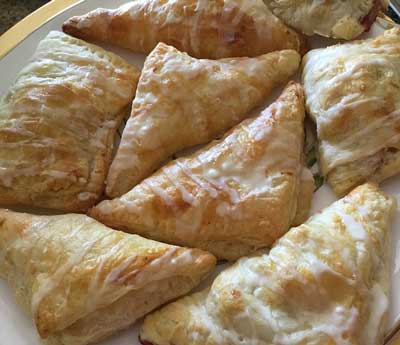 1 -8oz pkg. cream cheese, softened
¾ Cup butter or margarine, softened
1 egg, separated
3 Tablespoons cold water, divided
2 Cups flour
7 Cups thinly sliced peeled apples (about 6)
¾ Cup sugar
1 ½ teaspoons ground cinnamon
In a mixing bowl, mix cream cheese and butter together until smooth. Then separate egg yolk from egg white. Chill the egg white to use later. Beat egg yolk and 2 Tablespoons cold water into cream cheese mixture. Gradually beat in flour until well blended. Shape mixture into a ball and chill 1 hour. This will be the turnover dough.
In saucepan, toss apples with sugar and cinnamon. Bring to a boil. Reduce heat. Cover and simmer for 8-10 minutes until apples are tender. Roll pastry dough to 1/8 in. thickness; cut circles with a biscuit cutter. If you'd like bigger turnovers use a small bowl and cut out around the bowl. Top each circle with a tablespoon or more of apple mixture. Fold pastry over filling and press together with a fork.
In small bowl, whisk egg white and 1 tablespoon water. Brush over pastry and sprinkle with sugar. Place on greased cookie sheets and bake at 375 degrees for 18-20 minutes. Serve with ice cream, if desired.
Baked Apple Crisp in the Microwave
Find the apple crisp recipe here.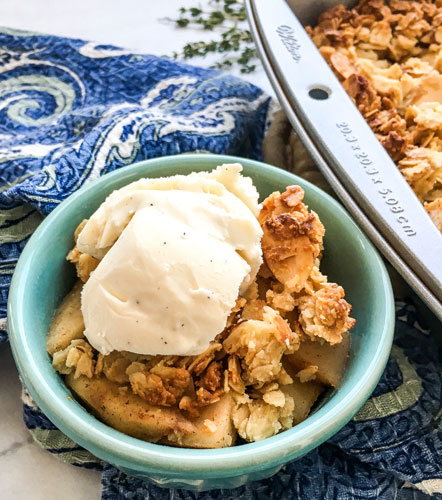 Apple Crisp
2 large baking apples, peeled, cored and sliced
1/3 Cup old-fashioned rolled oats
1/3 Cup firmly packed brown sugar
1/3 Cup all-purpose flour
1/2 teaspoon cinnamon
1/4 teaspoon nutmeg
1/4 Cup butter or margarine
Prepare apples by peeling, coring and slicing. Place in bottom of a small casserole dish. In mixing bowl add oats, sugar, flour, cinnamon, nutmeg and butter. Mix together until crumbly. You can use your hands to break up clumps. Bake at 375 degrees for 30 minutes.
Apple Bites
Apple Dumplings
Pie dough or crescent roll dough
6 small cooking apples
3 Tablespoons raisins
3 Tablespoons chopped nuts
1/2 Cup sugar
1 Cup apple juice or apple cider
1/2 Cup corn syrup
2 Tablespoons butter or stick margarine
1/4 teaspoon ground cinnamon
In mixing bowl combine raisins and nuts. Cut pie dough into squares large enough to wrap apple up in. (If using crescent roll dough push perforated edges and seal together. Then cut into squares.) Core apples and place on dough square. Stuff raisins and nut mixture into each apple. Wrap apples up joining each corner together. Place in baking dish.
Add sugar, apple juice, corn syrup, butter and cinnamon to a saucepan and boil several minutes. Pour over apples and bake in 350 degrees oven for 40 minutes until golden brown. Poke apples with a knife to see if they are tender.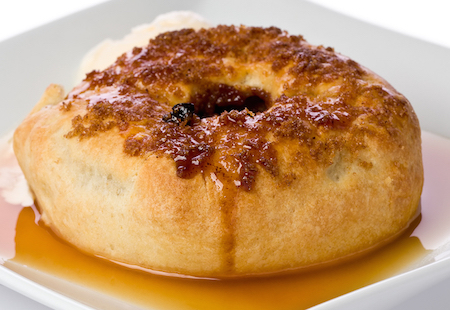 Apple Pie
Double layer pie crust
8 medium tart apples
1/2 Cup sugar
1/4 Cup all-purpose flour
1 teaspoon ground cinnamon
1/2 teaspoon ground nutmeg
¼ teaspoon salt
Peel, core and slice apples thin. In a bowl, stir sugar, flour, cinnamon, nutmeg and salt together and toss together with apples stirring to coat. Place in pie crust and top with another crust or use a crumb topping instead.
Apple Crumb Topping
¾ Cup brown sugar
¾ Cup flour
½ teaspoon nutmeg
1/3 Cup chilled butter, cut into pieces
Mix ingredients together until crumbly.
Pour apples in pie shell and top with crumb mixture. Bake at 400 degrees for 35 minutes.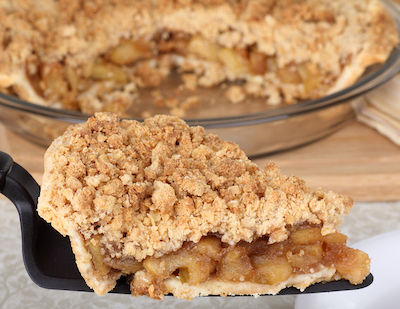 For extra fun use extra pie dough to cut out fun shapes with cookie cutters. Use these to decorate the top of your pie.*
Try this pie variation for
Apple Pizza.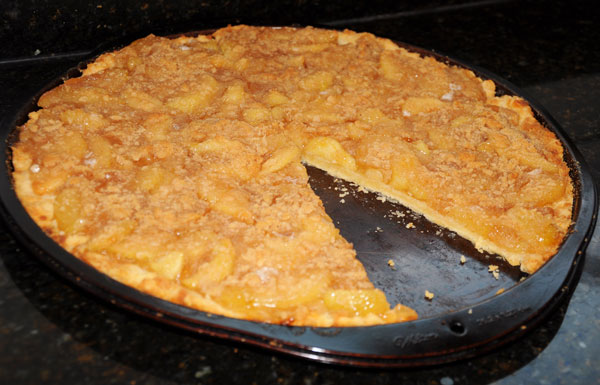 Apple Doughnuts
Learn how to make
apple slices into doughnuts!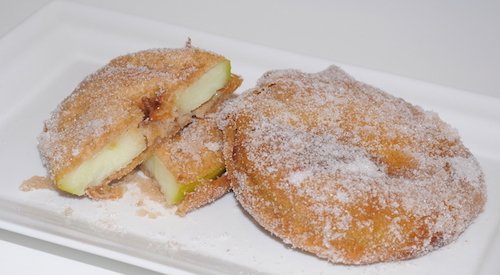 ---
Make teaching easier with our activities and recipes compiled in one easy to read format.
---
Easy Apple Recipes and Activities for Younger Kids

Waldorf Salad
4 Cups shredded iceberg lettuce, optional
2 red apples, diced
1 Tablespoon lemon juice
¼ Cup grapes, halved
½ Cup walnuts, chopped
2 stalks celery, sliced
½ Cup Plain yogurt, optional
If using lettuce shred and place in bowl. Set aside. Have adult dice apples. Pour lemon juice over apples so they won't turn brown. Add grapes, walnuts and celery to apples and stir together. Stir yogurt over top and mix together. Serve as is or mixed with lettuce.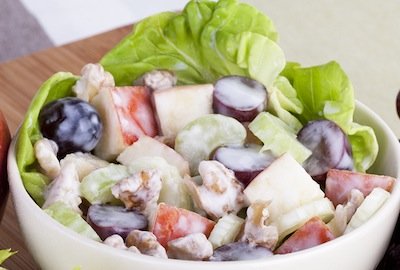 Applesauce in the Crock Pot
6 medium apples
1/3 Cup water
½ Cup sugar
¾ teaspoon cinnamon
Have adult peel and cut apples in chunks. Place in crock pot. Add water, sugar, and cinnamon to apples and stir together. Cover and cook on low 8 hours. If you want chunky applesauce leave as is. If you'd prefer smooth blend with a hand blender or pour into blender and blend until smooth.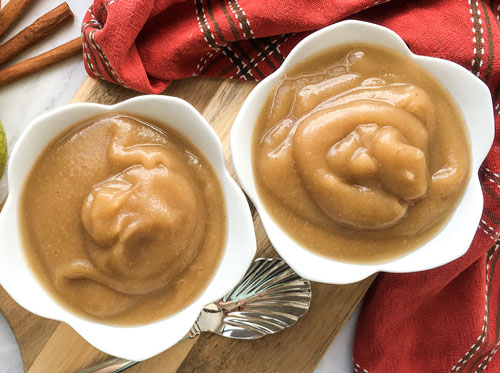 Apple Frog Activity
Apple Frogs
with our Assistant Chef Kids Cooking Lessons #2.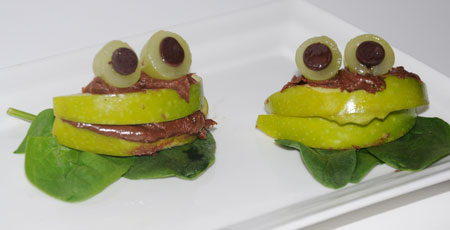 Apple Smiles
This is an apple recipe your kids are sure to love. Cut an apple into slices. (these are the lips) Have child spread peanut butter or cream cheese on apple slice. Place mini marshmallows or yogurt covered almonds (these are the teeth) on top of peanut butter and top with another apple slice.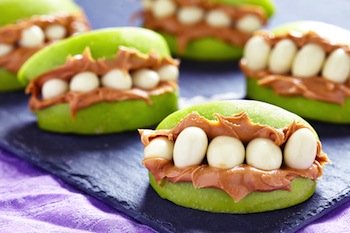 Stuffed Apple Recipe
Have adult core apple. Child can stuff middle with peanut butter and raisins. Then eat.
Homemade Apple Leather
Learn how to make
homemade apple fruit leather.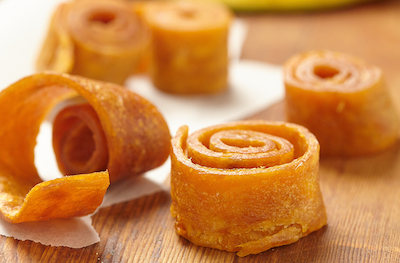 Check out these
chocolate caramel candy apples!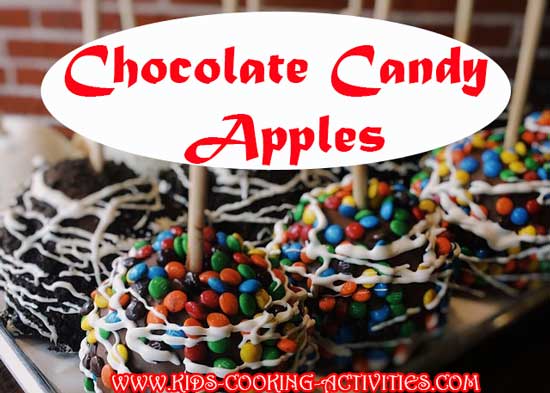 Apple Cider
2 quarts apple juice, if using apples, make 8 cups juice in juicer machine
1 teaspoon cloves
2 cinnamon sticks
1/4 Cup brown sugar
Combine ingredients in crock pot and cook on low 2-3 hours. This is great for cold autumn nights. **You can also add cinnamon heart candies for fun.
Apple Activities
Oh, What is That Delicious Smell?
This smell can often remind us of the holiday season but why not try it now when apples are in season. Not to mention this can be great fine motor skills for your kids.
Have your child completely fill the apple with whole cloves. Attach a string or ribbon and hang it up to enjoy the fragrance.
Kids Science Experiment: Apples
Have your child experiment with two plates of sliced apples. On one plate have them pour lemon juice on top and on the other use no lemon juice. Leave it to sit for 30 minutes and go back to see the results of their experiment.
Take a Field Trip to an Apple Orchard
Kids really enjoy seeing where food comes from. If you have an orchard or even a neighbor with an apple tree try and visit this apple season.
Apple Centerpiece
Core two red or green apples or one of each color. Place apples on top of each other in small serving plate, basket or pretty dish. You may need to use toothpicks to stick the two apples together. Insert a long candlestick through cored middle and enjoy a nice autumn time candle light dinner with your family.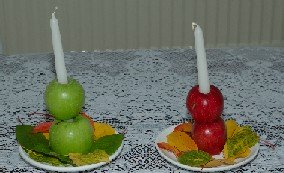 Learn about Apple Food Facts.
Kids Cooking Video: Apple Pie
Jump down to our reader's
favorite recipes with apples
.
More Apple Recipes
Fresh Apple Juice with Lemon
by Lovola, London
Ingredients
3 apples
1/2 lemon (optional)
How to Make Apple Juice
1. Wash the apples.
2. Remove their cores.
3. Cut the peel off the lemon.
4. Slice apples to fit your juicer.
5. Juice and Enjoy.
A lovely sweet drink. Great as is, or serve over ice with natural fizzy spring water for a summertime treat.
Easy Stuffed Apples
by Natalie, Canada
1 medium apple, cored and cut in half
1 Tbsp granola
1/2 tsp sugar
1/4 tsp cinnamon
1) Microwave the apple for about one minute on high. You want the apple to be firm on the outside and soft on the inside. Depending on the apple size and the power of your microwave, the timing will vary. Let cool until you can handle it comfortably.
2) Scoop out the soft part of the apple (about half of the flesh) and place in a bowl. Combine this with the other ingredients. Spoon back into the apples.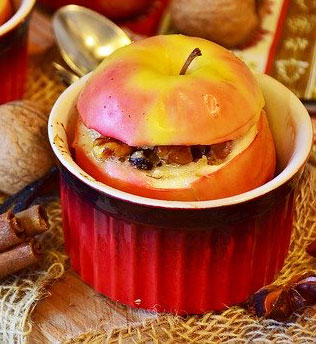 3) Enjoy!!!
Sugared Apple Circles
by Debbie
3 apples, cored and sliced
1/2 Cup brown sugar
2 Tablespoons butter
1 Tablespoons lemon peel, grated
1/4 teaspoon vanilla
In a saucepan, add brown sugar, butter, and lemon peel. Heat to a small boil. Add apple slices to pan. Stir to combine and continue to heat on low. Cook 10-15 minutes longer until apples are tender. Take off heat and add vanilla. Stir and serve with a scoop of ice cream on the side or by itself.
We hope you enjoy cooking this autumn season with these kid's apple recipes. More
Autumn Cooking Activities.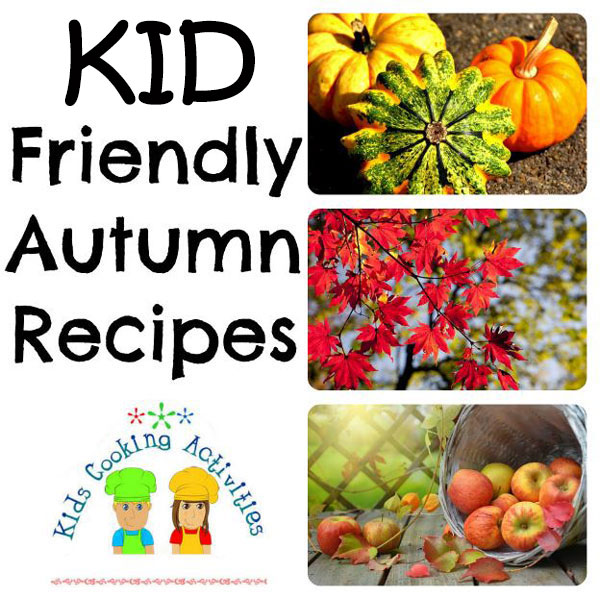 Make your own Apple Recipe page
Submit your favorite kids recipe
Do you have a favorite recipe your kids love to make? Or a recipe your kids ask you to make again and again? Share it with us!
Reader's Submitted Recipes
Click below to see contributions from other visitors to this page...

Making Homemade Apple Butter
Enjoy the season of apples with this recipe. Ingredients: 32 oz. jar applesauce 1 1/2 cups brown sugar 1/2 Cup vinegar 1/4 teaspoon cloves 1/2 teaspoon …
Pump-Apple Fried Critter-pies
Pump-Apple Fried Critter Pies prep time: 45 minutes Cooking time: 10 minutes cooling time: 1 hour Ingredients: Dough: 3-8.5ounce boxes of Jiffy …
---
Related Seasonal Recipe Pages:
~
School Lunches
, ~
Apples
, ~
Autumn Activities
, ~
Pumpkins
, ~
Kids Halloween Recipes
, ~
Halloween Recipe Ideas
, ~
Thanksgiving
, ~
Hanukkah Recipes
, ~
Kids Christmas cooking
, ~
Christmas Candy Recipes
, ~
Reindeer
, ~
Make Homemade Chocolates
, ~
Jar Mixes
, ~
Gift Basket Ideas
, ~
Homemade Fudge Recipes
, ~
Homemade Suckers
, ~
Christmas Cookie Recipes
, ~
Gingerbread House Recipes
, ~
Food Gift Ideas
, ~
Dough Ornament Recipes
, ~
Hot Cocoa
, ~
Happy New Year
, ~
Snowman Theme Recipes
, ~
Valentine's Day
, ~
Valentine Dessert Recipes
, ~
St. Patrick's Day
, ~
April Fool's Day Recipes
, ~
Passover Recipes
, ~
Kids Easter Recipes
, ~
Sugar Eggs Recipe
, ~
Resurrection Cookies Recipe
, ~
Italian Easter Bread
, ~
Russian Easter Bread Recipe
, ~
Earth Day
, ~
Cinco de Mayo, May 5
, ~
Mother's Day Recipes
, ~
Father's Day Recipes
, ~
Summer Cooking
, ~
Kid's Campfire Cooking Recipes
, ~
Dutch Oven Cooking for Kids
, ~
4th of July Recipes
, ~
Ice Cream Recipes
, ~
Popsicle Recipes
, ~
Simple Smoothie Recipes
, ~
Picnic Ideas and Recipes
, ~
Easy Grilling Recipes
, ~
Grow your own Garden
---
Follow Kids Cooking Activities