5 + Cooking in a Cup Recipes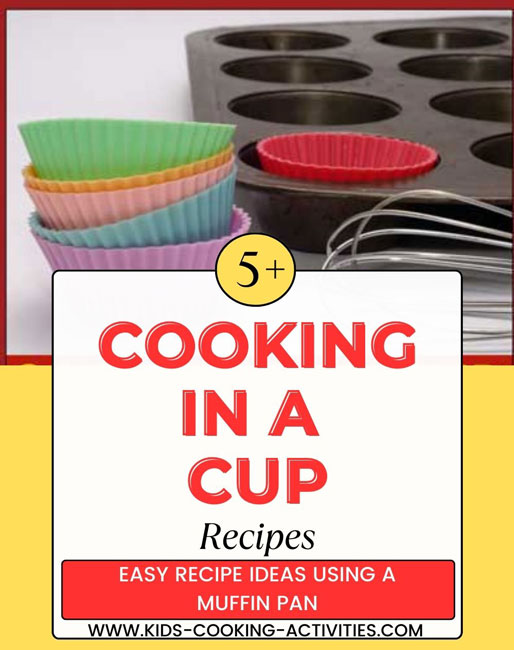 Cooking in muffin cups or silicone cups is a fun way for kids to create individual snacks, desserts or dinner items. We recommend spraying each muffin tin or cup and/or using muffin liners to prevent messy clean up. We've included 6 ideas on muffin tin cooking here including a breakfast, snack, lunch, dinner and desert recipe.
Check out our Kindle cookbook for more muffin tin recipes.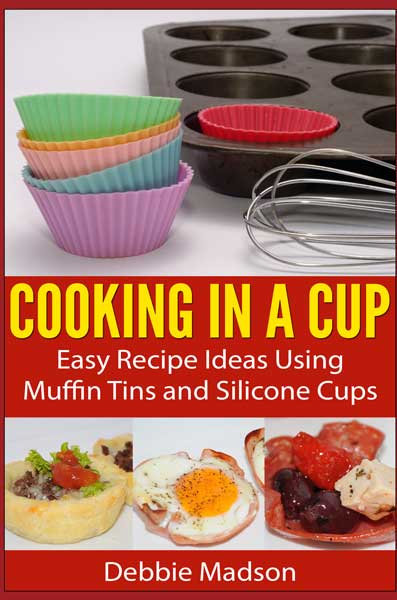 Cooking in a Cup
Breakfast in a Muffin Tin- Potato and Egg Cups
3 or 4 medium russet potatoes or frozen shredded potatoes
Salt and ground pepper
2 tbsp melted butter
12 large eggs
Preheat the oven to 205°C/400°F. Shred 3-4 potatoes. Brush a 12-hole muffin pan with melted butter use liners or silicone cups for easier clean up. Press 3 to 4 tablespoons of grated potato into each muffin hole, using your fingers to shape the potato into a nest. Brush lightly again with melted butter, then bake for 15 to 20 minutes. Allow the nests to cool and then crack an egg into each one. Sprinkle with salt and pepper and bake for about 15 minutes until the whites are set.
Makes 12 cups
Dinner in a Muffin Tin
Taco Pie
2 puff pastry sheets or pie crust, cut into circles
can refried beans
1 lb ground beef, cooked
1 Tablespoon taco seasoning mix
Shredded cheese
Shredded lettuce
2 chopped tomatoes
1 chopped avocado
Add ground beef and taco seasoning into a skillet, cook until no longer pink and drain. Preheat oven to 180° C/350°F. Brush muffin pans with olive oil. Line each pan with pastry. Press the pastry to fit neatly into the cups. Spoon refried beans into each cup and top with ground beef. Sprinkle with cheese and bake for 10 minutes, or until cheese melts. Sprinkle with lettuce, tomato, onions and/ or avocado.
Makes 12 pies.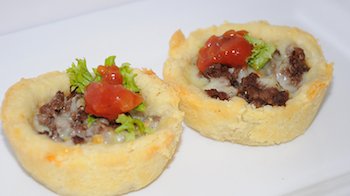 Spaghetti Pies
Mini Spaghetti Pies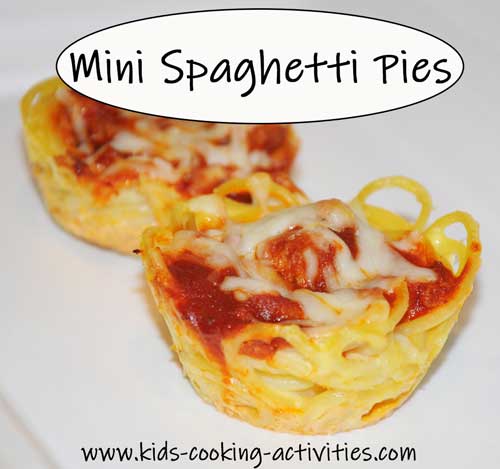 ---
Make teaching easier with our activities and recipes compiled in one easy to read format.
---
Lunch in a Cup
Along with the Taco pies and Spaghetti pies that can be used for lunch recipes try this pizza recipe:
Pizza Cups Recipe

Dessert in a Muffin Tin- Cherry Pies
Make mini cherry pies in muffin cups.
Cut pie dough into small circles. Press dough into muffin tins and add cherry pie filling. Bake at 350 degrees until crust is golden brown.
Snack in a Muffin Tin
Hummus Salad Cup
12 mini ready-made pie crusts
1 Cup hummus
1/2 Cup chopped tomato
1/2 Cup chopped cucumber
Preheat oven to 180° C/350°F. Brush muffin pans with oil and place one pie crust in each cup. Bake for 10 minutes or until pie crust is crisp and golden.
Hash Brown Cup
Ingredients
1 pound ground beef
2 Cups shredded cheddar cheese
4 eggs
2 lbs bag frozen diced hash browns *
Directions
Preheat oven to 180° C/350°F.
Add muffin liners to muffin pans.
Brown beef in pan and drain fat.
In a large bowl, mix beef, cheese, and eggs.
Add hash browns and stir to combine.
Use an ice-cream scoop to place spoonfuls of mixture into muffin pan, filling each muffin tin to the top.
Bake for 20-30 minutes until golden brown.
Makes 24 muffins.
Serve with ketchup if desired.
*You can use fresh potatoes but you'll need to chop them. Then boil them in a pan of water until soft.
Follow Kids Cooking Activities