Homemade Pizza Dough Recipes
You will see with these homemade pizza dough recipes, making fresh pizza at home can be delicious and easier than you think.
You can substitute white flour for wheat flour or half and half in these recipes. The important thing to remember is to start your pizza dough 1 -1 & 1/2 hour before you are ready to eat. Letting your dough sit for 1 hour will result in a much more airy and delicious crust.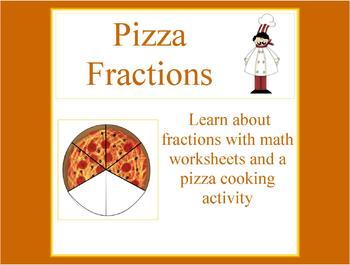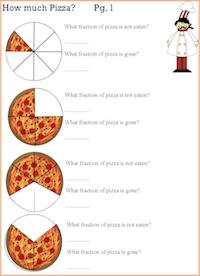 Pizza Fractions worksheets
Homemade Pizza Dough Recipes
Ingredients:
2 ½ Cups flour
1 teaspoon salt
1 Cup warm water
1 Tablespoon yeast
1 Tablespoon Italian seasoning or to taste, optional
1 Tablespoon oil
Directions:
In 1 cup warm water add yeast and a pinch of sugar. Set aside. In your mixing bowl add flour, salt, seasoning and oil. Blend together and pour in water mixture. Blend until dough forms a ball. Knead several minutes. Cover and let rise for 1 hour. *Your homemade pizza dough will turn out much better if you allow at least an hour.
Spread dough onto a pizza pan and top with sauce, mozzarella cheese and your favorite toppings. Bake at 425 degrees for 15-20 minutes until golden brown.
Pizza Topping Ideas:
Spaghetti sauce
Mozzarella cheese, shredded
Pepperoni slices
Ham slices or Canadian bacon
Pineapple chunks
Pepper slices
Sliced mushrooms
Sliced olives
Chopped fresh broccoli

Double your batch of pizza dough and freeze for another day. You can freeze the dough before rising just add to a Ziploc bag and place in the freezer. Unthaw the night before by placing in the fridge.

Another option for freezing pizza dough is to let the dough rise and then spread onto pizza pan. Flash freeze. Wrap pizza crust in saran wrap and tin foil. Freeze until ready to use.
Deep Dish Homemade Pizza Dough Recipes
3 Cups flour
2 Tablespoons oil
2 eggs
1 Cup warm water
1 teaspoon salt
1 Tablespoon yeast
pinch of sugar
In a measuring cup add warm water, yeast and pinch of sugar. Set aside. In a mixing bowl add flour, salt, oil and eggs. Blend together. Pour water mixture in your dough and allow to mix several minutes. Take out and knead several minutes. Let set for 1 hour.
Pat dough in 2- 8 or 9 inch circle pans and press up the edges. Add your sauce, cheese and pizza toppings. Bake at 425 degrees for 20-30 minutes until golden brown.
Top your pizza with a
great tomato sauce like this one
.
White Homemade Pizza Dough Recipes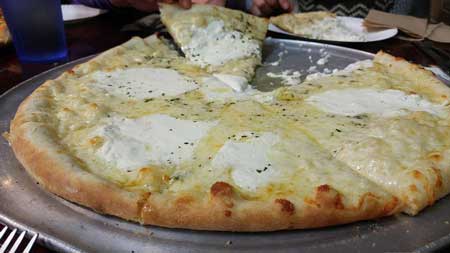 pizza dough
1 Cup cottage cheese
1/4 Cup Parmesan cheese
1 Cup mozzarella cheese
Garlic salt
Italian seasoning
Pizza toppings such as sliced tomatoes, chopped basil, chopped spinach, chopped parsley, sliced onions, sliced peppers
Lay your pizza crust on your pizza pan. Spread three cheeses over crust. Sprinkle with garlic salt, Italian seasoning or any other seasonings you'd like. Add your toppings. Bake at 425 degrees for 20-25 minutes until pizza is golden brown.
---
Make teaching easier with our activities and recipes compiled in one easy to read format.
---
What Else Can you Make with Pizza Dough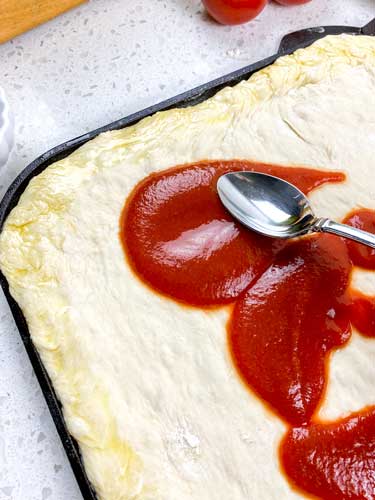 Not only are the types of pizza you can make endless, you can do a lot of different things with a homemade pizza dough recipe.
Family size pizza

Individual pizzas

- great for letting kids make their own
Calzones-Roll a small circle fill with your favorite toppings but leave out the sauce. Fold edge over to make a half moon shape. Seal edges and bake.
Stromboli -Make stromboli with your pizza dough.

Pizza bites-Roll out your pizza dough with a rolling pin. Cut out small squares top with slice of pepperoni and a chunk of mozzarella cheese. Roll up sealing edges. Brush with oil and bake.
Quick Pizza Crust Ideas
If you don't have time or want to make one of these homemade pizza crust recipes, try these options for pizza crusts.

English muffins, split in half

Bagels, split in half

French Bread, cut in half lengthwise

Pita bread

Ready made crust

Tortillas

See some of these
pizza recipe ideas.
Favorite Recipes
Taco Pizza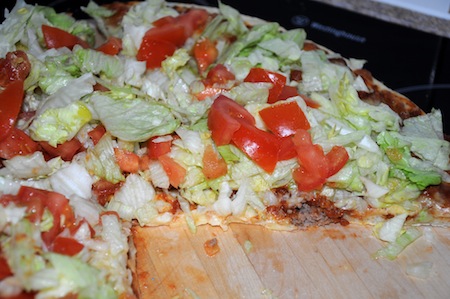 1 can or 1-2 Cups homemade refried beans
1/4 Cup tomato sauce
1 lb. ground hamburger
1-2 Tablespoons taco seasoning
pizza dough
cheddar cheese, shredded
Additional toppings to add:
chopped tomatoes
chopped olives
chopped lettuce
chopped onions
salsa or taco sauce
In a skillet brown your hamburger until no longer pink and drain. Add back to skillet and stir in refried beans. Blend together and stir in tomato sauce and taco seasoning. Taste if desired add more tomato sauce and/or taco seasoning.
Allow to cool slightly. Spread pizza dough into pizza pan. Spread taco beans mixture on bottom of crust. Sprinkle the top with cheddar cheese. Bake for 20 minutes or until crust is browned and cheese is melted.
Layer pizza with toppings your family likes such as chopped lettuce, chopped tomatoes, chopped onions, olives and serve salsa or taco sauce on the side for those who like it. **Use a flat taco shell and make a
Mexican Taco Pizza.
Flatbread Pizzas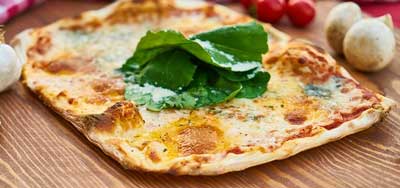 by Ruth, (USA)
Whole Wheat flatbread
Pizza sauce
Fresh basil
Fresh tomato slices
Fresh diced red pepper
Fresh chopped green onion
Shredded Italian cheese
Create pizza and toast in toaster oven at 350 degrees until cheese is melted.
Unique Pizza Ideas

Top with cooked
fajita chicken meat

Greek type pizza with feta cheese, chopped tomatoes, chopped cooked chicken and sliced olives

Mexican pizza

Create a
meatball pizza
.

Barbecue chicken pizza

For something unique try a
pizza quiche.

Pizza Meatloaf

Pizza Casserole

Grilled Pizza

Cheeseburger Pizza

Zucchini Pizza Pie
Pizza Snack Cups
By Ed
1 -12oz. refrigerated biscuits or use homemade pizza dough recipes
1/2 lb ground beef or sausage
1 jar (14 oz.) pizza sauce or Picchio Pacchio
1/2 Cup shredded mozzarella cheese
Preheat oven to 375 degrees F.
Spray a 12 cup muffin tin, then evenly press the biscuit dough into the cups, bottom & up the sides. Chill tins until ready to fill.
In a small skillet, brown the beef or pork over medium high heat, & drain off fat. Stir in pizza sauce & return to the stove to heat through.
Evenly spoon mixture into each of the dough cups. Bake for 10 ? 15 minutes until just getting golden. Remove from the oven and sprinkle with cheese.
Return muffins to the oven for another 5 minutes until the cheese is melted & slightly golden. Remove tine from the oven and allow to rest for 5 minutes.
Gently remove muffins from the pan and serve.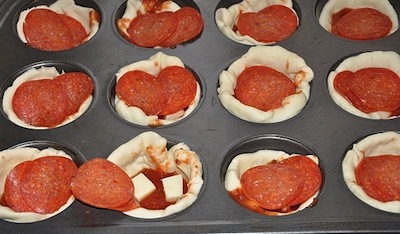 25 More Pizza Inspired Recipes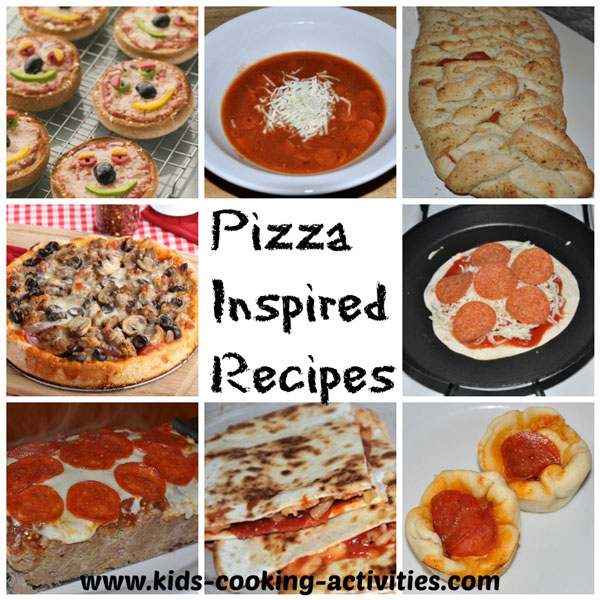 Pizza Casserole
Cheeseburger Pizza
Have a kids cooking pizza party
Pizza Burgers
Pizza Meatloaf
Pizza Soup
Pizza Cups
Pizza Toast
Pizza Rolls
Pizza Braid
Pizza Stromboli
Vegan Pizza
Calzone
Meatball pizza
Grow your own pizza
Barbecue chicken pizza
Margerhita Pizza
Pizza Quiche
Pizza Quesadillas
Zucchini Crust Pizza
English Muffin Pizzas
Fruit pizza
Grilled Pizza
Gluten Free Pizza
Pizza Panini
Waffle Pizza
Pizza Theme Worksheets and Activities
What is your favorite recipe?
Submit your favorite kids recipe
Do you have a favorite recipe your kids love to make? Or a recipe your kids ask you to make again and again? Share it with us!
Reader's Submitted Recipes
Click below to see contributions from other visitors to this page...

Follow Kids Cooking Activities