Easy Chicken Soup Recipes
Here are a few of our favorite and easy chicken soup recipes. Great for a family dinner meal.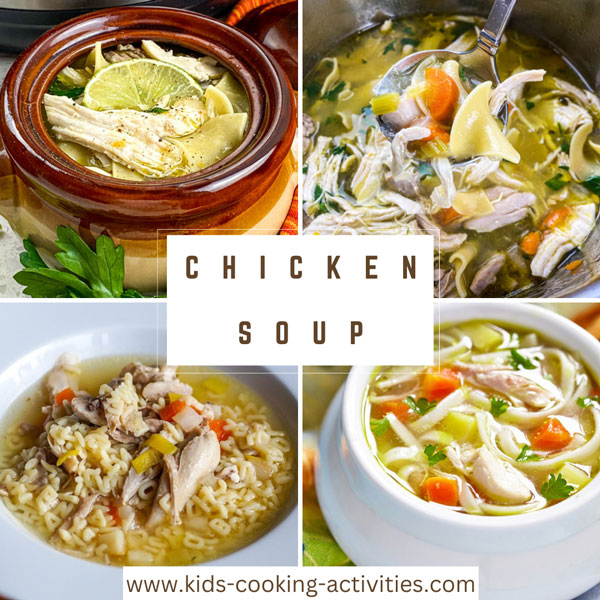 Kids Cooking Activities Teaching Materials
Make teaching easier with our activities and recipes compiled in theme sets and books with an easy to read format
Perfect for teaching!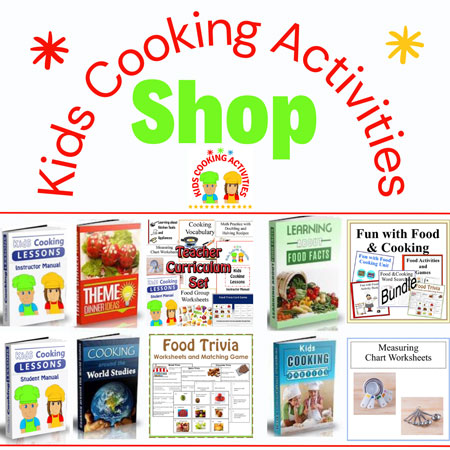 ~This post may contain affiliate links and I'll earn a small commission if you shop through them. There is no extra cost to you. This is how we help support our family and continue to bring you amazing content. To learn more see the
affiliates disclosure here.
~
Easy Homemade Chicken Noodle Soup
Ingredients
Roast chicken or chicken pieces
1 Tablespoon olive oil
1-2 carrots, cut in half
1/2 onion, diced
celery ribs with leaves, diced
2 bay leaves
chicken bouillon, salt, pepper, Italian seasoning
egg noodles or homemade noodles
Directions:
Peel and cut ends off of carrots. Cut into 3 pieces. Cut celery ribs in half. Cut onion in quarters.
In a large soup pot, add carrots, diced onion, and 1-2 celery leaves. Add in chicken pieces and bay leaves. Cover with water and bring to a boil. Cook and simmer on medium-low for 30 minutes-1 hour. Drain broth into a bowl and reserve. Take chicken out and set aside. Throw away cooked vegetables saving the chicken and broth for your soup. Add chicken bouillon, salt, pepper and Italian seasoning for added flavor to your broth.
Allow chicken to cool slightly and shred. Discard bones if there are any from your chicken. In soup pot, saute diced carrots, onions, celery in olive oil until onions are soft. Add whatever vegetables you'd like to the broth. Stir in egg noodles and simmer until vegetables and noodles are tender. Season as needed. Do not overcook the noodles. The noodles will soak up some of the broth as it sits.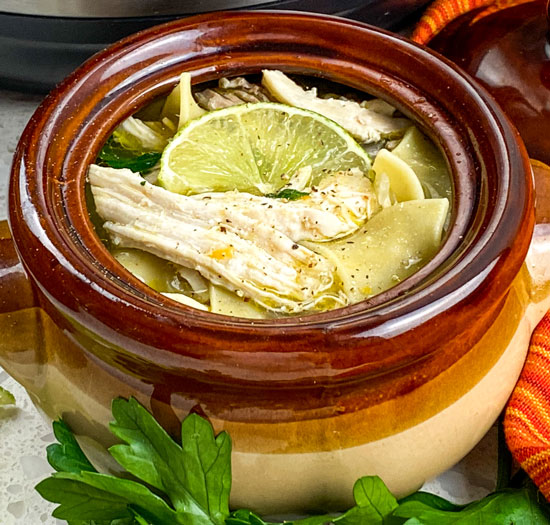 Easy Chicken Noodle Soup Recipes
Ingredients
6-8 Cups Chicken broth
1-2 Cups shredded or chopped, cooked chicken
1 Cup chopped carrots*
1 Cup chopped potatoes*
1 Cup chopped celery*
*or substitute one bag of mixed vegetables for fresh vegetables
egg noodles
Add all ingredients to a soup pot and simmer until tender.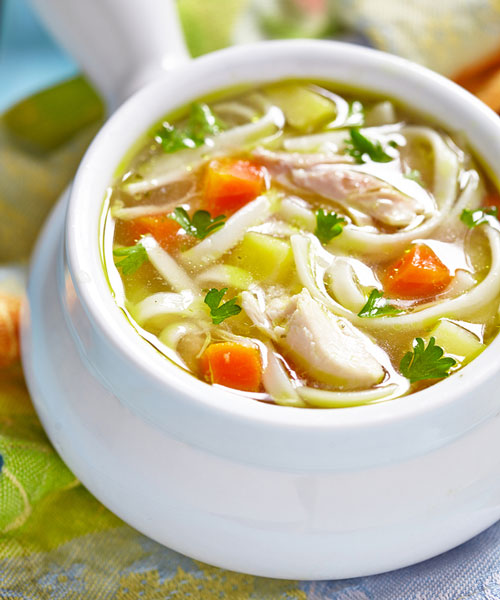 Chicken Rice Soup
Ingredients
6-8 Cups chicken broth
2 Cups rice *
2 carrots, diced
2 celery ribs, diced
add whatever other vegetables you choose or have on hand
Add all ingredients into soup pan and let simmer until rice is tender and vegetables are done.
* If using brown rice, cook brown rice before adding to broth. Or add brown rice to chicken broth, simmer, then add vegetables. It will take longer to cook and the vegetables will get too mushy but the time the brown rice is cooked.

Try substituting barley or beans for rice.
---
Make teaching easier with our activities and recipes compiled in one easy to read format.
---
Reader's Easy Soup Recipes
Easy Chicken Soup Recipe with Rice and Vegetables
by Lilly Tyler (London)
Ingredients:
2 chicken breasts cut up into small chunks.
5 pints of chicken or vegetable stock
1 medium onion, peeled, chopped finely.
2 stalks of chopped Celery
Peas
carrots
bay leaves
100g rice
1 small de-seeded, chopped green pepper
2 Tomatoes chopped and peeled
1 tablespoon of mild curry powder
1 tablespoon of tomato puree
Salt and black pepper
Steps:
Boil the chicken chunks in your chosen stock for 20 minutes until tender.
Whilst the chicken is cooking add the peas, carrots and celery and stir.
Add the rice and green peppers and continue cooking for another 5 minutes.
Add the tomatoes, curry powder and tomato purée and simmer for a couple of minutes.
Add the vegetables to the chicken stock.
Season the soup and simmer for 30 minutes.
When finished serve and enjoy!!
Quick Chicken and Dumplings
by Jenny K -VA
1 large can of chunk chicken breast
1 can chicken broth*
1/2 stick of butter or margarine
2 cups milk
1 Tbsp. cornstarch*
1 can (8 count) jumbo buttermilk biscuits (or you can use Bisquick)
add chopped carrots or other vegetables you'd like
*(You can adjust the amount of broth and cornstarch to get the right consistency. I tend to use about 2/3 of the can of chicken broth instead of the whole thing.)
Drain juice from canned chicken into pot. Add the can of chicken broth and butter. Bring to boil. Whisk together cornstarch and milk. Add to boiling broth.
When this begins to boil, cut biscuits into about 6 pieces each and drop into the pot. Reduce heat to medium-low and allow to boil until dumplings are fluffy. Add the chicken.
Chicken Meatball Soup
6 oz. ground turkey or chicken
large beaten egg
3 tablespoons bread crumbs
parsley
1 teaspoon salt
¼ teaspoon pepper
6 Cups chicken broth
2 medium carrots, peeled and sliced
1 Cup potatoes, chopped
Combine turkey, egg, bread crumbs and parsley and form into meatballs.In saucepan cook broth and add carrots. Bring to a boil and add pasta cook 5 minutes. Lower heat and add meatballs. Simmer until cooked through.
Asian Noodle Soup
by Tamar
(Newport Beach, CA, USA)
2 cans chicken broth (low sodium)
6 oz. Asian noodles (dry)
5 mushrooms (thinly sliced)
2 green onions (chopped)
2 cooked chicken breasts or 1 pack tofu
3-4 egg whites
1/2 teaspoon garlic powder (optional)
Boil a large pot of water, then stir in noodles until al dente. 8-10 minutes. Drain noodles and divide into 2-3 serving bowls.

Boil chicken broth, mushrooms, and green onions in a saucepan. Cube chicken or tofu, and add to chicken broth. Bring to a boil again, and add egg whites by pouring them slowly in a ribbon. Stir in garlic powder. When the eggs are cooked, pour the soup over the noodles in the soup bowls, and enjoy!!
Italian Chicken and Pea Soup
2 (14 oz.) cans chicken broth
1 teaspoon dried Italian seasoning
2 garlic cloves, minced
12 oz. boneless skinless chicken breasts, cubed
3/4 Cup small shell macaroni
3/4 Cup frozen peas
1/4 Cup green onions, chopped fine, optional
Pour the chicken broth into a saucepan.
Stir in the Italian seasoning and garlic.
Bring the mixture to a rolling boil over high heat.
Stir in the chicken and macaroni.
Bring back to a rolling boil then reduce the heat to medium low.
Cook for 8 minutes or until the macaroni is tender the chicken is cooked.
Stir in the peas and green onions.
Cook the soup for 2 minutes or until the peas are cooked through.
Makes 4 servings
Homemade Chicken Noodle Soup
Do you have a recipe to share?
Submit your favorite kids recipe
Do you have a favorite recipe your kids love to make? Or a recipe your kids ask you to make again and again? Share it with us!
Follow Kids Cooking Activities