Making Homemade Pasta Party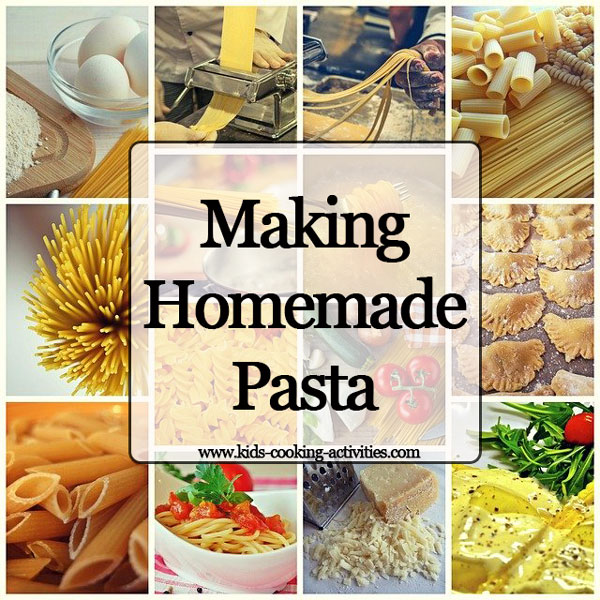 ~This making homemade pasta party guide was by Pastastic Matt.
Fresh and succulent bow tie pasta (also known as butterfly pasta or
'farfalle'
in Italian) is a great food to base a kids' cooking party around. That's because the process of making it features all the things little chefs love: they can mix fluids and solids with their hands, then they get to mold and flatten a Playdough-like putty substance. And after all that, the wonderful end result? Food they can pretend to wear! This making homemade pasta party can be combined or used as a creative
Italian cooking lesson
.
Kids Cooking Activities Teaching Materials
Make teaching easier with our activities and recipes compiled in theme sets and books with an easy to read format
Perfect for teaching!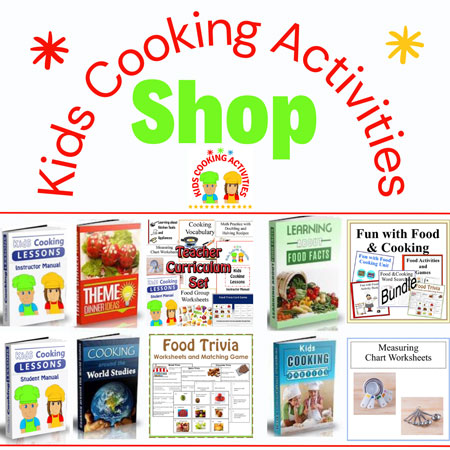 ~This post may contain affiliate links and I'll earn a small commission if you shop through them. There is no extra cost to you. This is how we help support our family and continue to bring you amazing content. To learn more see the
affiliates disclosure here.
~
Items Needed For Making Homemade Pasta Party
Plain/all-purpose flour (250g/9oz per pair of children)

Plenty of eggs

Salt

Pizza or dough cutter

Forks

And of course plates, cups and eating utensils
---
Get all of our Kids Cooking Parties in
one ebook
, free of ads and easier to use at parties and cooking activities with kids. Also included with our Menu Party Plans are:
Party to do lists
Step by step directions
Complete recipes
Recipe cards
A list of items needed for the party
Party invitations
Tips and ideas to help your kids cooking party run smoothly
Filler ideas for parties
Kids cooking party games
---
Resources Required For Making Homemade Pasta Party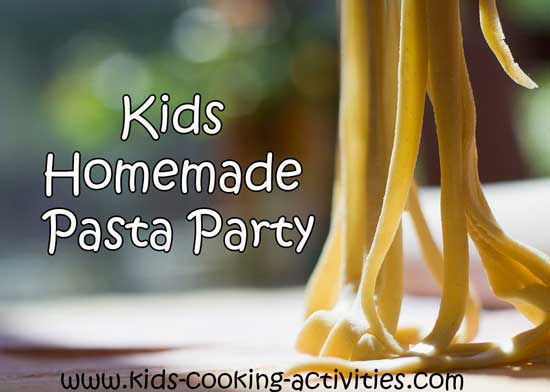 For the process of making the pasta dough, we recommend dividing your kids into pairs. Each pair will make (or try to make!) their own 2-person serving of pasta dough.
Each pair will need:
Access to the ingredients and pizza cutter above

Their own rolling pin
A pastry mat or clean area of work surface
Recommended:
we strongly suggest you practice making fresh pasta once or twice
before
hosting your making homemade pasta party. That way you can better advise the little ones if and when they make mistakes.
Here are the ingredients you'll need:
2- 3/4 cups all-purpose flour
1 teaspoon salt
3 eggs
1 tablespoon olive oil
3 Tablespoon water
Once you have tried it yourself, and you have your ingredients, work spaces and tools in hand. Here's what to do:
Step 1 - Make The Fresh Pasta
Get each pair of kids to mold their flour, 2- 3/4 cups all-purpose flour, into a bowl shape on the surface, complete with a flour base. Tip - the bowl should be big enough to crack 3 eggs into, so you may need to help them expand their bowls (push out the sides with a flattened fork).


Now they should crack the 3 eggs into their "bowl."


Sprinkle eggs with 1 teaspoon salt.



Now they should mix these eggs with a flattened fork, being careful not to break the walls. Ideally, one kid can mix while the other sprinkles a little excess flour from the bowl walls into the center to thicken it up. When the middle mixture is slightly thicker and a smooth orange consistency, that step is done.


Using the sides of their hands, have your chefs remove excess flour from the walls of their bowl. The aim is a wall thickness of 1cm or half-inch thickness (this helps over-flouring the dough, making it hard and unworkable). They can keep the excess flour to the side for later.



Add 1 Tablespoon of olive oil and 1/4 cup water and mix together until it forms a nice dough. Now the icky bit. Have them push the flour walls into the liquid center and then use their fingers to start mixing it all together. They can sprinkle on a little extra flour as required.


When it starts to form a dough that they can press down upon without it sticking to their hands, have them create a dough ball and then flatten this with their palms.




Now they should fold the dough in half, turn it 90-degrees (left or right), flatten again and repeat. Kneading the dough several minutes.

Tip: They need to put some effort into flattening the dough here (we are effectively trapping little balls of air inside it, which aids its flexibility), so little guys might enjoy this bit.

Allow 5 minutes of this folding and flattening. When you can cut through a dough ball and see tiny little air bubbles, the dough is ready. Lightly flour each dough ball and leave for 5 minutes to rest. (A good time for them to wash their hands).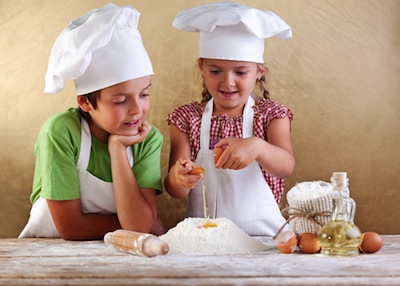 Step 2 - Flatten It
Of course that dough ball needs to be flat before we can finishing our making homemade pasta party! Have each couple sprinkle their work surface with flour, then flatten their dough ball once more with their hands. Now we are ready to roll! Give each pair a rolling pin and help them roll their dough flat. It helps to keep turning the dough, and occasionally flipping it over.
Don't forget to sprinkle a little more flour if the dough starts to stick. Allow 10 minutes of this flattening fun before the dough stops contracting back to its original size. (If you can create a song about "Stretching, stretching..." that would certainly fit here.)
(
Recommendation:
if you happen to have a pasta making machine such as an Imperia or Atlas pasta maker, this can really take the strain out of this flattening. You just roll for a minute or so until the dough is thin enough to fit through the rollers. Then let the machine take the strain!)
You are aiming for a dough thickness depth of just 1-2mm. When your chefs have got roughly this flatness, they have their fresh pasta dough. Round of applause!
Step 3 - Forming The Bow Tie Pasta Shapes

Now the creative part-which little girls especially will love.
With the dough rolled out thin, have each pair of chefs use a pizza cutter or normal knife to cut it into 1½-inch-high horizontal strips.

Then help them work from side to side, chopping the dough vertically to form 2-inch wide rectangle shapes.


How do they make each bow tie or butterfly? Remove a rectangle per pair of kids from the main sheet and have one of your chefs place their index finger in the center. Then they should use the thumb and second finger to pull the top and bottom edges together. Finally, remove the index finger at the last second and squish these edges together (they should stick together quite naturally).


Hey presto! A little bow tie (for the boys) or butterfly (for the girls)! Repeat this process until all the shapes are made.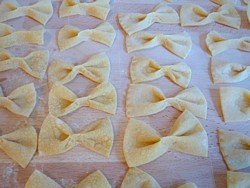 Step 4- Sauce & Cook To Serve
To finish your making homemade pasta party, prep your
pasta sauce recipes
. Your sauce should be served hot, so you may want to make this yourself.
Alternatively however, you could just cook up your bow tie pasta shapes and mix these into a nutritious salad.
To cook the fresh pasta
Drop pasta in a large full pan of well-salted boiling water. Fresh pasta takes just 2-3 minutes to cook (rule of thumb: after it rises to the surface, give it just a minute more). Then drain and mix with salad or cover in sauce. Serve and enjoy (just be prepared to clean up a little after the bow ties have been worn and the butterflies chased!).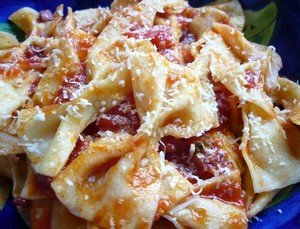 More Homemade Pasta Resources
See our
Italian Party
for more homemade pasta making and Italian theme cooking ideas.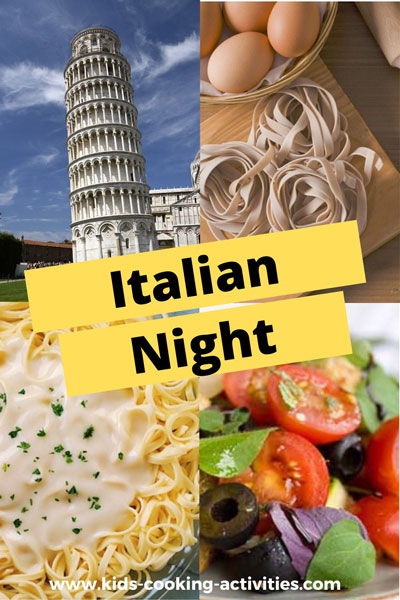 Try this homemade ravioli recipe.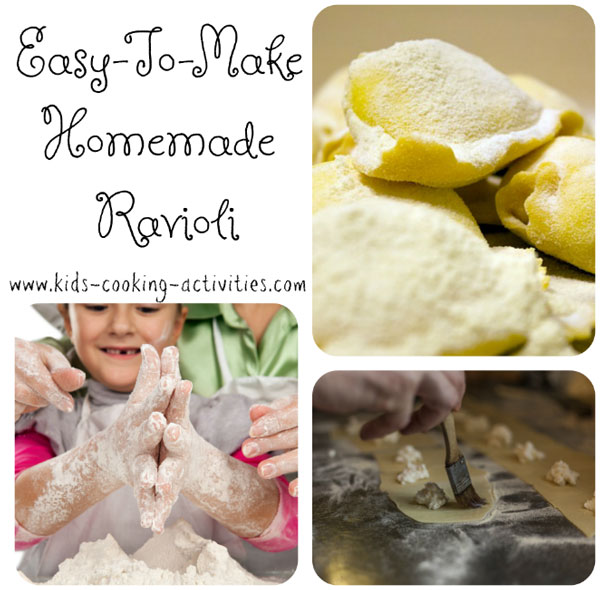 ---
Related Kids Cooking Party Ideas:
~
Kids cooking parties
, ~
Birthday Cooking Party
, ~
Calzones
, ~
Chicken pot pies
, ~
Chicken salad crossiants
, ~
Homemade Pasta
, ~
Make your own pizzas
, ~
Manicotti
, ~
Mini cordon bleu
, ~
Mini meatloaf
, ~
Spaghetti pie
, ~
Breakfast buffet
, ~
Crepes with different fillings
, ~
French toast and homemade syrup
, ~
Soft pretzels
, ~
Cake Decorating
, ~
Cone cakes
, ~
Cookie Decorating party
, ~
Cookie pizza
, ~
Cookie Swap
, ~
Mini fruit pies
, ~
Supreme sundaes with cookie cups
, ~
Spaghetti and Meatballs cake
, ~
Kids Cooking Games
---
Follow Kids Cooking Activities