Easy Hamburger Soup
These hamburger soup recipes are great for cold winter days. The first hamburger soup recipe is one of our favorites and the second is a healthy vegetable soup. Plus more additional reader's hamburger soup recipes.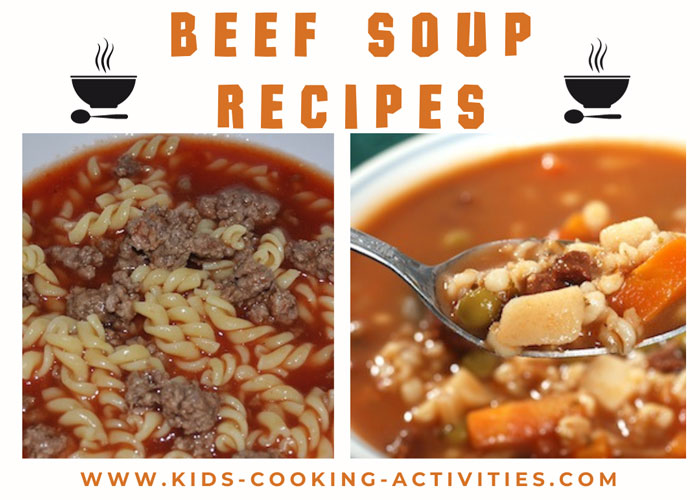 Kids Cooking Activities Teaching Materials
Make teaching easier with our activities and recipes compiled in theme sets and books with an easy to read format
Perfect for teaching!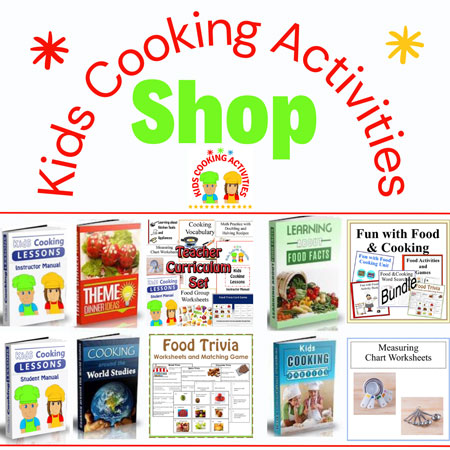 ~This post may contain affiliate links and I'll earn a small commission if you shop through them. There is no extra cost to you. This is how we help support our family and continue to bring you amazing content. To learn more see the
affiliates disclosure here.
~
Simple Hamburger Soup
Ingredients
1 large can tomato juice
2 cups water
8 oz. elbow macaroni or alphabet pasta, cooked
1 lb. ground hamburger
salt and pepper
Cook noodles and drain. Meanwhile, cook ground hamburger. Combine macaroni, cooked hamburger, tomato juice, water and pepper to taste.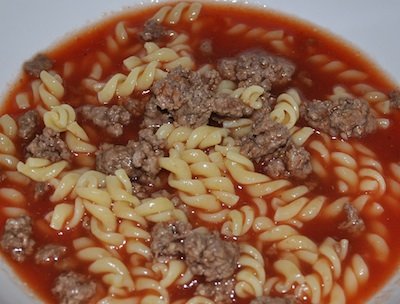 If you are preparing this recipe ahead of time, leave the pasta separate from the soup. When it is dinner time warm up the soup and add pasta and soup together right before serving. The pasta noodles will soak up the juice otherwise.
Hamburger Vegetable Soup
Ingredients
2 pounds ground hamburger, cooked
6-8 cups beef broth
1 -14 1/2-ounce can crushed tomatoes or tomato juice
2 cups potatoes, cubed
1 cup cabbage, shredded
1/2 cup celery, chopped
1/2 cup carrots, sliced
1/2 cup onions, chopped
1/4 cup white rice uncooked or barley
1/2 teaspoon black pepper
1 Tablespoon Worcestershire sauce
1 teaspoon Italian seasoning
1 teaspoon oregano
In crock pot, add cooked hamburger, beef broth and vegetables. Season with salt and pepper, seasonings and Worcestershire sauce. Cook on low 4-6 hours. Add rice and continue to cook several hours.
Take out the rice and trade for other vegetables if you'd like for example carrots and green beans could replace celery and cabbage.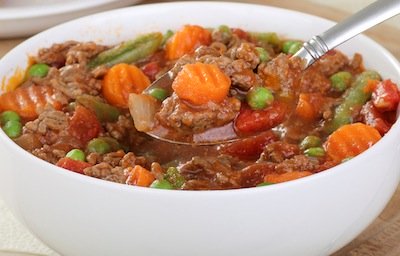 Easy Hamburger Soup
Ingredients
1 lb. ground beef
2 (14 oz.) cans of beef broth
1 (16 oz.) pkg. frozen broccoli and cauliflower
1 (14.5 oz.) can diced tomatoes
1/2 Cup of tomato juice
1 C wagon wheel pasta, uncooked
1/2 Cup of basil pesto
Crumble the meat into a Dutch oven pan and place the pan over medium heat.
Cook the meat, stirring often, for 10 minutes or until browned through.
Drain the meat well and return to the pan.
Stir in the broth, vegetables, tomatoes with their juice and tomato juice.
Bring the mixture to a rolling boil then stir in the pasta.
Cover the pan, reduce the heat to low and simmer 10 minutes or until the vegetables are fork tender.
Remove from the heat and stir in the pesto.
Makes 6 servings
Add some Italian bread and a side of fruit and you have a meal that is both filling and delicious in no time.
Beef Barley Soup
Ingredients
1 pound ground beef
1 onion chopped or pureed in blender
2 teaspoons oregano
1 large can of tomatoes, pureed in blender
4 Cups beef broth
2/3 Cup barley, uncooked
Brown beef with onion. Season with salt and pepper and add oregano. Drain meat and add to a soup pan. Add pureed tomatoes, barley, and beef broth to pan. Cook until barley is tender. If desired add a bag of frozen vegetables 10-15 minutes before serving. Allow to cool and pour in freezer containers.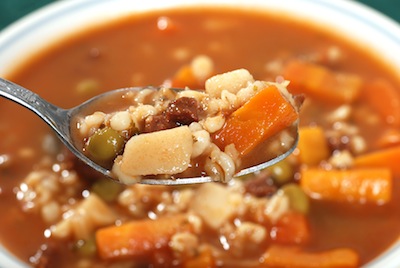 Try some beef stew recipes.
Poor Man's Soup
Do you have a favorite easy hamburger soup recipe?
Submit your favorite kids recipe
Do you have a favorite recipe your kids love to make? Or a recipe your kids ask you to make again and again? Share it with us!
Follow Kids Cooking Activities