Turnip Facts
Turnip facts and general information about turnips.
Kids Cooking Activities Teaching Materials
Make teaching easier with our activities and recipes compiled in theme sets and books with an easy to read format
Perfect for teaching!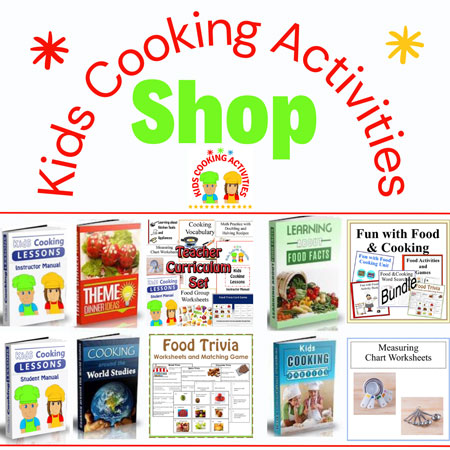 ~This post may contain affiliate links and I'll earn a small commission if you shop through them. There is no extra cost to you. This is how we help support our family and continue to bring you amazing content. To learn more see the
affiliates disclosure here.
~
Turnips are Available:
Turnips are available in the autumn
How Do Turnips Grow:
Plant a seed and turnips grow as a root vegetable just like carrots do.
What to Look for When Buying Turnips:
Turnips should be firm with no blemishes the smaller the sweeter. Turnips have white skin with purple tops.
Turnip Facts- Storage Tips:
Store in plastic bags in refrigerator crisper drawer.
How to Cook Turnips:
Mashed, cut up in soups or side dishes.
Turnip Nutrition Facts:
Turnips are high in fiber, Vitamin C, Calcium and Potassium.
Turnip Recipes:
Vegetable and Beef Stew
1-2 lbs. Beef stew meat, cubed
¼ Cup flour
Salt and pepper
Stir ingredients together and toss to coat. Place in crock pot.
In large measuring cup or bowl stir together:
6-8 Cups beef broth
1 teaspoon Worcestershire sauce
1 clove garlic
1/2 teaspoon Paprika
2 teaspoons seasoned salt
2 teaspoons brown sugar
Pour over meat.
Chop vegetables and then add in
2 small turnips, diced
3 carrots, sliced
3 potatoes, diced
1 onion, chopped
1 stalk celery
Cook in crock pot on low 8-10 hours or high 4-6 hours.
Kids love raw turnip...Read on.
by Marie (Calgary Alberta Canada)
Kids love raw turnip. I am an elementary school teacher. Last week my Kindergarten class loved the opportunity to eat turnip chunks, watch each other like 'scientists', and then vote if they thought their classmates enjoyed or disliked it.
My students were reminded to eat silently and watch each other like 'scientists'. I told my students not to say "Mmmm",or "yuck" because it would ruin the game.
Only one child didn't like the turnip out of 14 students.
I have done this activity before with older students in grade 1 and 2 and the results were the same.
Afterwards I read, The Enormous Turnip, a shorter version than the original.
My co-workers thought I was crazy but that's fine.
Funny thing is I hated turnip as a kid. It was always boiled to death and bitter. I put it on my brother's plate and even between the nook and the wall to avoid it.
Now I love turnip cooked, and uncooked.
Turnip Salad
1 turnip
1/2 head of lettuce
2 Cups chopped carrots
2 Cups chopped celery
Dice the turnip and lettuce. Mix all the ingredients in a salad bowl and add you favorite Dressing. ENJOY!
Turnip Cooking Video:How to Cook Turnips
Share your food facts and recipes
Do you have a food facts or recipe to share?
---
Related Food Facts Pages:
~
Apple
, ~
Apricot
, ~
Avocado
, ~
Banana
, ~
Berry
, ~
Cherry
, ~
Coconut
, ~
Cranberry
, ~
Dates
, ~
Figs
, ~
Grapefruit
, ~
Grapes
, ~
Kiwi
, ~
Lemon and Limes
, ~
Mango
, ~
Melon
, ~
Orange
, ~
Papaya
, ~
Peach
, ~
Pear
, ~
Pineapple
, ~
Plums
, ~
Tomato
, ~
Artichoke
, ~
Asparagus
, ~
Beets
, ~
Broccoli
, ~
Brussels Sprouts
, ~
Cabbage
, ~
Carrot
, ~
Cauliflower
, ~
Celery
, ~
Corn,
~
Cucumber
, ~
Eggplant
, ~
Garlic
, ~
Green Beans
, ~
Kale
, ~
Lettuce/Salad Greens,
~
Mushrooms,
~
Okra
, ~
Onion
, ~
Parsnip,
~
Peas,green
, ~
Peppers,
~
Potato
, ~
Radish
, ~
Rhubarb
, ~
Spinach
, ~
Summer Squash and Zucchini
, ~
Sweet Potato
, ~
Turnip
, ~
Winter Squash, including Pumpkins
, ~
Beans
, ~
Eggs
, ~
Nuts
, ~
Seeds
, ~
Meat
, ~
Dairy
, ~
Grains
---
Follow Kids Cooking Activities