Hobo Dinner Recipes
Hobo dinners are simply dinners wrapped in tin foil and cooked in the oven or a campfire. You might hear them called hobo dinners, foil packets, or tin foil dinners.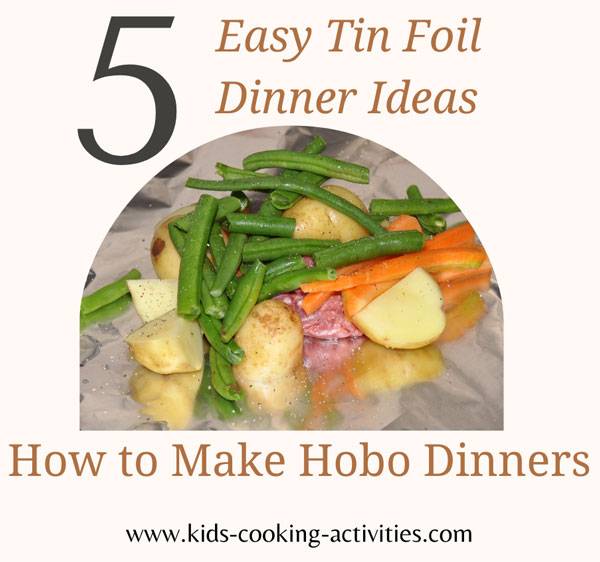 I love that it is an easy clean up meal and each member of the family can create their own individually just how they like it. We use them often even when we aren't camping.
Kids Cooking Activities Teaching Materials
Make teaching easier with our activities and recipes compiled in theme sets and books with an easy to read format
Perfect for teaching!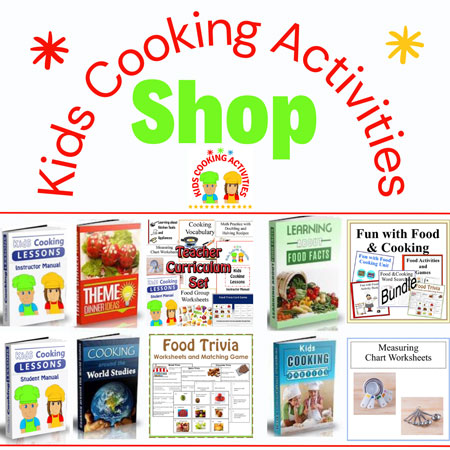 ~This post may contain affiliate links and I'll earn a small commission if you shop through them. There is no extra cost to you. This is how we help support our family and continue to bring you amazing content. To learn more see the
affiliates disclosure here.
~
How to Make Hobo Dinners
First learn how to make
tin foil dinners with this easy recipe.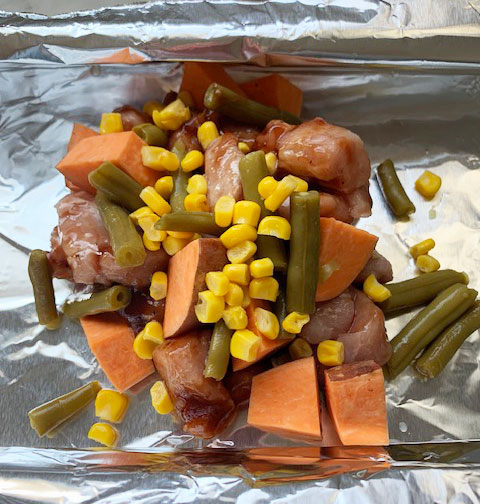 Then try a few different hobo recipes like those below.
Grilled Chicken Pesto Packets
Ingredients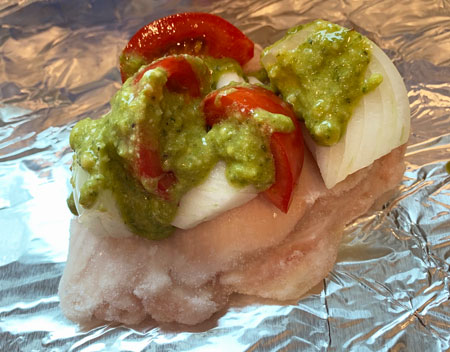 4 chicken breast filets
4 tomatoes, quartered
1 brown onion, quartered
1/2 cup basil pesto
2 tablespoons mayonnaise
2 tablespoons butter
4 squares aluminum foil
Directions
Preheat the grill to medium-high.
Combine mayonnaise and pesto in a bowl.
Place filets on individual foil sheets and top with onion and tomato. Spoon pesto mixture onto chicken parcels. Place a small portion of butter on each parcel. Fold foil tightly over chicken to seal each parcel into a packet.
Place packets on the grill on indirect heat. Close the cover and cook for 20 to 30 minutes, turning the packet once during cooking.
Remove and let sit for 5 minutes before opening. *You can also bake in a 350 degree oven.
Serves 4.
Barbecue Pork Parcels
Ingredients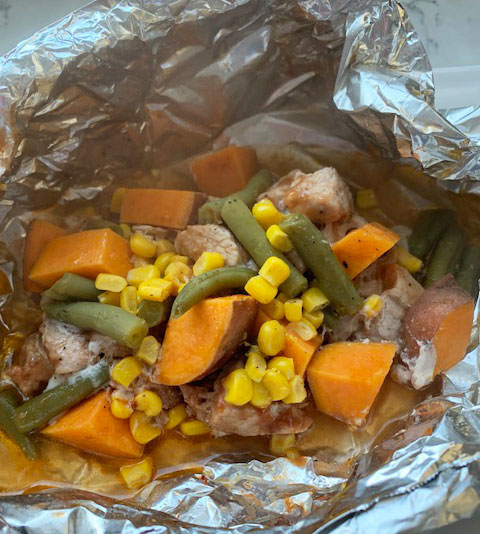 1/2 cup barbecue sauce
1 lb. pork stew meat, cut into 1/2 inch pieces
can corn
4 to 6 red potatoes, or sweet potatoes, cut into wedges
1 cup green beans
2 tablespoons butter
salt and pepper to taste
Directions
Preheat grill to medium-high.
Place 4 sheets of heavy duty aluminum foil on work space.
Place the barbecue sauce into a bowl, toss the pork pieces through the sauce until well coated.
Divide the pork into 4 portions, place one portion onto each sheet of foil. Top the meat with the corn, potatoes, and green beans, then place ½ tablespoon of butter on each portion.
Fold the foil packets up, leaving a little air space at the top, then seal securely.
Place packets on grill on indirect heat. Cover grill and cook for 30 to 40 minutes, spinning packets at least once during this time.
Remove and let sit for 3 to 5 minutes before opening.
Potato Packets
Ingredients:
6 medium size potatoes, scrubbed and diced small
2 packages frozen veggies, your choice (I like green beans, broccoli, cauliflower, lima beans)
1 garlic clove, minced
1 pkt Italian dressing seasoning
1/2 tsp salt
1/2 tsp black pepper
6 Tbsp butter, divided into sixths
heavy duty aluminum foil
Directions:
Put the potatoes into a large mixing bowl and add the frozen veggies (no need to defrost).
Stir in the Italian seasoning, garlic, salt, and pepper, making sure everything is seasoned well.
Tear off 6 large pieces of foil and lay them out onto a work surface.
Divide your veggie mixture evenly between the six packets, spooning even amounts into the middle of each foil sheet.
Place a pat of butter on each pile of veggies.
Fold the foil up carefully to form envelopes, sealing very tightly.
Over medium coals on your campfire, place the foil packets, seam side up.
After 5 or 6 minutes, move the packets to slower coals, then let cook for about 15 to 20 minutes, depending on the heat of the coals. Be sure to move the packets around several times during the cooking time.
Remove carefully with tongs and let sit for 3 to 5 minutes.
Carefully unwrap the packets and serve.
Makes 6 nice side servings for any campfire or grill cooked meal.
Ham Tin Foil Dinner
by Wendy Perez (Brevard County, FL, USA)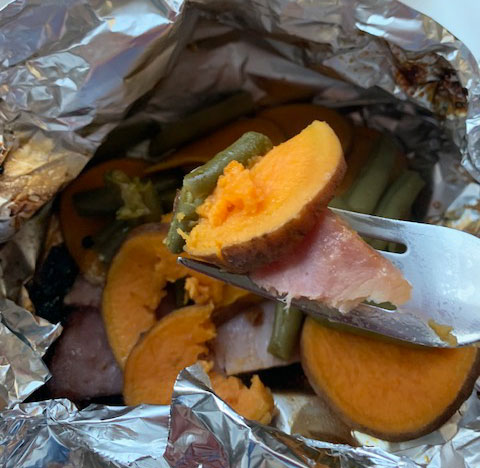 In heavy duty foil pack include:
1/4 piece of a ham steak
1/2 cup, cut up sweet potatoes (the thinner you slice them -- the quicker your meal will cook)
1/2 cup green beans (you can use fresh or frozen - whichever you prefer)
butter
garlic powder
brown sugar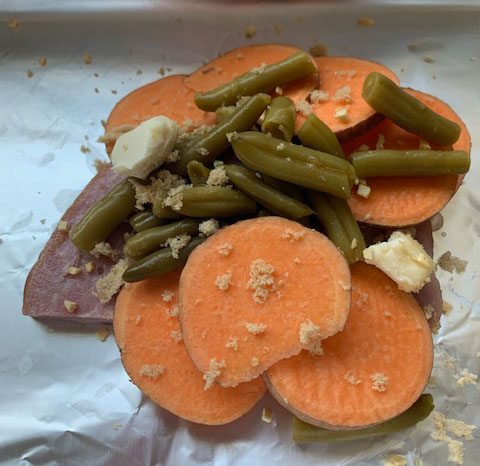 Cook around 15 minutes -- until veggies are tender -- remember, you can always increase the veggie portions ENJOY!
Please note: I don't add salt to this because of the ham -- if you substitute another type of meat -- you might want to also include some Lawry's seasoned salt or Goya Adobo seasoning (which has everything from salt, black pepper, garlic, oregano mixed in already - very convenient!)
Fish Bake Foil Packet
1 fish fillet
1 potato per person, sliced
1 can green beans, drained
1 can white beans, drained
Italian salad dressing to taste
Lay fish on a sheet of tin foil. Top with potato slices, scatter green beans on top and white beans. Drizzle with salad dressing. Wrap your tin foil up and bake.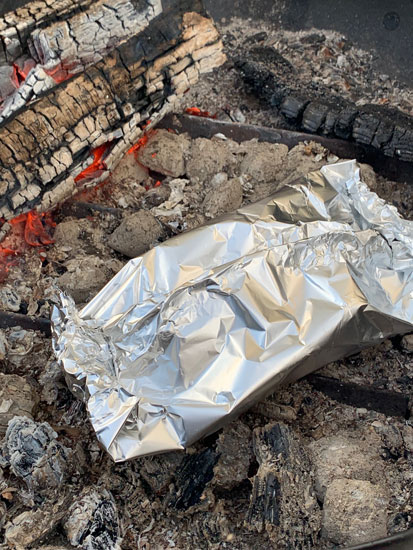 More Kids Campfire Cooking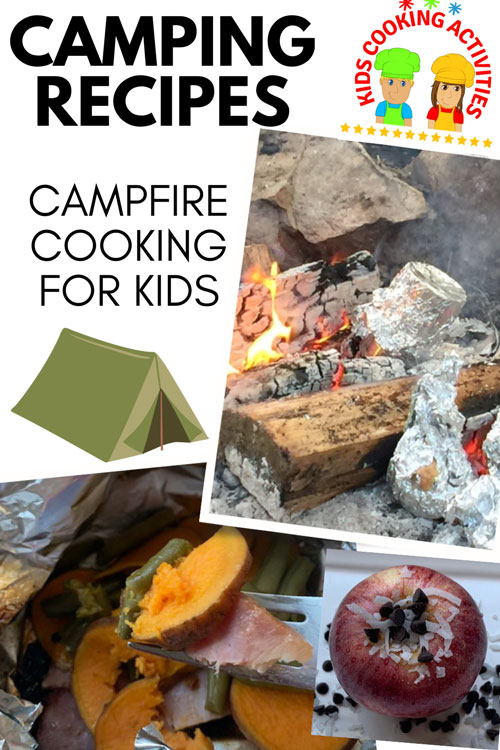 See our
campfire fun desserts.
Camping Fun
Add some fun to your campout with this printable camping game.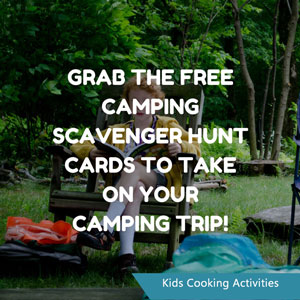 See these posts for some Camping Fun Activities:
10 camping games for families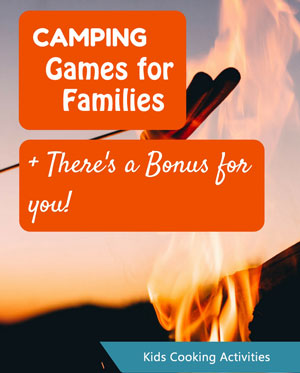 8 Fun Camp Activities
---
Dive into a whole lot
more camping information
and
90 camp inspired recipes!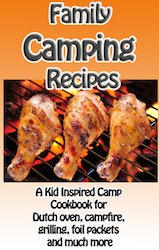 Camping Recipes on Kindle
Follow Kids Cooking Activities