Hobo Dinner Recipes
Hobo dinners are simply dinners wrapped in tin foil and cooked in the oven or a campfire. You might hear them called hobo dinners, foil packets, or tin foil dinners.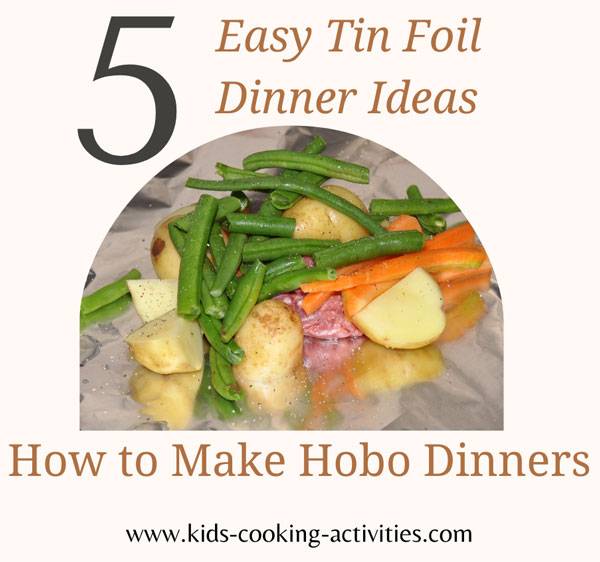 I love that it is an easy clean up meal and each member of the family can create their own individually just how they like it. We use them often even when we aren't camping.


How to Make Hobo Dinners
First learn how to make
tin foil dinners
with this easy recipe. Then try a few different hobo recipes like these:
Grilled Chicken Pesto Packets
Ingredients
4 chicken breast fillets
4 tomatoes, quartered
1 brown onion, quartered
1/2 cup basil pesto
2 tablespoons mayonnaise
2 tablespoons butter
4 squares aluminum foil
Directions
Preheat grill to medium-high.
Combine mayonnaise and pesto in a bowl.
Place fillets on individual foil sheets and top with onion and tomato. Spoon pesto mixture onto chicken parcels. Place a small portion of butter on each parcel. Fold foil tightly over chicken to seal each parcel into a packet.
Place packets on grill on indirect heat. Close cover and cook for 20 to 30 minutes, turning packet once during cooking.
Remove and let sit for 5 minutes before opening.
Serves 4.
Barbecue Pork Parcels
Ingredients
1/2 cup barbecue sauce
1 lb. pork stew meat, cut into 1/2 inch pieces
2 fresh ears of corn, cut in half
4 to 6 new red potatoes, cut into wedges
1 cup frozen or fresh cut green beans
2 tablespoons butter
salt and pepper to taste
Directions
Preheat grill to medium-high.
Place 4 sheets of heavy duty aluminum foil on work space.
Place the barbecue sauce into a bowl, toss the pork pieces through the sauce until well coated.
Divide the pork into 4 portions, place one portion onto each sheet of foil. Top the meat with the corn, potatoes, and green beans, then place ½ tablespoon of butter on each portion.
Fold the foil packets up, leaving a little air space at the top, then seal securely.
Place packets on grill on indirect heat. Cover grill and cook for 30 to 40 minutes, spinning packets at least once during this time.
Remove and let sit for 3 to 5 minutes before opening.
Potato Packets
Potato Vegetable Packets


Fish Bake Foil Packet
1 fish fillet
1 potato per person, sliced
1 can green beans, drained
1 can white beans, drained
Italian salad dressing to taste
Lay fish on a sheet of tin foil. Top with potato slices, scatter green beans on top and white beans. Drizzle with salad dressing. Wrap your tin foil up and bake.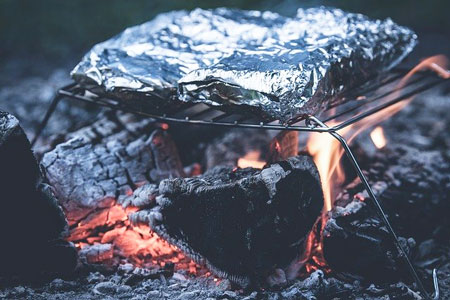 Make teaching easier with our activities and recipes compiled in theme sets and books with an easy to read format
~This post may contain affiliate links and I'll earn a small commission if you shop through them. There is no extra cost to you. This is how we help support our family and continue to bring you amazing content. To learn more see the