Assistant Chef- Kids Cooking Lessons Plans
3-6 years old - Lesson 1
For the first kids' cooking lessons, read and discuss the following kitchen safety guide and kitchen rules for your cooking safety lesson plans. In every basic lesson group you will see a few repeated lessons, we believe these are important skills to learn along with how to cook.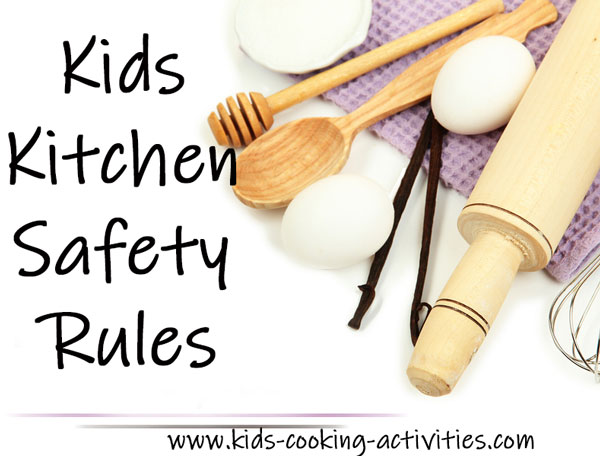 These life skills are:
Kitchen safety
Etiquette
Nutrition
You can print off and review the kitchen safety rules and food sanitation here. There are also printable kitchen safety checklists you can include in your lesson.
Child Size Equipment
You will need to teach your children what equipment they can touch and play with safely and what equipment and appliances they have to ask an adult for help with.
Child Friendly Kitchen
You should try to set up a cupboard at the right height for your child that they can store all of their equipment in. They can then learn that once they have finished with it that it should be placed back in the cupboard until next time. If you make the effort to get them their own kitchen utensils and cooking items then they will learn more and understand how to look after them. You should let your child do as much as they can in the kitchen which often involves stirring, mixing, pouring and measuring. They will learn great mathematics skills whilst learning how to cook.
Child Safety in the Kitchen
Children have to be taught that ovens, hobs and grills are very hot and they will seriously injure themselves if they touch them. If your child understands this from an early age then they are more likely to understand and be safe in the kitchen. You should ensure that you keep all knives and sharp dangerous pieces of equipment out of your child's reach. Although they may be sensible your child might confuse their blunt knives for your sharp kitchen ones. It is better to be safe rather than sorry and ensure that they cannot get hold of them.
Kitchen Safety for Kids Video
Kids Cooking Lesson Plans
Follow Kids Cooking Activities