Assistant Chef- Kids Cooking Lessons Plans
3-6 years old - Lesson 3
For this kids cooking lessons plans, the assistant chef will practice pouring. This is an easy skill for them to practice in the house and even on a daily basis just pouring themselves a drink. Once they learn this it, it gives them a little more independence.
Kids Cooking Activities Teaching Materials
Make teaching easier with our activities and recipes compiled in theme sets and books with an easy to read format
Perfect for teaching!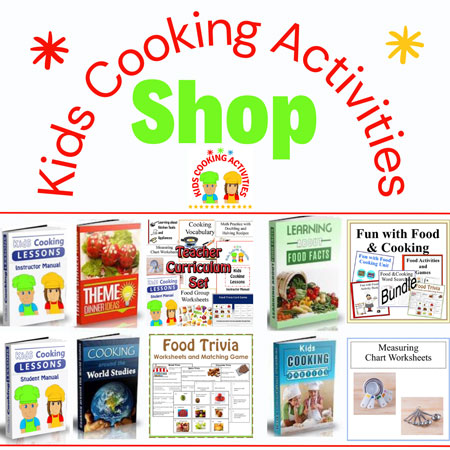 ~This post may contain affiliate links and I'll earn a small commission if you shop through them. There is no extra cost to you. This is how we help support our family and continue to bring you amazing content. To learn more see the
affiliates disclosure here.
~
Practice Pouring
Choose one of the following kids recipes:
Juice or Kool-Aid Popsicles
Allow your child to pour juice or mixed Kool-Aid into popsicle molds. You can pour a smaller amount in a 2 Cup plastic pitcher for easier pouring.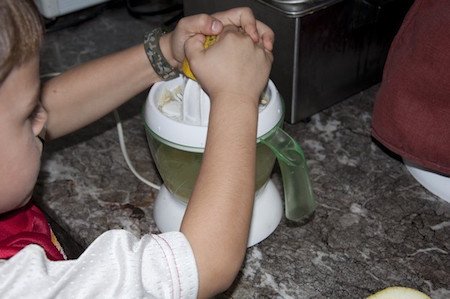 Lemonade Popsicles
12 lemons (about 2 Cups)
8 Cups water
2 Cups sugar
Show your child how to squeeze lemons by hand or with a juicer. Stir together lemon juice, water, and sugar until well blended. You may want to add more water or less lemons according to your taste.
~You can also add as many crushed strawberries as desired for a strawberry lemonade. After stirring, have adult run through blender. Then allow child to pour into popsicle molds.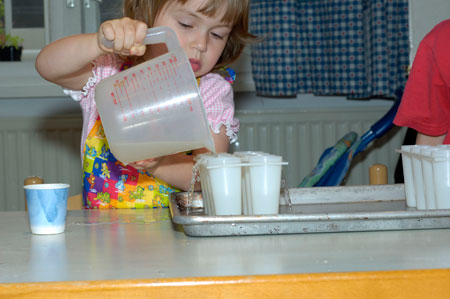 Tip: Use a cookie sheet with rims or baking pans to catch the "extra".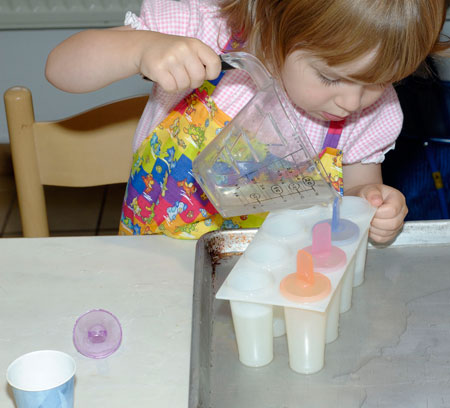 Now she's got the hang of it! Find more Kids Popsicle recipes here.
Pouring Activity:
Let your child play in the sink or bath tub with a pitcher, funnels, and cups for practice.
Kids Cooking Lesson Plans
Follow Kids Cooking Activities