25 Kids Popsicle Recipes
Popsicle recipes are something easy to make and kid friendly. Any drink mix will taste great poured into Popsicle molds or small paper cups with a Popsicle stick inserted. However, sugar free or drinks such as Crystal light won't turn out as well. So if using those mix a little juice, fruit drink or Kool-Aid in with it before freezing.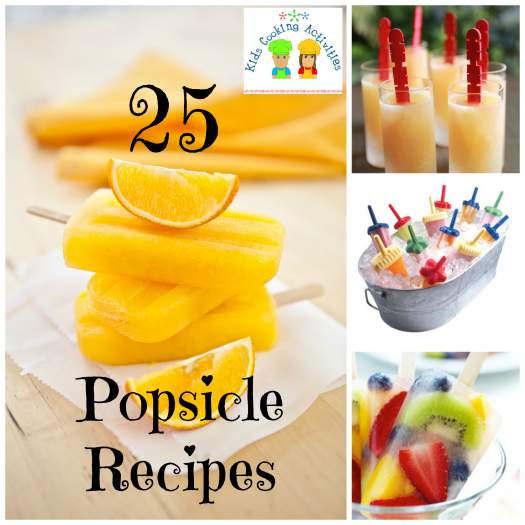 Popsicles- Healthy Recipes
Try frozen fruit drinks, fruit juices or many
smoothie recipes
can be turned into Popsicles by blending the ingredients in the blender until smooth then poured into molds and frozen.

Fruity Popsicle
Cut up slices of kiwi, fresh strawberries, mango or other fruits you like and place in popsicle molds. Pour water or 7-up over the fruit. Add popiscle stick and freeze.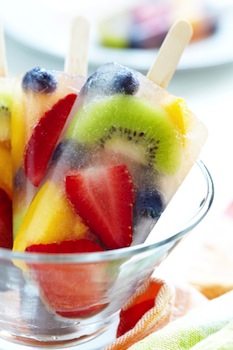 Applesauce Popsicle
1 cup applesauce
Add a little water if you would like it thinner. Pour into molds and freeze.
Watermelon Popsicles
2 cups watermelon cubed remove seeds
1 cup apple juice
Blend in blender until smooth. Pour into Popsicle molds and freeze.

Homemade Popsicle Recipes for Kids Cookbook
Fruit Popsicle Recipes
Tropical Fruit Popsicles
1 Cup mandarin oranges with juice
1 Cup crushed pineapple
1 mango, chopped
2 Cups orange, pineapple or grape juice
Add ingredients to a blender and blend until smooth. Pour into Popsicle molds and freeze.

Blueberry Swirl Popsicle
Vanilla yogurt
blueberry yogurt
Add vanilla and blueberry yogurt into popsicle mold adding each one a little at a time giving it a layer effect. Freeze.
Pineapple Popsicle Recipe
1 quart milk
20 oz can of crushed pineapple, drained
1 ½ Cups sugar
1 teaspoon vanilla
Blend in blender until smooth. Pour into molds and freeze.
Fruit Slushies
½ Cup sugar
½ Cup water
2 tablespoons lemon juice
4 cups watermelon diced or 5 cups strawberries
In saucepan, heat sugar and water. Bring to a boil and stir until sugar dissolves. Allow to cool and stir in lemon juice. Puree fruit in blender, substitute a different fruit if desired or experiment with different flavors. Add sugar mixture with fruit. Blend together. Pour into small paper cups and freeze.
Multi Layer Fruit Pops
2 Cups sliced fresh strawberries
¾ Cup sugar, divided
1 1/3 Cups fresh peaches, sliced
2 cups diced watermelon
Puree in blender strawberries and ¼ cup sugar. Pour small amount in molds or paper cups about 1/3 full. Put in Popsicle sticks. Freeze. Puree peaches and ¼ cup sugar in blender. Pour over frozen strawberry layer. Freeze. Cube watermelon and remove seeds. Puree watermelon and ¼ cup sugar in blender. Pour over frozen peach layer and freeze.
Lemon Fruity Pops
8 oz lemon yogurt
2 Cups seedless watermelon, cubed
small container strawberries, washed and cut off tops
1 banana, peeled and sliced
Add ingredients to blender and blend until smooth. Pour into popsicle molds and freeze overnight.
Mango Pop
by Caitlin M (Perth)
1 Small Mango
1/2 Cup of any Yogurt
1 Cup of Milk
Method:
1. Pour all Ingredients into Blender
2. Blend until Smooth
3. Pour Mixture into Popsicles
4. And Freeze
Also this recipe is also used as a smoothie Just add 3 Ice Cubes
Peach-sicle
by Carmen
Put mandarin oranges or peach slices into the bottom of a plastic cup. Pour peach or orange juice into the cup until almost full. Poke a stick through a square of tin foil and into cup. freeze overnight. to get Popsicle out, run warm water on the outside of cup and gently slide Popsicle out. Enjoy a healthy treat.
Red Fruit Pop's
by Amy J.K. (Victoria BC)
1 cup raspberry yogurt
1/2 cup frozen raspberries
1 cup strawberry kiwi juice
Stir and pour into molds or cups and freeze.
Mango Mania Popsicle
by Brianne (willits,california)
1 half cup diced mango chunks
1 half cup pineapple diced
Fruit punch or orange juice
Blend in a blender, pour into molds, freeze. Enjoy
Apple Swirl Popsicles
by michaelrasin
apple juice
apples
Cut apples and mix with juice. Pour in cup put Popsicle stick in. Freeze.
---
Make teaching easier with our activities and recipes compiled in one easy to read format.
***Also available in paperback.
---
Kids Fun Popsicle Recipes
Gatorade Popsicles
by Natalie (United states)
1 bottle of any flavor of Gatorade
Pour Gatorade into Popsicle molds and freeze for a frozen, somewhat healthy treat.
Juice Pops
Try mixing two juices together for a different flavor.
1 cup orange juice
1 Cup white grape juice
Stir together and pour into molds. Freeze.
OR
1 Cup pineapple juice
1 Cup mixed fruit juice
Stir together and pour into molds. Freeze.
Colorful Ice Cubes
by Annika (Vanderhoof B,C)
1 pack of Kool-Aid
1.5 cups of water
Mix the water and the Kool-Aid together to make juice. Pour the juice into ice cube molds. Freeze for 24 hours. Can eat it with juice, water, or just eat it plain.
Sunshine Pops
by Kayla (Mississippi)
1 cup of pulp free orange juice
1 cup peach Sunkist or other peach soda
Pour orange juice into small disposable plastic cups until half full. Then, pour peach soda to fill the cup. The color of the pops is much prettier if done in this order. Cover with plastic cling wrap.(tin foil works too) Freeze over night for best results.
Tip: for stubborn pops run the cups under warm water.
Juice pops
by Megan & Isaac (Noblesville, IN)
We don't use exact amounts.
Orange Juice (probably 1-2 cups depending on how many pops you are making)
Frozen or fresh fruit of choice (berries and bananas) - cut up fruit as necessary to fit into blender
Blend/puree in the blender. Pour into popsicle molds. Freeze. enjoy
POP IN A TRAY!!
by Jazmine McCracken (Canada)
1. Get an ice tray.
2. Get a can of pop...any kind.
3. Poor the pop into each slot.
4. Then take either straws or popsicle sticks and put them in.
Try your best to make them stand(they may not stand straight up)!!
5.Check on them 1 hour later to see if its slush then try to put them straight up
Lemonade Popsicles
one bottle of water
one pack of crystal lite lemonade flavor
Mix and add to a Popsicle mold
This is easy and fun
Lemonade Popsicle
by Jess (Australia)
1 can lemonade
Pour into molds. freeze. enjoy!

Homemade Popsicle Recipes for Kids Cookbook
Dessert Popsicle Recipes
Banana Pops
Strawberry Cream Popsicle
by brianne (california)
1 cup of strawberry nectar
half a cup of organic strawberries
1 fourth of a cup whipped cream
Beat mixture in blender, pour into molds and freeze. Enjoy!
Jell-O Pops
1 small package flavor gelatin
1 cup boiling water
1 cup vanilla or flavored yogurt
½ cup milk
Dissolve gelatin in boiling water. Allow to cool. Then stir in yogurt and milk Pour into Popsicle molds or cups insert sticks and freeze.
Do you have kids 3-6 years old? Try this kids cooking lessons on
practice pouring and making popsicles.
What is your Favorite Popsicle Recipe?
Submit your favorite kids recipe
Do you have a favorite recipe your kids love to make? Or a recipe your kids ask you to make again and again? Share it with us!
Reader's Submitted Recipes
Click below to see contributions from other visitors to this page...

Pear Pops
You will need a blender, paper cups, and popsicle sticks. Mix the following in the blender: -2 fresh pears -1 1/4 cup milk -1/4 cup sugar Make …
Cokecicle
Ingredients 2 Popsicle sticks 1 Tupperware container and lid 1 can of Coke freezer Instructions 1. Pour can of coke in tupperware container. …
---
Related Seasonal Recipe Pages:
~
School Lunches
, ~
Apples
, ~
Pumpkins
, ~
Kids Halloween Recipes
, ~
Halloween Recipe Ideas
, ~
Thanksgiving
, ~
Hanukkah Recipes
, ~
Kids Christmas cooking
, ~
Christmas Candy Recipes
, ~
Reindeer
, ~
Make Homemade Chocolates
, ~
Jar Mixes
, ~
Gift Basket Ideas
, ~
Homemade Fudge Recipes
, ~
Homemade Suckers
, ~
Christmas Cookie Recipes
, ~
Gingerbread House Recipes
, ~
Food Gift Ideas
, ~
Dough Ornament Recipes
, ~
Hot Cocoa
, ~
Happy New Year
, ~
Snowman Theme Recipes
, ~
Valentine's Day
, ~
Valentine Dessert Recipes
, ~
St. Patrick's Day
, ~
April Fool's Day Recipes
, ~
Passover Recipes
, ~
Kids Easter Recipes
, ~
Sugar Eggs Recipe
, ~
Resurrection Cookies Recipe
, ~
Italian Easter Bread
, ~
Russian Easter Bread Recipe
, ~
Cinco de Mayo, May 5
, ~
Mother's Day Recipes
, ~
Father's Day Recipes
, ~
Kid's Campfire Cooking Recipes
, ~
Dutch Oven Cooking for Kids
, ~
4th of July Recipes
, ~
Ice Cream Recipes
, ~
Popsicle Recipes
, ~
Simple Smoothie Recipes
, ~
Picnic Ideas and Recipes
, ~
Easy Grilling Recipes
, ~
Grow your own Italian Pizza Garden
---