Junior Chef - Kids Cooking Lessons Plans
12-15 years old- Lesson 1
Part 1: Review Kitchen Safety and Microwave Use
To start today's Kids Cooking Lessons please review our
kitchen safety page
and review microwave use.
We are going to continue on with cooking in the kitchen, so, it is important to have this knowledge "under their belt" before we learn about oven safety.
Kids Cooking Activities Teaching Materials
Make teaching easier with our activities and recipes compiled in theme sets and books with an easy to read format
Perfect for teaching!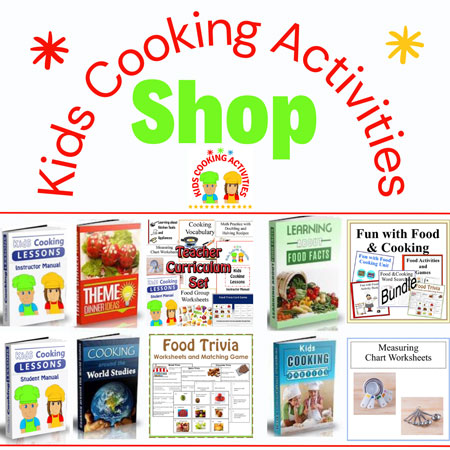 ~This post may contain affiliate links and I'll earn a small commission if you shop through them. There is no extra cost to you. This is how we help support our family and continue to bring you amazing content. To learn more see the
affiliates disclosure here.
~
Part 2: Review Oven Safety
Please discuss and show your child the steps of Oven Safety.
Always use potholders.


Make sure small children are out of the way when taking a hot pan off the stove.



When removing a hot pan from the stove to the sink or table let everyone now you are moving by letting them know you are coming even if you have to yell "HOT PAN COMING THROUGH."



Pot handles should be facing inward so small hands cannot grab the handle.



Know how to use your stove, what is high, medium, low. How to turn the oven on, etc.


Keep stove top and oven clean. Leftover grease and residue can start a grease fire.



In case of a grease fire never pour water on the fire. Cover the pan with a lid or close the oven door.



Have a fire extinguisher in the kitchen but away from the stove. Learn how to use it.



Never leave anything on the stove unattended.
Part 3: Kids Cooking on the Stove
It is, for some kids, a long awaited moment for this kids cooking lessons on using the stove!
When they are ready and prepared with oven safety and knowledge on how to use the stove top and oven choose a recipe that requires oven or stove top cooking or use the recipe provided.
This recipe includes stove top cooking, frying in a pan and cooking in the oven.
Stuffed Peppers Recipes
Ingredients
6 peppers
1 onion
1 carrot
1 chicken bouillon cube
2 Cups rice
1 lb. ground beef
1/2 cup tomato sauce
Directions
Preheat oven to 350 degrees. Bring a pan of water to boil and place peppers cut in half lengthwise or whole with tops cut off and seeds removed in the water. Boil several minutes. Drain and set aside.
Add 1-2 tablespoons oil to a saucepan. Grate 1 onion and 1 peeled carrot into oil. Sauté for 1 minute. Add 2 cups rice and 1 bouillon cube. Stir several minutes until rice turns glassy.
Stir in 2 cups of water. Turn to medium low and simmer with a lid on. Meanwhile, in separate bowl, add 1 lb. uncooked ground beef and 1/2 cup tomato sauce together. Add in rice and stir to combine. Stuff peppers or zucchini and bake at 350 degrees for 45 minutes- 1 hour.
Kids Cooking Lesson Plans
Follow Kids Cooking Activities