Making Nachos
You can use multigrain tortillas for a healthy version when having nachos. When making quick nachos add plenty of fresh salsa, chopped tomatoes, chopped olives for a deluxe nachos. Nacho cheese tortilla chips are personally my favorite but I rarely use them for nachos except for special treats instead I go for the multigrain or white corn tortillas for my homemade nachos.
Kids Cooking Activities Teaching Materials
Make teaching easier with our activities and recipes compiled in theme sets and books with an easy to read format
Perfect for teaching!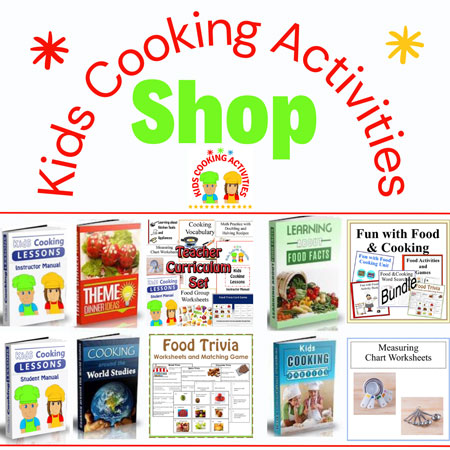 ~This post may contain affiliate links and I'll earn a small commission if you shop through them. There is no extra cost to you. This is how we help support our family and continue to bring you amazing content. To learn more see the
affiliates disclosure here.
~
How to Make Nachos
Ingredients for these deluxe easy nachos could be:
refried beans
ground beef, turkey or chicken
shredded lettuce
chopped tomatoes or salsa
sliced olives
cheddar or Mexican blend cheese
jalapeno peppers
sour cream

Brown ground beef and season with salt and pepper. Drain and set aside. Do any prep work needed such as chopped fresh tomatoes, lettuce, olives, shredding cheese, etc.
To assemble your easy nachos, start by adding tortilla chips to a microwave safe plate. Drop refried beans by tablespoons on top of chips. Sprinkle with cooked hamburger, sprinkle with cheese. Microwave 1-2 minutes until cheese is melted. Remove from microwave. Top with tomatoes, salsa, shredded lettuce, olives, sour cream etc.
Enjoy!
Sheet Pan Nachos
Ingredients:
1 T. extra virgin olive oil
1/4-1/2 red onion, finely chopped
2-3 large cloves garlic, finely minced
salt and black pepper, to taste
taco seasoning packet or homemade taco seasoning
1¼ lbs. ground beef
1 large bag (11-14 oz.) tortilla chips
1 8-oz. bag Mexican cheese blend, shredded
2 large green onions, green parts only, sliced thin
1 6-oz. can black olives, chopped
1 large jalapeño pepper, sliced thin
1 large ripe avocado, seeded and chopped
Directions:
Preheat oven to 350°F. Line a baking sheet with parchment paper or a Silpat™ baking mat and set aside.
Heat the olive oil in a large skillet over medium heat. Add chopped red onion and minced garlic. Sauté until onion is clear.
Add beef to onion mixture. Add 2 tablespoons of taco seasoning mixture and stir to combine. Mince and cook until beef is browned. Remove from heat, drain off grease and set aside.
On baking sheet add tortilla chips into an even, overlapping layer. Sprinkle cooked beef on top of the tortilla chips layer.
Sprinkle cheese on top of the beef and nachos in an even layer and place in the pre-heated oven for 5-7 minutes, or until the cheese is completely melted.
Remove baking sheet from oven and cool slightly before topping with sliced green onion, chopped black olives, Pico de Gallo, and sliced jalapeño pepper. Use whatever toppings you like.
Chop avocado and add to nachos.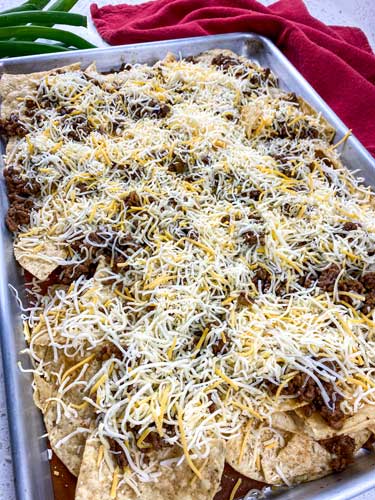 More Sheet Pan Recipes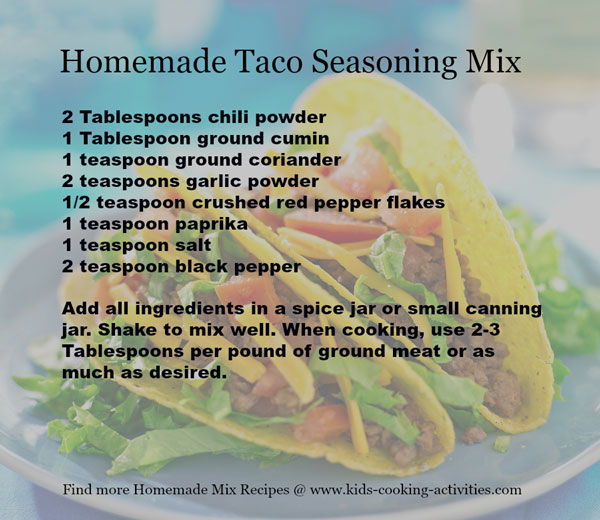 Readers Making Nachos Recipes
Nacho Heaven
by Alex Kepler (Medford, NJ)
Ingredients:
Tortilla chips
Mexican cheese blend
Salsa
Hot sauce
Turkey slices from deli counter
How to make:
1) Put tortilla chips of any kind on a microwave safe plate.
2) Put the following in order: Dollop salsa on chips. Then sprinkle with cheese blend. Then take turkey and put it on the tortilla chips in little pieces. If you like you can add a little drop of hot sauce on each chip.
3) Put plate of nachos in microwave for the 20-30 seconds.

For a lighter version use baked tortilla chips and lowfat cheese.
Enjoy!
Little Nachos
by Brandi Faulkner (Baytown, Tx, USA)
2 cups Tostitos Chips
2 1/2 cups shredded cheddar cheese
1/2 cup Pace Picante sauce
1/4 cup cilantro
Spread chips evenly out on a microwaveable plate. Sprinkle cheese over the chips. Top with picante sauce and cilantro. Microwave on high for 1 1/2 minutes. be careful it might be hot!
Homemade Nacho Cheese Sauce for Nachos
Follow Kids Cooking Activities