Easy Dip Recipes
Easy Dip Recipes can add fun kids appeal to any meal. Try one of these varieties with your favorite finger foods or meals.
Kids Cooking Activities Teaching Materials
Make teaching easier with our activities and recipes compiled in theme sets and books with an easy to read format
Perfect for teaching!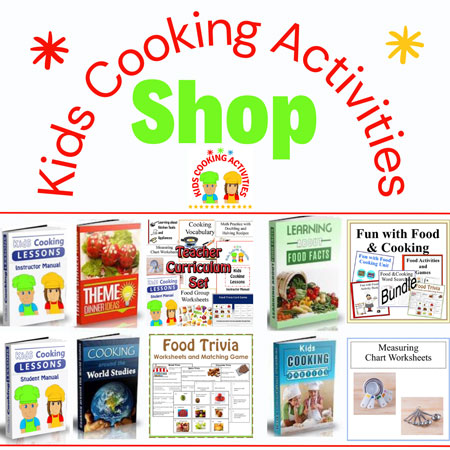 ~This post may contain affiliate links and I'll earn a small commission if you shop through them. There is no extra cost to you. This is how we help support our family and continue to bring you amazing content. To learn more see the
affiliates disclosure here.
~
Easy Dip Recipes
Creamy Fruit Dip
8 ounces cream cheese, softened
1/2 cup sour cream
1/4 cup brown sugar
1-2 tablespoons maple syrup
Combine all ingredients together and chill. Serve with fresh fruit.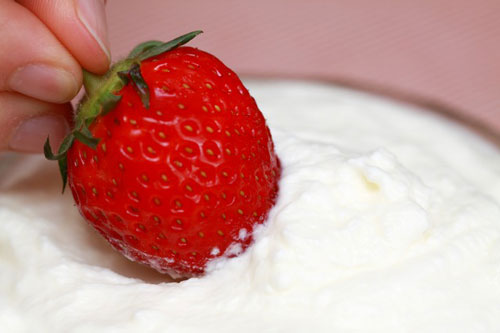 7 Layer Taco Dip
Layer ingredients below in order in a casserole dish:
Refried beans
Guacamole
1 Cup sour cream mixed with 1 Tablespoon taco seasoning mix
Shredded cheese
Shredded lettuce
Chopped tomatoes
Sliced olives
If you'd like to add cooked hamburger add that after the refried beans. If you'd like to add chopped onions add that to the top with the olives.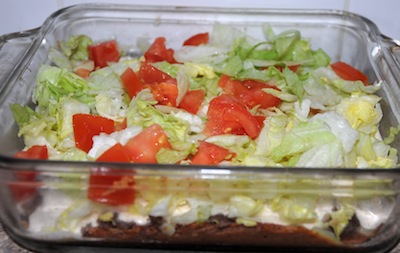 Peanut Sauce
1/2 Cup half and half
1/2 Cup creamy peanut butter
1/4 Cup coconut milk (not cream of coconut)
2 teaspoons sugar
1 to 2 teaspoons red pepper flakes, crushed or ¼ teaspoon red pepper sauce
Add all ingredients in a jar, add a lid and shake. Or use a bowl and whisk ingredients together. Great dip for chicken.
Cucumber Yogurt Sauce
1 Cup plain yogurt
1 cucumber, chopped
½ teaspoon crushed garlic
½ teaspoon dill weed
Mix together and chill in fridge until serving. This goes well with pork or vegetables.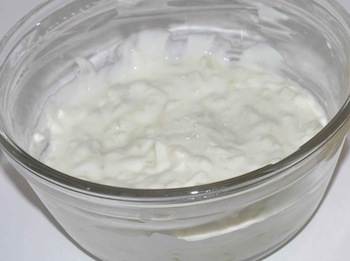 Honey Mustard Dip
Great with chicken.
½ cup mayonnaise
¼ cup honey
¼ cup yellow or Dijon mustard
Add ingredients in a jar, put on a lid and shake together.
Garlic Cream Cheese Dip
1 package cream cheese, softened
1 clove garlic, minced
¼ cup milk
1 tablespoon sour cream
Add ingredients in a bowl and stir together to combine.
Homemade Herb Onion Dip
Hummus Recipe
15 oz. can of garbanzo beans
1 garlic clove, chopped
1 teaspoon salt
1/4 Cup cold water
5 Tablespoons lemon juice
1/3 Cup tahini paste
Fresh vegetables: Tomatoes, cucumbers, carrots, and/or celery Kalamata olives
High-quality extra virgin olive oil
Smoked paprika, for garnish
Open beans with can opener and drain liquid out. Place beans in a bowl and mash with a potato masher or use the food processor. Add in garlic clove, salt, cold water, lemon juice and tahini paste. Blend until smooth. Spread in a serving dish and drizzle with olive oil and add a sprinkle of paprika. Serve with vegetables or pita bread cut in wedges.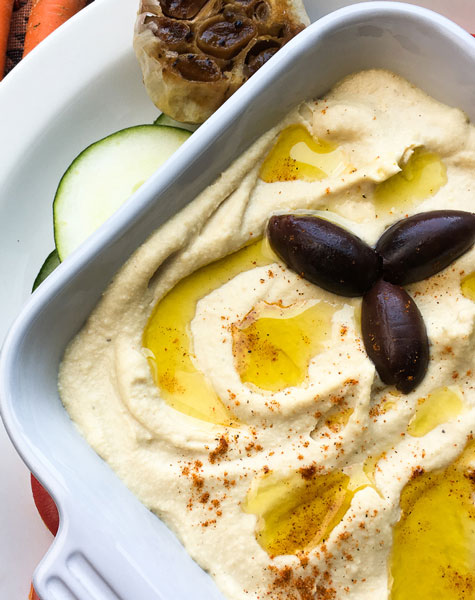 Hot Chicken Easy Dip Recipes
by Natasha, USA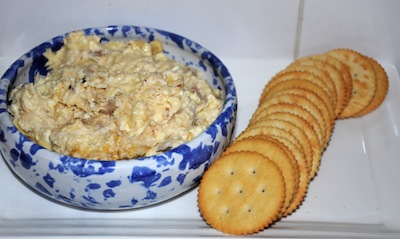 8 oz. pkg. cream cheese, softened
1/2 cup blue cheese or ranch salad dressing
1/2 cup any flavor hot Sauce*
1/2 cup crumbled blue cheese or shredded mozzarella cheese
2 cans (12.5 oz. each) White Premium Chunk Chicken Breast in Water, drained
DIRECTIONS:
HEAT oven to 350°F. Place cream cheese into deep baking dish. Stir until smooth.
MIX in salad dressing,Hot Sauce and cheese. Stir in chicken.
BAKE 20 min. or until mixture is heated through; stir. Garnish as desired.
Serve with crackers or vegetables.
*Don't like spicy? Start with 1/4 Cup hot sauce and add more to taste.
Cinnamon Butter Spread
by Laurie, (Canada)
As easy as 1 2 3
1 cup of butter
2 cups of icing sugar
3 Tablespoons of Cinnamon
Add all three into blender or food processor, even a mixer will do but lighter & fluffier if in food processor.
The Veggie-Cheesy Dip
by Nupur Pandya (Richmond,VA)
Ingredients
1 Cup salsa
1/2 Cup shredded cheese (any Mexican cheese will do)
1/4 Cup fat-free or low-fat sour cream
1/3 Cup chopped olives & beans (black or garbanzo)
Chips to dip in
1. Melt the cheese in the salsa for 30 seconds.
2. Add the sour cream and olives/beans.
3. Mix
4. Enjoy with the chips.
Mediterranean Layer Dip
Ingredients: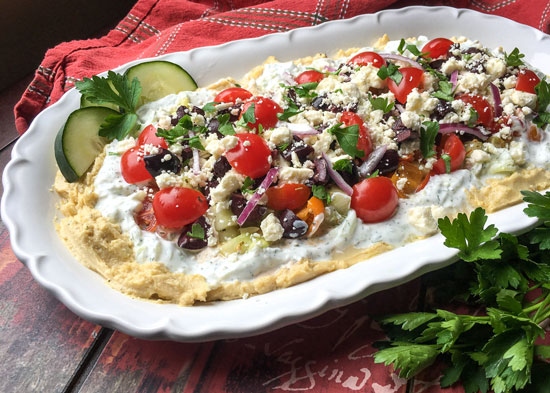 1 large seedless cucumber, peeled and cut in half
1 c. cherry or grape tomatoes, chopped
½ small red onion, sliced thin
1 T. extra virgin olive oil
3 T. lemon juice, divided
1 t. garlic powder
1 T. fresh oregano (or 1 t. dried), divided
Sea salt and black pepper, to taste
1 c. plain Greek yogurt (full fat)
2-3 cloves garlic, minced
1 T. fresh dill (or 1 t. dried)
1½ c. hummus, store bought or homemade
½ c. Kalamata olives, chopped
½ c. Feta, crumbled
¼ c. fresh parsley, chopped
To Serve:
Vegetable strips
pita bread triangles
Directions:
1. Dice one half of the cucumber and add to a large bowl, along with the tomatoes, red onion, olive oil, 2 tablespoons lemon juice, garlic powder, and half of the oregano. Season with salt and black pepper, to taste, and stir to combine. Cover and set aside until ready to use.
2. To prepare the Tzatziki sauce, shred remaining cucumber with a box grater and place in another large bowl. Add Greek yogurt, minced garlic, dill, and the remaining oregano and lemon juice. Season with salt and black pepper, to taste, and stir to combine. Cover and set aside until ready to use.
3. Spread the hummus into a uniform layer on small serving platter (or in an 8" x 8" casserole dish).
4. Top the hummus with an even layer of the Greek yogurt mixture (Tzatziki sauce from Step #2).
5. Use a slotted spoon to drain excess liquid from the seasoned tomato, red onion, and cucumber mixture before spreading on top of the Tzatziki sauce.
6. Add the Kalamata olives, followed by the crumbled Feta and fresh chopped parsley. Serve immediately with vegetable crudités for dipping. Enjoy!
3 Easy Dip Recipes
Melted Snowman
by Deana Cornish, (Pawhuska,OK)
Whisk together 1 pint low-fat mayo, 1 Cup 1% Milk, 3 Tbsp. Ranch dressing (1 packet). Serve with "Snowman Noses" (carrots).
We do monthly themes in our after-school cooking club. January was "Snow".
Easy and Fancy Goat Cheese Dip
Ingredients:
¼ pecans, finely chopped
1 T. fresh rosemary leaves, finely chopped
¼ c. dried cranberries, chopped
1 4-oz. goat cheese log
3 T. honey, divided
To serve:
Directions:
1. Combine chopped pecans, rosemary leaves, and cranberries in a medium bowl and stir to combine. Set aside.
2. Place the goat cheese log in a rimmed bowl and drizzle 2 tablespoons honey on top. Turn the cheese log while spreading the honey evenly across the entire surface with clean fingers.
3. Sprinkle the chopped pecan mixture across the top of the honey-covered cheese log and gently press into the surface until the entire log is evenly coated.
4. Drizzle the remaining honey on a small serving platter or round plate as shown to hold the cheese log in place. Position the goat cheese in the center and sprinkle any remaining cranberry-pecan mixture around it. Serve immediately with your choice of crackers or crostini. Enjoy!
Other Easy Dip Recipes and Ideas
Share your Dip Recipes
Submit your favorite kids recipe
Do you have a favorite recipe your kids love to make? Or a recipe your kids ask you to make again and again? Share it with us!
Reader's Submitted Recipes
Click below to see contributions from other visitors to this page...

Fruit Toffee Dip
Ingredients: 4 oz fat free cream cheese 4 oz 1/3 reduced fat cream cheese 1/2 cup Splenda brown sugar 1/2 teaspoon vanilla extract 1/2 cup of Heath …
Herb Cream Sauce
1 8oz softened cream cheese 1 T sour cream 1 7 oz can tomatillos salsa 1 t ground pepper 1 t celery salt 1/2 t ground cumin 2 t garlic powder 1 …
Follow Kids Cooking Activities