Ravioli with Sauce
A collection of some of our favorite ravioli with sauce recipes as well as ravioli salad.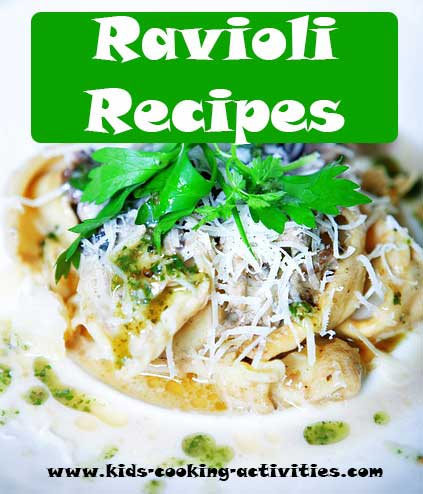 Planned Kids Cooking Curriculum
~This post may contain affiliate links and I'll earn a small commission if you shop through them. There is no extra cost to you. This is how we help support our family and continue to bring you amazing content. To learn more see the
affiliates disclosure here.
~
Manti with Yogurt Sauce
My husband spent sometime in Turkey and loved the ravioli with yogurt sauce. We reinvented it a little and it is one of our favorites. My kids often eat it without the sauce. For special occasions we make fresh ravioli with pork inside and top it with this sauce.
Meat filled ravioli -homemade, frozen or fresh
Sauce:
1 Cup plain yogurt
pinch of salt
1 teaspoon Parsley
3 cloves of garlic, minced
2 Tablespoons Melted butter
Boil 8 quarts water. Gently add pasta to boiling water and simmer under reduced heat for 5 minutes or until ravioli rise to the top. Taste pasta for doneness. Mix sauce ingredients together and pour over cooked pasta squares. Serve immediately.
You may also like a
spaghetti sauce recipe to go with your ravioli
instead of the yogurt sauce.
Toasted Ravioli with Sauce
This is one of our favorite family meals, we usually only do it on special occasions because it is fried and we make our ravioli from scratch. You can easily buy frozen ravioli and use it instead.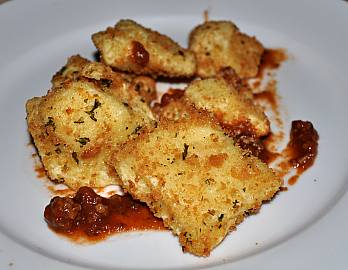 You will need:
Cheese ravioli
1/2 Cup-1 Cup bread crumbs
1/2 Cup-1 Cup milk
frying oil
spaghetti or pasta sauce for serving
Boil a large pot of water and add cheese raviolis. Cook 5-7 minutes or until ravioli's come to the top of the pot. Drain and preheat a deep fat fryer or pot of oil.
Place milk in a small bowl. Place bread crumbs in a separate small bowl. Place raviolis in milk. Then take out and coat in bread crumbs.
Place in hot oil and fry 1 minute or until toasted.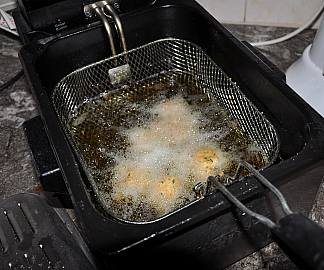 Drain on paper towels and serve warm with spaghetti sauce.
---
Make teaching easier with our activities and recipes compiled in one easy to read format.
---
Cheesy Ravioli and Peas
I used tortellini in this picture instead of ravioli
1 (9 oz.) pkg. cheese ravioli
1 Cup frozen peas
2 Tablespoons flour
1/8 teaspoon pepper
1 Cup half and half
1 (14.5 oz.) can diced tomatoes, pureed
1 Tablespoon garlic seasoning or other seasoning
2 Tablespoons Parmesan cheese, grated
Cook ravioli in boiling water until tender. The last few minutes add frozen peas and drain. Meanwhile, whisk together half and half, pureed tomatoes, flour and pepper. Stir several minutes until thickens. Toss sauce with ravioli and peas. Sprinkle with Parmesan cheese and serve.
Ravioli Salad
A variation from ravioli with sauce could be a ravioli salad!
1 lb. cheese ravioli
fresh vegetables diced, such as asparagus, green peas, green beans, halved grape tomatoes, etc.
1/2 cup chopped nuts
Boil your ravioli until tender. Meanwhile chop any fresh vegetables you'd like to add to your salad. If you'd like you can cook chopped carrots, fresh green beans, etc that need softening.
In a serving bowl, add cooked ravioli and vegetables. Toss nuts and drizzle with Parmesan cheese and olive oil. Serve.
Learn how to make your own homemade pasta

Submit your favorite kids recipe
Do you have a favorite recipe your kids love to make? Or a recipe your kids ask you to make again and again? Share it with us!
Follow Kids Cooking Activities