Ravioli with Sauce
A collection of some of our favorite ravioli with sauce recipes as well as ravioli salad as well as directions on
making homemade ravioli.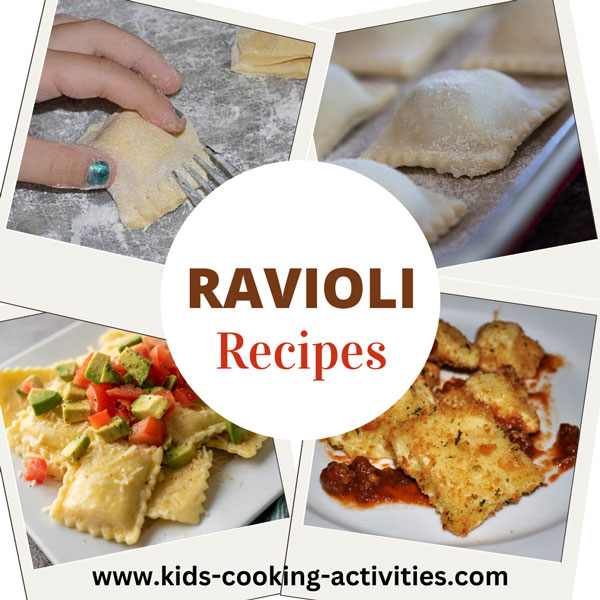 Kids Cooking Activities Teaching Materials
Make teaching easier with our activities and recipes compiled in theme sets and books with an easy to read format
Perfect for teaching!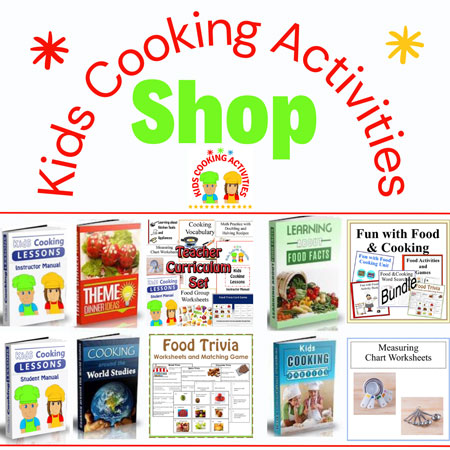 ~This post may contain affiliate links and I'll earn a small commission if you shop through them. There is no extra cost to you. This is how we help support our family and continue to bring you amazing content. To learn more see the
affiliates disclosure here.
~
Manti with Yogurt Sauce
My husband spent sometime in Turkey and loved the ravioli with yogurt sauce. We reinvented it a little and it is one of our favorites. My kids often eat it without the sauce. For special occasions we make fresh ravioli with pork inside and top it with this sauce.
Meat filled ravioli -homemade, frozen or fresh
Sauce:
1 Cup plain yogurt
pinch of salt
1 teaspoon Parsley
3 cloves of garlic, minced
2 Tablespoons Melted butter
Boil 8 quarts water. Gently add pasta to boiling water and simmer under reduced heat for 5 minutes or until ravioli rise to the top. Taste pasta for doneness. Mix sauce ingredients together and pour over cooked pasta squares. Serve immediately.
You may also like a
spaghetti sauce recipe to go with your ravioli
instead of the yogurt sauce.
Toasted Ravioli with Sauce
This is one of our favorite family meals, we usually only do it on special occasions because it is fried and we make our ravioli from scratch. You can easily buy frozen ravioli and use it instead.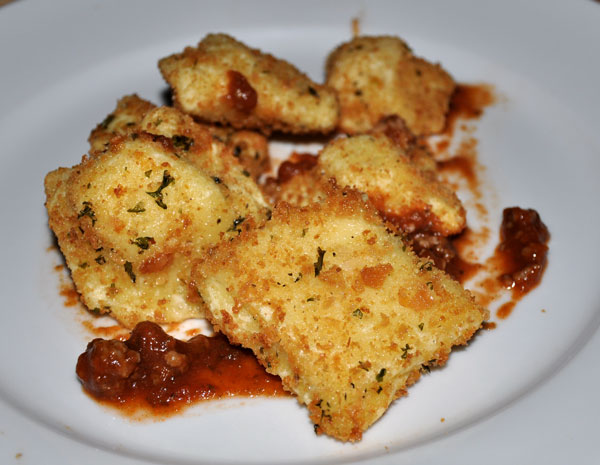 You will need:
Cheese ravioli
1/2 Cup-1 Cup bread crumbs
1/2 Cup-1 Cup milk
frying oil
spaghetti or pasta sauce for serving
Boil a large pot of water and add cheese raviolis. Cook 5-7 minutes or until ravioli's come to the top of the pot. Drain and preheat a deep fat fryer or pot of oil.
Place milk in a small bowl. Place bread crumbs in a separate small bowl. Place raviolis in milk. Then take out and coat in bread crumbs.
Place in hot oil and fry 1 minute or until toasted.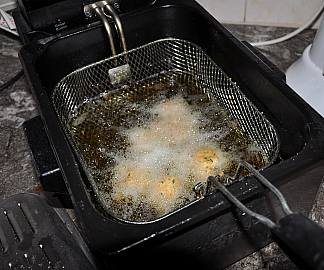 Drain on paper towels and serve warm with spaghetti sauce.
---
Make teaching easier with our activities and recipes compiled in one easy to read format.
---
Cheesy Ravioli and Peas
I used tortellini in this picture instead of ravioli
1 (9 oz.) pkg. cheese ravioli
1 Cup frozen peas
2 Tablespoons flour
1/8 teaspoon pepper
1 Cup half and half
1 (14.5 oz.) can diced tomatoes, pureed
1 Tablespoon garlic seasoning or other seasoning
2 Tablespoons Parmesan cheese, grated
Cook ravioli in boiling water until tender. The last few minutes add frozen peas and drain. Meanwhile, whisk together half and half, pureed tomatoes, flour and pepper. Stir several minutes until thickens. Toss sauce with ravioli and peas. Sprinkle with Parmesan cheese and serve.
Ravioli Salad
A variation from ravioli with sauce could be a ravioli salad!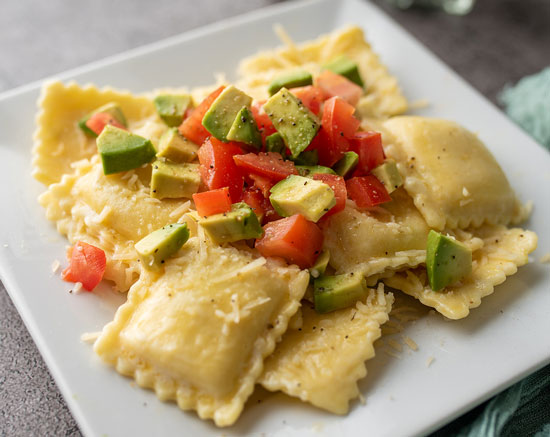 Ingredients:
1 lb. cheese ravioli
fresh vegetables diced, such as asparagus, avocados, green peas, green beans, halved grape tomatoes, etc.
Parmesan cheese
1/2 cup chopped nuts
Directions:
Boil your ravioli until tender. Meanwhile chop any fresh vegetables you'd like to add to your salad. If you'd like you can cook chopped carrots, fresh green beans, etc that need softening.
In a serving bowl, add cooked ravioli and vegetables. Toss nuts and drizzle with Parmesan cheese and olive oil. Serve.
Making Homemade Ravioli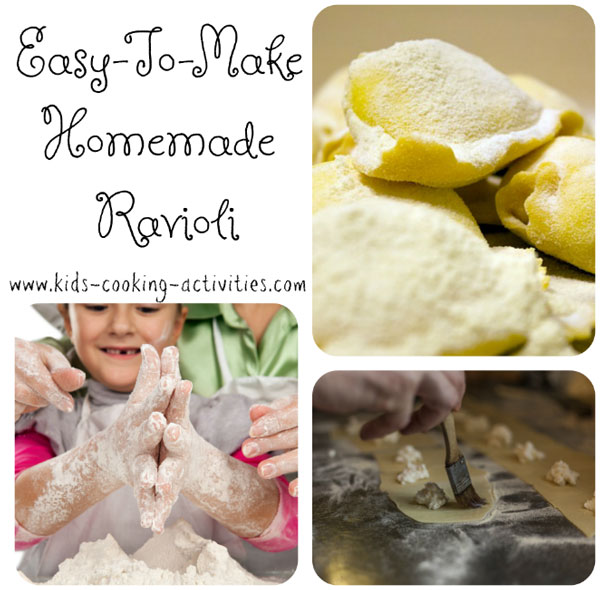 Easy Ravioli Recipe:
Ingredients:
DOUGH: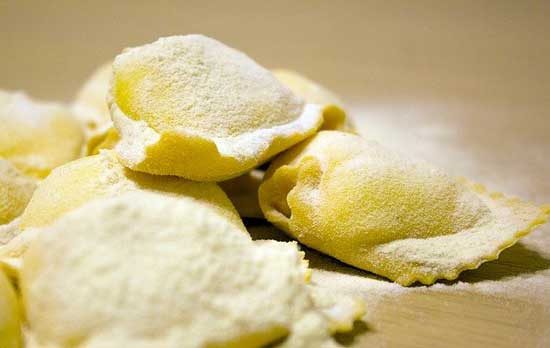 2 cups all-purpose flour
1 tsp olive oil
2 eggs
1.5 tbsp water
pinch salt
EGG WASH:
SUPER BASIC CHEESE FILLING
1 cup shredded cheese (any kind)
1 package ricotta (8-16 oz)
1 egg
spices and seasoning (lemon zest, basil, parsley, pepper, etc)
DIRECTIONS
:
First off, this recipe can get a little bit messy. You'll want to either use an extra large cutting board or wash one of your counters extra well so you can use it as a work surface.
Start by making a small mound with the flour and salt. In a separate container, beat together the oil, eggs, and water. Pour about half of this solution into your flour well and begin to mix it by hand. I recommend that you use both hands to try to keep the well stable while you let your kids do the mixing. Once it's more or less mixed, form your dough into a well, pour in the remaining egg mixture and mix again.
Knead the dough for about ten minutes. Kids are great for this. If things get too sticky, feel free to add a bit of flour. Your goal is a malleable dough that's fairly smooth.
Once you're done kneading, wrap the dough tightly in plastic and throw it in the fridge to rest for about an hour.
You'll want to prepare your filling and your egg wash before you proceed to the next step. To prepare the basic cheese filling above, simply mix all ingredients together in a bowl. You can fill ravioli with pretty much anything you want. Make sure any meats are properly cooked, however, because you won't boil your pasta shapes long enough to cook them. I'd recommend using egg as a binding agent with most fillings. You'll also want egg wash to hold the pasta sheets together, which is simply an egg beaten together with a bit of water.
When your dough is done resting, use a rolling pin or pasta machine to roll it out into thin sheets. The rule I've heard is that your pasta sheets should be about the same thickness as a coin. Pasta machines can make this much easier and more consistent, but there's nothing wrong with getting your hands dirty and having fun rolling out your dough by hand with your kids.
The best way to roll out pasta like this is to break it down into smaller chunks. I'd recommend splitting this recipe up into about two sheets. On a floured work surface, form half the dough into a ball, then use your hand to start to flatten it out. Switch to a rolling pin as it gets thinner. You may find it helpful to flour your rolling pin before you start. Make sure to rotate your dough as you work and vary the direction that you roll the pin from.
When you have two sheets, brush the top of one with a thin layer of egg wash. Drop little balls of filling throughout the sheet periodically, then place the second sheet on top. Starting from the center, gently press out any air pockets.
Now for the fun part: using a knife, cookie cutter, or
ravioli stamp
, break apart your pasta sheets into the shapes your kids want. Press the edges of each pasta shape firmly in order to seal them.
To cook the ravioli shapes, bring a large pot of salted water to a rolling boil. Add the ravioli and boil uncovered until the ravioli float. This takes between 5 and 8 minutes.
Serve with your favorite sauce or simply a drizzle of olive oil with some freshly grated parmesan and Italian herbs.
Fun Shapes To Keep Kids Happy
My kids love it when we make dinosaur shaped ravioli. They love it so much that they don't complain anymore when I break out the ravioli stamp in order to make more "adult" shapes. Since they get to have fun kneading the dough, rolling out sheets, and choosing their favorite fillings, they love getting involved in the cooking process. The result is that we have fun making a healthy meal that they're happy about eating. It's a great way to spend an evening.
Submit your favorite kids recipe
Do you have a favorite recipe your kids love to make? Or a recipe your kids ask you to make again and again? Share it with us!
Follow Kids Cooking Activities