Homemade Sauce Recipes
Try mixing your own homemade sauce recipes to cut back on grocery shopping and save yourself and your family from added preservatives. Also see our page on
how to make a white sauce or a roux
, which method is used in many recipes here. The online cooking lesson on
how to make sauces
will help you as well.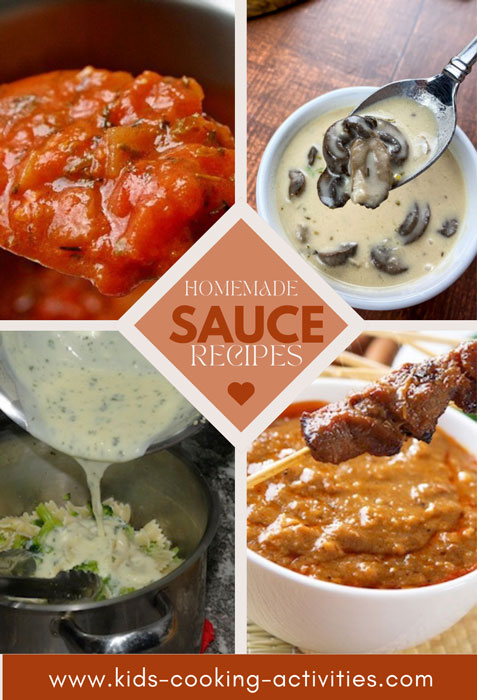 Homemade sauce recipes included on this page:
Kids Cooking Activities Teaching Materials
Make teaching easier with our activities and recipes compiled in theme sets and books with an easy to read format
Perfect for teaching!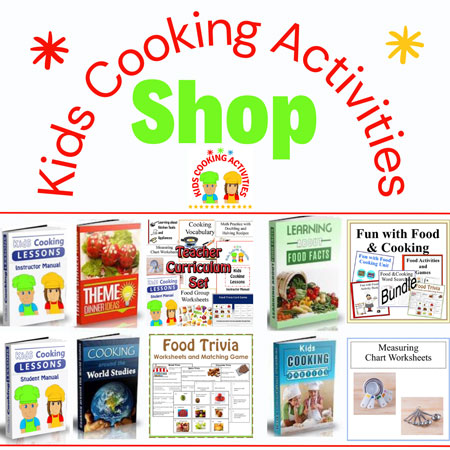 ~This post may contain affiliate links and I'll earn a small commission if you shop through them. There is no extra cost to you. This is how we help support our family and continue to bring you amazing content. To learn more see the
affiliates disclosure here.
~
Homemade Sauce Recipes
Homemade Steak Sauce Recipe
1/2 cup butter
2 tablespoons Worcestershire sauce
3/4 teaspoon pepper
2 drops hot pepper sauce
1/2 cup lemon juice
1 clove garlic, minced
1/2 teaspoon mustard
pinch of seasoning salt
In saucepan, add butter, Worcestershire sauce, pepper, hot pepper, lemon juice, garlic, mustard and salt. Heat until boiling.
Homemade Spaghetti Sauce
2 Tablespoons olive oil
1 onion, chopped
1 garlic clove, crushed
1 teaspoon Italian seasoning
1/4 teaspoon cayenne pepper
1 lb. Beef
28 oz + small can of tomatoes equals 5 Cup chopped tomatoes and run through blender
1/2 Cup ketchup
2 Tablespoons Worcestershire sauce
2 tsp. dried oregano
salt and pepper
Heat oil in pan and sauté onion and garlic. Stir in herbs and cayenne. Add beef and cook until browned. Stir in tomatoes, ketchup, tomato paste, Worcestershire sauce, oregano and pepper. Pour in stock and bring to boil. Cover and lower heat simmer for at least 30 minutes or place in crock pot and cook 6-8 hours on low.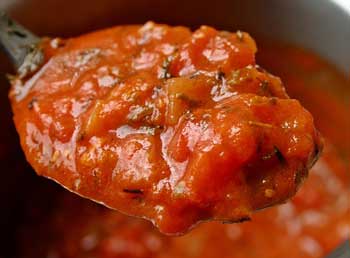 Try this recipe for
homemade tomato sauce.
Barbecue Sauce
1 Cup water
4 Tablespoons sugar
2 teaspoon salt
1/2 Cup vinegar
2 Tablespoon mustard
1 teaspoon pepper
1 Cup ketchup
4 Tablespoons Worcestershire sauce
In medium bowl or jar with a lid, add ingredients and blend together. Fill small freezer containers and freeze. This recipe should make about 2 1/2- 3 cups of sauce, you can freeze in 1 cup increments and double if this is something you use often.
Homemade Hot Fudge Sauce
Top this
homemade fudge sauce
on ice cream, cake, pancakes, crepes... whatever you'd like!
Homemade Alfredo Sauce
To make sauce, melt 2 Tablespoons butter in pan. Add 2 Tablespoons flour, cook, stirring constantly, 1 minute. Whisk in 3 cups milk, 1 teaspoon salt, 1/2 teaspoon ground pepper and a pinch of nutmeg. (garlic if desired) Bring to a boil. Reduce and simmer several minutes. Stir in 3/4 Cup Parmesan cheese.
See more
recipe variations of Alfredo sauce.
Homemade Teriyaki Sauce Recipe
1/4 Cup soy sauce
1 Tablespoon Worcestershire sauce
1/4 Cup brown sugar
1/4 Cup water
2 teaspoons ginger
1 garlic cloves, minced
In quart measuring cup blend ingredients together.
Homemade Pancake Syrup
Top pancakes or waffles with this
homemade pancake syrup.
White Homemade Sauce Recipes
1 Tablespoon butter
1 Tablespoon flour
1 Cup milk
salt and pepper to taste
1 teaspoon other seasonings, such as garlic or Italian seasoning if desired
Melt butter. Whisk in flour making a roux. Whisk in milk and seasonings. Simmer until thickens.
Learn how to make a white sauce with photos.
Asian Peanut Sauce
1/2 cup half and half
1/2 cup creamy peanut butter
1/4 cup coconut milk (not cream of coconut)
2 teaspoons sugar
1 to 2 teaspoons red pepper flakes crushed or ¼ teaspoon red pepper sauce
Add all ingredients in a jar, add a lid and shake. Or use a bowl and whisk ingredients together.
Cream Of Chicken Soup

Replace this homemade cream of chicken soup with the canned version. This is a lot healthier than the canned soups. And personally we like it a lot better than the canned cream soup!
1/3 cup butter or stick margarine
1/3 cup all-purpose flour
1/4 teaspoon pepper
1 3/4 cups chicken broth
2/3 cup milk
In saucepan melt butter. Whisk in flour until thickens. Whisk in chicken broth and pepper. Bring to a boil until thickens. Whisk in milk and again bring to a boil until thickens set aside and allow to cool.
Homemade Cream of Mushroom Soup

8 oz. fresh mushrooms, diced or sliced
1 onion, shredded or chopped
1 garlic clove, minced
2 Tablespoons butter
2 T. flour
2 Cups chicken or vegetable broth
1 Cup heavy cream, milk or unsweetened almond milk
salt and pepper
In soup pan, melt butter and saute mushrooms, onion and garlic for several minutes.
Whisk in 2 Tablespoons flour. Blend together. Then add in, 2 Cups chicken broth. Allow to cook several minutes. Add 1 Cup milk and whisk together. Season with a dash of pepper. Heat several minutes and use in any recipe that calls for cream of mushroom soup or enjoy as is.
Healthy Homemade Ketchup
Most ketchup is made with a base of tomato paste. Thin a can of tomato paste with a little water and apple cider vinegar, mix in some sprinkles of dry mustard, cumin, cinnamon, and salt until you get the consistency and taste you like.

Keep this in the refrigerator for the next time you get the urge for ketchup. Of course, you can add as much salt and sugar as you like; the object is that YOU get to decide how much.

You are also eliminating the preservatives and high fructose corn syrup.

---
Make teaching easier with our activities and recipes compiled in one easy to read format.
---
Homemade Salad Dressings
Homemade Ranch Dressing
3/4 Cup mayonnaise
1/4 Cup buttermilk
1/3 Cup minced celery with leaves
2 Tablespoons chopped fresh parsley
1 Tablespoon grated onion
1 clove garlic, minced
1/4 teaspoon Dried thyme
1/4 teaspoon Celery seed
1/4 teaspoon Salt
1/8 teaspoon Pepper
In a salad dressing shaker cup or jar add all ingredients. Put on lid and shake. Chill until ready to use.
Reader's Homemade Sauce Recipes
Brown Sugar Mustard Sauce
by Katelyn (Moncks Corner,SC )
1 -1/2 teaspoon of mustard
1/4 teaspoon of Worcestershire sauce
1/4 teaspoon of brown sugar
pinch of salt
Stir all ingredients together. Serves one person
Steak Marinade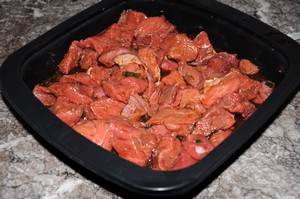 1/2 Cup of soy sauce
1/2 Cup green onions, chopped and divided
3 Tablespoons lime juice
2 Tablespoons brown sugar
few dashes hot sauce
1 garlic clove, minced
2 lbs. boneless sirloin steak, 1 inch thick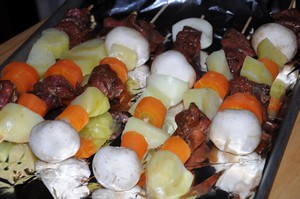 Add soy sauce, onions, lime juice, brown sugar, hot sauce and garlic clove in a ziploc bag. Combine well. Add steak and marinade at least 2 hours. Grill or bake in oven until done.
Healthy Tartar Sauce
1/2 cup plain Greek yogurt
1 TBSP olive oil mayonnaise
1 medium Kosher dill pickle, finely chopped
2 TBSP finely chopped red onion
1 tsp freshly squeezed lemon juice
1/4 tsp garlic powder
1/8 tsp freshly ground black pepper
Put all the ingredients in a glass bowl and whisk together to combine. Mixture should be nice and smooth. Chill for at least 1 hours before serving.
More Homemade DIY Recipes

Find more sauces and
easy dip recipes.

Create
homemade mixes
like bisquick, pancake, brownie mix, etc.
Homemade Barbecue Sauce Video
Do you have homemade sauce recipes to share?
Submit your favorite kids recipe
Do you have a favorite recipe your kids love to make? Or a recipe your kids ask you to make again and again? Share it with us!
Reader's Submitted Recipes
Click below to see contributions from other visitors to this page...

Avocado Mayo
Ingredients 1 cup Avocado oil 1 egg 1/2 a lemon 1/2 tsp Dijon mustard 1/2 tsp sea salt 1 tsp water Directions: Mix all ingredients with an immersion …
White Pepper Gravy
Ingredients 2-3 tablespoons butter 2-3 tablespoons flour 1 cup milk, plus 1-2 tablespoons additional for your preference salt pepper Directions …
Follow Kids Cooking Activities