Turkey Casserole Recipe

You can make a turkey casserole recipe easily by substituting turkey for chicken in any of your favorite recipes. Here is some of our favorites using turkey.
Planned Kids Cooking Curriculum
~This post may contain affiliate links and I'll earn a small commission if you shop through them. There is no extra cost to you. This is how we help support our family and continue to bring you amazing content. To learn more see the
affiliates disclosure here.
~
Thanksgiving Turkey Casserole Recipe
by Dominique (Las Vegas, NV)

Ingredients
1 (6 ounce) package dry bread stuffing mix
1 (16 ounce) container sour cream
1 (10.75 ounce) can condensed cream of mushroom soup
1 (10.75 ounce) can condensed cream of celery soup
1 (1 ounce) package dry onion soup mix
2 (14.5 ounce) cans French-style green beans, drained
2 cups cooked, chopped turkey meat
Directions
Preheat oven to 350 degrees F (175 degrees C).
Prepare stuffing according to package directions.
In a medium bowl, mix the sour cream, cream of mushroom soup, cream of celery soup and dry onion soup mix.
Spread the green beans in a 9x13 inch dish. Top with a layer of turkey. Pour the soup mixture over the turkey. Top with stuffing.
Bake in the preheated oven 30 minutes, or until browned and bubbly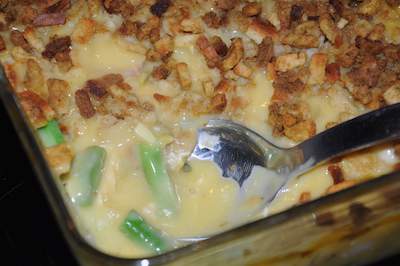 Easy Turkey Casserole Recipe
This particular recipe is great using Thanksgiving leftovers or anytime of year you are craving Thanksgiving.
1 Box of stuffing mix, cooked
Turkey, chopped or shredded
8 oz. Thin noodles, cooked
1 can each of cream mushroom soup, cream celery, cream chicken soup
Milk
Prepare stuffing and place on bottom of casserole pan. Top with shredded turkey pieces. Add cooked noodles. Stir together cream soups and using a can from the cream soup, add 1- 1/2 cans of milk. Blend together and pour over casserole. Bake at 350 for 1 hour.
Turkey Potato Casserole
by Kaile
(Wisconsin)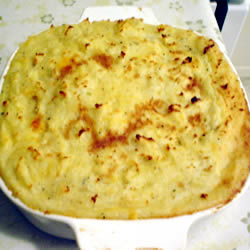 Ingredients
1 pound cooked turkey meat, shredded
1 onion, chopped
1 (14.5 ounce) can green beans, drained
1 (10.75 ounce) can condensed cream of mushroom soup
8 ounces cubed Cheddar cheese
8 ounces shredded Cheddar cheese
4 cups prepared mashed potatoes
Directions
Preheat the oven to 350 degrees F (175 degrees C).
Place turkey in an even layer on the bottom of a 9x13 inch baking dish. Top with a layer of onion and a layer of green beans so that the turkey is no longer visible. Pour the condensed soup over the onion layer, then sprinkle with shredded cheese. Stir together the cubed cheese and mashed potatoes; spoon over the top of the casserole, and spread to cover.
Bake for 30 to 40 minutes in the preheated oven, until heated through.
Turkey and Corn Casserole
by Faith
(Boston,MA.)
3 tbs butter or margarine
4 tbs flour
1 cup milk
1/2 tsp salt
pepper
1 no. 2 can 2 1/2 cream style
2 cups diced cooked turkey
1 cup soft breadcrumbs
4 tbs butter or margarine melted
Melt butter ,add flour,blend + cook over low heat until bubbly.
Add milk all at once + cook stirring constantly until thickened throughout.
Season with salt + pepper.
Grease 1 1/2 qt. casserole.
Alternate layers of corn,turkey + sauce.
Top with breadcrumbs blended with melted butter.
Bake 350F until breadcrumbs are brown + sauce is bubbly at edge.
Cook 25 to 30 min.
Serves 6 people.
Turkey and Mashed Potato Casserole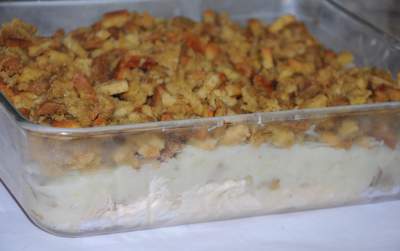 Find more recipes in our book: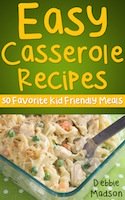 Easy Casserole Recipes Cookbook
Do you have a favorite turkey casserole recipe to share?
Submit your favorite kids recipe
Do you have a favorite recipe your kids love to make? Or a recipe your kids ask you to make again and again? Share it with us!
Follow Kids Cooking Activities