Brownie Recipes

Some of our favorite and readers best brownie recipes.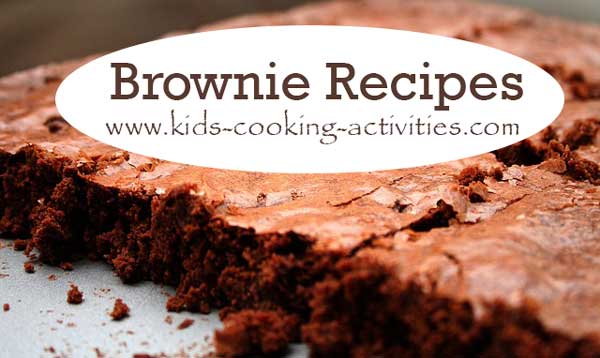 Planned Kids Cooking Curriculum
~This post may contain affiliate links and I'll earn a small commission if you shop through them. There is no extra cost to you. This is how we help support our family and continue to bring you amazing content. To learn more see the
affiliates disclosure here.
~
Peanut Butter Cup Brownies
by Samantha
What you need:
1 box of brownie mix
1 bag of peanut butter cups
3 eggs
1 half cup of oil
1 fourth cup of water
Mix then put the mix in foil liners. Cook at 350 for 10 minutes then put peanut butter cups inside and cook for 20 more minutes.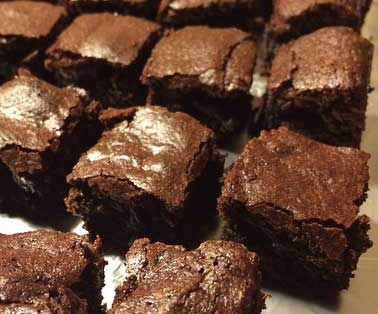 Momma Mia Brownies
by tatum (nawco)
Brownie mix
1 cup of peanut butter
Whip cream
Hot fudge
Make brownies. Let cool. Put peanut butter all over the brownies. Then add hot fudge, Then whip cream
Kids Favorite Picnic Brownies
by Kelly Lambrakis (CA)
Prep: 10 minutes
Bake: 25-30 minutes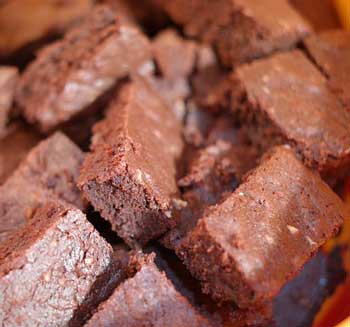 Makes 9 brownies
Equipment:
Medium (microwave safe) mixing bowl
Measuring cups
Measuring spoons
Mixing spoon
9 x 9 inch glass baking pan
Non-stick cooking spray oil
Oven mitts or hot pads
Ingredients:
3/4 cup butter
1 cup sugar
1 tsp. vanilla
3 large eggs
3/4 cup flour
1/2 cup unsweetened cocoa powder
1/2 tsp. baking powder
1/2 tsp. salt
1 cup chocolate chips
1. Preheat oven to 350.
2. In a microwave safe mixing bowl, melt butter in microwave oven.
3. Add sugar, vanilla and eggs. Beat for 1 minute.
4. Add flour, cocoa, baking powder, salt and chocolate chips. Mix until blended.
5. Batter will be very stiff.
6. Grease a 9 x 9 inch glass baking pan with non-stick cooking spray.
7. Pour batter in pan, and bake for 25 minutes, or remove when a toothpick inserted 1inch from the side of the brownie pan comes out clean.
8. With oven mitts or hot pads, carefully remove brownies from oven.
Enjoy!
Butterfinger Brownies
by Anonymous

Get a box of brownies and mix it up then put 3 packs of mini crushed butterfingers.
Then mix again.
Put 4 crushed butterfingers on top then bake.
You can do this with any kind of candy such as mini caramel kisses.
Apple Brownies
by Rhonda Harmon ( VT)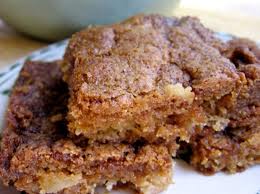 1/2 c. butter
1 c. sugar
1/2 tsp. salt
1 egg
1/2 c. nuts
2 c. thinly sliced peeled apples
1/2 tsp. baking powder
1 tsp. ground cinnamon
1/2tsp baking soda
1 c. flour

Melt butter and add sugar, salt and egg. cream until fluffy. Stir in nuts and apples. Fold in dry ingredients to blend. blend together. pour into greased 8" baking pan. Bake at 350 for 45 minutes.
Chocolate Chip and Butterscotch Brownies
By: Jasmine Brown, age 10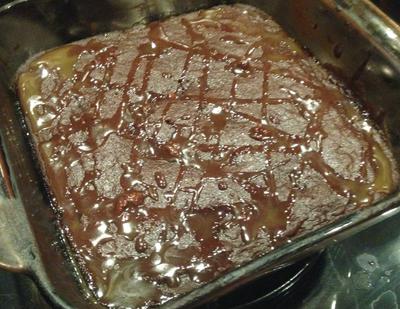 Ingredients
3 Tbs Butter
1ts Vanilla Extract
1 1/3 cup sugar
1/2 cup flour
1/3 cup applesauce
1/2 cup unsweetened cocoa powder
1/2 cup Fat Free Milk
2/3 cup chocolate chips
1/3 cup butterscotch
Microwave 3 Tbs of butter for 30 seconds. After, mix the butter with the 1ts of Vanilla Extract. In a separate bowl, mix the 1 1/3 cup of sugar, 1/2 cup of flour, 1/3 cup of applesauce, 1/2 cup of Fat Free Milk, 2/3 cup of chocolate chips, and the 1/3 cup of butterscotch.
Then, add the Butter and Vanilla Extract that is already mixed together to the other mix. Pour entire bowl into a glass bowl and put it in the oven at 350 degrees and wait until a toothpick placed in the brownie comes out clean and you will be good to take it out of the oven. Let the brownie cool for 5-10 minutes and add a drizzle of butterscotch and melted chocolate chips to the top.
Microwave Brownies
by Maria (http://thecookwaregeek.com/)
Ingredients:
6 tbsp all purpose flour
4 tbsp sugar
4 tbsp cocoa powder
½ tsp baking powder
pinch of salt
4 tbsp oil
6 tbsp full cream milk
½ tsp vanilla extract
1 tbsp walnuts (optional)
few pieces of chocolate
1 scoop of ice cream ( preferable vanilla ice cream)

Steps:
First you mix all the powder ingredients (flour, sugar, cocoa and salt)

Then in a mug you mix the oil, the cream and the vanilla. Add the powder ingredients and mix until is homogeneous.
Finally add the walnuts and the chocolate and microwave for about 60 sec.

Serve with the ice cream :)
More Brownie Recipes
Brownie in a Cup
Best Brownies Recipe
Brownie Overnight Oats
Submit your favorite kids recipe
Do you have a favorite recipe your kids love to make? Or a recipe your kids ask you to make again and again? Share it with us!