Easy Kids Meals with 6 or Fewer Ingredients
These 6 or fewer easy kids meals were composed with the chef in training age group in mind. To help them continuously learn and practice after the
chef in training cooking lessons.
However they are also great for quick easy meal ideas that your kids can help with. As stated before these recipes were composed with 7-11 years old in mind so you may adjust the recipe directions as needed.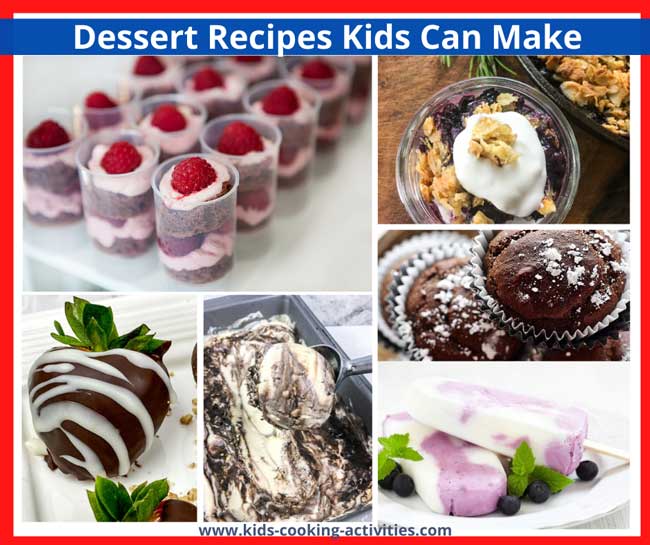 For example, older kids can do the cooking where as younger age groups will not be cooking and do not have the attention span for some recipes. They will do better when given small tasks and helping you create the recipe.
Kids Cooking Activities Teaching Materials
Make teaching easier with our activities and recipes compiled in theme sets and books with an easy to read format
Perfect for teaching!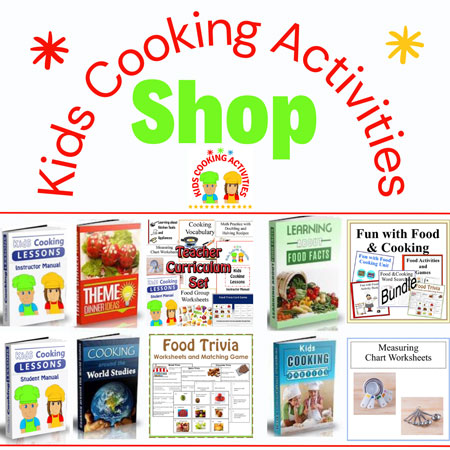 ~This post may contain affiliate links and I'll earn a small commission if you shop through them. There is no extra cost to you. This is how we help support our family and continue to bring you amazing content. To learn more see the
affiliates disclosure here.
~
Easy Dessert Recipes
Easy Homemade Ice Cream
4 ounce can sweetened condensed milk
4 Cups half and half or light cream
1 Tablespoon vanilla
Combine following ingredients and blend well. Pour into a 4-5 quart ice cream freezer, Freeze according to manufacturer's directions.
Check out some more
easy ice cream recipes.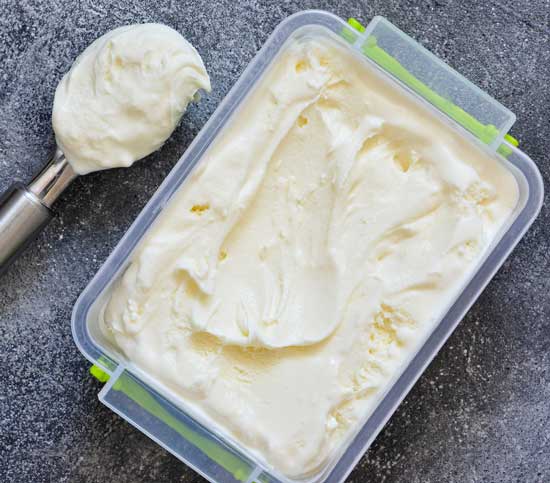 Mini Cheesecakes
Lemon Jell-O gelatin, 4 serving size
½ Cup boiling water
8 ounces Cream cheese, softened
2 Cup Cool whip
Nilla wafer cookies
Prepare a muffin tin with paper liners. In each liner place one Nilla wafer in the bottom of each muffin cup. In bowl, dissolve gelatin in boiling water. In separate bowl, beat cream cheese until smooth; gradually beat in gelatin. Add whipped topping into cheese mixture. Stir gently. Spoon into paper liner. Chill 4 hours. Serve with berries or pie filling on top of each mini cheesecake.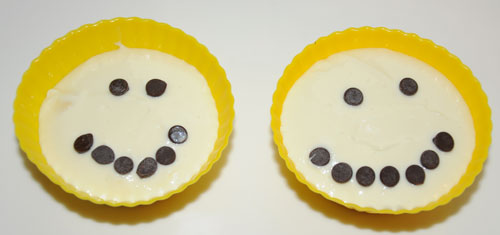 Brownie a la Mode
Prepare a brownie mix according to package directions. Adult should bake and allow to cool. Cut into squares. In a serving dish place a brownie square, a scoop of ice cream or whipped cream and crushed cookies, a cherry or sauce on top if desired.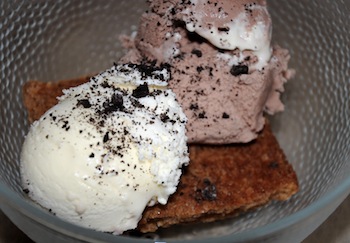 Banana Bites Video
Peanut Butter Cookies
1 Cup peanut butter
1 Cup sugar
1 large egg
1 teaspoon Baking soda
Preheat oven to 350 degrees and grease baking sheet. In mixer bowl, beat peanut butter and sugar together. Add in egg and baking soda. Roll teaspoons of dough into balls and place on baking sheet. Make criss-cross pattern on top and bake about 10 minutes.
Stuffed Strawberries
whole strawberries, washed and hulled
whipped cream or marshmallow fluff
1 C. chocolate chips, melted
On the end of each strawberry at the tip make a slit each direction. Stuff cream or fluff inside each strawberry and drizzle with melted chocolate chips.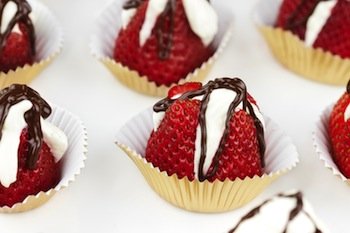 Or try these
Chocolate Strawberries
Easy Peach Crisp
2 cans sliced peaches, drained
2 pkgs. Cinnamon and spice instant oatmeal (dry)
1/3 Cup flour
1/3 Cup butter, melted
Preheat oven to 425 degrees. Prepare a 2 quart baking dish by buttering the sides and bottom. In a bowl combine instant oatmeal and flour. Add butter and stir until mixture is crumbly and butter is distributed throughout. Sprinkle over peaches and bake 15 minutes or until golden brown. Serve with vanilla ice cream.
Pineapple Cherry Dessert
One can crushed pineapple
Yellow cake mix
One can cherry pie filling
Butter, sliced
Pour pineapple and cherries in bottom of cake pan. Sprinkle with cake mix (don't add anything to cake mix). Place sliced butter all over top and bake at 350 degrees for 30 minutes.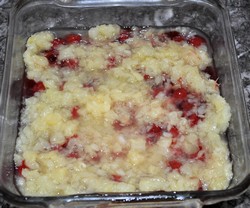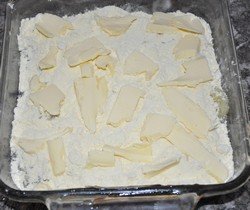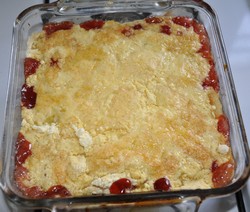 Microwave Brownie in a Mug
Homemade Chocolate Sandwich Cookies
Devils food cake mix or other chocolate cake mix
2 eggs
2/3 Cup shortening
White frosting
Mix cake mix, eggs and shortening together in a mixing bowl. Form into balls and place on a ungreased cookie sheet. Bake at 375 degrees for 8 minutes. Let cool and spread cookie with frosting. Place another cookie on top making a little sandwich.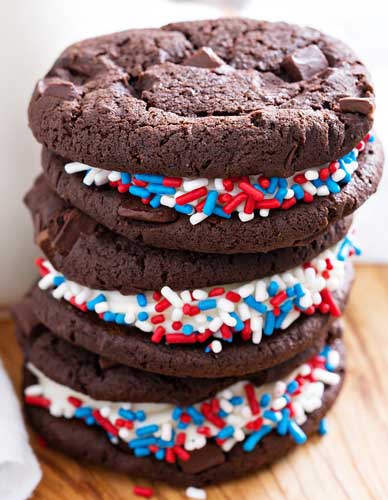 Chia Seed Pudding
Make an easy chia seed pudding recipe here.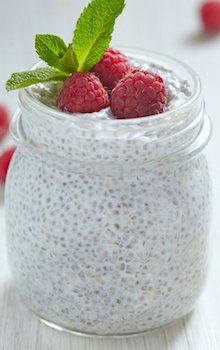 In a pint jar add the following ingredients:
2 Tablespoons Chia seeds
1 Cups milk (substitute with almond, coconut or soy if desired)
1/2 Cup Greek yogurt
1 teaspoon vanilla extract
1 Tablespoon maple syrup
berries, whichever you like
After adding all the ingredients into your jar. Add lid onto jar and shake gently. Place in refrigerator overnight.
Kiwi Chia Pudding Recipe Video
Peanut Butter and Jelly Sandwich Dessert
A twist on the popular lunchtime sandwich into an easy kids meals dessert.
Ingredients:
Vanilla pudding mix
Envelope of Whipped topping mix
1/2 cup peanut butter
4 oz. cream cheese, softened
1/3 cup strawberry jam
Plain cookies, Vanilla flavored cookies or shortbread cookies
Directions:
In mixing bowl add pudding, envelope of whipped topping, cream cheese and peanut butter. Blend together. Roll mixture into small balls the size of your cookies. Flatten balls. Add on top of a cookie. Spread jam over top of peanut butter. Add cookie to the top to sandwich the peanut butter and jelly.
Oreo Cookie Smores
Ingredients:
Oreos or sandwich cookies
marshmallows
mini chocolate bars
Directions:
Toast a marshmallow. Open an Oreo add toasted marshmallow and mini chocolate. Easy and a little different then the usual smore.
Cupcake Sundae
Chocolate cupcakes
Scoop of ice cream
Cherry
chocolate or caramel syrup
Take top off of chocolate cupcake if too round on the top. Add a scoop of ice cream. Place a cherry on top and drizzle syrup on top if desired.
Try making an ice cream cake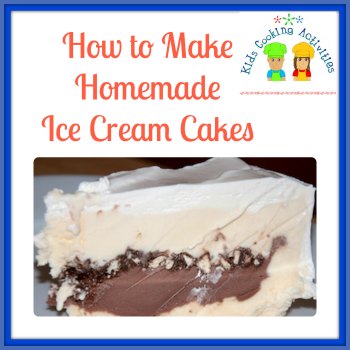 Push Pops
These
push pop molds
are great for creating fun kids snacks and something you can be really creative with.
Here are two easy ideas for using these push pops:
Create a fruit salad within the push pops create layers of color.



Layer mini cupcakes with frosting and fresh fruit. Find more combo ideas on our Cupcake pops.

More Desserts
Brownie recipes
Cookie recipes
Pie recipes

Homemade Ice cream recipes
Healthy Dessert Ideas
Parfait Ideas
Cookie Cake
Frozen Smores
Easy Chocolate Mousse
Chocolate Strawberries
Cereal Dessert Recipes
~~Hope you and your family enjoy these easy kids meals-dessert recipes!~~
Jump down to our
reader's submitted recipes.
Share your Easy Dessert Recipes or Kids Cooking Recipes
Submit your favorite kids recipe
Do you have a favorite recipe your kids love to make? Or a recipe your kids ask you to make again and again? Share it with us!
Reader's Submitted Recipes
Click below to see contributions from other visitors to this page...

---
Related Easy Kids Meals and Ideas:
~
Easy Kids Meals
, ~
Easy Meal Ideas
, ~
Breakfast
, ~
Breakfast 6 or fewer,
~
Side Dishes
, ~
Snacks
, ~
Main Dishes
, ~
Desserts
, ~
No Bake Recipes
, ~
Kids Lunches
, ~
Portion Sizes
, ~
Microwave Meals
, ~
Hidden Vegetable Recipes
, ~
Healthy Kids Meals
, ~
Picky Eater Tips
, ~
Family Dinner
, ~
How to menu plan
, ~
Diabetic
, ~
Toddler Ideas
, ~
Low Calorie
, ~
Gluten Free
, ~
Vegetarian
, ~
Low Carb
---
Follow Kids Cooking Activities