Chili Crockpot Recipes
Here are two of our favorite chili crockpot recipes. Both work well in the crock pot, and freeze well. They can easily be prepared ahead of time and stored in the fridge or freezer.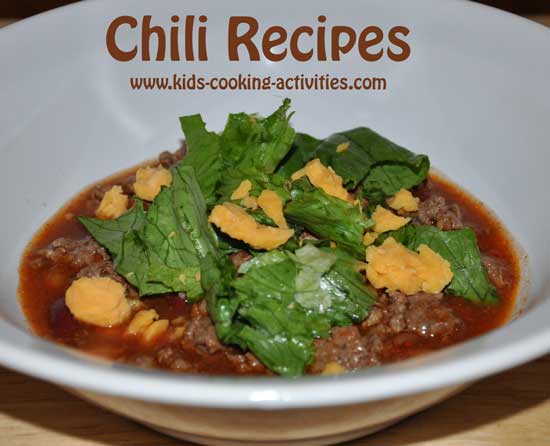 Don't forget to share your favorite easy chili recipes below.
Kids Cooking Activities Teaching Materials
Make teaching easier with our activities and recipes compiled in theme sets and books with an easy to read format
Perfect for teaching!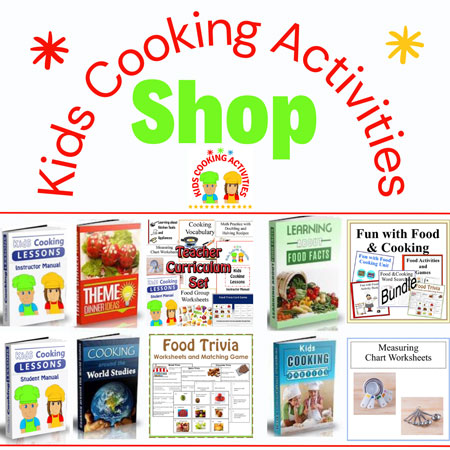 ~This post may contain affiliate links and I'll earn a small commission if you shop through them. There is no extra cost to you. This is how we help support our family and continue to bring you amazing content. To learn more see the
affiliates disclosure here.
~
Chili Crockpot Recipes
For these chili crockpot recipes you can use ground beef, ground chicken, pork, a combination, etc.
Taco Chili
Ingredients:
16 oz. kidney beans
2 Tablespoons or more to taste, taco seasoning mix
2-16 oz. can tomatoes
1 lb. Ground beef cooked
1 1/2 Cups water
Directions:
Mix soup ingredients together and cook in the crock pot or on the stove for 30 minutes or less. Serve with toppings below.
Toppings:
small avocado, diced
cheddar cheese, shredded
sour cream
tortilla chips
~ I often puree any vegetables I have on hand like zucchini or carrots and add it to the soup. It thickens the soup as well as adds more flavor and nutrition.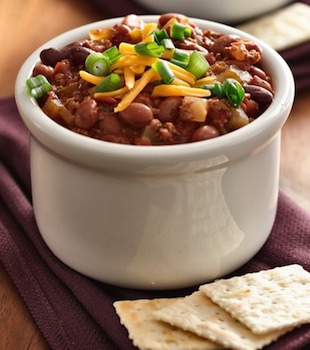 Beef (or Chicken) Chili
Ingredients:
1 lb. ground hamburger or ground chicken
onion, grated
28 oz. diced tomatoes
15oz. tomato sauce
1 tablespoon or to taste chili powder
1teaspoon cumin
1/2 teaspoon seasoning salt
2 cans chili beans or black beans or if using fresh 3 cups soaked overnight and cook
Directions:
In large pan cook hamburger and grated onion until hamburger is browned. Drain and wipe pan with a paper towel. Add hamburger back to pan. Add diced tomatoes, tomato sauce, chili powder, cumin, seasoning salt and beans. Cook in a crockpot or on the stove at least 30 minutes. Before freezing allow to cool and portion into freezer containers.
Beef Stew Chili
Ingredients:
1 lb. ground beef, chicken or turkey
1 bag (16 oz) dried black-eyed peas or 2 Cups cooked or canned (if canned wash and drain)
6 cups water
2-3 beef bouillon cubes
pinch of pepper
5 carrots, chopped
Directions:
If using dried beans, place in a bowl and pour water to cover. Let sit overnight.
Grate one onion in a frying pan and brown beef with onion. Drain and place in crock pot. Add in chopped carrots, black eyed peas, water, bouillon cubes and pepper. Stir and cook on low 8 hours.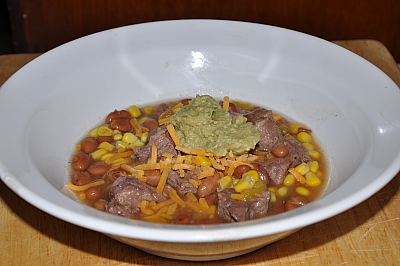 Two Meat Chili Crockpot Recipes
Ingredients:
1 lb. ground beef
1 pkg. pork sausage
1/2-1 Cup puree or chopped vegetables of choice
salt and pepper
2-3 Cups beans, cooked or canned whatever kind you like or a mixture. We used kidney beans and garbanzo beans in the picture below
3 Cups beef broth
1 large can, 28 oz. chopped tomatoes
3 garlic cloves, minced
2 bay leaves
1 Tablespoon chili powder
2 Tablespoons brown sugar
small can of tomato paste
Directions:
In skillet brown hamburger and sausage. Season with salt and pepper and drain grease off. Pour into crockpot. Add in beans, beef broth and tomatoes. Add in garlic, bay leaves, chili powder, brown sugar and tomato paste. Cook 4-6 hours on high or 6-8 on low.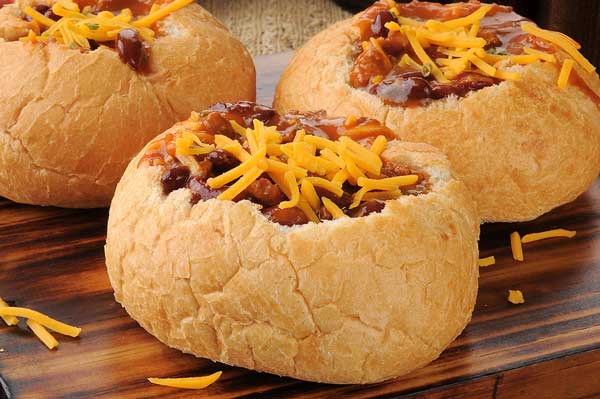 You can cook these chili crockpot recipes on the stove if you'd rather.
Chicken or Beef Taco Soup
by Tiffany Holmes (Kelowna, BC, Canada)
You can mix & match this recipe for what protein you have on hand (or what your kids are more likely to eat!) and includes a lot of veggies.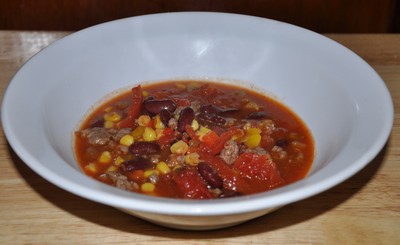 Ingredients:
1 lb cooked ground beef OR 2 large chicken breasts OR 1 can beans w/liquid
2 cups vegetable, beef or chicken broth
1 package taco seasoning
1 can beans w/ liquid (Try white beans for chicken, kidney beans for beef, or black beans work well with either. If using beans as the protein, use two different kinds of beans.)
1 large can stewed tomato w/ liquid
1 can tomato soup
2 red or yellow peppers, diced
1 cup corn kernels
1/2 onion, diced
1 tbsp lime juice
Directions:
1) Bring broth, taco seasoning, onion, lime juice, & tomato soup to boil. Add meat, reduce to medium high. If using beef, simmer 10 minutes. If using chicken, cook until done, then shred & return to pot.
2) Add beans & tomatoes. Simmer 30 min.
3) Add peppers & corn. Simmer until tender.
Top with shredded cheese, sour cream, guacamole, or tortilla chips. This makes a big batch of soup, and freezes well.
Try something a little different with your chili with this skyline chili recipe.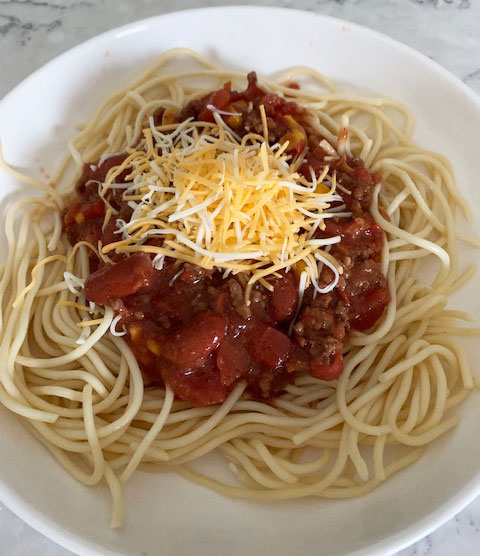 Easy Beef and Bean Chili
Ingredients:
1 lb ground beef
1 TBSP chili powder
1 can (14 oz) diced tomatoes, puree if you don't like chunks of tomatoes like my kids don't.
15 oz. can kidney beans, drained and rinsed
1 can chili beans, undrained
2 Cups water
1 TBSP oil for frying
Directions:
In a skillet saute ground beef with 1 grated onion and 1 garlic clove. Drain and add to crock pot. Stir in tomatoes and beans. Season with chili powder and add water. Stir until well combined and cook 6 hours on low.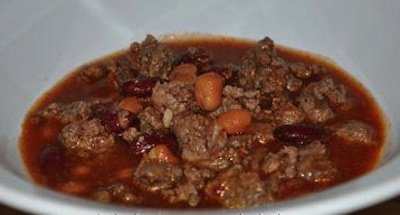 Chicken Chili Crockpot Recipes
Ingredients:
5-6 chicken breasts or 2-3 Cups shredded chicken
5 Cups diced tomatoes, puree if your kids don't like chunks of tomatoes
1 pkg. (1 oz) taco seasoning mix
2 cans or 3 Cups Great Northern beans, drained
3 cups water
Directions:
Place chicken, tomatoes, beans and seasoning in crock pot. Add water and stir to combine. Cook on low or high 6 hours.

Serve with shredded cheese, sour cream and tortilla chips if desired.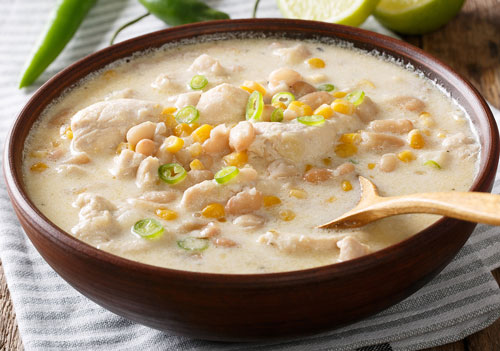 White Chicken Chili
Ingredients:
olive oil
1 onion, chopped or grated
2 garlic cloves, minced
3-4 Cups ground chicken
Directions:
Saute onion and garlic in oil. Add chicken and continue to cook until chicken is no longer pink.
In crock pot add:
7-8 Cups chicken broth
4 Cups or 2 cans of white beans
2 teaspoons dry mustard
2 teaspoons ground cumin
1/8 teaspoon pepper
cooked chicken, onion and garlic mixture
Cook in crock pot 4-6 hours on low. Serve with tortilla strips and cheese, if desired.
Beef and Bean Chili Video
What is your favorite chili crockpot recipes?
Submit your favorite kids recipe
Do you have a favorite recipe your kids love to make? Or a recipe your kids ask you to make again and again? Share it with us!
Reader's Submitted Recipes
Click below to see contributions from other visitors to this page...

Southern Chili
I love to eat chili I mean who doesn't enjoy a bowl of spicy southern chili. Ingredients: 1 pound of ground beef (cooked) 1 can of tomato sauce 1/2 …
Follow Kids Cooking Activities