Homemade Mix Recipes
If you create your own homemade mix recipes, you'll be saving money as well as feeding your family healthier meals without the added preservatives. It is a lot easier than you might think to stock your kitchen with homemade condiments, here are several great recipes to try!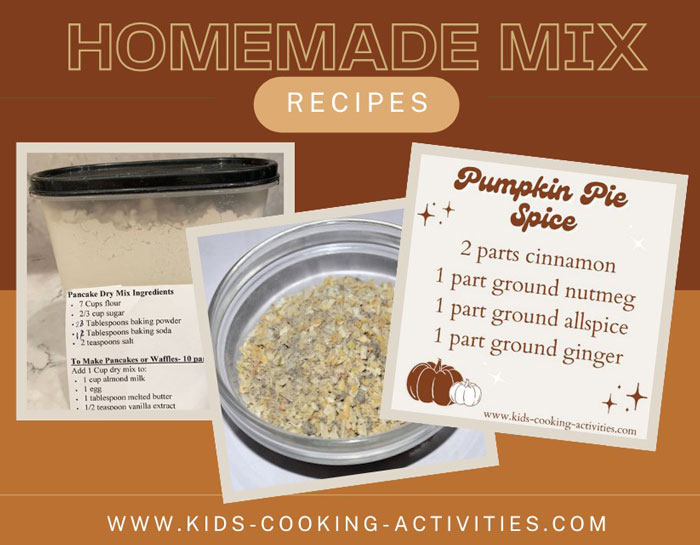 Kids Cooking Activities Teaching Materials
Make teaching easier with our activities and recipes compiled in theme sets and books with an easy to read format
Perfect for teaching!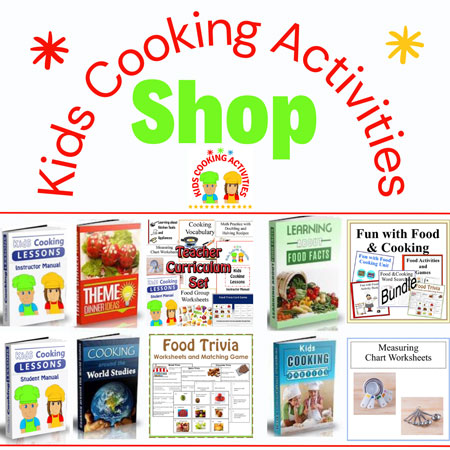 ~This post may contain affiliate links and I'll earn a small commission if you shop through them. There is no extra cost to you. This is how we help support our family and continue to bring you amazing content. To learn more see the
affiliates disclosure here.
~
Homemade Mix Recipes- Baking Mixes
Homemade Pancake Mix
Ingredients:
10 Cups flour
2 1/2 Cups dry milk
1/2 Cup sugar
1/4 Cup baking powder
2 Tablespoons salt
In a very large bowl, stir dry ingredients together. Store in airtight container. When ready for baking blend together 1 1/2 Cups pancake mix, 1 egg, 1 cup water, 3 tablespoons oil and 1/2 teaspoon vanilla.
Want a smaller batch of homemade waffle mix?
Photo courtesy of
robbplusjessie
Homemade Bisquick Mix
Use this mix as you normally would use Bisquick.
Ingredients:
10 Cups Flour
3/8 Cups Baking Powder
1 teaspoon Cream of Tartar
1 1/4 Cups Powdered Milk
1 1/2 Tablespoons Salt
1/4 Cup Sugar
1 lb. Crisco shortening
In a very large bowl, stir together flour, baking powder, cream of tartar, powdered milk, salt and sugar. Blend in shortening and break shortening up with two forks or pastry blender. Store in an airtight container and use within a month You can cut this recipe in half if you don't think you'll use that much in a month's time.
Homemade Brownie Mix
Ingredients:
6 Cups flour
4 teaspoons baking powder
4 teaspoons salt
8 Cups sugar
8 oz. can unsweetened cocoa
In a very large bowl, add flour, baking powder, salt, sugar and cocoa. Add in shortening breaking up into small pieces with two forks or a pastry brush. Store in airtight container and use within 2-3 months.
When ready to make brownies add,
2 1/2 Cups brownie mix
2 eggs
1/3 Cup applesauce
1 teaspoon vanilla
Blend together and bake for 20-30 minutes at 350 degrees.
Homemade Pudding Mix
by Lacie
(Makes 4 batches)
Ingredients:
3 1/3 cups dry milk
2 1/3 tsp salt
1 TBSP corn starch
1 2/3 cups sugar
Vanilla Pudding Mix
Combine 1 1/4 cups of dry pudding mix with 1 3/4 cups water. Cook over low heat
to a boil. Boil gently for 2 minutes stirring constantly. Add 1 tsp vanilla.
Chill until set.
Chocolate Pudding Mix
Combine 1 1/4 cups pudding mix with 4 TBSP cocoa powder. Add 1 3/4 cups water
and stir. Cook over low heat and boil for 2 minutes stirring constantly. Chill
until set.
Homemade Mix Recipes- Drink Mixes
Homemade Hot Cocoa
Mix together:
1 cup powdered sugar
1/2 cup unsweetened cocoa powder
1/2 cup powdered non-dairy creamer
1/4 teaspoon salt
2 3/4 cups nonfat milk powder
In a large bowl add ingredients together. Store in a tupperware container. When ready to make a cup of hot cocoa, stir 3-4 Tablespoons into hot water or milk.

See more
hot cocoa recipes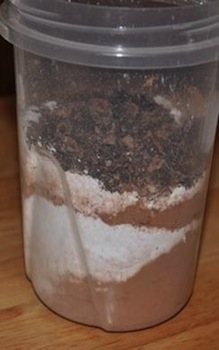 Make Your Own Snow Cone Syrup
by Maria (Pahrump, nv, USA)
Ingredients:
2 cups sugar
3/4 cup water
1 pack (0.14oz) of unsweetened soft drink mix (Kool Aid)
1. Boil sugar and water to a rolling boil
2. Take off heat. Stir in drink mix. Chill. Pour over crushed ice and bon appetite!
Homemade Mix Recipes- Seasoning Mixes
Homemade Onion Soup Mix
Ingredients:
4 teaspoons beef bouillon granules or 2 beef bouillon cubes, crushed
8 teaspoons dried onion
1 teaspoon onion powder
1/2 teaspoon garlic powder
Blend ingredients together and store in a ziploc container, plastic container or small glass jar.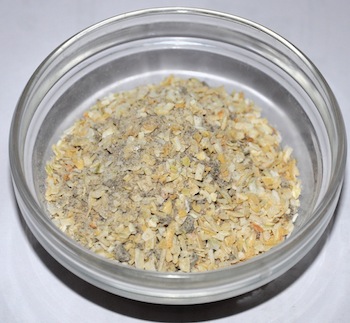 Homemade Pumpkin Pie Spice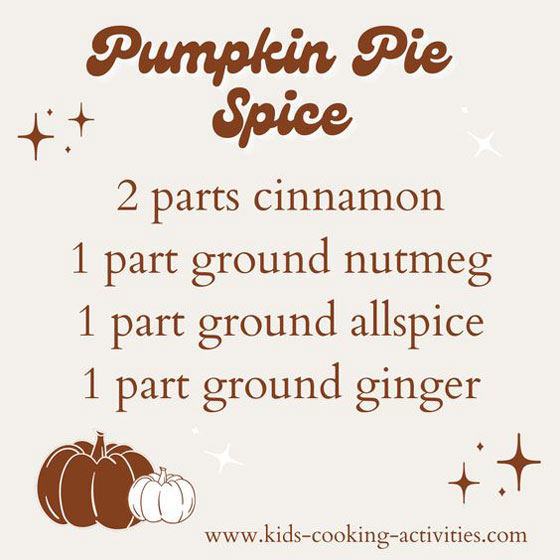 Homemade Cream Soup Mix
Ingredients:
2 Cups powdered milk
3/4 Cup cornstarch
Chicken bouillon cube, crumbled
2 Tablespoons dried onion flakes
1 teaspoon basil
1 teaspoon thyme
1/2 teaspoon pepper
Mix all ingredients together in a mixing bowl. Place in an airtight container.
To substitute one can of cream soup, combine 1/3 Cup of this mixture with 1 1/4 Cups cold water in saucepan. Cook and stir until thickened.

Try this recipe for a substitute for cream chicken soup, also.
Seasoning Shaker Mix
Ingredients:
5 tsp onion powder
1 TBSP garlic powder
1 TBSP paprika
1 TBSP dry mustard
1 tsp ground thyme
1/2 tsp black pepper
1/2 tsp celery seed
Mix all the ingredients together vigorously with a whisk and/or fork to bring out the aromas.
Put in a container with a tight seal like a canning jar and lid.
You may want to fill a salt shaker with this mixture and keep near the stove for seasoning instead of salt. Put a few grains of rice in if using in an unsealed container.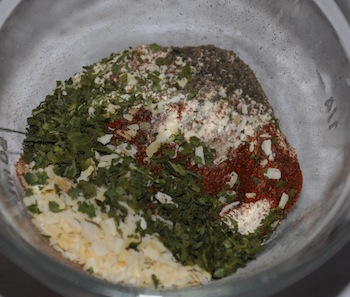 Homemade Taco Seasoning Mix Recipes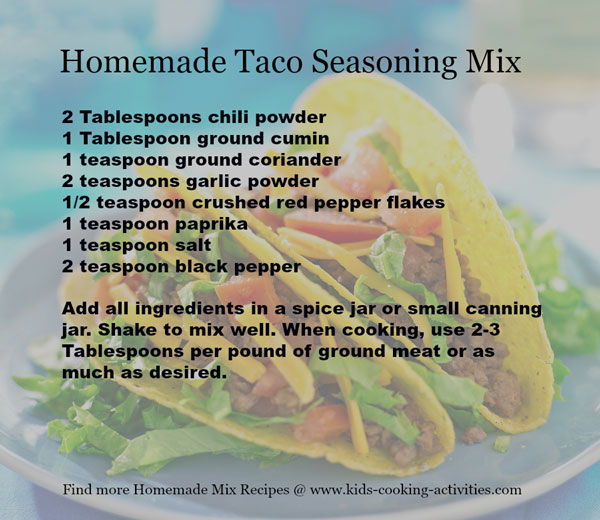 Taco Seasoning from Scratch
Ingredients:
1/4 cup dried minced onion
4 teaspoons cornstarch
4 tablespoons chili powder
3 teaspoons cumin
1 1/2 teaspoons oregano
3 teaspoons garlic powder
2 teaspoons beef bouillon
3 teaspoons cayenne pepper
Mix all together and store in rubbermaid container or ziploc baggie. When you're ready to use, 3 Tablespoons is equivalent to one package of taco seasoning mix.
DIY Italian Herb Seasoning Mix
Learn how to make homemade sauce recipes
Homemade Seasoning Blends Video
Do you have any homemade mix recipes to share?
Submit your favorite kids recipe
Do you have a favorite recipe your kids love to make? Or a recipe your kids ask you to make again and again? Share it with us!
Follow Kids Cooking Activities