Chocolate Truffle Recipes
A collection of chocolate truffle recipes as well as a pumpkin truffle. Whether you are looking for dark chocolate, white or milk chocolate you can change up these recipes to be what you are looking for by changing your dipping chocolate. Do you have a favorite truffle recipe? Share it below!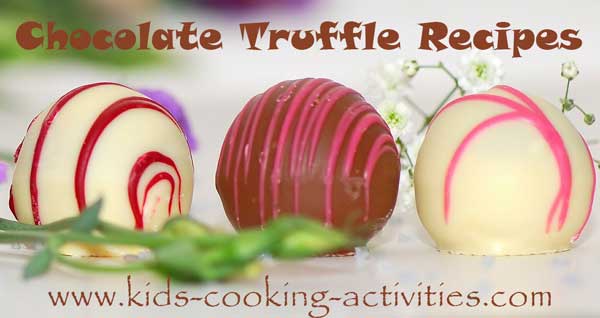 Kids Cooking Activities Teaching Materials
Make teaching easier with our activities and recipes compiled in theme sets and books with an easy to read format
Perfect for teaching!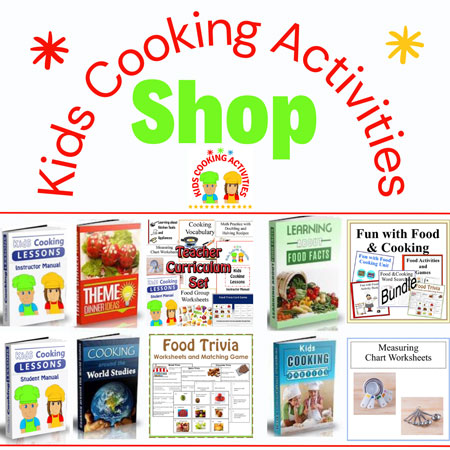 ~This post may contain affiliate links and I'll earn a small commission if you shop through them. There is no extra cost to you. This is how we help support our family and continue to bring you amazing content. To learn more see the
affiliates disclosure here.
~
Truffle Recipes Included on this page:
Oreo Truffles
Chocolate Truffle Recipes
Rice Krispies Peanut Butter Truffle
Pumpkin Truffles
Birthday Cake Truffle Video
Oreo Truffle Recipe
250 grams cream cheese or a little more than 1 Cup
28-30 Oreo cookies
chocolate for dipping
Crush Oreos in a baggie and place crumbs in a mixing bowl. Stir in cream cheese until well combined. Roll into balls and place on a cookie sheet. Freeze for 15 minutes.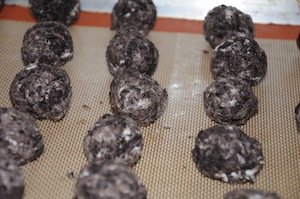 Melt chocolate in a microwave safe dish and stir every 30 seconds. Dip oreo balls into chocolate with a small spoon swirl around to coat. Place on a waxed paper lined cookie sheet. Top with Oreo crumbs. Chill.
*Makes about 24 truffles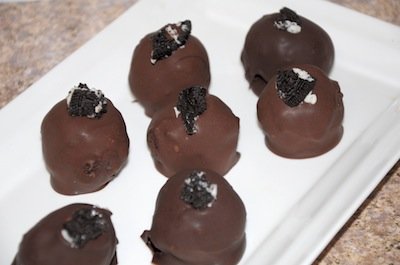 Mixture of milk chocolate and dark chocolate Oreo truffles
Chocolate Truffle Recipe
2 Ingredient Truffles
by therese (philippines)

Ingredients:
6 oz Any chocolate
3 oz Cream Cheese
Melt 3oz of the chocolate in the microwave. To be safe mix every 15 seconds. While 15 seconds mix cream cheese to soften. When chocolate is ready mix with cream cheese. Put the mixture in the freezer for 30 minutes or longer just until light clay texture. Roll into balls ( any size ), and put in the freezer to harden more. Melt the other 3oz chocolate and dip in the chocolate cheese balls, and last leave in freezer again. :)
Quick Truffles
5 tablespoons butter
3 oz. semi sweet chocolate
2/3 cup powdered sugar
1 teaspoon vanilla
finely chopped nuts
In a microwave safe bowl melt butter and chocolate together. Blend together. Stir in sugar and vanilla. Chill in the refrigerator until cool enough to touch. Butter your fingers and shape mixture into small balls. Place chopped nuts in a shallow bowl or plate. Roll balls into chopped nuts. Chill again and keep in the fridge.
Few Ingredients PB Rice Krispies Truffle
See this easy
recipe with peanut butter and rice krispies.


Peanut Butter Chocolate Truffles
by Annalena Marie (Winston-Salem, NC, USA)
1 cup All-Natural peanut butter
1/2 cup Mini Kisses or mini baking M&M's
chocolate for dipping
• Make sure you first wash your hands well before you cook.
In small mixing bowl, scoop up the peanut butter into the bowl.
Stir well until soft and creamy. Pour the Kisses into the bowl on top of the peanut butter. Again, stir until mixed well together.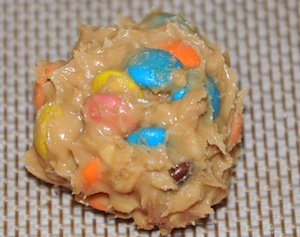 We used mini baking M&M's for this pictures
Make sure your hands are clean. Now, form small balls with your hands, and place onto a small cookie sheet. Put in freezer 10-20 minutes.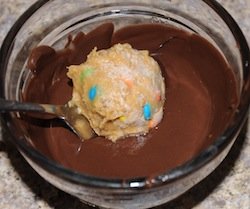 Melt chocolate and dip balls in. Chill.
*Makes about 18 truffles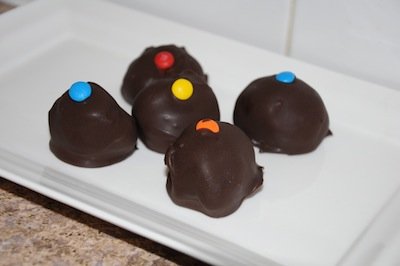 Peanut Butter Truffles topped with a mini M&M
.
Chocolate Truffle Recipe
by Melisa (Panama, Panama)
1 cup of sweetened condensed milk
1 cup of crushed Goya Maria Cookies
5 Tablespoons of Unsweetened cocoa powder
Mix the condensed milk with cocoa (it could be less or more cocoa depending on how dark you like your chocolate!), add the cookies until you have a consistent dough to make little balls.

You can add crushed nuts or sprinkles at the end to cover the balls (rolling them on the nuts or the sprinkles) and enjoy!
Printable Chocolate Trivia Worksheet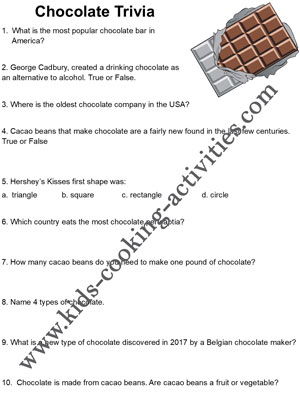 Milk Chocolate Truffles
by Mia Grout (England)
INGREDIENTS:
1/2 a packet of digestives (cookies)
a bar of milk chocolate
a box of icing sugar
sprinkles
YOU WILL NEED:
a rolling pin
2 mixing bowls
a saucer
a microwave
a tea spoon

METHOD:
1) Put the biscuits into the mixing bowl and with the rolling pin crush the biscuits to crumbs.

2) Put the chocolate into the other bowl then heat in the microwave for 30 seconds or until melted. Now add 3/4 of the chocolate to the crumbs and mix.

3) Shape the mixture into a ball shape and if it doesn't shape into a ball add the rest of the chocolate. Now add some icing sugar so it doesn't stick to your hands.

4) Take a small amount of the ball and roll into small balls you should be able to make about 40. Now pour some of the sprinkles onto a saucer then roll them in the sprinkles.
Try these
Almond Coconut Truffles
Pumpkin Truffles
2 1/2 Cups vanilla cookies, crushed
1 Cup toasted almonds, chopped
1/2 Cup powdered sugar
2 teaspoons cinnamon
6 oz. pkg. semi sweet chocolate chips
1 Cup pumpkin puree
1/3 Cup apple juice
In a medium bowl, add cookies, almonds, cinnamon and powdered sugar. Stir together and add chocolate chips. Add in pumpkin puree and apple juice. Stir to combine all ingredients. If you use your hands you will be able to combine easier. Roll into small balls. Place on a sheet of wax paper or cookie sheet and chill for several hours.
**If you'd like to dip truffles in chocolate, melt more chocolate chips. Dip chilled balls in melted chocolate, place on wax paper and chill again.
**You can also roll in powdered sugar or more chopped almonds.
Please note:
If you leave out the Apple Juice the truffles will set up faster, you may add a little butter also. The butter will set up in the fridge quickly.
Birthday Cake Truffles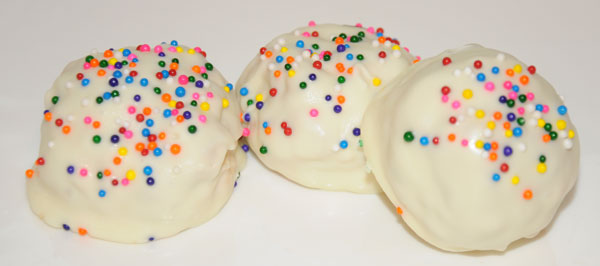 Make any truffle recipe above and use white chocolate for dipping and sprinkle with birthday sprinkles for a party cake flair.
Snack Balls
Try some of these
Snack ball recipes.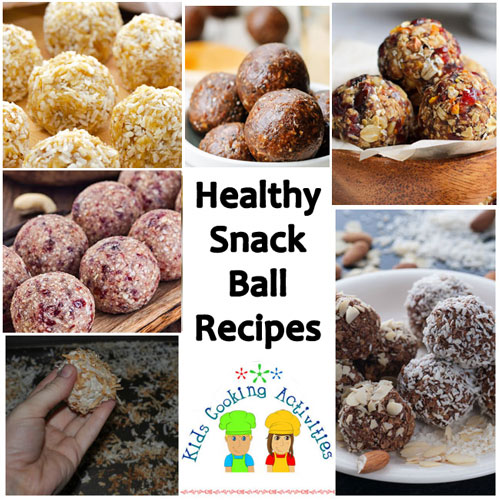 Share your Chocolate Truffle Recipes
Submit your favorite kids recipe
Do you have a favorite recipe your kids love to make? Or a recipe your kids ask you to make again and again? Share it with us!
Follow Kids Cooking Activities