HEALTHY SNACK BALL RECIPES AND IDEAS
Do you have an afterschool cooking class or a class party that has no kitchen or baking facilities? You'll love these no bake recipes! Snack balls are easy for kids to put together so include them for children's snacks or lunchbox items.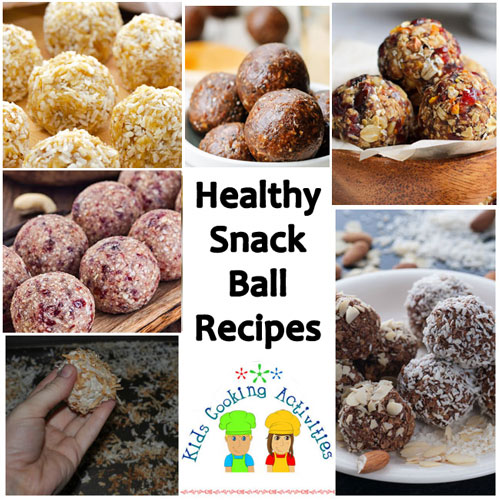 Kids Cooking Activities Teaching Materials
Make teaching easier with our activities and recipes compiled in theme sets and books with an easy to read format
Perfect for teaching!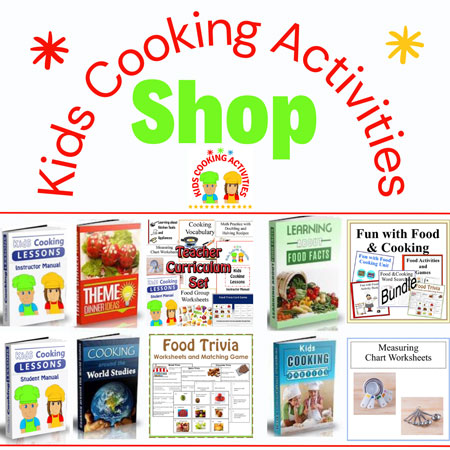 ~This post may contain affiliate links and I'll earn a small commission if you shop through them. There is no extra cost to you. This is how we help support our family and continue to bring you amazing content. To learn more see the
affiliates disclosure here.
~ Do you have an afterschool cooking class or a class party that has no kitchen or baking facilities? You'll love these no bake recipes! Snack balls are easy for kids to put together so include them for children's snacks or lunchbox items. Some of these recipes call for ingredients that you may or may not have in the kitchen regularly because a lot of these balls are gluten free. We have a combination of different recipes that you should be able to find something that works well for you.
Carob Balls
Servings: 12-15 truffles
Preparation time: 15-20 minutes
Ingredients
1 banana
1/3 Cup coconut oil
1/4 Cup cacao powder (gluten free)
2 Tablespoons of flax seeds
1/4 Cup carob powder
3 Cups shredded coconut
1/2 teaspoon sea salt
1 Cup pitted dates
1 teaspoon of ground cinnamon
2 Tablespoons chopped almonds
Directions:
Drop the pitted dates in half a Cup of water and boil until the dates melt and turn pasty.
Dump flax seed, cacao powder, coconut oil, banana, almonds, melted dates, carob powder, shredded coconut, ground cinnamon and sea salt in a food processor. Process the mixture until it becomes smooth and pasty and starts sticking.
Form the mixture into medium sized balls and roll in coconut to finish off the preparation.
Mini Cheese Balls
Make
Mini Cheese Balls
- Create your favorite cheese ball recipe using a low fat or fat free cream cheese. Create mini size cheese balls with it. I made them the size of a nickel and added them to an olive tray for Christmas and they were a big hit. Roll in chopped nuts, leave as is, chopped craisins or chopped herbs.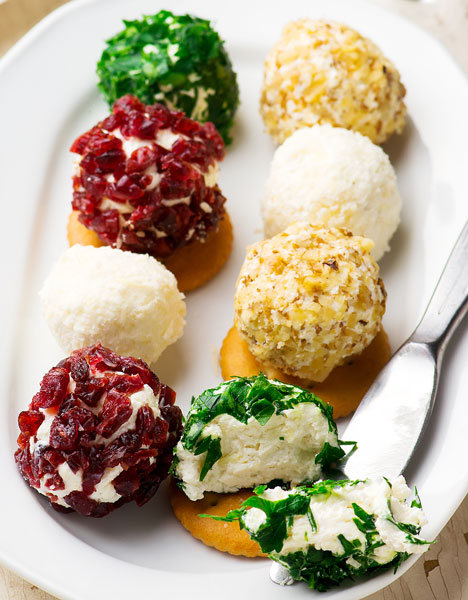 Banana Balls
Banana Snack Balls
- A few simple ingredients that you can make as healthy as you want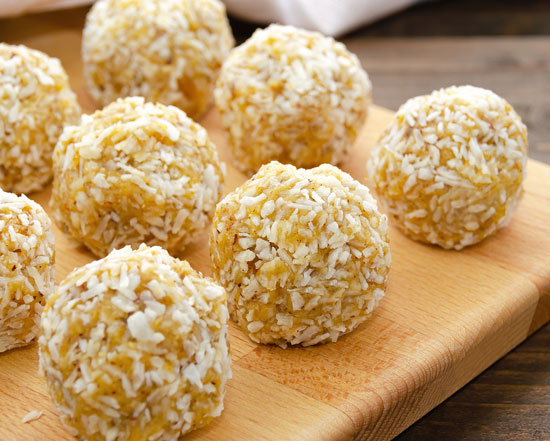 Coconut Chicken Balls
Coconut Chicken Balls
- Chicken salad wrapped up in a ball and rolled in coconut! Yummy and easy for the kids to make and put in their lunchbox. This could be made for a lunch or snack depending on the size you make the balls. Not your typical snack ball but delicious!
Coconut Cheesy Balls- Raffaello Balls
Cream cheese, almonds and coconut equals a quick and easy no bake recipe.
Minty Chocolate Balls
Ingredients
Directions:
Allow butter to soften and mix all ingredients together until well blended. Using a muffin scoop, scoop into small balls onto a cookie sheet lined with waxed paper. Chill until firm.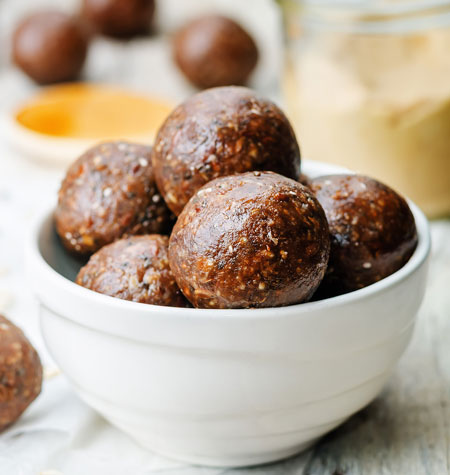 Mango Snack Balls
Servings 3-4
Ingredients:
1 Cup seeded fresh dates
1/2 Cup coconut flakes
1/2 Cup fresh mango, cut into cubes
1/2 Cup sunflower seeds
1 Cup banana chips
Directions: Seed the mango and dates. Chop the mango into small chunks and set aside in a bowl. Pour the banana chips into a blender and add the chopped mangoes, sunflower seeds, seeded dates and coconut flakes to the banana chips. Blend the mixture until the mixture comes together, but don't make it too fine. The mixture should retain its texture. Once the mixture gets ready, take a small amount of it and roll it into medium sized balls. Wash the hands periodically to keep the mixture from sticking.
Servings: 12-16 balls
Cashew Balls
Ingredients:
1 Cup halved cashew nuts
1 Cup dates, pitted and chopped
1/4 Cup craisins or raisins
1/2 Cup cashew butter
Directions:
Blend together cashew butter and pitted dates into a food processor and blend until smooth.
Add the chopped cashew nuts to the processor. Add a dash of water to the mixture and process until the mixture starts forming into a dough ball.
Scrape the sides of the food processor to collect the bits that are stuck to the sides and process again for a few more minutes. Roll mixture into small balls and place on a plate or small cookie sheet.
Place in the refrigerator and chill for at least one hour or until they are firm.
Coconut Balls
Ingredients
3/4 Cup almond meal
1 Tablespoons coconut cream
2 Tablespoons arrowroot powder
1 Tablespoons maple syrup
1/2 Cup shredded coconut
1/2 Tablespoon melted coconut oil
1 teaspoon pure vanilla extract
Extra shredded coconut
Directions:
Process the almond meal, arrowroot powder and coconut in a blender to get an almost powder-like mixture. Add to a bowl and stir in coconut cream, maple syrup, coconut oil and vanilla. Blend until the mixture can come together and form small balls with the mixture. Roll the balls in the extra coconut and chill several hours.
Apple Pie Balls
More Yummy Snack Ball Recipes
5 Minute Granola Balls
A great granola combination rolled up into a ball!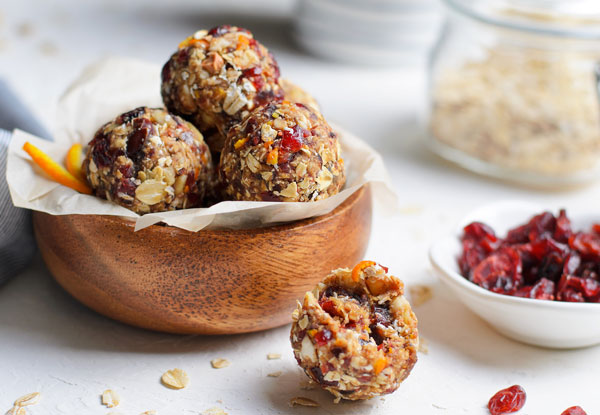 Sesame Seed Pistachio Balls
Little balls rolled in sesame seeds.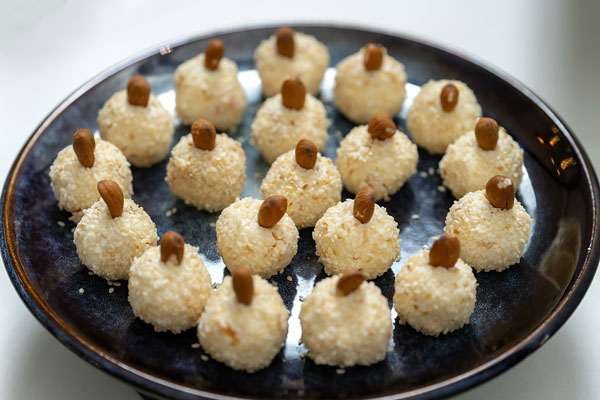 Date Balls
Fruit Balls
Don't forget the simple ideas like using a scoop to make fruit balls.
Chocolate Truffles
Try some little dessert balls rolled in chocolate with these
chocolate truffle recipes.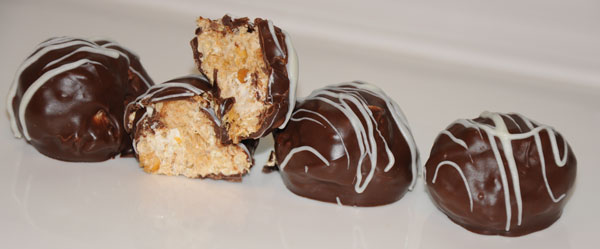 Follow Kids Cooking Activities