Christmas Candy Recipes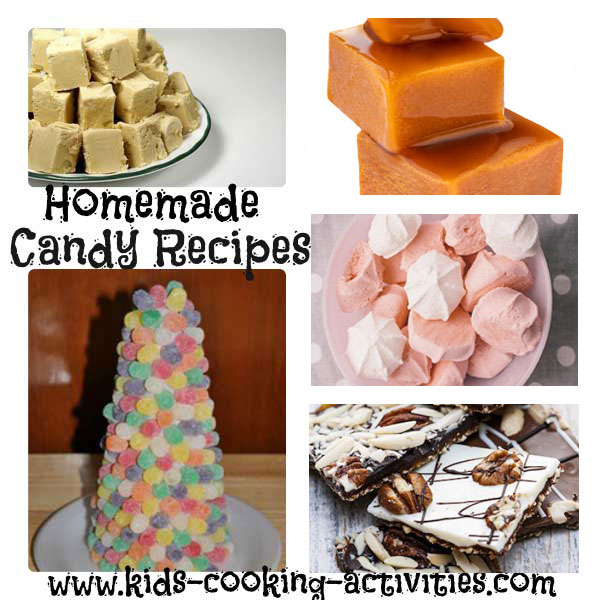 It is a tradition at our house to create several candy recipes and make a beautiful platter to share at parties or as gifts. We make candy throughout the weeks of December or even a month ahead of Christmas.
I cut fudge into individual squares and freeze it. Then take some out as I need it and make a platter of different varieties. Here are some of our favorite homemade candy recipes that you can make with your kids this Holiday season. Just remember to save some for your own family too!!
Kids Cooking Activities Teaching Materials
Make teaching easier with our activities and recipes compiled in theme sets and books with an easy to read format
Perfect for teaching!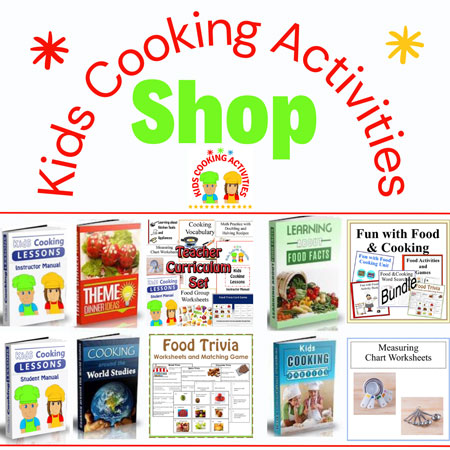 ~This post may contain affiliate links and I'll earn a small commission if you shop through them. There is no extra cost to you. This is how we help support our family and continue to bring you amazing content. To learn more see the
affiliates disclosure here.
~
Homemade Christmas Candy Recipes
Homemade Peanut Butter Candy Cups
Filling:
3/4 Cup peanut butter
3/4 Cup powdered sugar
1 Tablespoon butter
Have the kids prepare this part while the adult is heating the chocolate. In small bowl, mix peanut butter and powdered sugar until combined.
Chocolate cups:
milk chocolate chips
shortening
1 teaspoon vanilla
In small saucepan, melt 1 pkg. milk chocolate chips, vanilla and 2 Tablespoons shortening over low heat. Stir frequently. Using mini muffin cups spread chocolate with back of spoon along bottom and along sides of muffin cups. Or place a small spoonful and shake pan to settle.
Cool in freezer or refrigerator. When firm, drop peanut butter mixture over chocolate cups.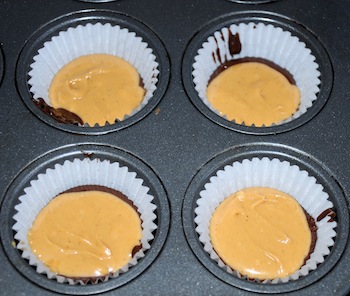 Melt more milk chocolate if necessary. Spread chocolate with spoon over peanut butter mixture and along tops of muffin cups to seal.
Tip: milk chocolate chips gives the best flavor semi-sweet chips will not have as good a taste.
* For this recipe, using mini muffin cups, 1 bag of chocolate chips will yield 45-50 mini cups and another ½-3/4 bag to cover the tops. Muffin cup pans are not necessary you can arrange paper muffin cups inside cake pan or cookie sheet.
Homemade Suckers
Check out our
Homemade Suckers page
-and use Christmas molds to create your own lollipops.
Chocolate Peanut Balls
1 Cup peanut butter
1 7 oz. Jar marshmallow creme
1 ½ Cups crisp rice cereal
1 ½ Cups semisweet chocolate chips
4 teaspoons shortening
Stir together peanut butter and marshmallow creme in a bowl until well blended. Add cereal and stir until coated. Melt chocolate chips and shortening in the microwave until melted. Stir until smooth. Roll cereal mixture into balls and dip in chocolate. Place on waxed paper and chill until set.
See more
truffle recipes.
Chocolate Clusters
½ Cup semisweet chocolate chips
½ Cup raisins
½ Cup dry roasted peanuts
Line a baking sheet with waxed paper. Melt chocolate as directed on bag. Stir in raisins and nuts. Drop by Tablespoons on waxed paper and chill. You can also substitute raisins and peanuts for coconut.
Pecan Turtles
Place pretzels onto foil lined cookie sheet. Place a Rolo candy on top of each pretzel. Bake at 250 degrees for 4 minutes or until candies are softened (candies will retain their shape). Immediately place a pecan half on each candy and press down so candy fills pretzel. Cool slightly and refrigerate until set.
Microwave Caramels Recipe
Ingredients:
1/2 Cup butter
1/2 Cup white corn syrup
1/2 Cup white sugar
1/2 Cup brown sugar
1/2 Cup sweetened condensed milk
Directions:
In saucepan, melt butter. Stir in corn syrup, white sugar, brown sugar and condensed milk. Cook on medium-low stirring constantly. Using a candy thermometer continue cooking until soft ball stage about 238 degrees. You may need an adult's help with this step. Pour into greased 8 inch pan. Let candy set for 20-30 minutes and then cut into bite size pieces.
Homemade Chocolates
Learn How to Make Homemade Chocolates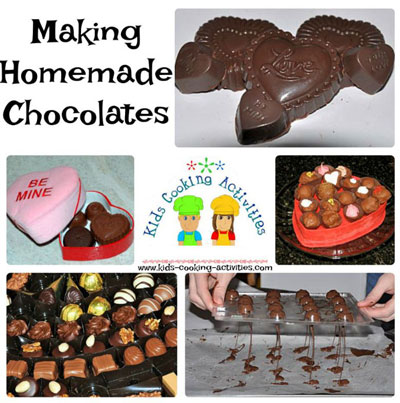 Peanut Brittle
Ingredients: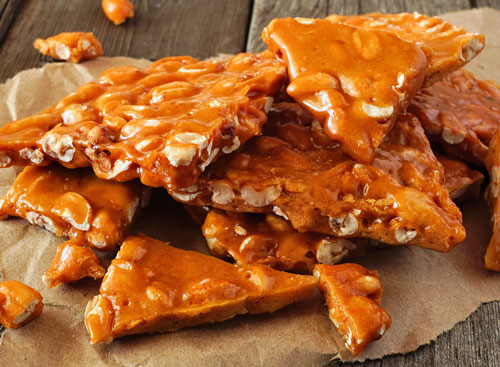 2 Cups sugar
1 Cup water
1 Cup corn syrup
½ teaspoon salt
2 Cups peanuts
1 Tablespoon butter
1 teaspoon vanilla
½ teaspoon baking soda
Directions:
Have younger kids help pour the ingredients together and the adult cook on the stove. In saucepan, combine sugar, water, corn syrup. Cook mixture over low heat, stirring constantly or keep lid on until sugar dissolves. Increase heat and bring syrup to boil. Cook until temperature reads 260 degrees on candy thermometer. Add peanuts and salt, cook to 300 degrees or hard crack stage. Remove from heat; add butter, vanilla and soda. Pour brittle onto buttered pan. Allow to cool. Kids can help break brittle into pieces.
Homemade Truffles
Make
homemade chocolate truffles,
an easy and fun candy recipe.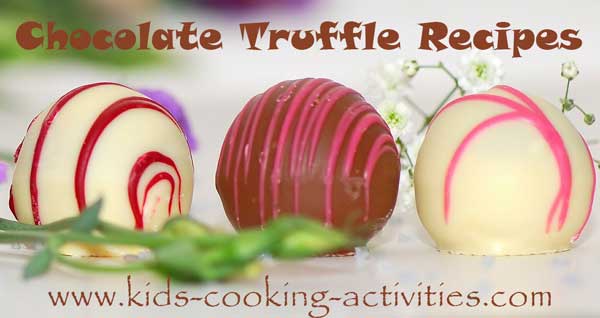 12 Christmas Cooking Activities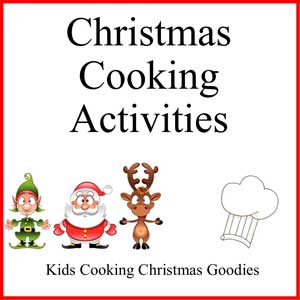 Chocolate Bark
Create an easy bark recipe.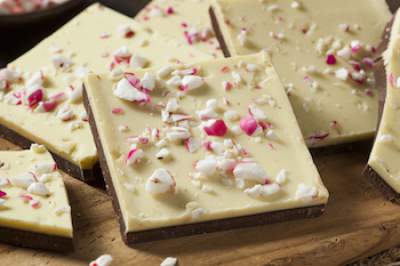 Homemade Peanut Brittle: Traditional Christmas Candy Recipes
Homemade Fudge Recipes
If you'd like to make homemade fudge check out our
easy fudge recipes.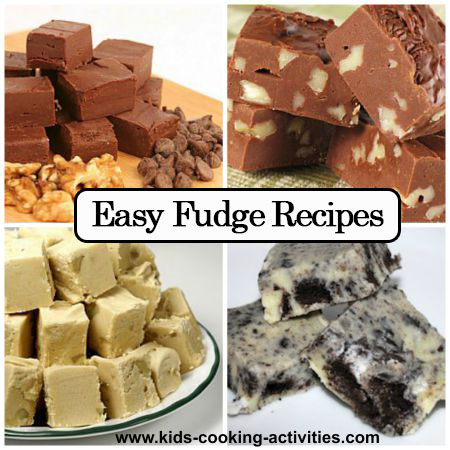 Meringue Candy
2- 2/3 cups sugar
2/3 cup light corn syrup
1/2 cup water
2 egg whites
1 teaspoon vanilla extract
*1 to 2 drops red food coloring
In a saucepan add sugar, corn syrup and water. Cook on medium and stir until sugar is dissolved. Turn to low and continue cooking without stirring until a candy thermometer reads 260 degrees. (you may need an adult's help with this step) Meanwhile in a mixing bowl add 2 egg whites. Beat on high until stiff peaks form. Once candy thermometer reads 260 degrees add the hot mixture to the egg whites while mixing. Add vanilla and red food coloring. Continue to mix until thickens. Lay out a sheet of waxed paper and drop candy by spoonfuls making mounds. Or add to a piping bag and squeeze out candy on waxed paper. Let cool.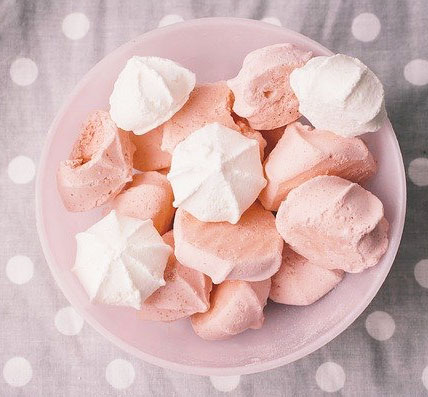 *You can make green divinity just by adding green food coloring instead of red. Or leave food coloring out for pure white divinity.
Chocolate Mice
Celebrate Christmas eve by reading the story
The Night before Christmas
and making these easy little chocolate mice.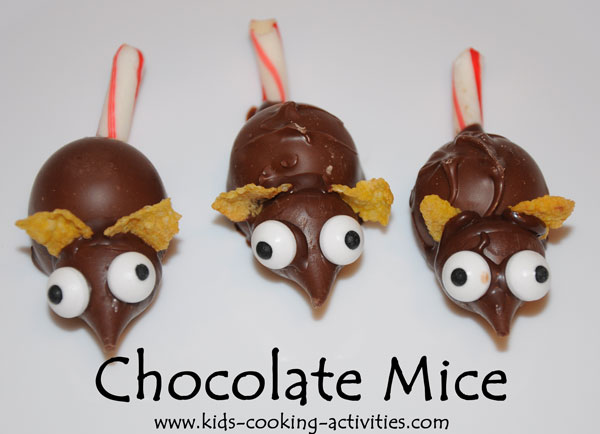 You will need:
chocolate chips or wafers, for melting
chocolate covered cherries
candy eyeballs
cornflakes
small candy canes
Directions:
Place 1/4 Cup chocolate chips or wafers in microwave safe bowl. Cook in microwave and stir every 30 seconds until completely melted. Place a sheet of waxed paper on a plate or cookie sheet. Place chocolate cherries on plate. Dip chocolate kiss in melted chocolate and place on side of chocolate cherry. Place two cornflakes in the melted chocolate for ears.
Add a dab of chocolate with a toothpick to chocolate kiss and add candy eyes on top of melted chocolate. Dip end of candy cane in melted chocolate and place on the back side of the chocolate cherry for the tail. Allow chocolate to set until firm.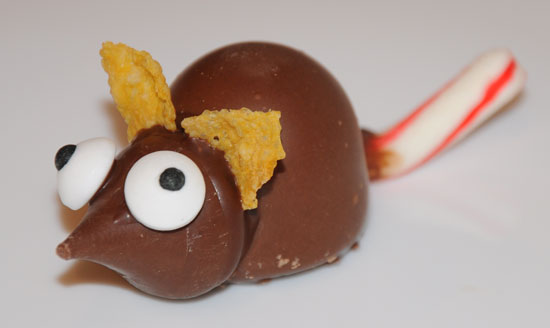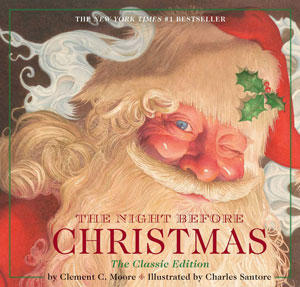 See more
Cook and Book Activities
Christmas Candy Recipes: Decorating Fun
Gum Drop Tree

Candy Wreath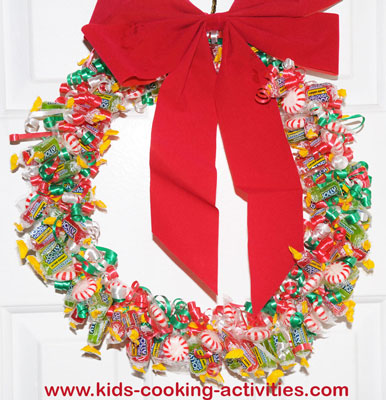 Create edible
Christmas Wreaths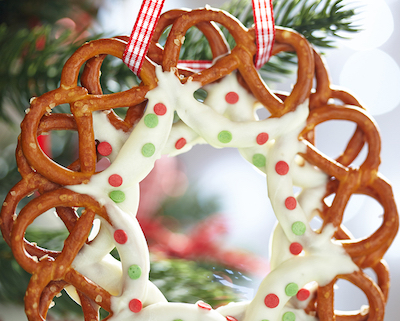 Find more
candy and sweet recipes on our Valentine's Recipe Page.
12 Christmas Cooking Activities
Christmas Printable Fun Games!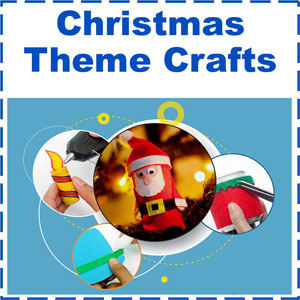 Christmas Theme Crafts- Edible and just for decoration.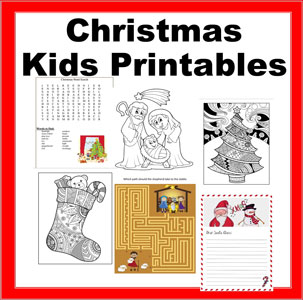 Printale Games, Coloring Sheets, Santa Letters and More
Share your favorite Christmas Candy Recipes

Submit your favorite kids recipe
Do you have a favorite recipe your kids love to make? Or a recipe your kids ask you to make again and again? Share it with us!
Reader's Submitted Recipes
Click below to see contributions from other visitors to this page...

Chocolate Pretzel Wreath
You will need: Green and Red candy wafers pretzel rods Sprinkles Serving round platter Directions: Melt candy wafers until smooth according to package …
Candy Filled Wreath
2-3 bags of small candies that are in a wrapper, Jolly Ranchers and Starlight mints is what we used here. Wire hanger Thin Christmas ribbon of various …
Bundt Cake Wreaths
1 Box of cake mix(Any Kind) 5-6 small bundt cake pans(Or 1 large) 1 can of frosting Green food coloring Red M&Ms Make cake according to cake …
---
Related Seasonal Recipe Pages:
~
School Lunches
, ~
Apples
, ~
Autumn Activities
, ~
Pumpkins
, ~
Kids Halloween Recipes
, ~
Halloween Recipe Ideas
, ~
Thanksgiving
, ~
Hanukkah Recipes
, ~
Kids Christmas cooking
, ~
Christmas Candy Recipes
, ~
Reindeer
, ~
Make Homemade Chocolates
, ~
Jar Mixes
, ~
Gift Basket Ideas
, ~
Homemade Fudge Recipes
, ~
Homemade Suckers
, ~
Christmas Cookie Recipes
, ~
Gingerbread House Recipes
, ~
Food Gift Ideas
, ~
Dough Ornament Recipes
, ~
Hot Cocoa
, ~
Happy New Year
, ~
Snowman Theme Recipes
, ~
Valentine's Day
, ~
Valentine Dessert Recipes
, ~
St. Patrick's Day
, ~
April Fool's Day Recipes
, ~
Passover Recipes
, ~
Kids Easter Recipes
, ~
Sugar Eggs Recipe
, ~
Resurrection Cookies Recipe
, ~
Italian Easter Bread
, ~
Russian Easter Bread Recipe
, ~
Earth Day
, ~
Cinco de Mayo, May 5
, ~
Mother's Day Recipes
, ~
Father's Day Recipes
, ~
Summer Cooking
, ~
Kid's Campfire Cooking Recipes
, ~
Dutch Oven Cooking for Kids
, ~
4th of July Recipes
, ~
Ice Cream Recipes
, ~
Popsicle Recipes
, ~
Simple Smoothie Recipes
, ~
Picnic Ideas and Recipes
, ~
Easy Grilling Recipes
, ~
Grow your own Garden
---
Follow Kids Cooking Activities