Coating and Breading Technique
AKA Dredging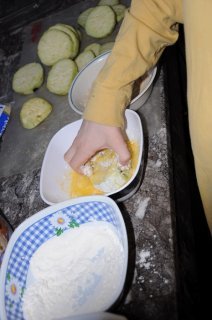 A simple kids cooking lesson is to learn the coating and breading technique also known as dredging.

We will show you several recipes you can use to practice this method. This is the same mrthod you would make chicken fingers, chicken nuggets or breaded pork chops.
First we will use the coating and breading technique on eggplant slices. Zucchini also works well for this recipe.
Eggplant Parmesan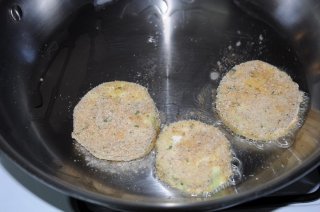 We are making Eggplant Parmesan here and my son is coating sliced eggplant first in flour turning both sides, then in beaten egg or milk, then in breadcrumbs. Add to a hot skillet with a small amount of oil in it. Cook both sides until brown and crispy.
To make Eggplant Parmesan, add fried eggplant into casserole dish. Top with a small amount of spaghetti sauce and sprinkle with mozzarella cheese. Bake for 10-15 minutes until cheese is melted.
Kids Cooking Activities Teaching Materials
Make teaching easier with our activities and recipes compiled in theme sets and books with an easy to read format
Perfect for teaching!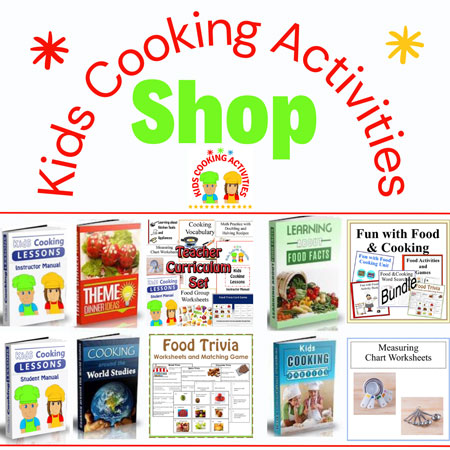 ~This post may contain affiliate links and I'll earn a small commission if you shop through them. There is no extra cost to you. This is how we help support our family and continue to bring you amazing content. To learn more see the
affiliates disclosure here.
~
More Recipes for Coating and Breading Technique
Breading Pork Chops
This breaded pork chop recipe is so yummy and makes super moist pork chops. I often prepare this recipe ahead of time and leave it in the fridge. Then bake before dinner.
4-6 boneless pork loin chops-I bought really thick ones and sliced them in half lengthwise
1/2 cup all-purpose flour
1/2 teaspoon seasoned salt
1/4 Cup milk, plain yogurt or buttermilk
1/2 cup Italian-style dry bread crumbs
Set three flat pie plates or flat dishes next to each other. In one add flour and seasoning salt, in another add milk and the last add breadcrumbs.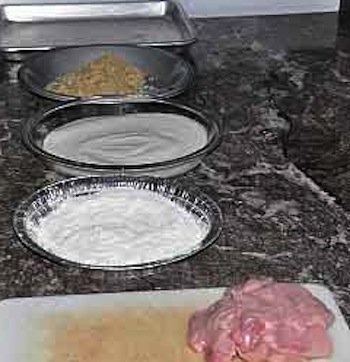 Dip pork chops in flour first covering both sides.

Then dip both sides in milk.

Then dip both sides in bread crumbs.

Place in a casserole dish

Spray with cooking spray. This will make your pork chop crispy without frying it.

Bake at 375 degrees for 20-30 minutes or until pork is done and no longer pink.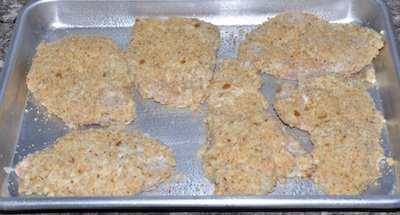 ---
Make teaching easier with our activities and recipes compiled in one easy to read format.
---
Coating and Breading Technique-Chicken Recipes
Oven Baked Parmesan Chicken
Ingredients
1 egg
1/4 Cup bread crumbs
1/4 Cup Parmesan cheese
4-6 chicken breasts
small jar spaghetti sauce
1 Cup mozzarella cheese
pasta noodles
Directions
Spray a casserole dish and set aside. Lay two separate dishes or pie plates next to each other. Add egg in one and beat. In another dish, add bread crumbs and Parmesan cheese. Dip each chicken breast in egg and then coat with bread crumbs.

You can use beaten egg, milk or buttermilk to dip your chicken in.
Place in casserole dish. Pour spaghetti sauce over chicken and sprinkle with mozzarella cheese. Use as much sauce as you would like. Bake at 400 degrees for 15-20 minutes.
While your chicken is cooking cook any size of noodles you'd like to serve with the chicken parmesan and serve with extra spaghetti sauce.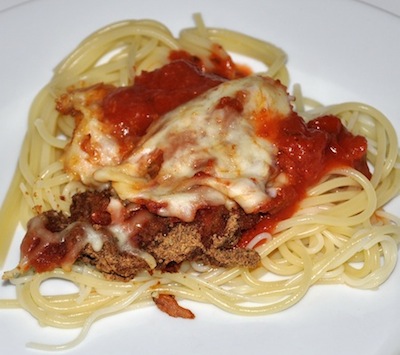 Kids can help coat chicken just make sure they wash their hands well after handling chicken. They can also help prepare a fruit salad or green salad to go with dinner.
Chicken Piccata
A great Chicken Piccata Recipe with a honey lemony sauce.
Ingredients
1 cup flour or breadcrumbs
1/2 Cup parmesan cheese
1 tablespoon Italian seasoning
1/2 Cup milk
1 lb. chicken breasts
Pasta
2 Tablespoons butter
1/4 Cup honey
juice of one lemon
Boil water for pasta. Meanwhile, flatten chicken breasts with kitchen mallet. Then cut chicken into smaller pieces. Mix flour, cheese and seasoning together in flat dish. Pour milk in different flat dish. Place chicken pieces in milk, then coat chicken in flour mixture.

Add olive oil to frying pan and brown chicken.
Cook pasta. Once chicken is browned. Add in the saucepan, butter, honey and juice of one lemon. Heat several minutes and serve over cooked drained pasta.
Four easy recipes for learning the coating and breading technique.
Follow Kids Cooking Activities