Easy Fruit Salad Recipes
A collection of easy fruit salad recipes and some fruit salad dressing recipes that are a favorite at our house.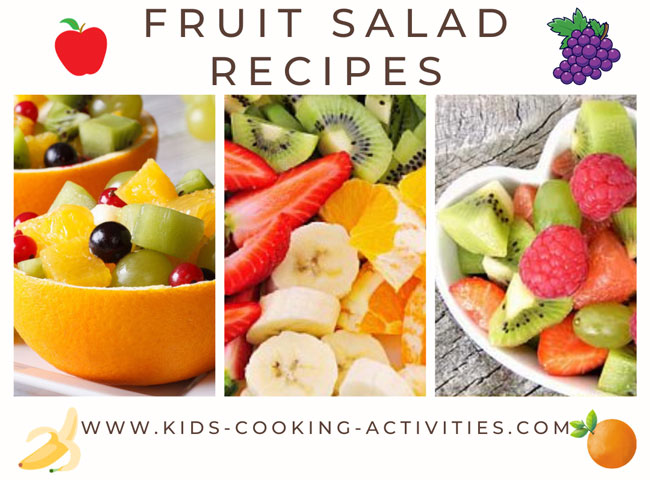 Please share your favorite fruit salad recipe below.
Kids Cooking Activities Teaching Materials
Make teaching easier with our activities and recipes compiled in theme sets and books with an easy to read format
Perfect for teaching!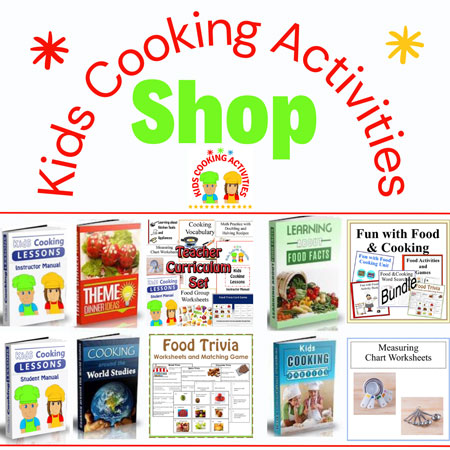 ~This post may contain affiliate links and I'll earn a small commission if you shop through them. There is no extra cost to you. This is how we help support our family and continue to bring you amazing content. To learn more see the
affiliates disclosure here.
~
Romaine Fruit Salad
Ingredients
romaine lettuce cut up
avocado cut in slices
kiwi cut up
assorted fruit such as watermelon, grapes, blueberries, grapefruit, strawberries, orange segments
Toss ingredients together and serve with one of the dressings below.
Citrus Salad Dressing Recipe
Ingredients
1/3 Cup oil
1 teaspoon orange peel
½ Cup grapefruit juice
2 Tablespoons sugar
2 Tablespoons lemon juice
½ teaspoon mustard
¼ teaspoon salt
Mix together.
Honey Dressing
Ingredients
4 teaspoons lime juice
2 teaspoons honey
¼ teaspoons salt
3 Tablespoons vegetable oil
Mix together.
Watermelon Salad
Ingredients
1 Cup seeded chopped watermelon
1/2 Cup chopped strawberries
½ Cup chopped kiwifruit
½ Cup chopped peaches
3 Tablespoons lime juice
4 teaspoons honey
1-2 mint leaves, chopped, optional
Mix together. Could serve in halved and hollowed limes for added affect, in hollowed out watermelon, or inside half a coconut, hollowed pineapple, etc.
Watermelon Shapes
You can create a great kid friendly salad just by how you present it.
Spinach Strawberry Salad Recipe
Ingredients
fresh spinach or romaine lettuce
fruit of choice: sliced strawberries, sliced kiwi, grapefruit sections, etc.
Dressing
:
1 C. oil
4 T. sour cream
5 T. vinegar
½ tsp. mustard
2 garlic cloves
½ tsp. salt
2 T. sugar
2 tsp. parsley
Blend oil and sour cream. Then mix in vinegar and other ingredients. Shake well before using.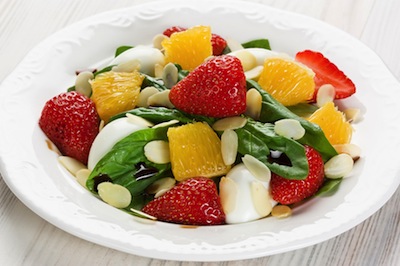 Grape Salad Recipe Video
Layered Easy Fruit Salad Recipes
Fruit and Pudding Salad
Ingredients
2 cups peaches, sliced
2 cups strawberries
2 cups grapes
2 cups bananas sliced
1 1/4 cups milk
1/2 cup sour cream or plain yogurt
1 package vanilla or banana pudding
6 ounce can crushed pineapple with juice
In a bowl, combine milk, sour cream and pudding mixture. Gently stir in pineapple. Chill. In a serving bowl, layer peaches, strawberries, grapes and bananas. You can add a different fruit, use whatever you like. Pour pudding mixture over the top and let chill several hours before serving.
Peach Strawberry Salad
Ingredients
1 Cup strawberries
1 Cup plain or vanilla yogurt
1 Cup peaches
1-2 Tablespoons sugar
dash cinnamon
In a serving bowl add strawberries and peaches. In a separate bowl, stir together yogurt, sugar and cinnamon. Pour over top of fruit. Gently fold into mixture to cover.
Classic Waldorf Salad
This salad dates back to the late 1800's where the New York Waldorf-Astoria hotel served this. It originally only had mayonnaise, apples and celery. We've added a few more ingredients.
Ingredients
4 Cups shredded Romaine lettuce, optional
2 red apples, diced
1 Tablespoon lemon juice
¼ Cup grapes, halved
½ Cup walnuts, chopped
2 stalks celery, sliced
½ Cup mayonnaise
1/4 Cup sour cream
juice of 1 lemon
In a mixing bowl add apples, grapes, walnuts and celery. Blend together mayonnaise, sour cream and lemon juice in different bowl. Add sour cream mixture to fruit salad and stir to coat. In a serving bowl, lay lettuce on bottom of bowl. Spoon fruit salad on top of lettuce. Chill before serving.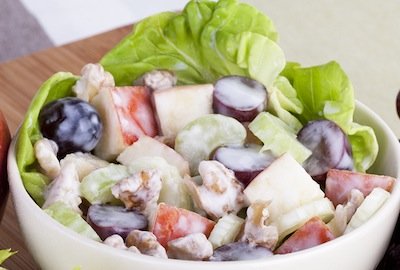 Ambrosia Salad
Ingredients
bag mini marshmallows
18 oz. can mandarin oranges
large can crushed pineapple -drained
small jar maraschino cherries, cut in half
1 can peaches, diced
1 Cup shredded coconut
32 oz. flavored yogurt, plain yogurt or sour cream
In a serving bowl, add marshmallows, oranges, pineapple, peaches, cherries and coconut. Stir yogurt into fruit mixture and stir until well combined.
A
frog eye salad
is much similar to this recipe but has cooked acini di pepe pasta stirred into the recipe. Acini di pepe are small round pasta that resemble frog eyes!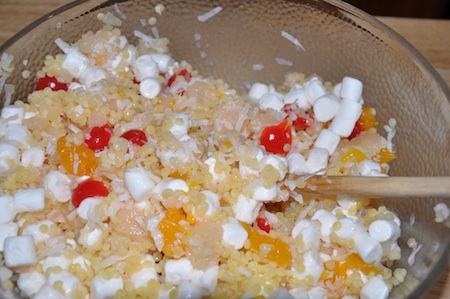 Orange Fluff Easy Fruit Salad Recipes
by Flora (USA)
1 small box orange jello
1-16 oz small curd cottage cheese
1 can mandarin oranges, drained and diced
small 1 can crushed pineapple, drained
1 large cool whip
1) In a large bowl combine cottage cheese and orange jello, fold together.
2) After draining all fruit and dicing oranges, add these to cheese mix in bowl. Mix well.
3) Fold in cool whip gently, be sure to mix well.
4) Place this in refrigerator for at least 1 hr to set well.
Fruit Salad 4 Ways
Fruit in a Cloud Salad Dessert
Ingredients:
1 (21 oz.) can cherry pie filling
1 (21 oz) can strawberry pie filling
2 C crushed pineapple, drained
1 (14 oz.) can sweetened condensed milk
1 (12 oz.) container whipped topping, thawed
3/4 C pecans, chopped, optional
Directions:
Place both cans of pie filling into a large mixing bowl.
Fold in the crushed pineapple until well combined.
Pour the milk into the mixture and stir until all the ingredients are incorporated together well.
Fold the whipped topping into the mixture until the topping is smooth.
Sprinkle in the pecans and stir until well combined.
Cover and refrigerate at least 2 hours being sure the salad is chilled completely through before serving.
Serves: 8
Try a variation of this recipe for
Eton Mess, a British recipe.
Chicken Strawberry Salad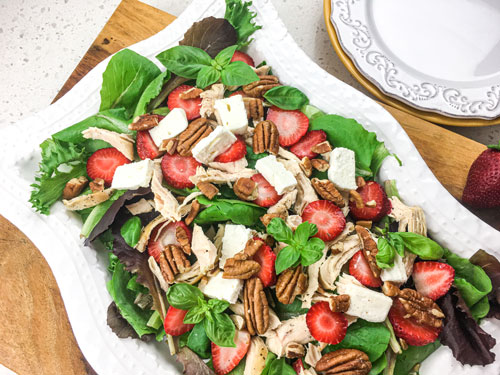 Salad Ingredients:
2 T. extra virgin olive oil
Shredded Rotisserie chicken or cooked chicken breasts cubed
5 c. mixed salad greens
½ pint fresh strawberries, sliced
2 oz. Feta cheese, cut into bite-sized pieces
3 oz. pecan halves
Dressing Ingredients:
¼ c. extra virgin olive oil
2 T. balsamic vinegar
1 t. Dijon mustard
½ T. fresh lemon juice
¼ t. garlic powder
Pinch sea salt
Optional: 1 t. honey
Directions:
Prepare the dressing by combining all ingredients in a jar. Put lid on jar and shake until well combined. Taste and adjust seasonings, as desired. Set aside.
Arrange mixed salad greens on a platter and top with the shredded chicken, sliced strawberries, Feta cheese, and pecans.
Drizzle the balsamic dressing on top and serve immediately.
Pomegranate Salad Recipe
Try this
fruity salad recipe
with oranges, avocados and pomegranates.
Share your easy fruit salad recipes!
Submit your favorite kids recipe
Do you have a favorite recipe your kids love to make? Or a recipe your kids ask you to make again and again? Share it with us!
---
Related Salad Recipe Pages:
~
Best Salad Recipes
, ~
Chicken Salad
, ~
Taco Salad
, ~
Tuna Salad
, ~
Egg Salad
, ~
Pasta Salads
, ~
Potato Salad
, ~
Carrot Salad
, ~
Cobb Salad
, ~
Chinese Salad
, ~
Fruit Salads
---
Follow Kids Cooking Activities