Easy Meatloaf Recipes
These easy meatloaf recipes are great for kid friendly dinners. I have several different shapes of mini pans that work great for meat loaf. The kids love them! However you can use normal loaf pans or shape into a loaf and place on a tin foil lined cookie sheet.
Meat loaf is a great make ahead meal. You can make this in the morning and just pop in the oven at dinnertime. Meat loaf also freezes really well. You can add
pureed vegetables in your meatloaf
easily for more nutrition.

You can also turn any of these easy meatloaf recipes into meatballs.
Kids Cooking Activities Teaching Materials
Make teaching easier with our activities and recipes compiled in theme sets and books with an easy to read format
Perfect for teaching!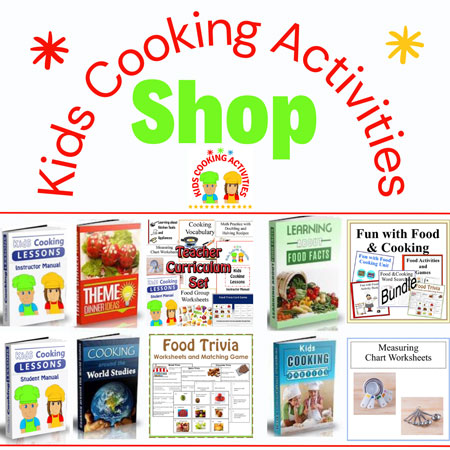 ~This post may contain affiliate links and I'll earn a small commission if you shop through them. There is no extra cost to you. This is how we help support our family and continue to bring you amazing content. To learn more see the
affiliates disclosure here.
~
Basic Easy Meatloaf Recipes
2 eggs
1 Cup milk
1/2 cup dry bread crumbs
3 teaspoon seasoning salt
1 Tablespoon Worcestershire sauce
1/2 teaspoon pepper
2 lb. ground hamburger
Place all ingredients together in bowl and using your hands, combine together. In a loaf pan, layer a sheet of tin foil with excess over the edges. Form meat into loaves and place in pan on top of tin foil. Fold edges over and wrap again with tin foil if desired. Continue with all meat. Freeze. When ready place meatloaf from freezer to oven and bake 1 hour -1 1/2 hours.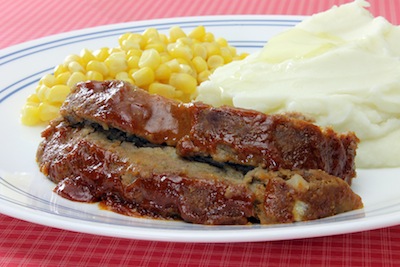 Our Favorite Easy Meatloaf Recipes
Bacon Swiss Meatloaf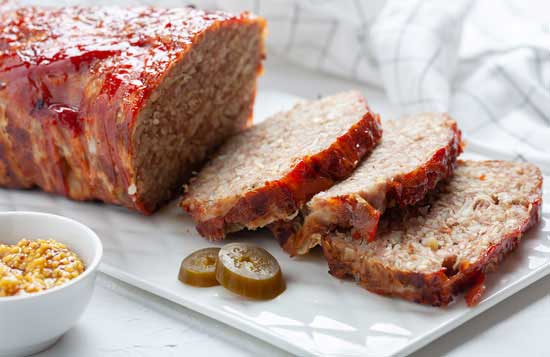 1 bacon strip, crumbled
1 egg, beaten
1/3 Cup butter crackers crushed
5 Tablespoons shredded Swiss cheese
4 ½ teaspoons chopped onion
1 garlic clove, minced
¼ teaspoon salt
1/8 teaspoon pepper
½ lb. Ground beef
In bowl combine egg, crackers, 4 Tablespoons shredded cheese, chopped onion, garlic, bacon, salt and pepper. Add beef into mixture and combine. Shape into loaf and freeze wrapped in tin foil or in a ziploc bag. When ready to cook take out of the freezer and place in a loaf pan. Top with more bacon pieces if desired. Bake at 350 degrees for 30minutes- 1 hour. Test with a meat thermometer.
Barbecue Meatloaf
Barbecue Meatloaf
Recipe
Pizza Meatloaf Recipe
1 egg
1/2 Cup pizza sauce
1/4 Cup bread crumbs, seasoned
1/2 teaspoon Italian seasoning
1 1/2 lbs. ground beef
1 1/2 Cup shredded mozzarella cheese
In mixing bowl, combine all ingredients together. Massage together with your fingers or spoon. Shape into meatloaves or meatballs. Top with additional sauce, if desired.
For extra kids fun, cook meatloaf for 30 minutes then top with shredded mozzarella cheese and pepperoni. Continue to bake until meat is cooked through.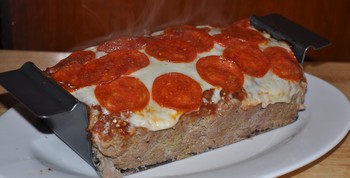 Bacon Cheeseburger Meatloaf
1 lb. ground beef
1 lb. ground chicken or use 2 lbs of all chicken or beef
4 eggs
1 Cup bread crumbs
1/2 Cup cheddar cheese
5-6 slices bacon, cooked or use bacon bits
2 garlic cloves, minced
pinch of salt and pepper
barbecue sauce for topping
In a large mix together ground meat, eggs, bread crumbs and cheddar cheese. Crumble bacon into bowl and add garlic, salt and pepper. Blend together until well combined. Place in two loaf pans. Spread barbecue sauce over the top. Freeze one for another day and bake one at 35-45 minutes.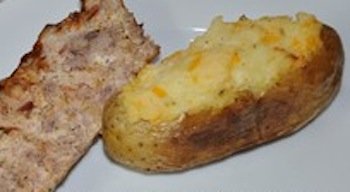 Mom's Yummy Meatloaf
by Mary (US)

Meatloaf ready to cook. I added the sauce before baking and it turned out well.
1 -1/2 pounds lean ground beef
1 med onion diced
2 lg eggs
1 cup salted soda crackers crushed
1 cup ketchup
Mix all items in a large bowl until well mixed. Split and put into two loaf pans or one cake pan depending on what size and shape you want your pieces of meat to be.
Bake at 400 degrees until meat is almost done. (not pink in middle) remove from oven, drain any grease and put topping on then place back in oven for 10 minutes.
Mom's Yummy Meatloaf Topping
1 cup brown sugar
1/4 cup each ketchup, molasses or honey, and BBQ sauce
1 TBS stone ground mustard
Mix all items together. Spread over meat and return to oven. The topping should be thick look grainy and have a sweet and tangy taste.
Please note that the consistency and taste of the ketchup and BBQ sauce may alter the taste of the topping. If your topping is to thick add equal parts of ketchup and honey/molle till you can spread it over meat. If your topping is to sweet add mustard to taste, if to tangy add more sugar or grape jelly to taste.
Easy Meatloaf Recipe
by Judy
1 lb of ground hamburger
1 can rinsed black beans
1 medium onion diced
1 can stewed tomatoes
one package of onion soup mix
salt and pepper and 1/2 tsp garlic powder
Mix all ingredients together and bake as a loaf or make small meat balls.
Bake until meat is coked through.
Serve with rice or noodles.
Yum! We make it a candlelight dinner with salad and rolls.
Mama's New Style Meatloaf
by Joshua Gruenberg (Park Ridge, New Jersey, USA)
Have 1 lb. of ground beef, about 95-15 meat to fat distribution
Add 1/2 of a cup of each diced tomatoes and chopped spinach
Add one large egg, 1/3 cup panko, and 1 tbs Italian seasoning
Stir in 1ts canola oil, salt, pepper, and soy sauce
Blend contents well, and mold into a glass 9 by 5 inch pan
Bake in a oven at 350 degrees F. until the top is golden brown and the internal temperature is 160 degrees F.
Using oven mitts take out of oven, wait for it to cool a bit
---
Make teaching easier with our activities and recipes compiled in one easy to read format.
---
Have Fun with Easy Meatloaf Recipes
Mini Meatloaves
Grease loaf pan or mini loaf pans with shortening or cooking spray. Shape meatloaf into the pan. Bake at 350 degrees for 15-20 minutes and test with a meat thermometer.
**If you have mini loaf pans or mini cake pans they work great for meatloaf also. If you don't have these available use a muffin pan. Kids can mix and mash the meatloaf together.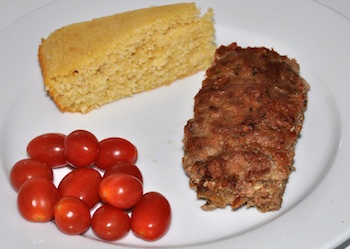 Meatloaf Baskets with Mini Potatoes
A fun idea that you can use any easy meatloaf recipes to create.
1 egg
1/2 cup oatmeal
1 teaspoon seasoning salt
1 celery
1 carrot
1 teaspoon Worcestershire sauce
1 pound ground hamburger
mini size potatoes
In a mixing bowl add hamburger, egg, oatmeal, salt and Worcestershire sauce. In blender puree celery and carrot. Add to hamburger mixture. Mix together until well blended. On a cookie sheet form hamburger mixture into small rings like below.
Bake for 30-45 minutes or until meat is done and potatoes are tender. Poke a potato with a fork and if it goes through they are done.
Mini Meatloaf Kids Cooking Party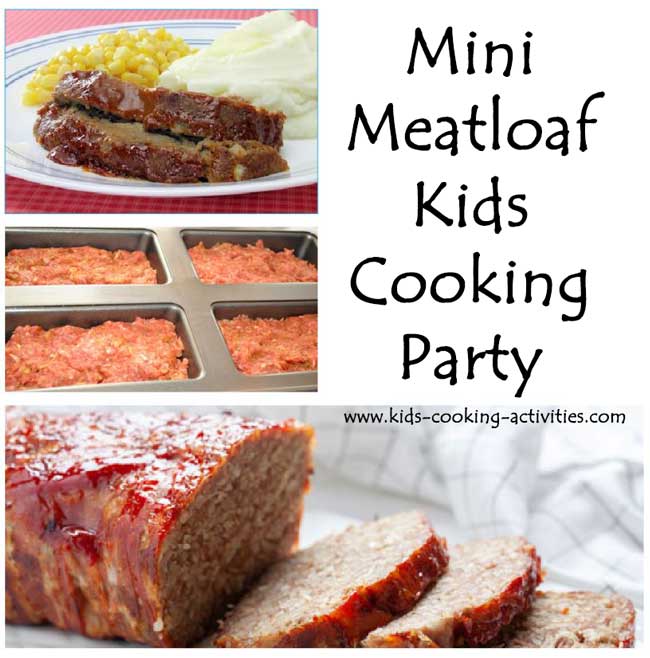 Share your favorite easy meatloaf recipes.
Submit your favorite kids recipe
Do you have a favorite recipe your kids love to make? Or a recipe your kids ask you to make again and again? Share it with us!
Reader's Submitted Recipes
Click below to see contributions from other visitors to this page...

Crazy Day Meatloaf Balls
You will need 1 pound of Ground Beef 1 loaf of Italian Bread 1/2 cup milk 1/3 cup rolled oats 1 chopped medium onion finely chopped 1 diced …
Follow Kids Cooking Activities