Fettuccine Alfredo Sauce Recipes
Here are several Fettuccine Alfredo Sauce recipes, some healthy, some not, and one take on making an Alfredo soup.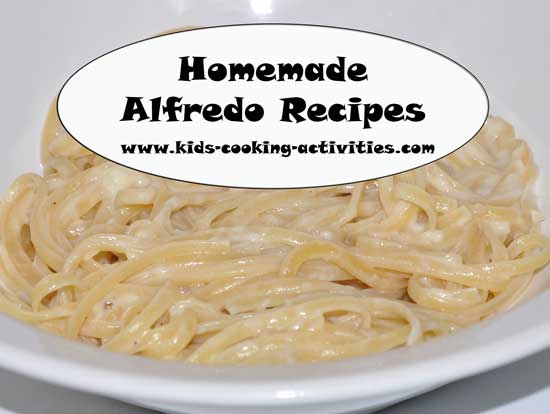 Fettuccine Alfredo Tips:

Add cooked broccoli to your Fettuccine Alfredo noodles.
Add cooked, chopped chicken.
Add shrimp or crab.
Add cooked mixed vegetables to your fettuccine.

Once you mix the sauce into your noodles serve your Fettuccine Alfredo immediately. The fresher the sauce the better.
Try different shape noodles, you don't have to serve Alfredo sauce with fettuccine noodles or angel hair pasta.
To make Fettuccine Alfredo it all starts with making a roux or a white sauce.
Learn how to make a white sauce.
Planned Kids Cooking Curriculum
~This post may contain affiliate links and I'll earn a small commission if you shop through them. There is no extra cost to you. This is how we help support our family and continue to bring you amazing content. To learn more see the
affiliates disclosure here.
~
Fettuccine Alfredo

Fettuccine noodles or any type noodles you choose
1lb. Broccoli, chopped, * optional
Cook noodles and last few minutes add broccoli. Meanwhile to make sauce:
Melt 2 Tablespoons butter in pan.
Add 2 Tablespoons flour, cook, stirring constantly, 1 minute.
Whisk in 3 cups milk
1 teaspoon salt
1/2 teaspoon ground pepper
a pinch of nutmeg
2 cloves garlic, minced
Bring sauce to a boil. Reduce and simmer several minutes. Then stir in 3/4 Cup Parmesan cheese.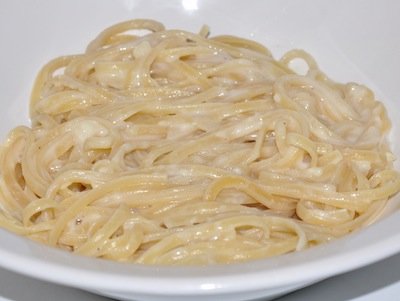 Fettuccine Alfredo with Cream Soup
6 oz. Spaghetti noodles
2 Tablespoons butter
Can cream mushroom soup
1/2 Cup Parmesan cheese
1 Cup broccoli florets
4 chicken breast cubed or strips
1/2 Cup milk
dash pepper
Cook noodles and add broccoli for last 5 minutes of cooking. In skillet cook chicken in butter until browned. In a separate bowl stir together soup, milk, pepper and cheese. Stir into chicken soup mixture. Drain noodles and broccoli, then stir in sauce.
---
Make teaching easier with our activities and recipes compiled in one easy to read format.
---
An Original Fettuccine Alfredo Sauce Recipes
1/2 cup butter or stick margarine
1/2 cup heavy whipping cream
1 clove garlic, minced
3/4 cup grated Parmesan cheese
1/2 teaspoon salt
Dash of pepper
Noodles of choice
Cook noodles. Meanwhile in a saucepan, whisk together butter, garlic and whipping cream. Stir and cook over medium until mixture thickens and comes to a boil. Stir in Parmesan cheese, salt and pepper. Continue to cook and stir several minutes until cheese melts and sauce thickens. Stir into noodles and serve immediately.
More Alfredo Recipes
How about a
Chicken Alfredo Lasagna
?
Try an
easy Alfredo soup.
Substitute homemade Alfredo sauce or use a jar of Alfredo as directed in the recipe.
How about a healthy low fat
Fettuccine Alfredo using pumpkin?
Chicken Broccoli Alfredo Pizza
Pizza crust
Alfredo sauce
Shredded mozzarella cheese
Cooked chopped broccoli
Chopped chicken, grilled or baked
Lay pizza crust in pan and top with Alfredo sauce. Spread chicken, broccoli and mozzarella cheese over top. Bake at 350 degree oven for 10-15 minutes or until browned and cheese melts.
Submit your favorite kids recipe
Do you have a favorite recipe your kids love to make? Or a recipe your kids ask you to make again and again? Share it with us!
Follow Kids Cooking Activities