How to Make White Sauce
Why do you need to know how to make white sauce? This is how you make a Bechamel, which is one of the
5 mother sauces.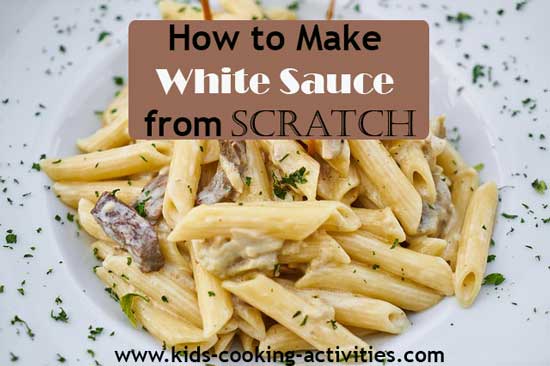 The process is also called making a roux, it is simply the start of how you make a white sauce. Whether it is an
Alfredo
,
Garlic White Sauce
,
Cheese sauce
or a
plain white sauce
this is how you do it in easy steps. Making a white sauce is extremely easy and a great way to finish off your meals. Try adding to cooked noodles, mixed into casseroles, replace cream of canned soups, or stir into cooked vegetables. Find the recipes for these sauces through the links above.
Kids Cooking Activities Teaching Materials
Make teaching easier with our activities and recipes compiled in theme sets and books with an easy to read format
Perfect for teaching!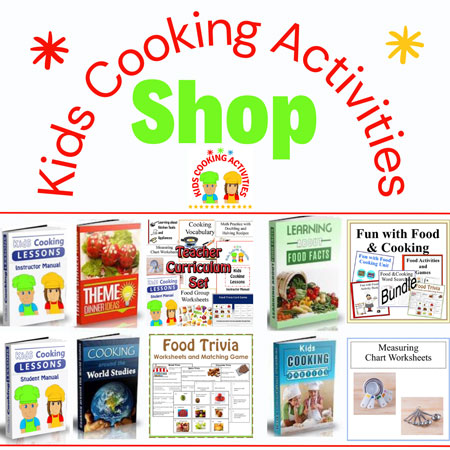 ~This post may contain affiliate links and I'll earn a small commission if you shop through them. There is no extra cost to you. This is how we help support our family and continue to bring you amazing content. To learn more see the
affiliates disclosure here.
~
Basic White Homemade Sauce Recipe
Ingredients:
1 Tablespoon butter
1 Tablespoon flour
1 Cup milk
salt and pepper to taste
Directions:
1 teaspoon other seasonings, such as garlic or Italian seasoning if desired
Melt butter. Whisk in flour making a roux. Whisk in milk and seasonings. Simmer until thickens.
| | |
| --- | --- |
| | Melt your butter. |
| | Whisk in your flour. |
| | Whisk in your chicken broth or milk, whatever liquid your recipe calls for. |
| | Blend in cheese, seasonings or whatever other ingredients your recipe calls for. |
| | Add your sauce to your dish. |
How to Make Garlic Pasta
We made Garlic Pasta in the photos above.
The secret with this recipe is to serve it immediately. Once you mix your noodles with the sauce it is best right then, don't let it sit and then eat it! If you need to prepare ahead, leave the sauce separated from the noodles until right before serving.
2 Tablespoons butter
2 cloves garlic
2 Tablespoons flour
3/4 Cup chicken broth
3/4 Cup milk
2 teaspoons parsley
pinch of salt and pepper
1/3 Cup Parmesan cheese
8 oz. noodles, any shape or size
Start boiling water to cook your noodles. Meanwhile prepare sauce and add noodles to boiling water when ready.
Sauté garlic in butter. Whisk flour into butter and blend until smooth.Mixture will thicken slightly. Slowly whisk in chicken broth. Allow to heat slightly.
Blend in milk and parsley. Add a dash of salt and pepper. Stir in cheese and allow to melt. Allow to cook several minutes on low while waiting for noodles to finish cooking.
Drain noodles and pour sauce over top. Serve immediately.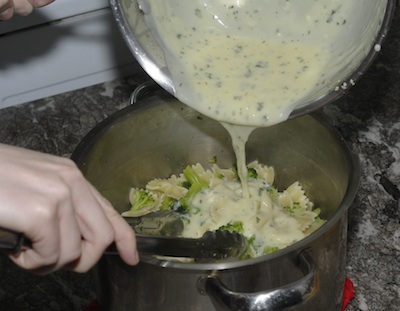 You can also stir in cooked vegetables such as broccoli or peas. Chopped cooked chicken can be added to the noodles before serving also.
---
Make teaching easier with our activities and recipes compiled in one easy to read format.
---
Bacon and Pasta
Ingredients:
3 Cups of uncooked bow tie pasta
1 1/2 Cups of frozen baby peas
1 Cup of garlic sauce above, Alfredo or white sauce
1/2 Cup of real bacon pieces
Directions:
Prepare garlic sauce following steps above. Meanwhile, boil water and add pasta when water starts boiling. 1-2 minutes before pasta is done add frozen peas to the water. Drain.
To serve, add pasta and peas to serving bowl, pour sauce over the top. Stir to coat and continue to stir bacon pieces into pasta. Serve. Top with breadcrumbs, if desired.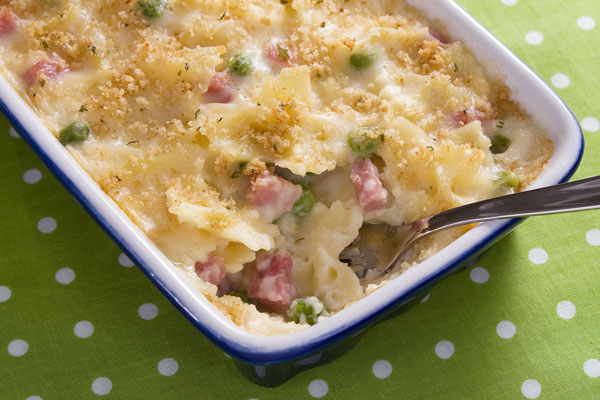 How to Make White Sauce - Recipes
Try some recipes with white sauce now: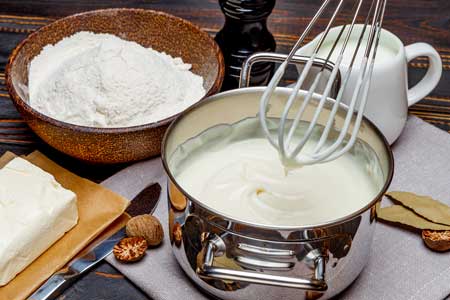 Baked Macaroni and Cheese
Homemade cream of chicken soup
Homemade cream of mushroom soup
Fettuccine Alfredo
Chicken casserole
-substitute canned cream soups with homemade
Chicken cordon bleu
- top with a white sauce
Chicken enchiladas
Chicken pot pie
Broccoli Casserole
Hawaiian haystacks
Ham Casserole
Bechamel Recipe- Homemade White Sauce Video
Follow Kids Cooking Activities