Ham Casserole Recipes
These ham casserole recipes are a big hit with everyone at potlucks and the whole family. Ham casseroles work great when you have leftover ham from holidays or just love ham like we do. Whether it is for breakfast or dinner lots of ingredients go well with ham such as broccoli, noodles, rice, eggs and potatoes so you can change up your recipe easily.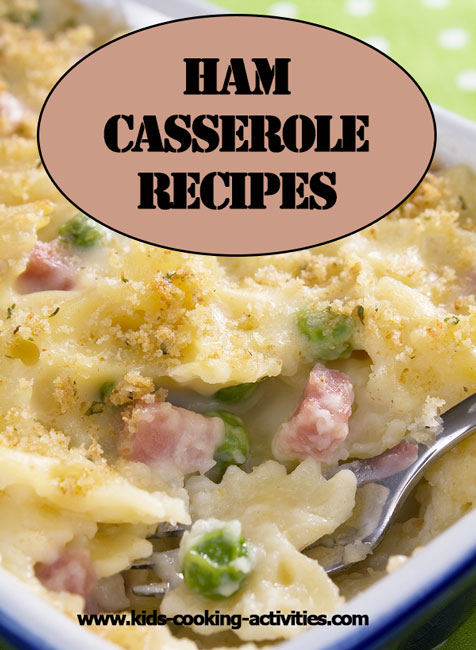 Kids Cooking Activities Teaching Materials
Make teaching easier with our activities and recipes compiled in theme sets and books with an easy to read format
Perfect for teaching!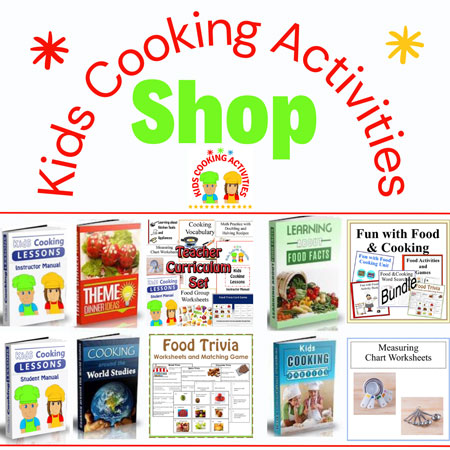 ~This post may contain affiliate links and I'll earn a small commission if you shop through them. There is no extra cost to you. This is how we help support our family and continue to bring you amazing content. To learn more see the
affiliates disclosure here.
~
Here are several of our top ham casseroles. Do you have a favorite casserole recipe with ham?
Share it below.
Homemade Potato Casserole
Prepare cream soup below first and allow to cool.
Homemade Cream Chicken Soup
Ingredients:
1/3 cup butter or stick margarine
1/3 cup all-purpose flour
1/4 teaspoon pepper
1 3/4 cups chicken broth
2/3 cup milk
In saucepan melt butter. Whisk in flour until thickens. Whisk in chicken broth and pepper. Bring to a boil until thickens. Whisk in milk and again bring to a boil until thickens set aside and allow to cool.
To prepare potato casserole
Saute 1/4 cup onions in 2 Tablespoons butter. Season with salt and pepper.
Peel 5-6 medium potatoes and dice.
Add potatoes to casserole dish. Season with salt and pepper.

Stir in sauteed onions.

Sprinkle with 1/2-1 Cup shredded cheese.
Toss 1 -2 Cups diced ham and stir to combine.
Pour cream chicken sauce over top.
Cook at 350 degrees for 40 minutes or until tender.
Sprinkle with stuffing 10-15 minutes before done.

Kids can help peel potatoes and add in ingredients for any of these ham casserole recipes.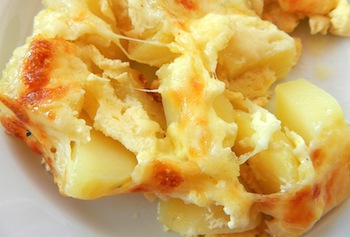 Find more recipes in our book: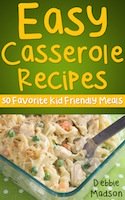 Easy Casserole Recipes Cookbook
Ham and Noodle Casserole
You can change your noodles easily in this recipe by using whatever shape or type you have on hand. Our favorite is using frozen tortellini but we don't have that on hand often. If you'd like to change the recipe cook noodles as you would normally, drain and mix all your ingredients together.
Ingredients:
bag of frozen tortellini
bag of frozen broccoli
white sauce, recipe
ham cubes
Boil water and add frozen tortellini and broccoli. Cook until both are tender. Meanwhile make a basic white sauce. Drain noodles and broccoli. Place inside casserole dish or back into drained pot. Add chopped ham. Pour white sauce over the top. Stir to combine. Serve immediately.
White Sauce
Ingredients:
1 Tablespoon butter
1 Tablespoon flour
1 Cup milk
salt and pepper to taste
1 teaspoon other seasonings, such as garlic or Italian seasoning if desired
Melt butter. Whisk in flour making a roux. Whisk in milk and seasonings. Simmer until thickens.
Learn how to make a white sauce here.
Breakfast Casserole
Ham and Cheese Breakfast Casserole
Hearty Ham Casserole Video
Submit your favorite kids recipe
Do you have a favorite recipe your kids love to make? Or a recipe your kids ask you to make again and again? Share it with us!
Follow Kids Cooking Activities