Six Dairy-Free Snack Ideas for Lunch
Whether it's because of allergies or a sensitivity to milk, lactose intolerance, going vegan, or just simply wanting to try a healthier diet, the struggle can seem too real for kids and adults with a need or desire to avoid dairy. At first, thinking up healthy snacking options devoid of milk and cheese can seem difficult and overwhelming at times. The good news is there are usually always easy substitutions at hand to satisfy your cravings for the cheesy, creamy, taboo dairy products you won't even feel like you are missing out on. With an open mind, a little googling, and some trial and error, you can easily adapt your favorite snack recipes to suit your dietary needs.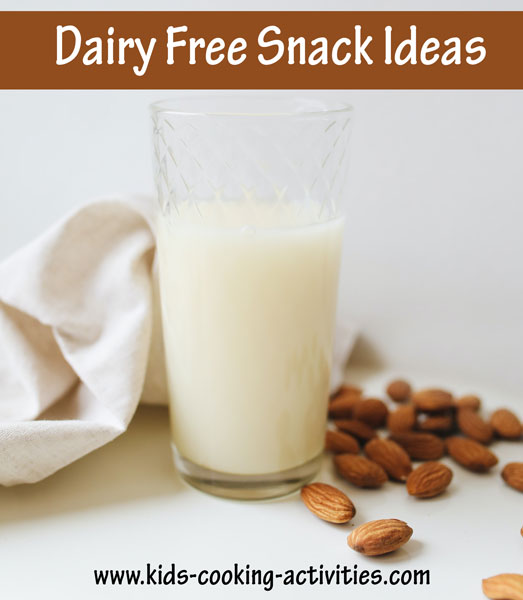 Kids Cooking Activities Teaching Materials
Make teaching easier with our activities and recipes compiled in theme sets and books with an easy to read format
Perfect for teaching!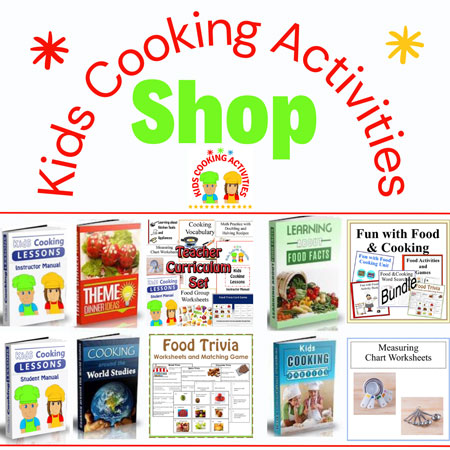 ~This post may contain affiliate links and I'll earn a small commission if you shop through them. There is no extra cost to you. This is how we help support our family and continue to bring you amazing content. To learn more see the
affiliates disclosure here.
~
Dairy Free Snacks
Here are six dairy-free snack ideas for lunch to get you going:
Beans and Franks
Beans and Franks are a simple, tasty snack that travels well in a flask. Best of all, it keeps in the fridge for a few days so you can enjoy it throughout the week. Such a simple snack but a great way to sneak in some protein and fiber for the kids (or for you!).


Feijoa Apple Crumble
If pineapples and guavas had a baby, it would be the feijoa. Remixing the traditional apple crumble by marrying it with some feijoa puree is the perfect way to add some tropical flair to an old-school recipe. The Feijoa Apple Crumble is a delicious treat to curb your cravings for something sweet - just replace the regular butter with a vegan alternative safe for baking. To kick it up a notch, drizzle on some chocolate syrup and serve with your favorite dairy-free vanilla ice cream.


Blueberry Chia Smoothie
Speaking of fruity snacks, smoothies are a deliciously satisfying and easily customizable way to quickly get your daily dose of fruits, veggies, fibers, and other supplements depending on what you add. This Blueberry Chia Smoothie is well-balanced and loaded with powerful antioxidants, immune-boosting vitamins, dietary fibers, protein, and healthy omega-3. Best of all, it is free of refined sugar and the milk can easily be swapped out with a dairy-free substitute of your choice.


Spring Rolls
If you're in the mood for something refreshing, healthy, and light, but also colorful and fun to make with the little ones, spring rolls are the way to go. They are incredibly easy to make and super adaptable to suit your dietary needs. You can play around with the fillings and make them with veggies only or mix in your favorite protein. They pair great with sweet and sour sauce, duck sauce, or peanut sauce. You won't be missing take-out when these easy, healthy, homemade spring rolls taste twice as good.


Trail Mix
Trail mix is a nutrient-dense, heart healthy, on-the-go snack, but store-bought mixes can sneak in added sugars, sodium, or additives found in dairy (like yogurt bites) making them not so nutritious. Plus, they're expensive. So why not make your own? Nothing curbs a crunch craving and gives you a boost of energy like some sweet and salty trail mix. With endless combinations, making your own trail mix is easy to adjust to your preferences and add only the ingredients you love like your favorite dried fruits or reduced-sugar chocolate gems. It's also a great recipe to get the kids involved and have each of them make their own versions of trail mix.


Vegan Pizza
Living the dairy-free life, but missing pizza nights? This hearty alternative is easy to adapt, ridiculously satisfying, and will soothe your longing for pizza pie and parmesan cheese once and for all. It's loaded with sautéed veggies, garlic-herb goodness, and vegan parmesan cheese. Feel free to sub out ingredients or add more of what you and your family loves. Everyone will enjoy munching on this unique and wholesome take on homemade, thin crust pizza, even with vegan cheese across the board - it is THAT yummy.
Adjusting to the dairy-free life in a world of high-dairy consumption can feel daunting in the beginning, but that does not mean you have to miss out on your favorite meals. Finding tasty, dairy-free substitutes does not have to be overwhelming and is much more realistic than you think. An enjoyable and nutritious diet without dairy is more than feasible and requires surprisingly little effort. It might take a little bit of practice, but it will become second nature with time. Before you know it, you will be fully embracing the anti-dairy life and putting together your favorite meals sans dairy on the fly without ever giving it a second thought.
Make teaching easier with our activities and recipes compiled in theme sets and books with an easy to read format
~This post may contain affiliate links and I'll earn a small commission if you shop through them. There is no extra cost to you. This is how we help support our family and continue to bring you amazing content. To learn more see the