Bean Soup Recipes
Bean Soup Recipes are great low cost meals because beans, lentils, split peas and barley are, not only healthy grains, but very inexpensive.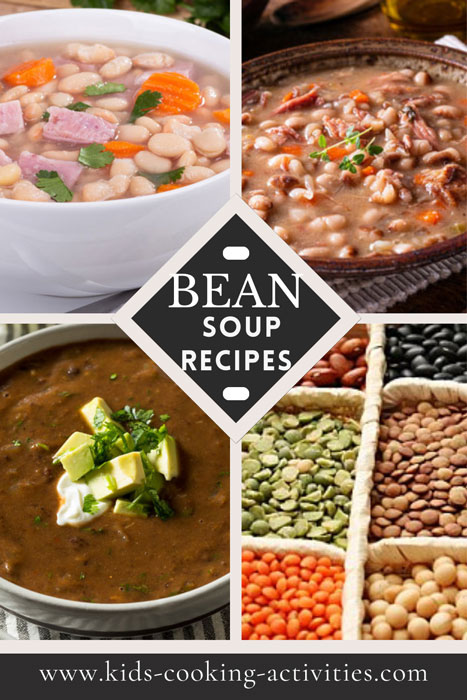 Kids Cooking Activities Teaching Materials
Make teaching easier with our activities and recipes compiled in theme sets and books with an easy to read format
Perfect for teaching!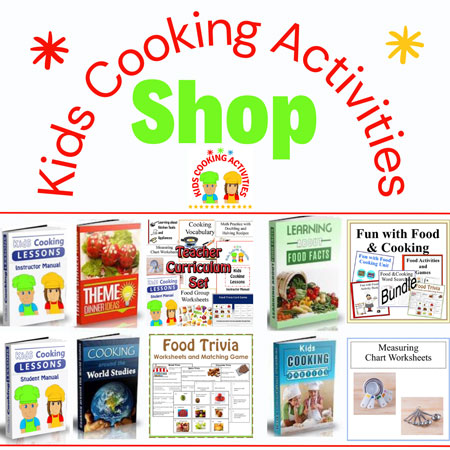 ~This post may contain affiliate links and I'll earn a small commission if you shop through them. There is no extra cost to you. This is how we help support our family and continue to bring you amazing content. To learn more see the
affiliates disclosure here.
~
Some of our Favorite Bean Soup Recipes:
Ham and Bean Soup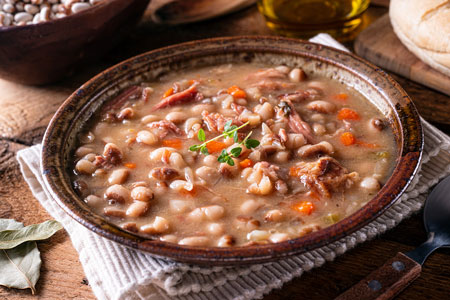 Ingredients:
2 Cups dried beans
8 Cups water
1 onion, chopped
1 teaspoon chili powder
Ham bone
Chopped ham, as much as desired
1 garlic clove
28 oz. can tomatoes
Bay leaf
1/2 teaspoon salt
1/4 teaspoon pepper
2 Tablespoons lemon juice
Directions:
Add dried beans in a large bowl. Cover with water and let sit overnight. Drain beans and add to a soup pot. Add ham bone and bay leaf, cook for 1 hour on medium-low heat. Add more water to cover if needed. Drain beans and add back to pot. Add in 8 cups water, onion, chili powder, ham, garlic clove, tomatoes, lemon juice and another bay leaf in the pot. Season with salt and pepper. Simmer for 30 minutes-1 hour.
White Bean Soup
Ingredients:
3 Cups white beans, dried
1 onion, quartered
2 bay leaves
1-2 potatoes, cubed
2 carrots, cubed
Directions:
You can add in chopped ham, polish sausages, cooked chicken or ground hamburger if you'd like or leave out.
Cover dried beans with water and let sit overnight. In the morning drain the water and place beans in a pot. Cover with water and add a quartered onion and 2 bay leaves. Allow to cook on medium-low for 1 hour or until beans are slightly tender.
~If using canned beans forgo the directions above and start here.
At dinnertime add potatoes and carrots to the beans. Add more water if needed to cover all the vegetables. Bring to a boil and cook until potatoes are tender. Or try this
ham vegetable bean soup recipe.
More Recipes for Bean Soup
Start with a good basic broth recipe using chicken broth or bouillon with water, then add whatever grains you prefer. You can feed more people with these recipes by simply adding more chicken broth, vegetables and grains, if desired. Here are two recipes using this method.
Split Pea and Barley Soup
Ingredients:
2 Cups Split Peas
2 Cups Barley
6 Cups Chicken broth
2 carrots, diced
2-3 stalks celery, diced
1 onion, quartered or chopped fine
Salt and pepper
bay leaf
Directions:
In soup pot, add split peas, barley, chicken broth, carrots, celery and onions. Season with salt and pepper and add 2 bay leaves. Simmer on medium-low for 30 minutes-1 hour. Taste and season with more salt and pepper or other seasonings if desired. Italian seasoning, parsley or oregano would also be a good addition to the soup.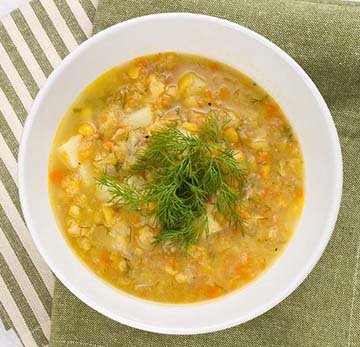 Black Bean Soup Recipe
Ingredients:
2 Cups black beans
2 Cups brown rice
6 Cups chicken broth
2 carrots, diced
1 onion, quartered
salt and pepper
2 bay leaves
chopped avocado, sour cream, cilantro for topping
Directions:
Use the same method as above. If you are using white rice add that 10-15 minutes before serving as white rice will take much less time to cook.
---
Different Kinds of Bean Soup Recipes
Lentil Kielbasa Soup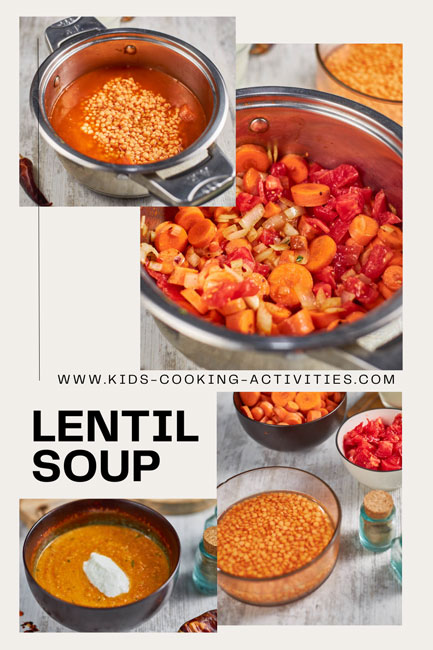 2 tablespoons olive oil
turkey kielbasa, sliced
1 large onion, chopped
4-5 carrots,diced
4 stalks celery, diced
4-5 garlic cloves, minced
6 cups water
3-4 Cups chicken broth
2 large cans diced tomatoes
1 1/2 bag(s) (16-ounce) lentils
Saute kielbasa with onion, garlic, carrots and celery for several minutes.
In a soup pot, add chicken broth, tomatoes and lentils. Stir in kielbasa and vegetables. Cook on medium for 30-40 minutes until lentils are tender.
**If desired, leave out the kielbasa.
Black Eyed Pea Stew
1 lb. ground beef, chicken or turkey
1 bag (16 oz) dried black-eyed peas or 2 Cups cooked or canned (if canned wash and drain)
6 cups water
2-3 beef bouillon cubes
pinch of pepper
5 carrots, chopped
If using dried beans, place in a bowl and pour water to cover. Let sit overnight.
Grate one onion in a frying pan and brown beef with onion. Drain and place in crock pot. Add in chopped carrots, black eyed peas, water, bouillon cubes and pepper. Stir and cook on low 8 hours.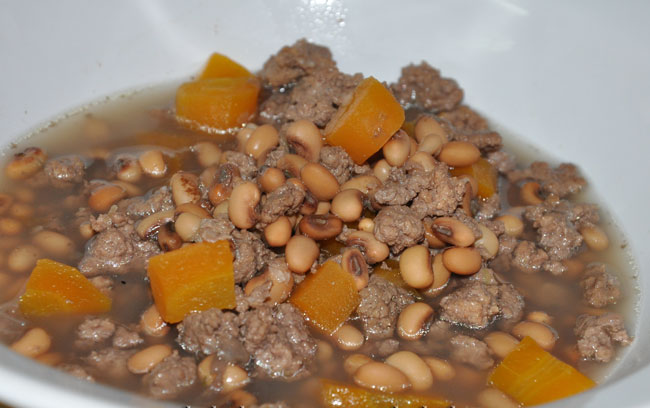 Learn more about
cooking with dry beans.
Want to learn more about beans and how to sprout your own beans?
13 Bean Soup Video
Share your Bean Soup Recipes
Submit your favorite kids recipe
Do you have a favorite recipe your kids love to make? Or a recipe your kids ask you to make again and again? Share it with us!
Follow Kids Cooking Activities