Bean Facts
Bean facts and general information about Beans.
Planned Kids Cooking Curriculum
~This post may contain affiliate links and I'll earn a small commission if you shop through them. There is no extra cost to you. This is how we help support our family and continue to bring you amazing content. To learn more see the
affiliates disclosure here.
~
Where do Beans Come From:
Beans come from plants.
Why we Need to Eat Beans:
Beans are rich in nutrients, low in calories and a good source of protein, vitamins, minerals and fiber.
Beans Include:
Kidney, Black, Great Northern beans (white), Lima.
Legumes are also included in beans such as Lentils, Peas, Chickpeas, Mung, and Soybeans.
Bean Facts: How to Cook Beans:
Canned beans are ready to use.
Dried beans need to be washed, cleaned and soaked overnight. (great job for a younger chef)
To cook, cover with water and simmer one hour or until tender. To add flavor that the beans can soak up while cooking, add onion, carrots, ham bones and a bay leaf to the water.
More directions on
how to cook dry beans
Kids Cooking Video: How to Cook with Dry Beans


Make your own Bean Sprouts:
If your kids don't like cooked beans try sprouting your own beans. They come out with a much different taste and you may find a new way to get your kids to snack on something healthy. Lentils, adzuki, mung, garbanzo are all good ones to try. Beans need to be fresh and not canned and not already cooked. They should be hard and fresh when starting the sprouting process.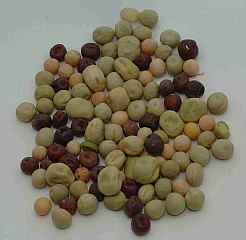 How to Sprout Beans:
Rinse beans in strainer.


Add beans to a glass jar and pour cool water in the jar. The water level should be several inches above the beans. Secure a lid with a mesh top or cheesecloth. Let sit overnight.


Drain beans and rinse several times. Make sure you shake all the excess water out.


Place on your kitchen counter or somewhere away from direct sunlight. It doesn't have to be dark but it needs to be open to air.


Every night and morning for several days continue rinsing with cool water and shaking all excess water out. This is an important step. Rinse several times and make sure all water is out to allow beans to sprout.


When they have sprouted for 2-3 days they are ready to eat. Always make sure your sprouts are completely dried out and store in fridge when you are done sprouting.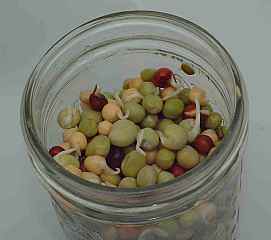 See more bean experiments here.

---
---
Other Beans Recipes to Try:
Red Beans and Rice
Share your food facts and recipes
Do you have a food facts or recipe to share?
---
Related Food Facts Pages:
~
Apple
, ~
Apricot
, ~
Avocado
, ~
Banana
, ~
Berry
, ~
Cherry
, ~
Coconut
, ~
Cranberry
, ~
Dates
, ~
Figs
, ~
Grapefruit
, ~
Grapes
, ~
Kiwi
, ~
Lemon and Limes
, ~
Mango
, ~
Melon
, ~
Orange
, ~
Papaya
, ~
Peach
, ~
Pear
, ~
Pineapple
, ~
Plums
, ~
Tomato
, ~
Artichoke
, ~
Asparagus
, ~
Beets
, ~
Broccoli
, ~
Brussels Sprouts
, ~
Cabbage
, ~
Carrot
, ~
Cauliflower
, ~
Celery
, ~
Corn,
~
Cucumber
, ~
Eggplant
, ~
Garlic
, ~
Green Beans
, ~
Lettuce/Salad Greens,
~
Mushrooms,
~
Okra
, ~
Onion
, ~
Parsnip,
~
Peas,green
, ~
Peppers,
~
Potato
, ~
Radish
, ~
Rhubarb
, ~
Spinach
, ~
Summer Squash and Zucchini
, ~
Sweet Potato
, ~
Turnip
, ~
Winter Squash, including Pumpkins
, ~
Beans
, ~
Eggs
, ~
Nuts
, ~
Seeds
, ~
Meat
, ~
Dairy products
, ~
Grains
---
Follow Kids Cooking Activities