Pumpkin Roll Cake Recipe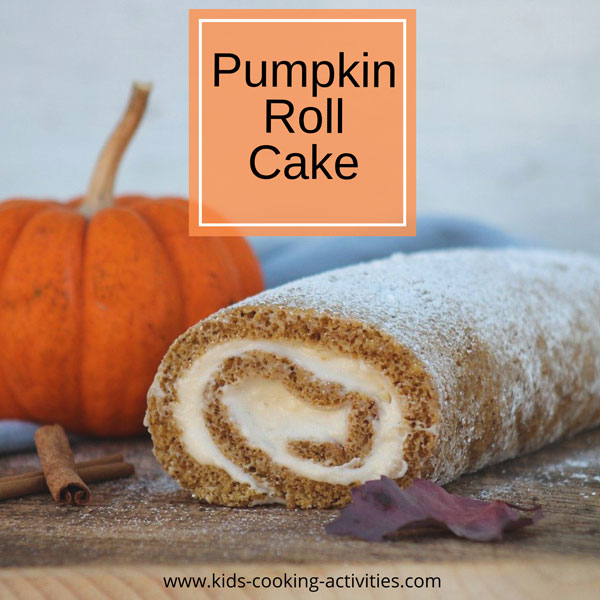 You will need to preheat your oven to 375 degrees and get your pan ready. Using a 15 x 10 inch pan (Texas sheet pan is what I call it) spray it with butter spray. You can use regular but I prefer the butter spray. I lightly flour this as well.


Pumpkin Roll Ingredients:
3/4 c. flour
1/2 t. baking powder
1/2 t. baking soda
3/4 t. cinnamon
1/4 t. allspice
1/4 t. salt
3 large eggs
1 c. sugar
1/2 t. vanilla
2/3 c. pumpkin puree
Sift the flour, baking powder, baking soda, cinnamon, allspice and salt into a large mixing bowl. Set aside.
Beat your eggs and sugar together on high until fluffy (about 5 minutes). You will know when it is enough; the mixture is thick and forms a ribbon pattern off your beaters when turned off and lifted slowly out of the bowl. Next, beat in the vanilla extract and pumpkin. Slowly add in sifted flour mixture you set aside earlier. Gently mix thoroughly. Pour batter into pan, evenly spreading the batter.
Bake for 13 - 15 minutes or until a toothpick inserted in the center comes out clean. Don't overcook. You want the cake to "spring back" when lightly touched with your finger.
While pumpkin is baking, take a piece of wax paper and lay it on a flat work area. Sprinkle this with powdered sugar and finely chopped walnuts.
Immediately, after cake is done, turn this carefully onto the dish towel that you have prepared. Sprinkle lightly with powdered sugar and roll up the pumpkin roll, with the towel. You want to do this while the cake is hot. Set aside and wait to cool.
Filling Ingredients:
8 oz. Softened cream cheese
2 T. softened butter
1 c. powdered sugar
1/2 t. vanilla
Beat cream cheese, butter, and vanilla until light and fluffy. Add sugar and beat until smooth. Once the pumpkin roll has cooled, you can carefully unroll it. If you have breakage, you can use your filling to fix the cracks. You will have fewer cracks if you roll the cake immediately out of the oven and wait until it is totally cool before filling.
Now spread your filling over the roll. Keep in mind that you may have some squeeze out so you will probably want to put less filling on the outside 1/2 inch of your roll. Once filled, re-roll your pumpkin roll.
Lightly sprinkle with powdered sugar or frost the tops. You can sprinkle with chopped nuts, orange zest or sprinkles.
More Halloween Resources
12 Halloween Theme Cooking Activities
Halloween Recipe Ideas
- for snacks, dinner, dessert
Halloween Theme Ideas
- with spiders, bats, witches, etc.
Halloween Jokes for Fun
Halloween Theme Coloring Pages
Pumpkin Recipes
Make teaching easier with our activities and recipes compiled in theme sets and books with an easy to read format
~This post may contain affiliate links and I'll earn a small commission if you shop through them. There is no extra cost to you. This is how we help support our family and continue to bring you amazing content. To learn more see the