Halloween Kid Recipes and Ideas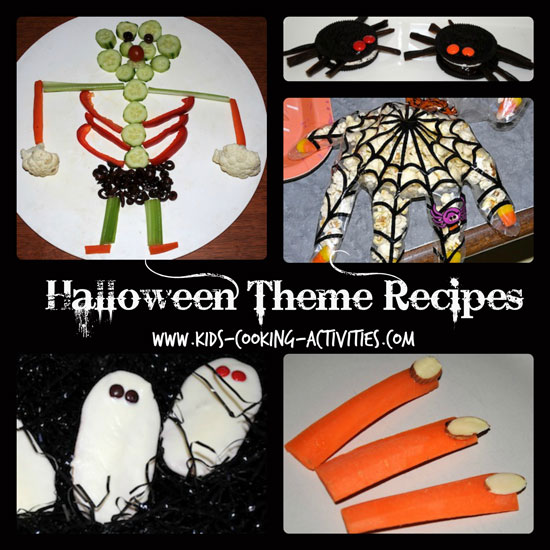 Do you need great Halloween kid recipes and ideas? Then it must be the season when the leaves are changing colors, pumpkin patches abound and kids are gearing up for Halloween trick or treating. Here are some Halloween cooking with kids' ideas.
Kids Cooking Activities Teaching Materials
Make teaching easier with our activities and recipes compiled in theme sets and books with an easy to read format
Perfect for teaching!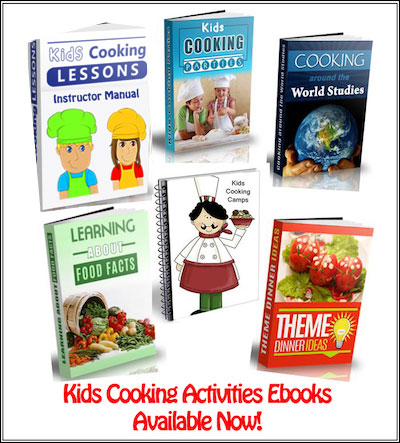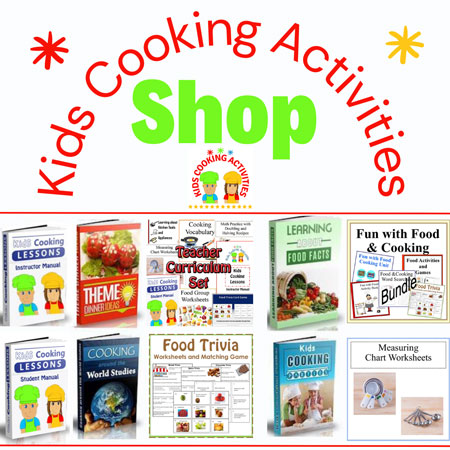 ~This post may contain affiliate links and I'll earn a small commission if you shop through them. There is no extra cost to you. This is how we help support our family and continue to bring you amazing content. To learn more see the
affiliates disclosure here.
~
Halloween Kid Recipes: Spiders
Halloween Spiders
This follows the same idea used for spiders in our Assistant chef
Kids Cooking Lessons #2
with a little added twist.
Oreo or chocolate sandwich cookies
White frosting
Black licorice laces
Small round cinnamon candies
Open cookie up carefully and push in eight small licorice pieces. Place top back on cookie and dab a little frosting on the front top cookie. Push cinnamon candies on frosting and enjoy your Halloween spiders.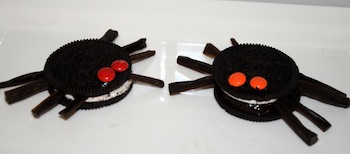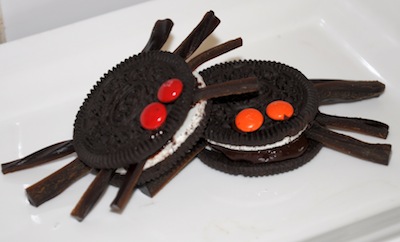 Spider Ice Cream Cones
8 individual graham cracker tart shells
8 scoops of vanilla ice cream
16 chocolate cream filled cookies, crumbled
16 red M&M candy pieces
16 pieces of black shoestring licorice
Place the shells on a baking sheet. Add 1 scoop of ice cream to each of the shells.
Crumble the cookies into a mixing bowl. Sprinkle the cookies over the ice cream to cover it well. Place the filled shells in the freezer for 30 minutes or until the ice cream has hardened. Remove the shells and press 2 M&M's into the front of each scoop of ice cream to resemble eyes. Cut the licorice strips into fourths. Press 8 strips of licorice into each ice cream scoop to form the spider's legs. Return to the freezer until ready to serve.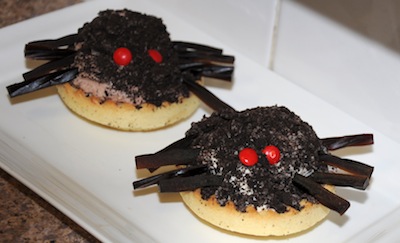 Ice Cube Spiders
Fill an ice cube tray 2/3 full of water. Add a gummy spider or plastic spider to each section of the ice cube tray. Place in the freezer for 4 hours or until completely frozen. Serve in individual drinks or a punch bowl at a Halloween party.
Halloween Kid Recipes: Bats
Batty Cupcakes
1 (18.25 oz.) pkg. chocolate cake mix
chocolate ready to spread frosting
24 fudge stripped cookies, halved
24 chocolate kisses
Red decorating gel
Prepare your cake mix according to directions and bake into cupcakes. Cool and spread with chocolate frosting. Place 2 halves of the cookies into each cupcake to represent the bat wings being sure the stripes are to the backside of the cupcake.
Carefully press a chocolate kiss into the front of the cupcake to represent the bats head. Place two small drops of the red decorating gel onto the kiss to form the eyes.
Halloween Kid Recipes: Ghosts
Ghost Cookies
Nutter butter, Milano or other oval or rectangular shaped cookies
baking white chocolate or white candy melts
small round cinnamon candies
Melt chocolate for 20 second intervals in microwave safe dish until melted. Stir. Dunk each cookie in white chocolate and place two cinnamon candies for eyes.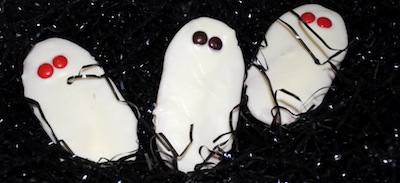 Halloween Mini Ghost Pizzas
Halloween ghost cookie cutters
pizza sauce, spaghetti sauce or tomato sauce
shredded mozzarella cheese
olives and chopped pepperoni
Pizza dough
2 ½ Cup flour
1 teaspoon salt
1 Cup warm water
1 Tablespoon yeast
1 Tablespoon Italian seasoning or to taste
1 Tablespoon olive oil or vegetable
Dissolve yeast in warm water and add a dash of sugar. Meanwhile, in mixer bowl add flour, salt, oil and Italian seasoning. When yeast is bubbly and ready pour into flour mixture and blend. Form into a ball and place in an oiled bowl. Let rise 30-60 minutes. Roll out pizza dough on floured surface. Using Halloween cookie cutters cut out shapes from pizza dough. Place on pizza pan and spread with sauce, mozzarella cheese and use pepperoni for eyes and a sliced olive for the mouth.
Halloween Kid Recipes: Black Cats
Black Cat Cupcakes
Chocolate cupcakes
Chocolate frosting
Black licorice (whiskers)
Jelly beans or gum drops(nose and eyes)
Chocolate sandwich cookies cut in 4 triangles(ears)
Bake chocolate cupcakes according to the package directions. When cool frost cupcakes. Add black licorice for whiskers, jelly beans for eyes and nose, and cookie triangles for ears.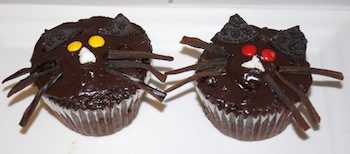 Black Cat Cookies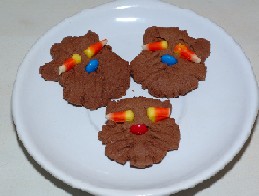 1 Cup butter
1 Cup sugar
1 Cup brown sugar
2 eggs
1 Cup baking cocoa
3 teaspoons vanilla
1 teaspoon baking powder
1 teaspoon baking soda
3 1/2 Cups flour
Candy corn
Red hot cinnamon candy
Blend butter, sugar, brown sugar, eggs, cocoa, and vanilla in mixing bowl. Mix until smooth. Add in baking powder, baking soda and flour. Blend until combined. Roll into balls and place on cookie sheet. Flatten each cookie ball with a glass. With your fingers pinch the top of each cookie to form into ears. Add whiskers by pressing a fork into each side of the cookie "face." Bake at 350 degrees for 10 minutes. Take out of oven and press in 2 candy corn eyes and a red hot cinnamon candy for a nose.
Halloween Recipes and Printable Games
Halloween Kid Recipes: Skeletons and Graveyards
Skeleton and Brains
Have kids design a vegetable platter shaped like a skeleton and add dip for the brains or on the side.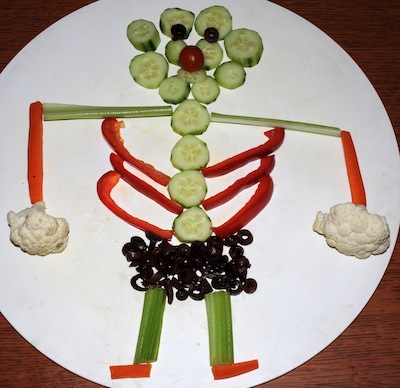 Meatloaf Body
Prepare a meatloaf recipe. Form your meatloaf into the shape of a body. Think head, arms, legs shapes like a gingerbread man. Now use your imagination to decorate. For eyes try sliced olives, slivered almonds for fingernails, or put a hard boiled egg inside your meatloaf head for a brain.
Spooky Graveyard Squares
4 Cups miniature marshmallows
1/4 Cup butter, cubed
6 Cups crispy rice cereal
12 oval shaped chocolate cream filled cookies
1 tube white decorating gel
Chocolate frosting
Halloween sprinkles
Place the marshmallows and butter into a large saucepan.
Place the pan over medium low heat and stirring continuously cook the mixture for 5 minutes or until completely melted.
Remove the pan from the heat and fold in the cereal until well coated.
Grease a 13 X 9 inch baking pan.
Press the cereal mixture evenly into the pan.
Allow the cereal mixture to cool then cut into 12 squares.
Cut about 1/2 inch off the bottom of each of the cookies and place into a bowl.
Use the white decorating gel to write RIP onto each of the cookies.
Place 2 T of the frosting in a circle in the middle of each of the cereal squares.
Place 1 decorated cookie into each frosting circle.
Crush the reserved cookies and sprinkle over the top of each square.
Sprinkle each square with the Halloween sprinkles.
Haunted Hands
by Susan G. Shorter (Lawton, OK, USA)
20 Clear Plastic Gloves
20 Twist ties
01 Box of Microwave Popcorn (approximately 6 bags)
02 Bags of Chocolate covered Peanuts
01 Bag of small knot Pretzels
01 Big bag of plain M & Ms
Pop the microwave popcorn and place in a large bowl. Pour in bag of Pretzels, M & Ms, and Chocolate covered peanuts into bowl. Mix together.
Open gloves and put mixture into gloves to the edge or until you can close it with a twist tie. These scary treats make cute decorations and are fun to eat.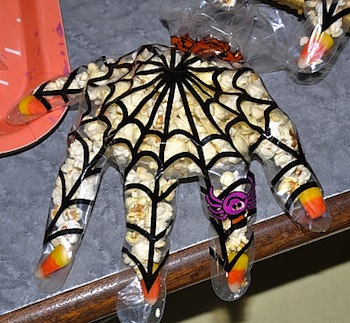 Using fun plastic gloves, place a candy corn "fingernail" in each finger. Fill with popcorn and tie ends. Serve as an easy and healthy Halloween snack.
Creepy Carrot Fingers
by Claire (Plattsburgh, NY, USA)
12 baby carrots
12 slivered almonds
Ketchup
Arrange the carrots in a circle, with (if there is one) the little end pointing outwards. Place a dab of ketchup on the carrot, then stick the almond in place for a fingernail. If you would like, you can dab ketchup on the inward-facing ends of the carrots for a slightly creepier look.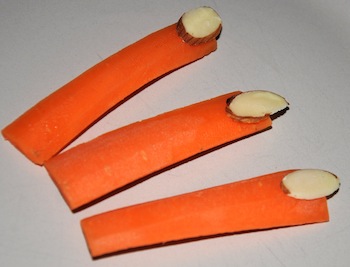 Halloween Kid Recipes: Eye Balls
5 Ideas for Eye Balls
Make deviled eggs and place a black olive slice on top.
Make mini cheese balls and put a black olive slice on top.

Make the cheese ball and form into mini balls add an olive slice. Don't roll in nuts and chill in the fridge.
Cook meatballs and place a dab of sour cream on top and a black olive on the sour cream. Need a recipe for meatballs?
Pudding Eyeballs. A great Halloween kid recipe! Prepare vanilla pudding according to directions. Using washed and dried plastic Easter egg halves, place a gummy saver in bottom. Then place a black M&M or other candy inside the hole of the gummy saver. Pour vanilla pudding over the top. Place in egg cartons and chill. You can also prepare this recipe with Jell-O gelatin instead of pudding. To serve, pop eye out of plastic egg and serve on a fun platter or on top a monster face.
I made two large eyeballs from a

cheese ball

. I placed two eyeball candies in the center of each and served crackers for a creepy Halloween snack.


Halloween Kid Recipes: Witches
Witch Hats
Chocolate sugar ice cream cones
Flat round chocolate cookies,
Chocolate doughnut
Chocolate frosting
Place a chocolate doughnut on serving platters. Dab frosting on chocolate wafer cookies and place on top of doughnut. Add another dab of frosting to top side of cookie and place an ice cream cone, with the point sticking up, on top of the cookie. You can also add sprinkles or Halloween candy sprinkles, if desired.
---
Make teaching easier with our activities and recipes compiled in one easy to read format.
---
Halloween Kid Recipes: Scarecrows
Munchable Scarecrows
pkg. refrigerated sugar cookie dough or homemade sugar cookie dough
1 Cup flaked coconut
Yellow, orange, red and blue food coloring
18 gum drop fruit slices
white frosting
Mini chocolate chips
Roll out the cookie dough on a flat surface. Use gingerbread men cutters and cut out 18 shapes. Place the cutouts onto a baking sheet and bake according the directions on the package. Remove the cookies and cool to room temperature on a wire rack.
Place the coconut into a bowl. Add enough yellow food coloring to color the coconut to resemble the color of straw. To make the scarecrow hats, place the gum drops on a lightly sugared surface and roll them out flat. Cut hat shapes out of each gum drop. Divide white frosting in 3 bowls and place 2 to 3 drops of the orange, red and blue food coloring into each separate bowl. Stir together to blend well.
When the cookies have cooled, frost the heads, hand and feet of each cookie with the orange frosting. Press the tinted coconut into the frosting on the head, hands and feet area. Use the blue and red frosting to frost on the scarecrows shirt. Place the hat onto the scarecrows head by placing a little orange frosting on the back of the hat and pressing it onto the scarecrow.
Place 2 to 3 of mini chocolate chips down the front of the scarecrows shirt for buttons.
Halloween Kid Recipes: Pumpkins
Marshmallow Pumpkins
Take large marshmallows & poke a small thin pretzel stick half way into top.
Dip marshmallow into melted candy discs (orange colored).
While chocolate is still warm decorate w/ holiday sprinkles.
Cool & enjoy.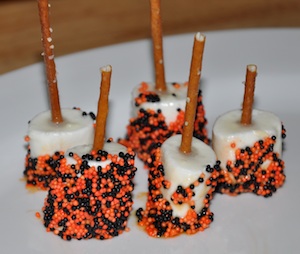 Visit our
Pumpkin recipes
for some
Halloween Fun with Pumpkins.
10 Halloween Meal Ideas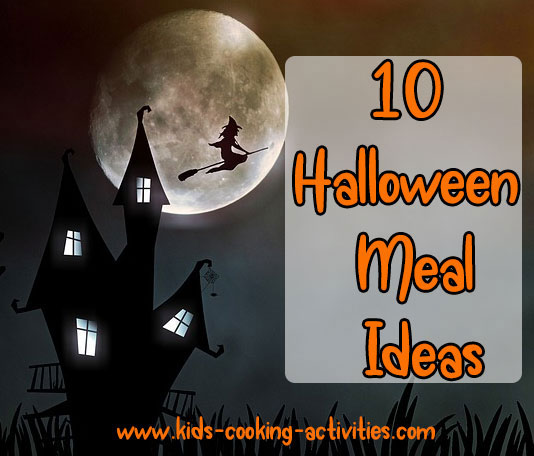 Scary Eyeballs
Make deviled eggs and add a little more mustard into the egg centers or a thin dollop under where you will lay a black olive into the creamy center.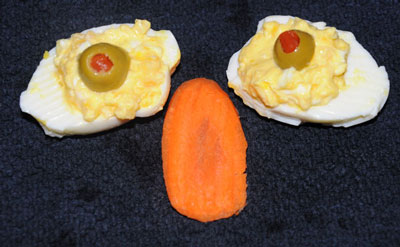 Ghost Sandwiches
Cut your bread into ghosts, add the filling of your choice and your children will have a ghostly treat for their school or after school sandwich.
Wormy Hot Dogs
Thinly slice your hot dogs and then microwave. This will make them curl to look like worms. Put them on a hamburger bun and dress with mustard, catsup and pickles to make a slimy swamp underneath.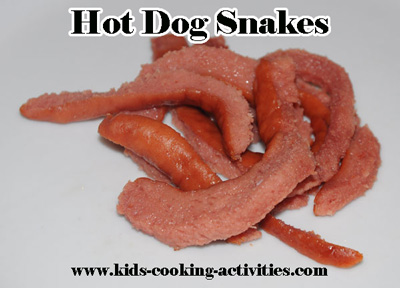 Ghostly Toast
Toast your bread. When it is cool enough to cut, with a gingerbread girl cutter or a plain knife, cut to make a ghost body. Top with whipped cream cheese or flavored yogurt with raisins or dates cut for eyes.
Orange Jack O Lantern
With a toothpick, gently carve a face into the orange. Careful not to injure the meat/pulp of the orange, your child will have a small version of the Jack O Lantern that is healthy and edible.
Salty Bones
Making breadsticks for your spaghetti tonight? Here's a Halloween twist. Unroll a tube of refrigerated breadstick roll and separate the triangle pieces. Stretch each individual piece to make a long bone like figure. Cut about a 1 and a half inch slit in each end with your kitchen scissors. Roll the remaining 4 flaps into what would make the end of a dog bone. Sprinkle with coarse salt and bake as directed.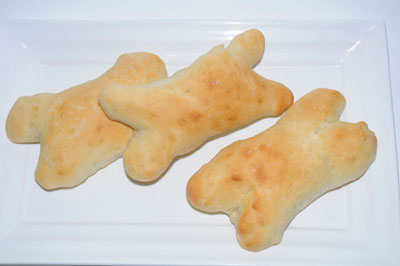 Graveyard Snack
Take a cup of plain or buttered popped popcorn; add a half cup each of mini pretzels, mini marshmallows, chocolate chips, goldfish crackers and raisins.
Goblin Tongues
Using mini bagels, spread cream cheese or mayonnaise, your preference, onto bagel. Cut slices out of circular pieces of bologna lunch meat to look like tongues and put into the top center of the bagel, leaving it to hang out like a tongue.
Pudding with Eyeballs
Create a batch of your favorite pudding from a box or homemade and add candy eyeballs. If you don't have candy eyeballs available, use mini marshmallows and add a dot of chocolate icing or melted chocolate in the middle.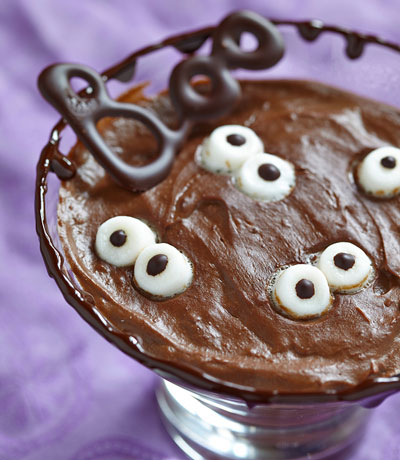 Jack O Lantern Sandwiches
A fun creative idea for a Halloween lunch is to create cheese sandwiches into Jack O Lanterns. Children will enjoy cutting out faces with mini cookie cutters or cut with a small table knife.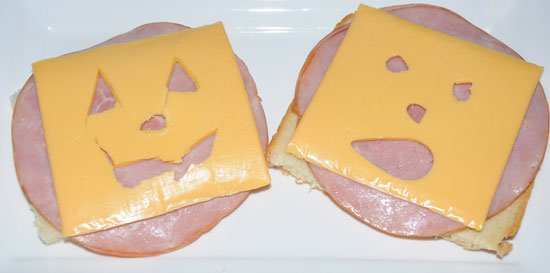 More Halloween Resources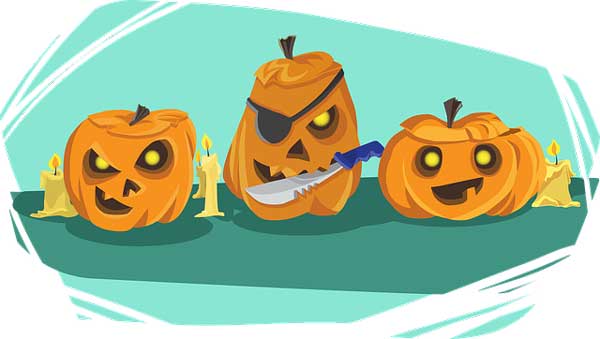 12 Halloween Theme Cooking Activities
Halloween Recipe Ideas
- for snacks, dinner, dessert
Halloween Theme Ideas
- with spiders, bats, witches, etc.
Halloween Jokes for Fun
Halloween Theme Coloring Pages
Create your Own Halloween Kid Recipes Page.
Submit your favorite kids recipe
Do you have a favorite recipe your kids love to make? Or a recipe your kids ask you to make again and again? Share it with us!
Reader's Submitted Recipes
Click below to see contributions from other visitors to this page...

Halloween Jokes
Halloween Jokes 1. What did Dr. Spook give the witch who had a sore throat? Answer: Coffin Drops 2. What do Ghost's wear when their eye sight is failing? …
---
Related Seasonal Recipe Pages:
~
School Lunches
, ~
Apples
, ~
Autumn Activities
, ~
Pumpkins
, ~
Kids Halloween Recipes
, ~
Halloween Recipe Ideas
, ~
Thanksgiving
, ~
Hanukkah Recipes
, ~
Kids Christmas cooking
, ~
Christmas Candy Recipes
, ~
Reindeer
, ~
Make Homemade Chocolates
, ~
Jar Mixes
, ~
Gift Basket Ideas
, ~
Homemade Fudge Recipes
, ~
Homemade Suckers
, ~
Christmas Cookie Recipes
, ~
Gingerbread House Recipes
, ~
Food Gift Ideas
, ~
Dough Ornament Recipes
, ~
Hot Cocoa
, ~
Happy New Year
, ~
Snowman Theme Recipes
, ~
Valentine's Day
, ~
Valentine Dessert Recipes
, ~
St. Patrick's Day
, ~
April Fool's Day Recipes
, ~
Passover Recipes
, ~
Kids Easter Recipes
, ~
Sugar Eggs Recipe
, ~
Resurrection Cookies Recipe
, ~
Italian Easter Bread
, ~
Russian Easter Bread Recipe
, ~
Earth Day
, ~
Cinco de Mayo, May 5
, ~
Mother's Day Recipes
, ~
Father's Day Recipes
, ~
Summer Cooking
, ~
Kid's Campfire Cooking Recipes
, ~
Dutch Oven Cooking for Kids
, ~
4th of July Recipes
, ~
Ice Cream Recipes
, ~
Popsicle Recipes
, ~
Simple Smoothie Recipes
, ~
Picnic Ideas and Recipes
, ~
Easy Grilling Recipes
, ~
Grow your own Garden
---
Follow Kids Cooking Activities