Pumpkin Recipes and Ideas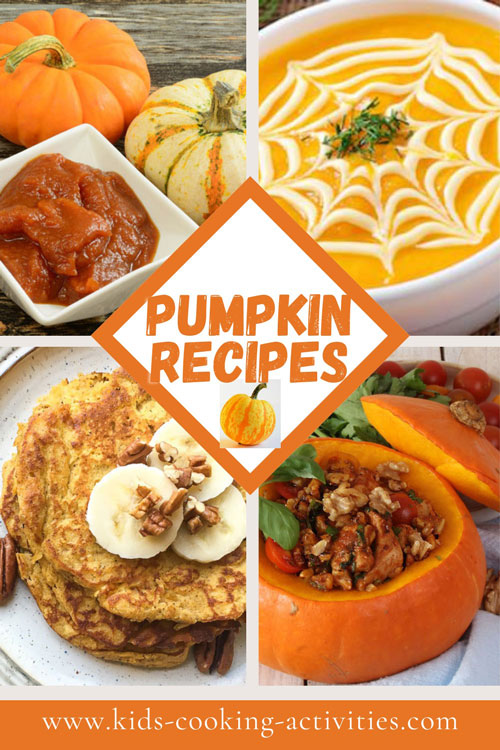 Whether it is for using in recipes, jack o lanterns or just decoration, pumpkins are a memorable part of autumn time. They are not only great for carving and lighting a candle you can do some amazing holiday ideas with pumpkins. Here are some of our favorite pumpkin recipes and pumpkin ideas for kids.
Kids Cooking Activities Teaching Materials
Make teaching easier with our activities and recipes compiled in theme sets and books with an easy to read format
Perfect for teaching!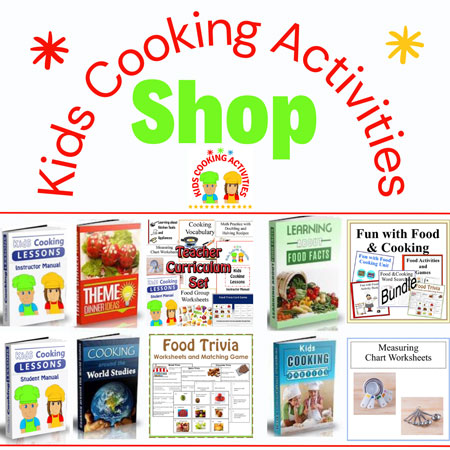 ~This post may contain affiliate links and I'll earn a small commission if you shop through them. There is no extra cost to you. This is how we help support our family and continue to bring you amazing content. To learn more see the
affiliates disclosure here.
~
Kid's Pumpkin Ideas
5 Kid's Knife Free Pumpkin Decorating Ideas
Use markers to decorate. Permanent markers are best so if you are using them make sure kids only mark the pumpkin and wear aprons to protect clothes.
Paint a face or design using poster paint.
Glue felt pieces the kids cut out, pompoms, or use yarn for hair.
Buy face stickers with eyes, nose, mouth, etc.
Try decorating a face with real candy or food to create a face. Try marshmallow eyes stuck in with a toothpick and a gum drop nose.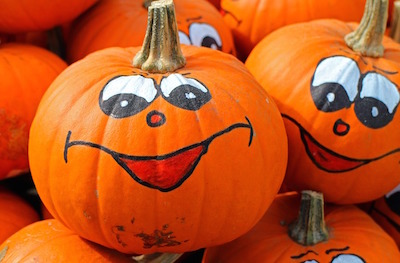 If they just really want the cut out version, have the kids draw with a black marker the face they want and have dad cut the face out (the best he can!)
Pumpkin Aroma
Cut the top off a pumpkin and hollow the seeds and insides out. Using an apple corer, make holes all over the pumpkin or other design. On the underside of the lid, press in ginger, cinnamon, cloves or use pumpkin pie spice. Light a candle in the pumpkin and enjoy the pumpkin aroma that will fill your house.
Lighted Pumpkin walkway
Using the pumpkin aroma idea above, hollow out and put holes in 3-4 pumpkins. You can use the spices if desired or leave out. Place the pumpkins along the pathway or driveway at night and enjoy the illuminated pumpkin path.
Pumpkin Centerpiece
Choose a few mini pumpkins and then take the kids on a nature walk to finish this centerpiece idea. While you are out for a nature walk, collect acorns, pine cones, fall leaves or other items you'd like that remind you of autumn time. Take these home and arrange a centerpiece with your mini pumpkins and collections.
Pumpkin Punch Bowl
Have an adult cut the top off a pumpkin and kids can take out the insides and seeds (save the seeds for roasting). Clean out the pumpkin with water and pat dry. Use the hollowed out pumpkin for a punch bowl and serve
the apple cider recipe found here.
This is a great way to serve this favorite autumn time drink.
Cooking with Pumpkins
How to Cook a Pumpkin
Cut pumpkin in half and hollow out the seeds and stringy parts with your hands or spoon. Save the seeds, if you like, for roasting. (We have a recipe below.) Place on cookie sheet and bake at 325 degrees for 1 hour. Pierce with a fork to see if it is tender. When it cools off, scrape out the pulp and use it for breads, pies, desserts, or other pumpkin recipes below. Cooked pumpkin also freezes well if you have some leftover.
Did you know pumpkins are winter squash? Read about
Winter Squash Food Facts.


Pumpkin Soup
onion, diced
1 garlic cloves, minced
6 Cups chicken broth
2 Cups cooked fresh pumpkin or one small can pumpkin
1 teaspoon salt or to taste
Dash black pepper
1 teaspoon sugar
1/4 teaspoon ginger
1/2 Cup coconut milk, canned
Saute onion and garlic in 1 tablespoon olive oil. In mixing bowl or blender, add pumpkin, broth, onion and garlic, salt, pepper, sugar, ginger and milk. Puree in blender or mix until smooth. Place in saucepan and simmer on the stove until heated. Serve with a drizzle of cream if desired.
*For a fun idea, serve in a hollowed out, clean pumpkin shell.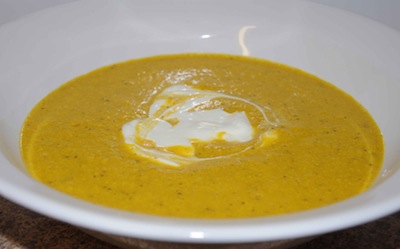 Flavor Roasted Pumpkin Seeds
Fresh pumpkin seeds out of hollowed out pumpkin
1 teaspoon Worcestershire sauce
1 Tablespoon vegetable oil
1 teaspoon seasoning salt
Clean pumpkin seeds with water and pat dry. Let dry overnight. Mix ingredients together and toss pumpkin seeds to coat evenly. Place on a cookie sheet in an even layer and bake at 250 degrees for 1 hour or until seeds are browned. Stir once or twice during cooking time.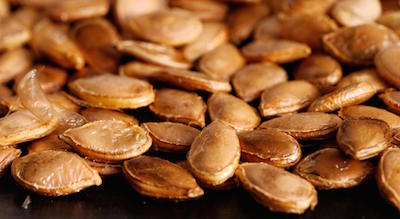 Coconut Pumpkin Bread
Find a recipe for
Coconut Pumpkin Bread.
Pumpkin Recipe Pancakes
2 1/2 Cups pancake mix
2 Tablespoons brown sugar
1 Tablespoon cinnamon
1 12-ounce can evaporated milk
1/2 Cup pumpkin
3 Tablespoons vegetable oil
2 teaspoons vanilla extract
2 eggs
raisins or chocolate chips, for decorating the face or walnuts and bananas for toppings
Mix first pancake mix, brown sugar and cinnamon in bowl. Add in milk, pumpkin, vegetable oil, vanilla and eggs and blend together until smooth. Fry on griddle or skillet. Then have kids decorate with raisins or chocolate chips to make a jack o lantern face.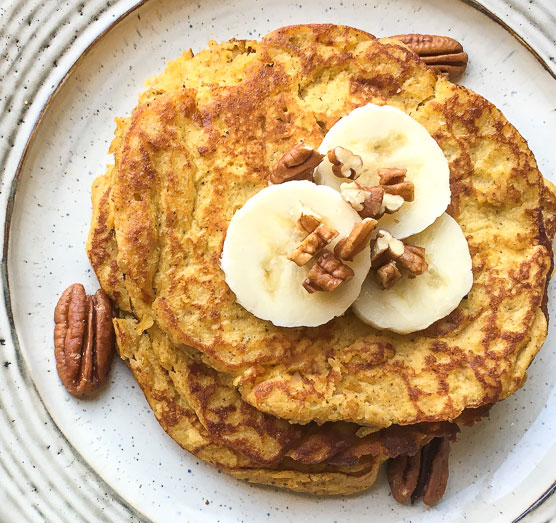 Pumpkin Bars
2 Cups flour
2 teaspoon baking powder
2 teaspoon cinnamon
1 teaspoon baking soda
4 eggs
16 oz. Pumpkin
1 ½ Cups sugar
1 Cup oil
Mix flour, baking powder, cinnamon and baking soda in mixing bowl and stir together. Beat in eggs, pumpkin, sugar, oil and mix together. Spread mixture in ungreased 13x9 pan. Bake for 30-40 minutes at 350 degrees. Allow to cool and frost with cream cheese frosting.
Cream Cheese Frosting:
3 oz. Cream cheese
¼ Cup butter
1 teaspoon vanilla
2 Cups powdered sugar
Blend cream cheese and butter with mixer. Add in vanilla and powdered sugar.
Halloween Recipes and Printable Games
Pumpkin Pie Recipes
Easy Pumpkin Pie
The traditional pumpkin pie is always great but here is a simple recipe for the kids to enjoy making.
9 inch unbaked pie shell
2 Cups pumpkin or 1 -15 oz. can
1 can sweetened condensed milk
1 egg
½ teaspoon salt
½ teaspoon nutmeg
½ teaspoon ginger
¾ teaspoon cinnamon
In large bowl, blend all ingredients together except pie shell. Pour mixture into pie shell and bake at 375 for 50-55 minutes. Chill 1 hour.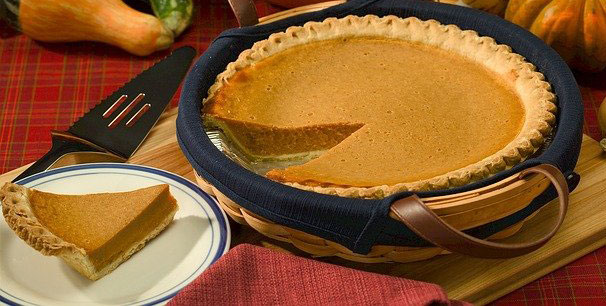 Pumpkin Pie Squares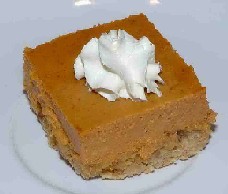 1 1/4 Cups flour
3/4 Cup oats
1/2 Cup brown sugar
1/2 Cup pecans, chopped
2/3 Cup butter
4 eggs
4 Cups of fresh cooked pumpkin or 2- 15 ounce cans pumpkin
2 cans sweetened condensed milk
2 teaspoons ground cinnamon
1 teaspoon ginger
1/2 teaspoon nutmeg
1 teaspoon salt
Preheat oven to 350 degrees. Mix in bowl, flour, oats, pecans and brown sugar. Melt butter then mix with oat mixture until crumbly. Press onto bottom of 9x13 baking dish. Bake 15 minutes. While baking, beat eggs, pumpkin, sweetened condensed milk, spices and salt until smooth. When crumbly crust is done pour mixture over top. Bake 30-35 minutes. Cut into squares. You can top with whipped topping, if desired.
Disappearing Pumpkin Pie
by Ashley Cant (Bridge Lake, B.C.)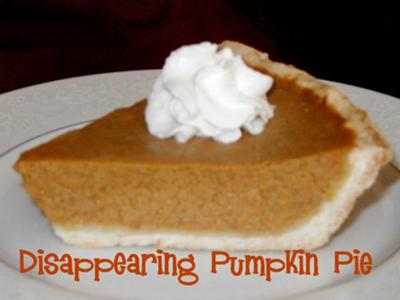 1 1/2 cups canned pumpkin
2 eggs
2 egg yolks
2/3 cup sugar
1/2 teaspoon salt
1 teaspoon ground cinnamon
1/4 teaspoon ground ginger
1/4 teaspoon nutmeg
1 1/4 cups cream
Pie crust:
1 cup flour
3 tablespoons sugar
1/4 teaspoon baking powder
Pinch of salt
1/4 c unsalted butter
1 egg
Put canned pumpkin into bowl. Whisk in eggs and yolks. Add sugar, salt, cinnamon, ginger, nutmeg and half and half, whisking smooth between each addition. Pour filling into prepared Pie Crust. Bake at 350 degrees on lowest oven rack until crust is baked through and filling is set, about 1 hour. Cool pie on rack. If pie must sit more than 2 hours before serving, when cool, cover loosely with plastic wrap and refrigerate. Makes 8 servings.
Pie crust: Pulse flour, sugar, baking powder and salt in food processor once or twice to mix. Add butter and pulse until mixture is powdery. Add egg and continue to pulse until dough forms ball. May be wrapped in plastic wrap and chilled until baking time. When ready to assemble pie, remove dough from refrigerator and unwrap. Lightly flour work surface and dough. Roll out into 12" disk. Fold dough in half and ease into 9" pie pan. Unfold dough and press firmly into pan. Trim away all but 1/2" excess dough at edge of pan. Fold dough under and flute edge. Serve warm with a dab of whipping cream. It is called Disappearing Pumpkin Pie because it will be gone in no time!
Pumpkin Pudding
4 eggs
2 Cups pumpkin puree
1/2 Cup light molasses
1 Cup milk
1 teaspoon cinnamon
1/2 teaspoon ginger
Preheat oven to 350 degrees. In mixing bowl beat eggs, pumpkin and molasses. Add in milk, cinnamon and ginger. Blend until smooth. Grease small ramekins or 8x8 pan. Pour mixture in prepared pans. Bake until firm.
(time will vary depending on size of pan.)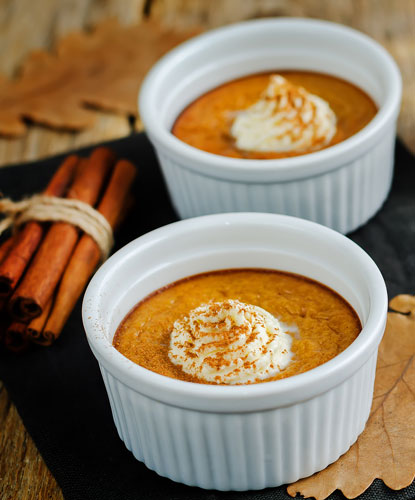 Pumpkin Mousse
Ingredients: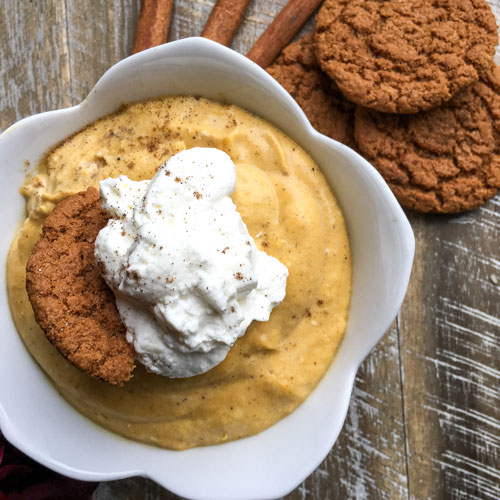 4 T. real maple syrup
1 15-oz. can pumpkin purée (not pumpkin pie filling)
8 oz. cream cheese, softened, cubed
2 T. pumpkin pie spice
1 t. real vanilla extract
1/3 c. half & half
Optional Toppings:
Directions:
Beat the pumpkin purée, cream cheese, pumpkin pie spice, vanilla extract, half &half, and maple syrup in a large mixing bowl with a hand mixer until thoroughly blended. Taste and adjust seasonings, as desired, and transfer to individual dessert bowls. Cover and place in the refrigerator to chill for at least 1 hour. To serve, remove from refrigerator and top with whipped cream, pecans, and a sprinkle of ground cinnamon, if desired.
Pumpkin Butter
by Erin (Hamilton, ON)
1 can of pureed pumpkin (not pie filling)
1 tsp dried ginger
1/2 tsp nutmeg
1 tsp cinnamon
1/2 cup of apple juice
1/4 cup of maple syrup or honey
1. Place all ingredients in the slow cooker. Stir to combine.
2. Cook on low for 5-6 hours.
3. Let cool, serve and enjoy!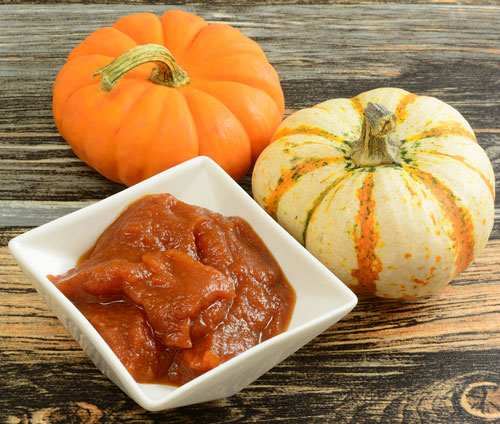 More Pumpkin Recipes
Pumpkin Dip, savory
Pumpkin Puff Donuts
Dinner in a Pumpkin
Pumpkin Alfredo Sauce
Pumpkin Chip Cookies
Pumpkin Spread, sweet
Pumpkin Sauce Pizza
Pumpkin Pancakes
Pumpkin Syrup
Cream of Squash Soup
Pumpkin Pudding
Pumpkin Butter
Pumpkin Truffles
Pumpkin Cake
Pumpkin Roll
Pumpkin Bread with Maple Glaze
Homemade pumpkin pie spice
Pumpkin recipes and Halloween go hand and hand if you'd like to see some
Halloween Recipes and Ideas visit here
More
Autumn Cooking Activities.
Submit your favorite kids recipe
Do you have a favorite recipe your kids love to make? Or a recipe your kids ask you to make again and again? Share it with us!
Reader's Submitted Recipes
Click below to see contributions from other visitors to this page...

---
Related Seasonal Recipe Pages:
~
School Lunches
, ~
Apples
, ~
Autumn Activities
, ~
Pumpkins
, ~
Kids Halloween Recipes
, ~
Halloween Recipe Ideas
, ~
Thanksgiving
, ~
Hanukkah Recipes
, ~
Kids Christmas cooking
, ~
Christmas Candy Recipes
, ~
Reindeer
, ~
Make Homemade Chocolates
, ~
Jar Mixes
, ~
Gift Basket Ideas
, ~
Homemade Fudge Recipes
, ~
Homemade Suckers
, ~
Christmas Cookie Recipes
, ~
Gingerbread House Recipes
, ~
Food Gift Ideas
, ~
Dough Ornament Recipes
, ~
Hot Cocoa
, ~
Happy New Year
, ~
Snowman Theme Recipes
, ~
Valentine's Day
, ~
Valentine Dessert Recipes
, ~
St. Patrick's Day
, ~
April Fool's Day Recipes
, ~
Passover Recipes
, ~
Kids Easter Recipes
, ~
Sugar Eggs Recipe
, ~
Resurrection Cookies Recipe
, ~
Italian Easter Bread
, ~
Russian Easter Bread Recipe
, ~
Earth Day
, ~
Cinco de Mayo, May 5
, ~
Mother's Day Recipes
, ~
Father's Day Recipes
, ~
Summer Cooking
, ~
Kid's Campfire Cooking Recipes
, ~
Dutch Oven Cooking for Kids
, ~
4th of July Recipes
, ~
Ice Cream Recipes
, ~
Popsicle Recipes
, ~
Simple Smoothie Recipes
, ~
Picnic Ideas and Recipes
, ~
Easy Grilling Recipes
, ~
Grow your own Garden
---
Follow Kids Cooking Activities