Halloween Recipe Ideas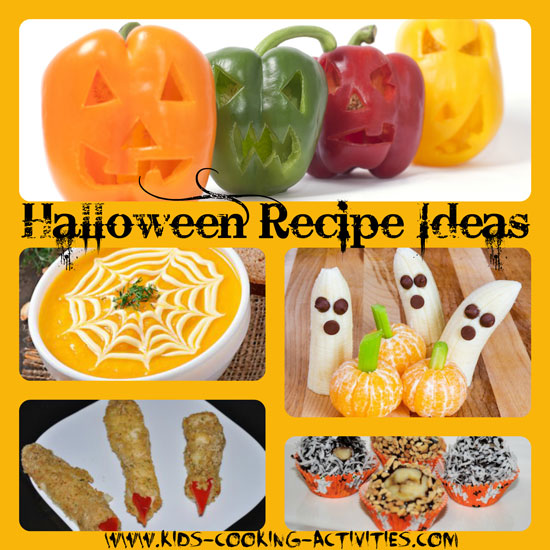 These Halloween recipe ideas can be created by kids with an adults help. Whatever recipe you use for Halloween give it a fun and Halloweeny name and you'll transform a simple dish into a scary dish. Here are several fun Halloween cooking for kids ideas.
Kids Cooking Activities Teaching Materials
Make teaching easier with our activities and recipes compiled in theme sets and books with an easy to read format
Perfect for teaching!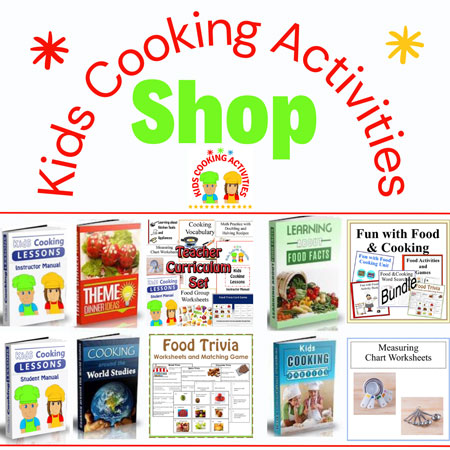 ~This post may contain affiliate links and I'll earn a small commission if you shop through them. There is no extra cost to you. This is how we help support our family and continue to bring you amazing content. To learn more see the
affiliates disclosure here.
~
Kids Halloween Recipe Ideas-Snacks
Make a vegetable platter more fun by creating
jack o lanterns out of peppers
and add cut vegetables inside.
Using fruit kids already love and changing it a little to suit a theme or holiday is a simple way to make food fun. Add chocolate chips to bananas to look like ghosts and celery sticks to mandarin oranges to resemble pumpkins.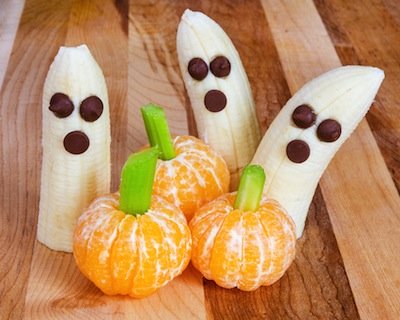 Halloween Banana Bites
I love this Halloween recipe idea for a snack.
4 bananas, peeled and cut into bite size chunks
Halloween sprinkles, chopped nuts, chopped cookies, shredded coconut, whatever you'd like to dip
2/3 Cup semisweet chocolate chips
2/3 Cup milk chocolate frosting
Cut bananas into chunks and insert a toothpick into each one. Place a sheet of wax paper on a cookie sheet or plate. Put bananas onto wax paper and freeze for 20 minutes or until hard. Place toppings into a small cup or bowl.
Melt chocolate chips in the microwave on high for 60 seconds. Stirring after 30 seconds until smooth. Add frosting to chips and stir until blended. Take bananas out of freezer and dip each into chocolate mixture and then roll into toppings. Place on wax paper. Freezer again for 1 hour.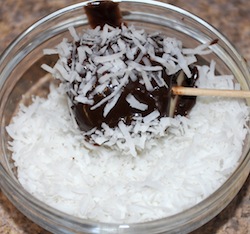 Serve in Halloween mini cups if you'd like.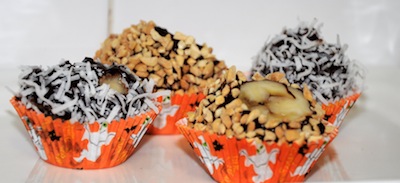 Spider Deviled Eggs
Prepare your favorite
deviled eggs recipe
or follow this one. Then cut whole black olives into legs and body shapes. Place on prepared eggs and serve immediately.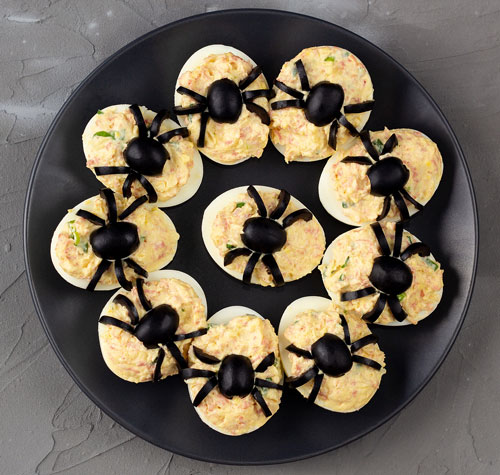 Kids Halloween Recipe Ideas-Desserts
Munchies Mix
1 Cup mini marshmallows
1 Cup orange and black plain M&M's
1 Cup peanuts
1 Cup candy corn
2 Cups popped popcorn
Mix ingredients together in bowl. Serve in plastic pumpkin or witch's cauldron.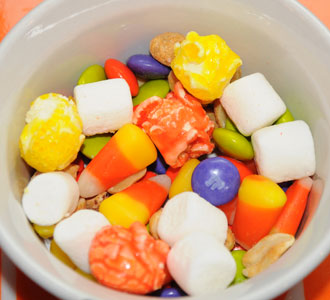 Stuffed Hands
One pkg clear plastic gloves
Use the munchies mix Halloween recipe idea above and fill each plastic glove. Then tie tight with a string. Give away as party treats or goody bags. You can also add red M&M's or a candy corn on the end of each finger in the glove for a fingernail.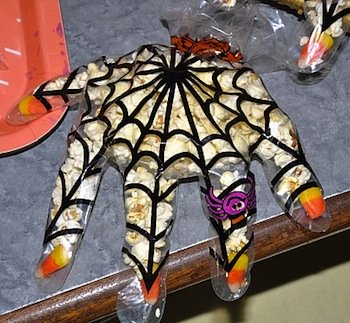 Halloween Caramel Popcorn
8 Cups popcorn, freshly popped
1 ½ Cups peanuts
3/4 Cup brown sugar packed
1/3 Cup light corn syrup
½ teaspoon salt
6 Tablespoons butter, cut in pieces
3/4 teaspoon vanilla
1 ½ Cups candy corn
In a large bowl stir popcorn and peanuts together and set aside. Have an adult prepare syrup mixture on the stove. Combine sugar, corn syrup, salt and butter in saucepan. Stir over low heat and bring to a boil. Continue boiling for 5 minutes without stirring. Take off heat and add vanilla. Pour over popcorn and peanuts. Stir together until well blended. Add in candy corn. Allow to cool slightly in order to handle. With kids help form into balls and place on waxed paper to cool completely.
Halloween Popcorn Candy Balls
Ingredients:
8 Cups popped popcorn
10 oz bag of marshmallows
M&M's
Candy corn
Cooking spray
Directions
In a large bowl, add popcorn and candy. Melt marshmallows in a microwave safe dish for 1-2 minutes until melted. Pour over popcorn mixture. Line waxed paper on a baking sheet. Spray hands with cooking spray and form popcorn balls. It will be sticky so cooking spray helps.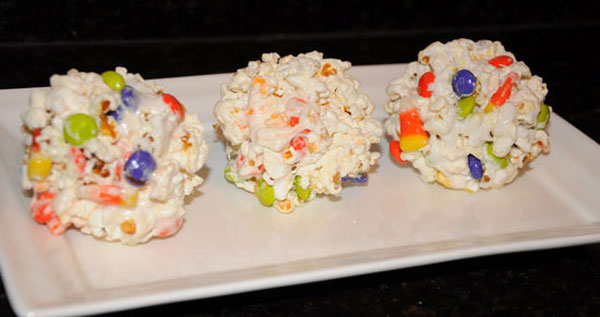 Halloween Bark
Make Halloween theme bark with adding candy eyes, bones, candy corn or other fun seasonal candies. See how to make
chocolate bark here.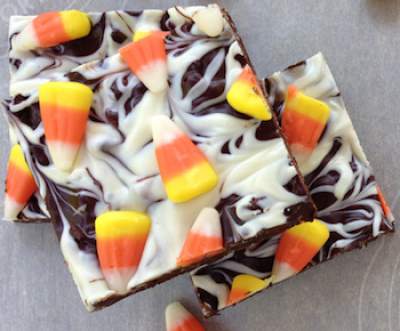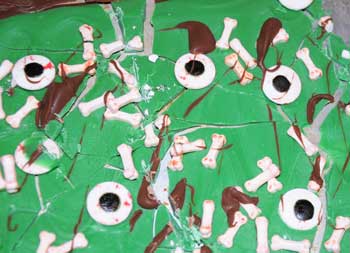 Monster Toes
12 oz. white candy wafers or white bark
Green food coloring
oblong shaped sandwich cookies
11 miniature Tootsie rolls, cut in half lengthwise or chocolate button or wafer
Place the candy coating into a microwave save bowl. Heat the candy on high for 1 minute. Remove and stir. If the candy is not completely melted and smooth continue heating at 30 second intervals, stirring after each time until melted and smooth. Add enough green paste food coloring to reach the desired color.
Dip each cookie into the green frosting until completely coated, letting any excess drip back into the bowl. Place the coated cookies on wax paper. Press half of a Tootsie roll into the top of each cookie to form a nail or chocolate circle. Let the cookies stand for 15 minutes or until the coating has hardened.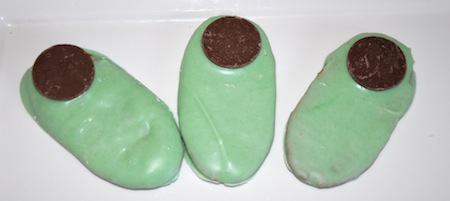 Candy Corn Cookies
Halloween Cupcakes
Make mummy cupcakes easily using a
basketweave tip.
Using the plain side make large strips in criss cross patterns for wrapping up your mummy. Add eyes with a round tip or
edible eyes.
For an even easier Halloween cupcake idea buy
edible Halloween images
and add to frosted cupcakes.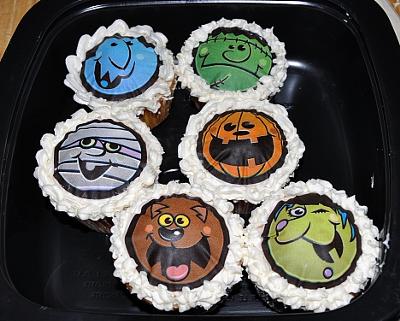 Halloween Recipes and Printable Activities
Halloween Recipe Ideas for Dinner
Crispy Witch Fingers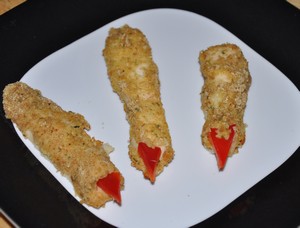 1 sweet red pepper
1 Cup flour
3 eggs
3 Cups cornflake crumbs or seasoned bread crumbs
7-8 skinless chicken breasts, cut into strips
Preheat oven to 375 degrees. Cut the pepper into 16 triangles and set aside.
Place the flour into a plastic zip lock bag.
Place the eggs in a shallow bowl and beat lightly with a fork.
Place the cornflake crumbs in a shallow bowl..
Place a few strips of chicken into the flour mixture, close and shake to lightly cover.
Dip the coated strips in the egg shaking off any excess.
Roll in the cornflake mixture covering the strips well and place on the baking sheet.
Repeat until all the chicken strips are covered.
Place the chicken into the oven and bake for 20 minutes or until the juices run clear.
Remove and allow to cool slightly until they are cool enough to handle.
Cut a small slit into one end of each of the strips.
Insert a pepper triangle; point out, into the strips.
Goblin Dip
Create a
cheese fondue
. Use Halloween cookie cutters to cut shapes out of bread. Serve with the fondue.
Halloween Pizzas
Create Halloween theme mini pizzas. Use olives, peppers, cheese cut into pieces to create your Frankenstein, ghost, mummy, spider, pumpkin Halloween designs.
Here is a
spider pizza
with cheese spider web and olive spiders.
Soup and Cornbread Halloween Recipe Idea
Soup makes for a great healthy Halloween dinner maybe because the weather is cold and it is a good way to warm up before going outside. Start your evening out with a healthy Halloween recipe before heading out for trick or treating. Serve your soup in a hollowed out clean pumpkin for an added effect.
Taco Beef Soup
16 oz. kidney beans
8 oz. tomato sauce
2 T. taco seasoning mix
2-16 oz. can tomatoes
½ lb. Ground beef, cooked
1 ½ Cups water
Toppings:
small avocado, diced
cheddar cheese, shredded
sour cream
tortilla chips
Mix soup ingredients together and cook 15 minutes. Or place in crock pot in the morning and cook on low 6-8 hours. Serve with toppings listed. For Halloween fun
serve in a clean out pumpkin shell
, a bread bowl, or make corn bread cut out of pumpkin shapes below.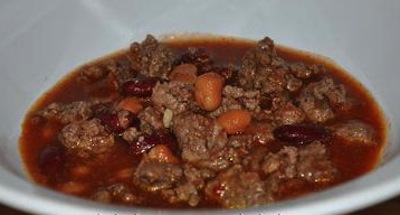 Or choose a
different soup recipe
like
cream of pumpkin.
Corn Bread Pumpkins
2 Cups cornmeal
2/3 Cup flour
¼ Cup sugar
1 small package of vanilla pudding mix
4 teaspoon baking powder
1 ½ teaspoon salt
1 teaspoon baking soda
4 eggs, beaten
2 Cups milk
1 Cup vegetable oil
1 small onion, finely chopped, optional
2 cans whole kernel corn, drained, optional
In bowl, combine cornmeal, flour, sugar, baking powder, salt, pudding mix and soda. Stir in eggs, milk, and oil. Blend in onion and corn, if desired. Pour into greased 13x9 inch pan. Bake at 400 degrees for 25-30 minutes or until toothpick inserted in middle comes out clean. For added Halloween recipe ideas and fun, cut out pumpkin shapes with a pumpkin cookie cutter and serve warm.
Create a
fun pumpkin soup
by adding a drizzle of cream or melted cheese.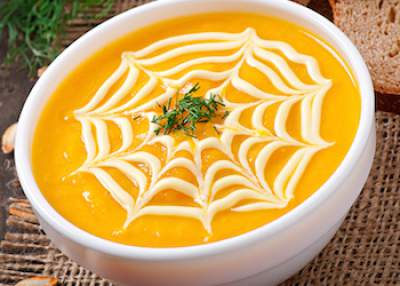 Witch's Brew-Halloween Beverage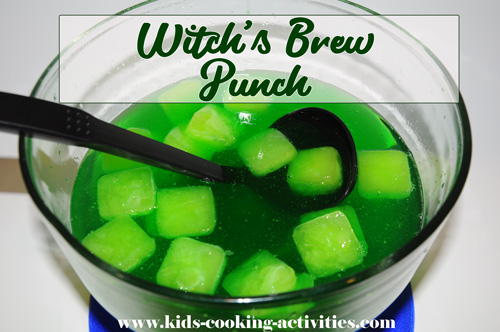 2 packages green Jell-O
1 gallon Lime or Green punch
A large punch bowl or plastic cauldron
ice cube trays
At least the night before, pour green punch into 1-2 ice cube trays. Allow to freeze until frozen. Prepare Jell-O until set. Use the remainder of your green punch and pour into serving dish. With a fork, stir and mash up your green Jell-O, add into green punch. (It should look like globs of green goo.) Add in green ice cubes. Stir well before each serving.
More Halloween Resources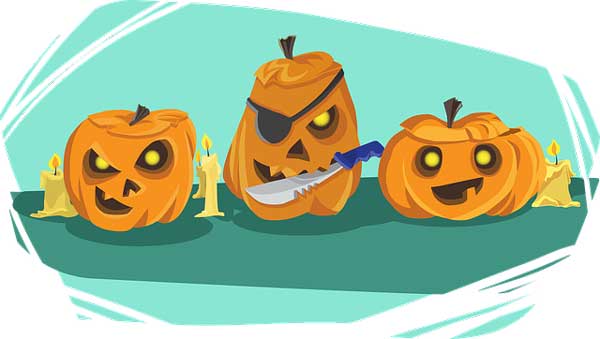 13 Halloween Theme Cooking Activities
Halloween Recipe Ideas
- for snacks, dinner, dessert
Halloween Theme Ideas
- with spiders, bats, witches, etc.
Halloween Jokes for Fun
Halloween Theme Coloring Pages
Pumpkin Recipes
Create your Own Halloween Recipe Ideas Page
Submit your favorite kids recipe
Do you have a favorite recipe your kids love to make? Or a recipe your kids ask you to make again and again? Share it with us!
Reader's Submitted Recipes
Click below to see contributions from other visitors to this page...

Special Needs Students Cooking Meals
I am a Chef for a nonprofit ministry 501(c)3 organization and have started a Culinary Program for special needs students and wanted to share one of the …
Spider Cake
This was probably one of the easiest birthday cakes I've made for my kids! I baked the cake mix in a round pan and finished off the batter in cupcakes. …
---
Related Seasonal Recipe Pages:
~
School Lunches
, ~
Apples
, ~
Autumn Activities
, ~
Pumpkins
, ~
Kids Halloween Recipes
, ~
Halloween Recipe Ideas
, ~
Thanksgiving
, ~
Hanukkah Recipes
, ~
Kids Christmas cooking
, ~
Christmas Candy Recipes
, ~
Reindeer
, ~
Make Homemade Chocolates
, ~
Jar Mixes
, ~
Gift Basket Ideas
, ~
Homemade Fudge Recipes
, ~
Homemade Suckers
, ~
Christmas Cookie Recipes
, ~
Gingerbread House Recipes
, ~
Food Gift Ideas
, ~
Dough Ornament Recipes
, ~
Hot Cocoa
, ~
Happy New Year
, ~
Snowman Theme Recipes
, ~
Valentine's Day
, ~
Valentine Dessert Recipes
, ~
St. Patrick's Day
, ~
April Fool's Day Recipes
, ~
Passover Recipes
, ~
Kids Easter Recipes
, ~
Sugar Eggs Recipe
, ~
Resurrection Cookies Recipe
, ~
Italian Easter Bread
, ~
Russian Easter Bread Recipe
, ~
Earth Day
, ~
Cinco de Mayo, May 5
, ~
Mother's Day Recipes
, ~
Father's Day Recipes
, ~
Summer Cooking
, ~
Kid's Campfire Cooking Recipes
, ~
Dutch Oven Cooking for Kids
, ~
4th of July Recipes
, ~
Ice Cream Recipes
, ~
Popsicle Recipes
, ~
Simple Smoothie Recipes
, ~
Picnic Ideas and Recipes
, ~
Easy Grilling Recipes
, ~
Grow your own Garden
---
Follow Kids Cooking Activities