Kids Kitchen Utensils
When you're trying to get your child involved in cooking, you'll need to invest in some kitchen utensils to pique their interest and make their lives a bit easier. If your child has no experience working in the kitchen at all, you'll need to introduce them to the hand held utensils first before allowing them to use the electrical appliances that will improve their skills and repertoire.
Planned Kids Cooking Curriculum
~This post may contain affiliate links and I'll earn a small commission if you shop through them. There is no extra cost to you. This is how we help support our family and continue to bring you amazing content. To learn more see the
affiliates disclosure here.
~
Hand Utensils
Before your child can start to cook full meals, they will need to learn to use kids kitchen utensils that are essential for food preparation. Start them off with utensils such as:
Graters
Peelers
Apple corers
Food choppers
Bread knives
While these may not be the most exciting utensils in the kitchen, they can be incorporated easily into your kitchen tasks. Children will naturally get satisfaction out of being part of the team.
With each of the kitchen utensils, you need to go through the basic training procedure of demonstrating, supervising and working independently. You'll also need to show your child how to use each one safely and what to do if they become injured. Finally, make sure that they clean up after themselves and put the utensils away. This will teach them the importance of keeping the kitchen clean and ready for the next user.
A fun way to introduce kids to
kitchen tools
is with a cooking lesson.

See these helpful pages on cooking products for kids
5 Holiday Cooking Gift Ideas for Kids
10 kitchen products to have when cooking with kids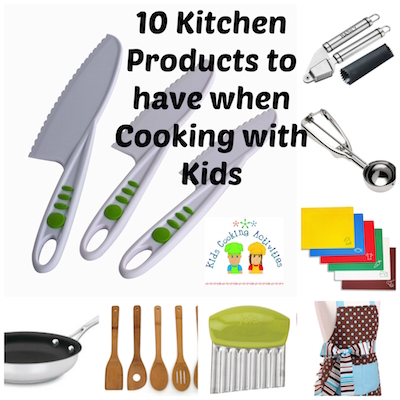 We've compiled some children's kitchen utensils that are available in the children's cooking market today. Included are real utensils that are small enough for children's hands and a lot more fun items to get children interested in helping out in the kitchen. This page is sure to bring some added enjoyment to their kitchen experiences.
These children's tools add a little more fun while helping out in the kitchen. They are made like real kitchen tools but in a smaller size to fit children's hands.
Kids Cooking Utensils Highlights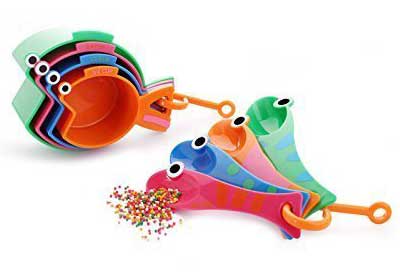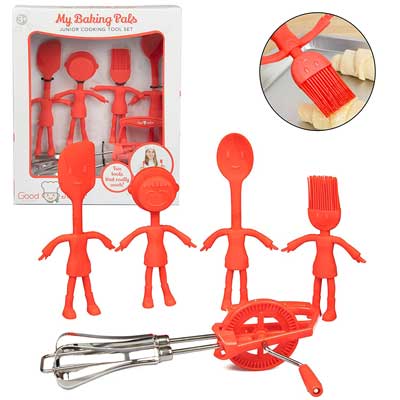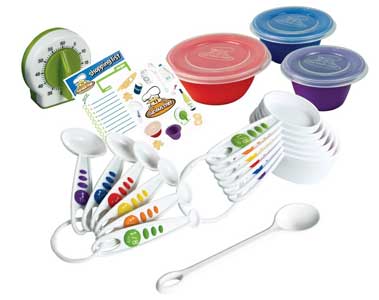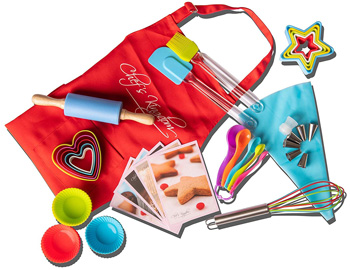 Cooking Utensil Sets for Kids
---
Related Kids Cooking Supply Pages:
~
Supplies
, ~
Aprons
, ~
Baking Kits
, ~
Cookbooks
, ~
Kitchen Products
, ~
Games
, ~
Fun Utensils
---
Follow Kids Cooking Activities