Oatmeal Recipes For Kids
Are you struggling with getting your kids to eat oatmeal? Try these easy and fun oatmeal recipes for kids.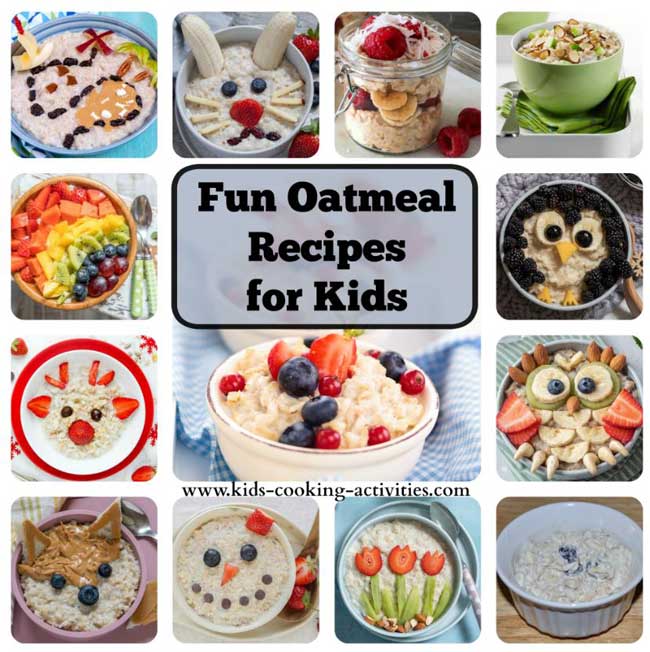 Kids Cooking Activities Teaching Materials
Make teaching easier with our activities and recipes compiled in theme sets and books with an easy to read format
Perfect for teaching!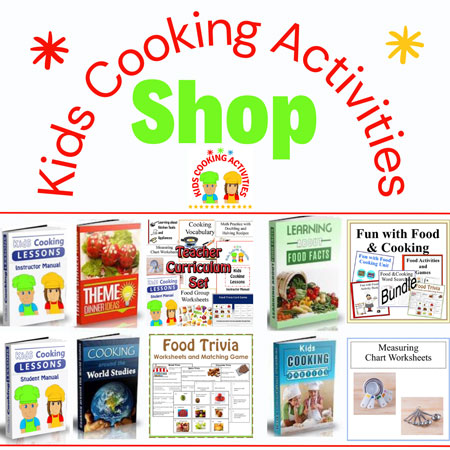 ~This post may contain affiliate links and I'll earn a small commission if you shop through them. There is no extra cost to you. This is how we help support our family and continue to bring you amazing content. To learn more see the
affiliates disclosure here.
~
Easy Stovetop Oatmeal
Ingredients:
1 cup oats
1 cup water
1 cup milk
1-2 banana cut in chunks, optional
Directions
Add ingredients to saucepan. Stir and cook on medium several minutes until boiling. Stir and cook until thickens. Serve with fresh fruit or frozen berries.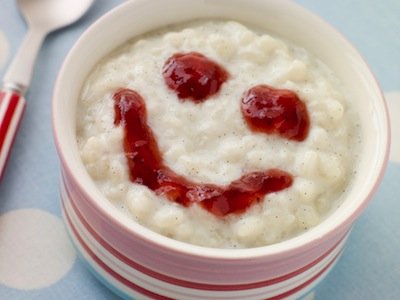 Carrot Cake Oats on the Stovetop
Apple Cinnamon Crockpot Oatmeal
Ingredients:
2 cups milk
1/4 cup brown sugar
1 tablespoon melted butter
1/4 teaspoon salt
1/2 teaspoon cinnamon
1 cup of oats
1 cup finely chopped apple
1/2 cup of raisins and chopped almonds
Directions:
After spraying or greasing the inside of a crockpot, place ingredients inside and mix well. Cover and cook overnight under low heat, around eight to nine hours. Stir before serving. Top with chopped apples and nuts, if desired.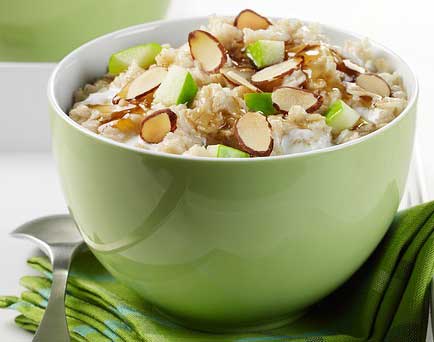 Overnight Oats
Ingredients:
1/2 Cup oats
3/4 Cup yogurt
berries and/or bananas
Directions
Layer bananas and raspberries. Chill overnight. Top with fresh raspberries, shredded coconut or other toppings.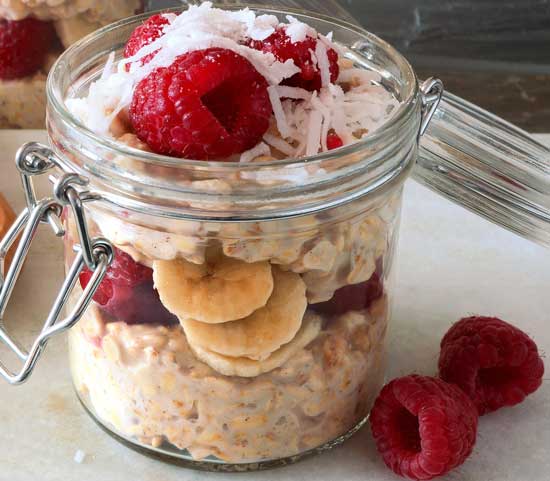 Brownie Batter Overnight Oats
Oatmeal Garnishing Ideas
Sometimes it is all in how you serve or
garnish your meals
. Try any of these kid friendly oatmeal ideas.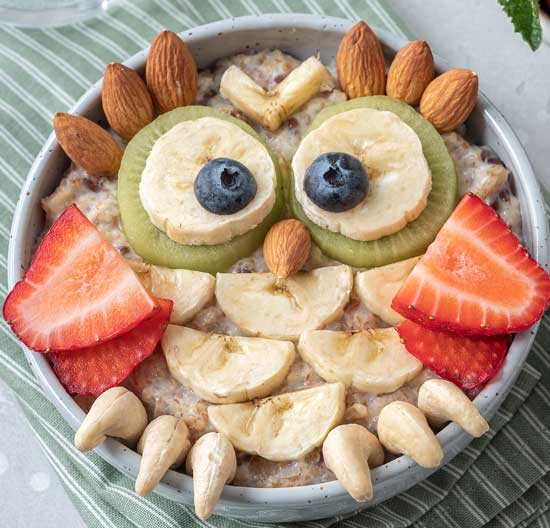 Top a bowl of cooked oatmeal with sliced fruit and nuts to create an owl kids are sure to love.
Bunny ears, and fruit face makes this bowl of cooked oatmeal into a fun bunny theme breakfast.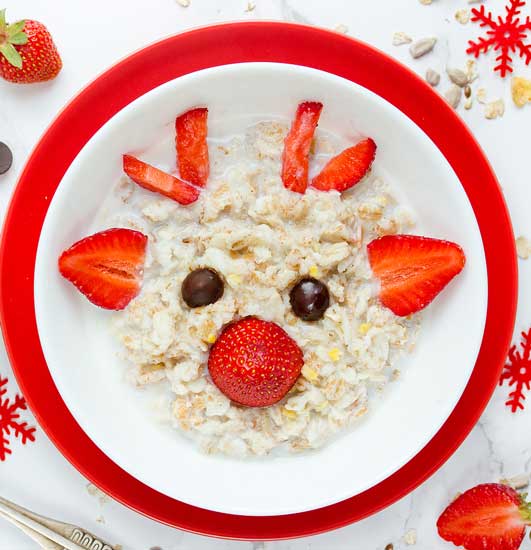 For a reindeer inspired bowl of oats, add strawberries for ears, nose and antlers. Blueberries or chocolate nuts for eyes.
Peanut butter or other nut butter creates a fox face with blueberries. For a nut free version, use jelly or jam. Ears are made from bread cut in triangles.
A favorite for any pirate loving child is this treasure map bowl of oatmeal.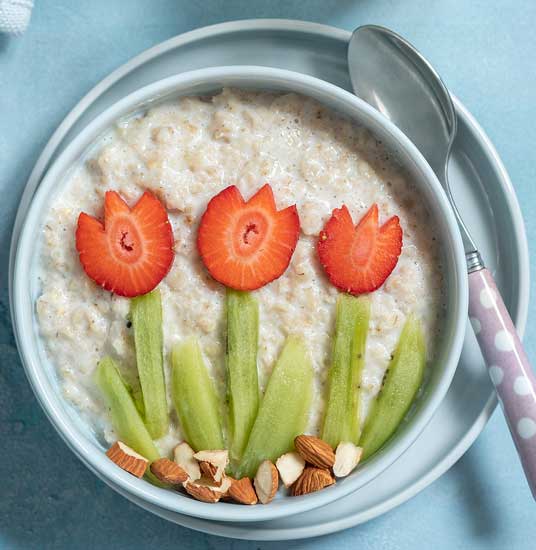 Kiwi, strawberries and chopped almonds create a flower scenery.
A snowman with a little strawberry hat, blueberry eyes and a chocolate chip smile.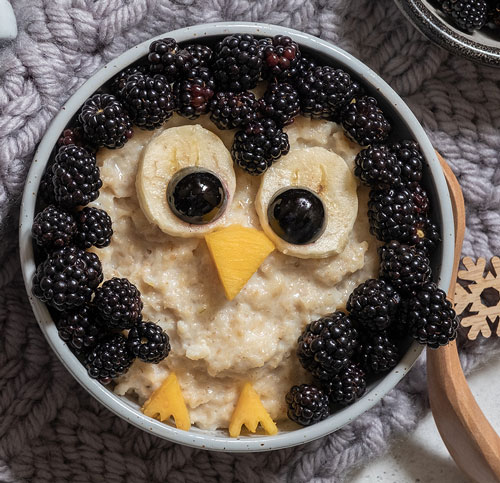 Blackberries form a penguin body along with sliced mango and bananas for beaks and eyes.
Rainbow Breakfast
Create a fruit rainbow on top of your bowl of oatmeal.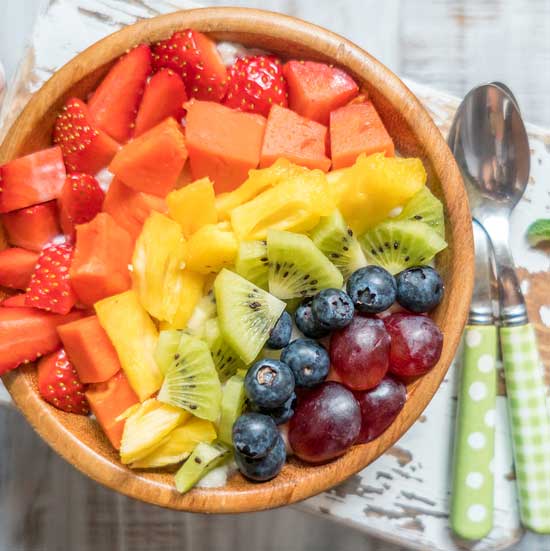 Zucchini Oatmeal
For something a little different try this zucchini oatmeal.
See a
similar idea for kids smoothie bowls.

Check Out More Breakfast Recipes
Quiche
Omelets
Waffles
Smoothies
Breakfast Meals
Crepes
Oatmeal
Granola
Breakfast Burritos
25+ breakfast ideas
Follow Kids Cooking Activities