Easy Kids Meals with 6 or Fewer Ingredients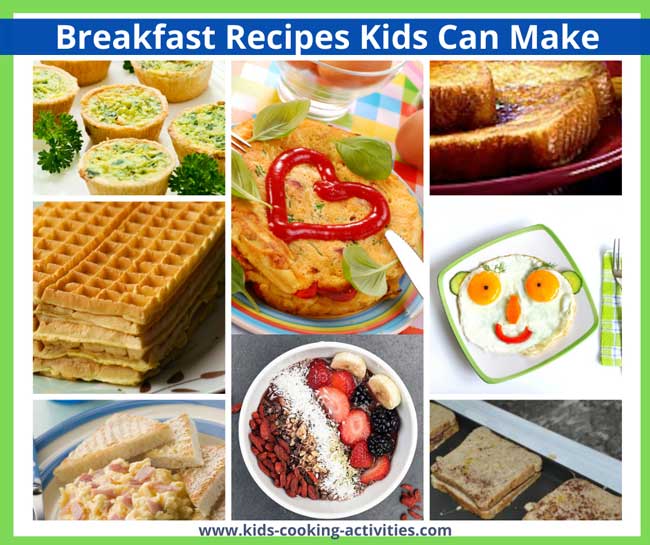 These 6 or fewer easy kids meals were composed with the chef in training age group in mind. To help them continuously learn and practice after the
chef in training cooking lessons.
Kids Cooking Activities Teaching Materials
Make teaching easier with our activities and recipes compiled in theme sets and books with an easy to read format
Perfect for teaching!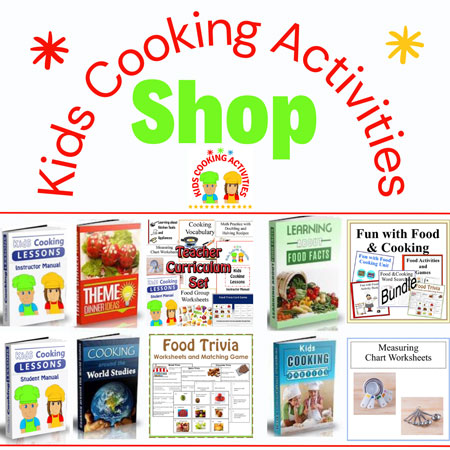 ~This post may contain affiliate links and I'll earn a small commission if you shop through them. There is no extra cost to you. This is how we help support our family and continue to bring you amazing content. To learn more see the
affiliates disclosure here.
~
These recipes are also great for quick easy meal ideas that your kids can help with. As stated before these recipes were composed with 7-11 year olds in mind so you may adjust the recipe directions as needed.
For example, older kids can do the cooking where as younger age groups will not be cooking and do not have the attention span for some recipes. They will do better when given small tasks and helping you create the recipe.

See this post as well for more Breakfast Ideas
Easy Kids Meals-Easy Breakfast Recipes
French Toast
2 eggs
1/2 Cup milk
1 teaspoon cinnamon
4 slices bread
Adult should preheat griddle or skillet. Have child mix together eggs and milk in flat dish or pie plate. Sprinkle with cinnamon and stir. Dip both sides of bread slices in egg mixture and put on skillet. Adult should cook.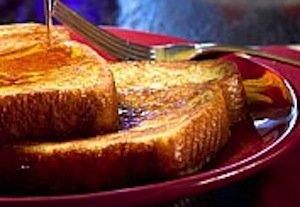 Pancakes
Pancake mix
1/2 Cup applesauce
Have child mix pancake mix in mixing bowl according to directions. Add in applesauce. Child can pour onto hot griddle with adults supervision. Adult should cook.
More Pancake for Kids Recipes
Muffins
Try a muffin mix with child reading and mixing. Adult cooking. Many muffin mixes, depending on the brand, can be made into waffle batter. Just add a little, ¼ Cup or less, liquid either water or milk to the batter. Then cook in a waffle iron. How is that for easy kids meals! More
muffin recipes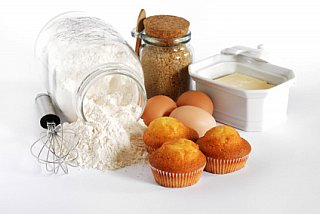 Popovers
2 Tablespoons butter
2 eggs
1 Cup milk
1 Cup flour
1/2 teaspoon salt
Melt butter in microwave. Brush sides and bottoms of a muffin pan with melted butter. Preheat oven to 375 degrees. In bowl add eggs, milk, flour, and salt. Stir with a whisk or spoon until well blended. Fill muffin tins halfway. Bake 30 minutes. Remove muffins and prick with a fork.
**Add blueberries, chocolate chips or other add-ins when mixing batter.
Eggs in a Nest
With a biscuit cutter, have child cut a circle in a slice of bread. In skillet, melt 1 Tablespoon butter. Add the bread to the hot skillet. Have adult (or a child can with supervision) break the egg into the hole in the bread. Let cook until egg is done cooking on both sides.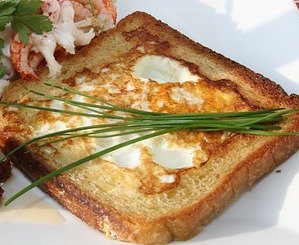 Oven Puffy Pancake
1. In 13x9 dish melt 4 Tablespoons butter by placing in a preheating oven.
2. In a bowl, beat together 4 eggs, 1 Cup flour, 1 Cup milk and ¼ teaspoon salt.
3. Pour mixture into baking dish over the melted butter.
4. Adult should bake in the oven at 400 degrees for 25 minutes until puffy and golden brown.
5. Sprinkle with powdered sugar and top with sliced or cut up fruit.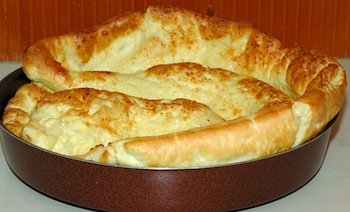 Kids Cooking Video: Smoothie Bowls
See our ideas for
smoothie bowls.
Homemade Oatmeal
Try these
easy homemade oatmeal recipes.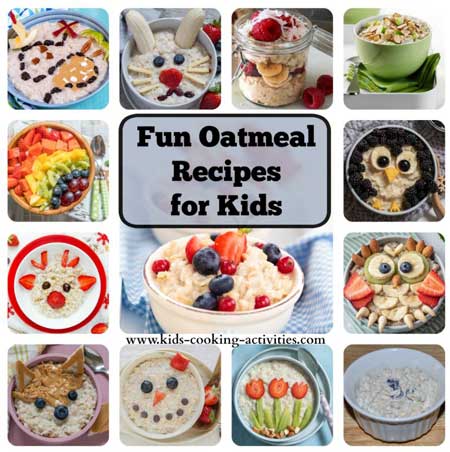 More Breakfast Easy Kids Meal Recipes
Yogurt Parfait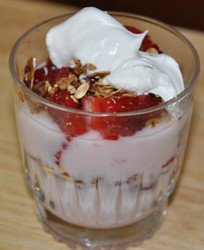 In tall glass (so you can see the layered effect) layer the following ingredients in order.
Flavored yogurt of choice
Granola or dry cereal
Sliced or cut up fruit of choice
Layer on top of each other until glass is full.
See more
parfait ideas here.
Egg Casserole (to be prepared the night before)
Bread slices or bread torn into pieces
Cooked, crumbled bacon, cooked sausage, or ham cut in cubes
8 eggs
1/2 Cup milk
1 1/2 Cup shredded cheddar cheese
chopped peppers, broccoli other vegetables- optional
In 13x9 greased dish, place bread to cover bottom of pan. In a bowl, beat together eggs and milk. Stir in cheese. Pour eggs over bread. Sprinkle top with ham, bacon or sausage whichever you are using. Cover with plastic wrap and store in the refrigerator overnight. Adult should bake 350 degrees for 40-50 minutes until knife inserted in middle comes out clean.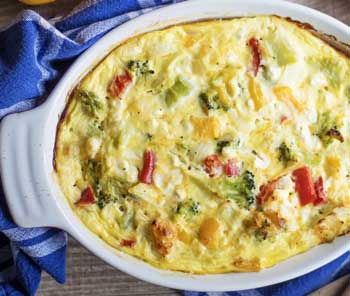 See more
egg casserole recipes.
Make Homemade Granola
Homemade Granola Recipes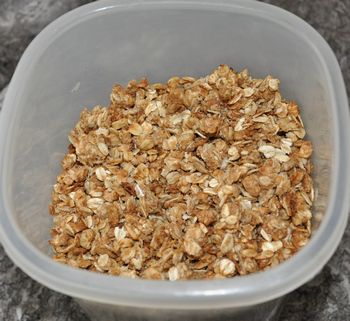 Breakfast Egg Avocado Boat
25+ Breakfast Ideas
Easy Breakfast Meals
How to make Crepes
Waffle Recipes
Omelet Recipes
Baggie Omelet
Egg Casseroles
Homemade Granola
Muffins
Smoothie Recipes
Baked Peach French Toast
Eggs in a Nest
Oatmeal
Yogurt Parfait
Puffy Pancake
Quiche
Cinnamon Rolls
Popovers
Pancakes and Spread Ideas
Homemade English muffin sandwich
Apple Cheese Tortilla
Breakfast Burritos
Scrambled Eggs
Blueberry Spinach Smoothie
Monkey Bread
Fruit Toast
Baked Apple French Toast
Honey Orange French Toast
Breakfast Kabobs
Find many more easy breakfast recipes.
Share your Kids Cooking Recipes or Easy Breakfast Recipe
Submit your favorite kids recipe
Do you have a favorite recipe your kids love to make? Or a recipe your kids ask you to make again and again? Share it with us!
Reader's Submitted Recipes
Click below to see contributions from other visitors to this page...

Honey Orange French Toast
Ingredients: 3 tbsp of butter, melted 2 tbsp honey 1/2 tsp cinnamon 3 eggs 1/2 Cup orange juice 8 slices of bread Preset the oven temperature to …
Sweet Muffins
A simple, delicious snack. Mouthwatering muffins which are perfect for breakfast, coffee or tea later in the day. Try it! * FOR THE MUFFINS: …
Coop's Outrageous Sticky Buns
Ingredients: 1 loaf frozen white bread dough, thawed in refrigerator 5 tablespoons white flour, for dusting surface of rolling area 1 stick unsalted …
---
Related Easy Kids Meals and Ideas:
~
Easy Kids Meals
, ~
Easy Meal Ideas
, ~
Breakfast
, ~
Breakfast 6 or fewer,
~
Side Dishes
, ~
Snacks
, ~
Main Dishes
, ~
Desserts
, ~
No Bake Recipes
, ~
Kids Lunches
, ~
Portion Sizes
, ~
Microwave Meals
, ~
Hidden Vegetable Recipes
, ~
Healthy Kids Meals
, ~
Picky Eater Tips
, ~
Family Dinner
, ~
How to menu plan
, ~
Diabetic
, ~
Toddler Ideas
, ~
Low Calorie
, ~
Gluten Free
, ~
Vegetarian
, ~
Low Carb
---
Follow Kids Cooking Activities