Kids Arts Craft Recipes
Kids arts craft recipes include recipes for many different creative projects.
Are you planning a paper mache project? Do you know how to make a pinata from paper mache? Check out our pictures and recipe below. Or if you need homemade crayons, homemade paste or sand art ideas this page is for you. My favorite is the sand art. The recipes below will cost a small portion compared to buying a sand art kit.
Kids Craft Recipe Book
Our craft recipe book has 14 recipes that use common ingredients and provide kids with on-going activities after they create the recipe.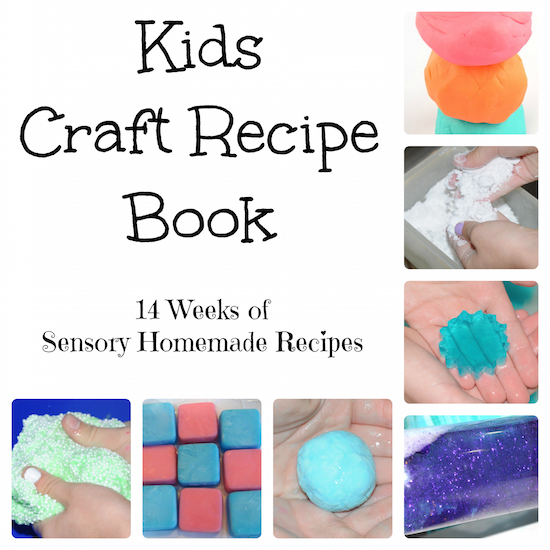 ~This post contains affiliate links and I'll earn a small commission if you shop through them. There is no extra cost to you. This is how we help support our family and continue to bring you amazing content. To learn more see the
advertising disclosure here.
~
Kids Arts Craft Recipes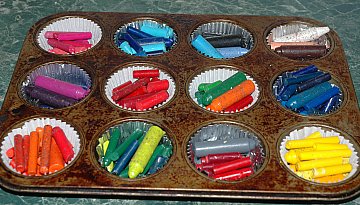 Muffin Crayons
Old crayons (bits and pieces)
Muffin pans
Muffin cup liners or "non-stick" spray
Peel crayons. Add muffin liners to a muffin pan or spray each section with cooking spray. Have your kids help sort and organize colors.
If you would like a multi colored crayon put all the crayon pieces together otherwise put crayon pieces of each color in muffin cups. Bake at 200 degrees until melted. Allow to cool.
Giant Chalk Stick
3 Tablespoons plaster of paris
2 Tablespoons powder tempra paint
Wax paper cups
Water
Mix paint powder and plaster powder in paper cups. Add water slowly to dry mixture until creamy, stirring well. Wait about 1 hour until chalk is hard. Firmly tap out of container.
Kids Arts and Craft Recipes for Paste and Paper Mache
Homemade Paste Recipe
1 Cup flour
1/2 Cup water
Combine flour and water and mix until creamy. Store in air tight container. For more durable paste, add 1/2 cup flour to 1 cup boiling water. Stir over low heat until thick and shiny.
Bookbinders Paste
1 teaspoon flour
2 teaspoons cornstarch
1/4 teaspoon alum (powder)
1/3 Cup water
In top of double boiler, mix dry ingredients. Add water slowly, stirring out lumps. Cook over low heat, stirring constantly. Remove from heat when paste begins to thicken; it will thicken more as it cools. Keep covered. Add water to thin when necessary.

How to Make Paper Mache
1 1/2 cups flour
2 cups cold water
Add two ingredients together. Tear 1 inch strips of newspaper or paper towels. Dip strips in a bowl of water and then dip in the flour water mixture.

Remove the excess flour water mixture by pressing between your fingers. Place moistened strips in thin layers over a wire, bowl or balloon form. Let each layer dry before adding a new one. Paint when completely dry.

Make a pinata with paper mache forming over a balloon for a round pinata.

---
Make teaching easier with our activities and recipes compiled in one easy to read format.
***Also available in paperback.
---
Kids Arts Craft Recipes for Colored Sand Art Projects
Colored Sand
3 Cups masonry sand
2 Tablespoons liquid tempra
Mix the ingredients and allow to dry, stirring occasionally. It will take about 24 hours to dry. For deeper colors, use more paint. If sand is not available, use salt.

Colored Sugar
In plastic bag, add several drops of food coloring to ½ Cup sugar. Squeeze mixture together. Use for cooking projects such as cookie decorations or arts and crafts projects.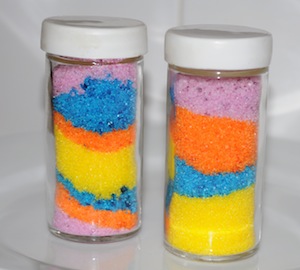 Colored Rock Salt
Place food coloring into a bowl of rock salt. Add in rubbing alcohol and let sit about 10 minutes. Drain on towel and use for arts and craft projects.
Search for Craft Supplies
Potato Stamps
A fun way to create a stamp is by using a potato. Have an adult cut the potato in half and carve out a simple design like a heart, shape, etc. Dip the potato in paint and stamp on paper.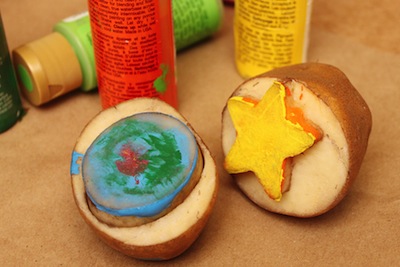 Non-Toxic Lava Lamp
by Jasmine (Massachusetts Ashland)
Get an empty water bottle. Fill with vegetable oil 2/3 of the bottle. Then fill the rest with water. Add food coloring and glitter and there you have a wonderful Non-Toxic Lava Lamp.
Submit your favorite kids recipe
Do you have a favorite recipe your kids love to make? Or a recipe your kids ask you to make again and again? Share it with us!
Reader's Submitted Recipes
Click below to see contributions from other visitors to this page...

Recycled Crayons
Save-a-crayon My daughter finished first grade this year. During the year I had to refill her crayon box several times and take out all the broken tiny …
Egg Shell Chalk
6 Eggshells 1 tsp hot water from the tap, as hot as you can stand it 1 tsp Flour Tempera powdered paint (optional) The next time you have eggs …
---
Related Craft Recipe Pages:
~
Kids Craft Recipes
, ~
Arts and Crafts
, ~
Homemade Bubbles
, ~
Edible Crafts
, ~
Playdough
, ~
Dough Ornaments
, ~
Potpourri
, ~
Silly Putty
, ~
Finger paint
, ~
Homemade paint
---