Finger Paint Recipes
Included on this page are homemade finger paint you can use for craft projects.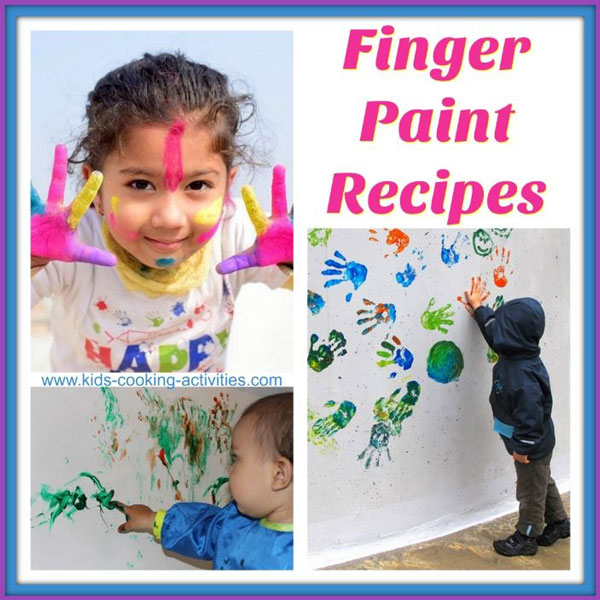 Did you know you can make your own paint recipe? If you feel like you are spending a small fortune buying kids paint try some of these recipes.
Kids Craft Recipe Book
Our craft recipe book has 14 recipes that use common ingredients and provide kids with on-going activities after they create the recipe.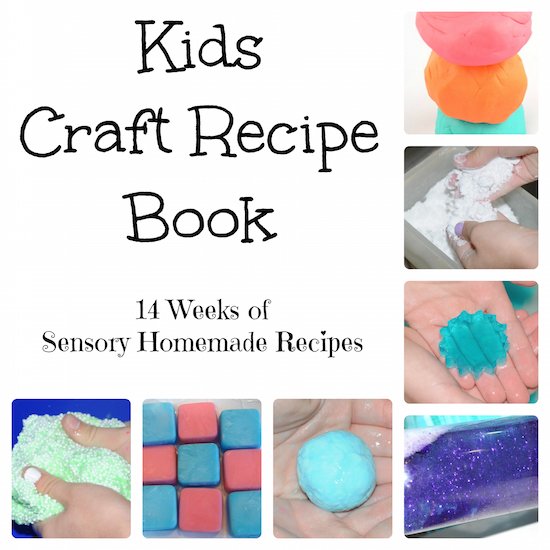 ~This post contains affiliate links and I'll earn a small commission if you shop through them. There is no extra cost to you. This is how we help support our family and continue to bring you amazing content. To learn more see the
advertising disclosure here.
~
Finger Paint Recipes
Basic Finger Paint
3 Tablespoons sugar
1/2 Cup cornstarch
2 Cup water (cold)
Food coloring
Dish detergent (aids in clean up)
Mix sugar and cornstarch together in a saucepan. Add cold water and stir completely. Cook over low heat, stirring constantly about 5 minutes. Cool, then divide into 4 cups or bowls. Add food coloring and a drop of detergent to each bowl.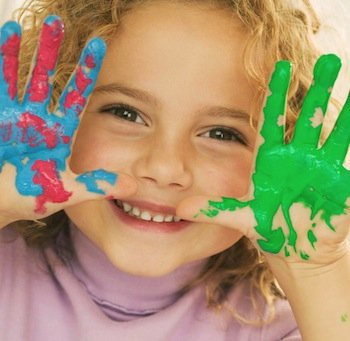 Soap Paint Recipe
1 Cup powdered detergent
4 Tablespoons liquid starch
1 Tablespoon powdered paint
Beat detergent and starch with mixer until peaks form. Add powdered paint and mix well. Apply with hands, brushes or sticks.
Finger Paint with Gelatin
1 Tablespoon unflavored gelatin (1 envelope)
Cold water
1/2 Cup cornstarch
4 Tablespoons dish washing liquid
Food coloring
Stir gelatin into 1/3 cup cold water. Set aside. In a saucepan stir cornstarch into 2 1/2 cups cold water until cornstarch dissolves. Bring to a simmer and stir until thickened. Remove from heat and blend in gelatin mixture. Add dish washing liquid. Cool and add food coloring as desired. Store in plastic containers at room temperature.
Soap Powder Finger Paint with Talcum Powder
1/2 Cup liquid starch
3 Cups water
1/4 Cup soap powder (not detergent)
1/4 Cup talcum powder
powdered paint
Mix soap and water in a saucepan, then add starch. Stir until soap powder is dissolved. Bring to a boil and cook until clear. Remove from heat and add paint and talcum. Using a mixer beat until it is smooth and foamy. Store air tight in refrigerator.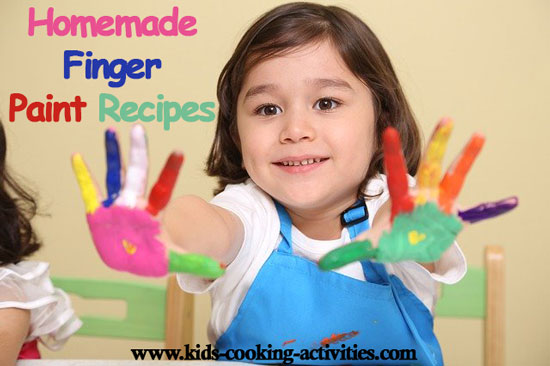 Shaving Cream Finger Paint
Use 1 can non-mentholated shaving soap
Powdered paint, sprinkled on will give delightful colors but is not necessary
This can be played with on paper, the kitchen table or counter. Be sure to dress the kids in washable paint shirts or aprons. Keep soap out of eyes. Not recommend for little ones who put everything in their mouths. This also makes your table shiny after scrubbing clean.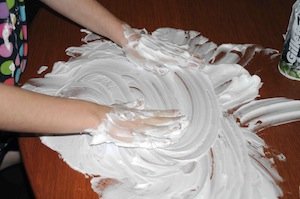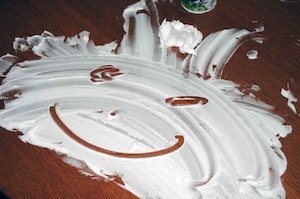 ---
Make teaching easier with our activities and recipes compiled in one easy to read format.
---
Flour and Water Finger Paint
1 Cup flour
1 Cup water
2 teaspoons salt
Food coloring as desired
Small margarine tubs work well for the individual colors
Mix flour, water and salt to make the paste the consistency of thick gravy. Sprinkle in the food coloring. Be sure to dress little ones in an old apron or shirt. Put spoonfuls of paint on kitchen table or sheets of butcher paper and let them create. Cleans up fairly easily.
Rice Finger Paint
Mix baby rice cereal with water and food coloring or use instant pudding or cooked cereals with coloring.
Chocolate Finger Paint
1 (4 oz.) pkg. instant chocolate pudding & pie filling
2 Cup cold milk
Put pudding mix and milk in a medium size bowl. Beat with electric mixer at low speed for two minutes. Let set until it thickens. Finger paint on white construction paper and let dry for several hours. Now it's ready to hang up.
See recipes for homemade paint and face paint!
Share your Finger Paint Recipes

Submit your favorite kids recipe
Do you have a favorite recipe your kids love to make? Or a recipe your kids ask you to make again and again? Share it with us!
---
Related Craft Recipe Pages:
~
Kids Craft Recipes
, ~
Arts and Crafts
, ~
Homemade Bubbles
, ~
Edible Crafts
, ~
Playdough
, ~
Dough Ornaments
, ~
Potpourri
, ~
Silly Putty
, ~
Finger paint
, ~
Homemade paint
---
Follow Kids Cooking Activities