Homemade Potpourri Recipes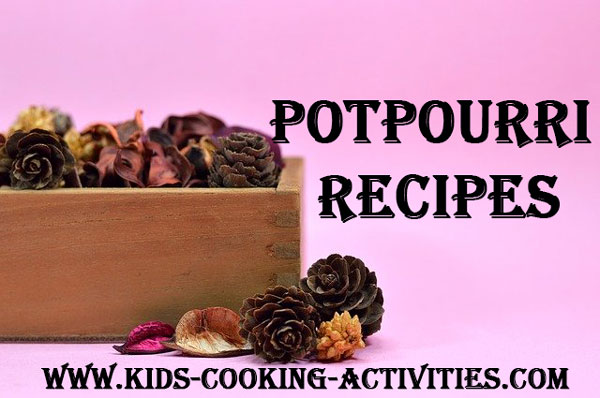 Homemade Potpourri can make great presents and are so easy for kids to put together. Allow your kids creativity to grow by letting them add and create their own recipe for potpourri.
Kids Craft Recipe Book
Our craft recipe book has 14 recipes that use common ingredients and provide kids with on-going activities after they create the recipe.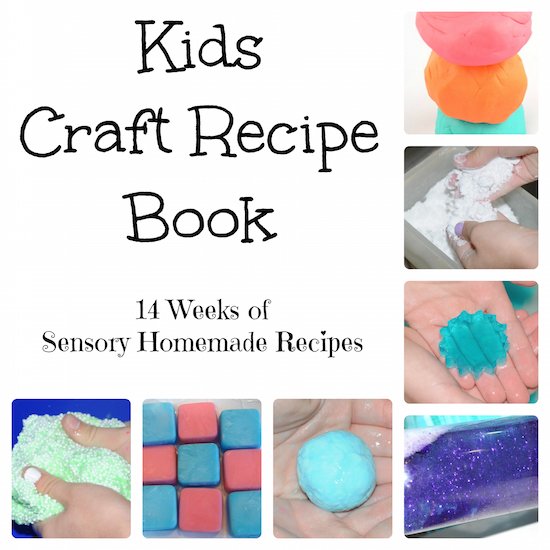 ~This post contains affiliate links and I'll earn a small commission if you shop through them. There is no extra cost to you. This is how we help support our family and continue to bring you amazing content. To learn more see the
advertising disclosure here.
~
Potpourri Recipes
Apple Potpourri Recipe
Ingredients:
1 Cup dried apple slices
2 Tablespoon ground cinnamon
1/4 Cup whole allspice berries
10 (2") cinnamon sticks
2 Tablespoon whole cloves
1/4 Cup sumac, canella or nandina berries
10 small pine cones
7 drops cinnamon essential oil
Combine all ingredients and place in a tight jar or tin. Shake every few days. Cinnamon oil has an extremely strong scent that intensifies as it is absorbed. Add additional oil if needed. The red sumac berries that grow wild can be used dried as a stabilizer for potpourri (in other recipes it takes the place of orris root which is very expensive).
Simple Spice Potpourri Recipe
Ingredients:
1 oz. can cinnamon sticks, broken into small pieces
1 (1.12 oz.) can whole cloves
1 (1.25 oz.) can whole allspice
dried orange peels
Combine all ingredients. Place 1 heaping teaspoon and 1/2 cup of water in simmer pot and heat.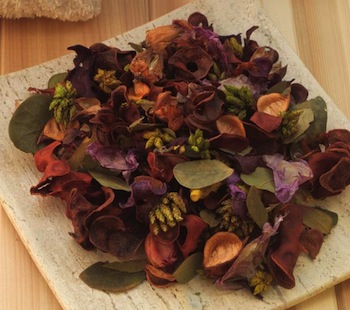 Rose Potpourri
Ingredients:
Lay rose petals out to dry on a flat surface for several days. You will need about 6 cups.
3 cinnamon sticks
A few drops of essential oil
Mix together and place in a jar. Shake every few days and let sit for 7-10 days. Then package and give away in potpourri pillows or gift bags.
Do you need an
easy sewing project for potpourri pillows?
Dried Apple Wreath
Ingredients:
Ripe red apples
1/4 Cup lemon juice
1 teaspoon lemon juice + 2 Cup cold water
Wooden embroidery hoop
Cinnamon sticks
Ribbon for bow
Do not peel apples. Core and cut (slice) 1/8 inch thick. Slice crosswise so you will be able to see the hole in each apple slice. Place in water and lemon juice mixture. Drain thoroughly. Spread out on cookie sheet and put in 140 degree oven. Turn over to other side after 30 minutes. Dry until fairly firm. Choose size of wooden embroidery hoop desired and glue apple slices to edge of hoop using hot glue gun or tacky craft glue. Arrange a bow or other decoration and glue on. Garnish with cinnamon sticks as desired.
Spring Potpourri recipe
Ingredients:
4 oz. Rosebuds
2 oz. lavender flowers
2 oz. Peppermint oil
1 oz. marigold flowers
1 oz. peony flowers
1 oz. bay leaves
20 drops lavender oil
10 drops Rose Essential Oil
Mix all dry ingredients, then add the essential oils. You can add and take away the ingredients according to what you have available. Mix and store away from direct sunlight. Store in cool dry place. Use only glass, wooden or ceramic container and utensils as the oils can eat away at the plastic. Add oils with a spritzer or eye dropper. Age in airtight container for a few days to a few weeks - gently stirring once or twice a week.
Christmas Orange Potpourri
Ingredients:
2 cinnamon sticks
10 whole cloves
1 bay leaf
1 lemon sliced
1 orange sliced
2-3 drops Balsam fir, evergreen or Christmas scent essential oil
Water to cover
Add all ingredients in a saucepan and set stove top to low. Add more water as water in the pan evaporates.
Submit your favorite kids recipe
Do you have a favorite recipe your kids love to make? Or a recipe your kids ask you to make again and again? Share it with us!
---
Related Craft Recipe Pages:
~
Kids Craft Recipes
, ~
Arts and Crafts
, ~
Homemade Bubbles
, ~
Edible Crafts
, ~
Playdough
, ~
Dough Ornaments
, ~
Potpourri
, ~
Silly Putty
, ~
Finger paint
, ~
Homemade paint
---
Follow Kids Cooking Activities