Dough Ornament Recipes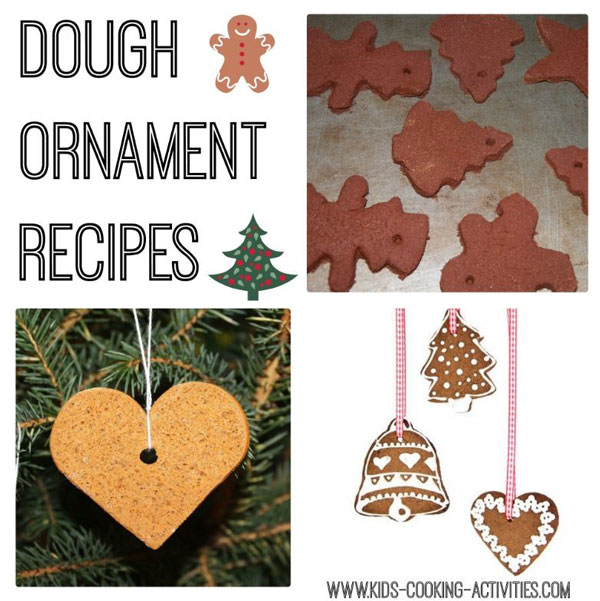 Dough ornaments are great fun for the kids to make and create. They are great for holiday and Christmas decorations and something you can keep year after year. Get your kids involved in the cooking activity as well as the painting and decorating.
Kids Craft Recipe Book
Our craft recipe book has 14 recipes that use common ingredients and provide kids with on-going activities after they create the recipe.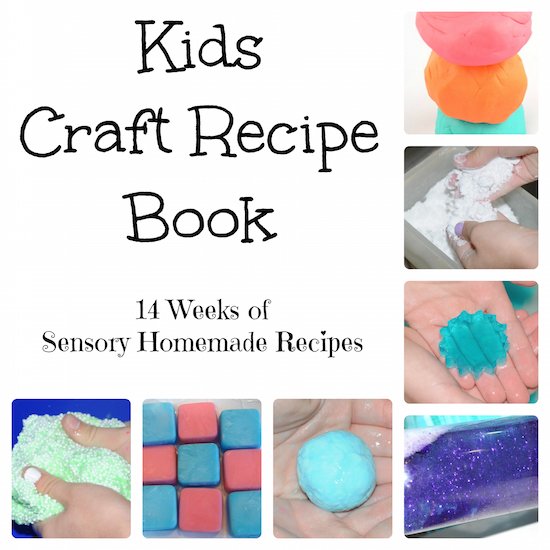 ~This post contains affiliate links and I'll earn a small commission if you shop through them. There is no extra cost to you. This is how we help support our family and continue to bring you amazing content. To learn more see the
advertising disclosure here.
~
Dough Ornament Recipe
4 Cups all-purpose flour
1 Cup salt
1 1/2 Cups cold water
cookie cutters
Shellac
Ribbons for hangers
In mixing bowl add flour and salt together. Slowly add water while stirring with a fork until soft dough forms. Turn out on lightly floured surface and knead until smooth, adding a small amount of water or flour, if needed. Roll dough on a floured surface to 1/4 inch thickness. Cut with cookie cutters. Place ornaments 1 inch apart on ungreased baking sheet. With a drinking straw, poke holes in the top for hanging. Bake in a preheated 300 degree oven for 30 to 45 minutes. Allow to cool completely. You can paint ornaments or leave as is. Coat with shellac.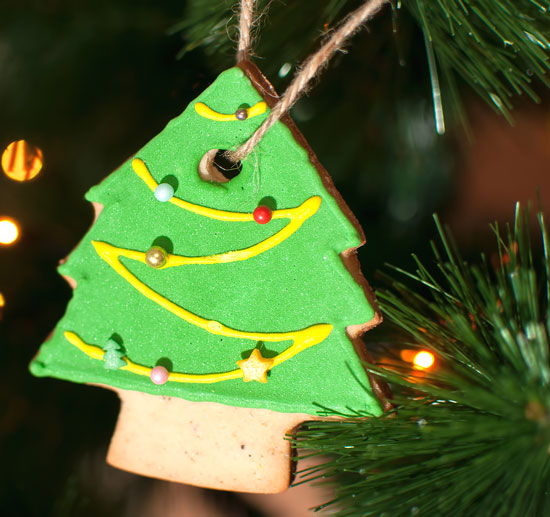 Cinnamon Ornament Recipe
1 (8 oz.) bottle of cinnamon about a ¾ Cup + an extra bottle for dusting and rolling out the dough
1 Cup applesauce
Mix the cinnamon and applesauce together in a large mixing bowl to form a ball. If dough is too sticky add more cinnamon. Sprinkle counter with cinnamon and roll dough to about 1/4 inch thick. Use cookie cutters to cut out ornaments. Poke a small straw in the top of each ornament for hanging a ribbon through. Place your cut out designs on a cookie rack to dry several days or bake at 300 degrees for 30-45 minutes. When completely dry thread ribbon through.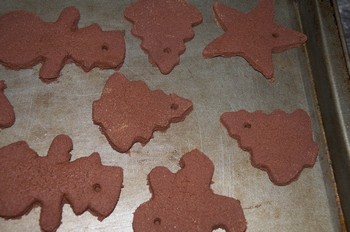 Tips and Ideas for Dough Ornament Recipes
Be creative



Use white dimensional paint that will look like icing



For gingerbread men you could glue a bow tie ribbon or add buttons to them



Create magnets out of dough ornaments by gluing magnets to the back


Personalize family members names on the ornaments



Use mini cutters and make gift tags



Braid dough and make into wreath



Decorate with ribbon and dried flowers



Use utensils such as a garlic press, fork, knives, toothpicks to make designs
Spice Ornaments
3/4 cup ground cinnamon
1 Tablespoon ground allspice
2 Tablespoon. ground cloves
1 Tablespoon. ground nutmeg
Mix above 4 ingredients. Stir in one cup of applesauce. Roll out 1/4" thick and cut with cookie cutter. Poke hole with big needle. Let dry 4 to 5 days (on wire rack works well). 18 to 20 shapes.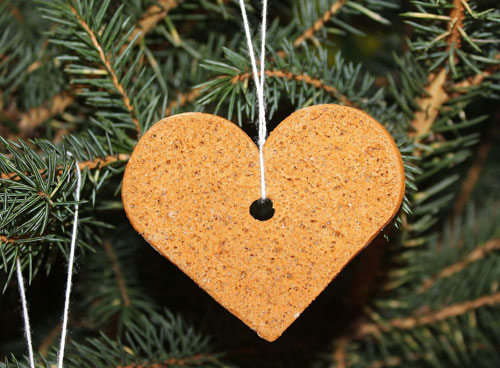 Gingerbread Ornament Recipe
2 ¾ Cup flour
1 teaspoon ginger
1 egg
1 teaspoon cinnamon
1/3 Cup brown sugar
½ teaspoon salt
2/3 Cup molasses
3 teaspoons baking powder
1/8 teaspoon cloves
½ Cup oil
Mix ingredients together in mixing bowl until well blended. Then chill several hours. Roll dough out on floured surface and cut out desired shapes. With a straw poke a hole at the top for threading a ribbon for hanging. Bake 300 degrees for 20-30 minutes. Once cooled gingerbread pieces will be hard and can be decorated with royal frosting.
---
Related Craft Recipe Pages:
~
Kids Craft Recipes
, ~
Arts and Crafts
, ~
Homemade Bubbles
, ~
Edible Crafts
, ~
Playdough
, ~
Dough Ornaments
, ~
Potpourri
, ~
Silly Putty
, ~
Finger paint
, ~
Homemade paint
---
Follow Kids Cooking Activities