Homemade Paint Recipes
Homemade paint recipes can create an at home art and cooking project combined in one. Not only will it be a great activity to create your own recipes using items at home it will save you money!
Kids Craft Recipe Book
Our craft recipe book has 14 recipes that use common ingredients and provide kids with on-going activities after they create the recipe.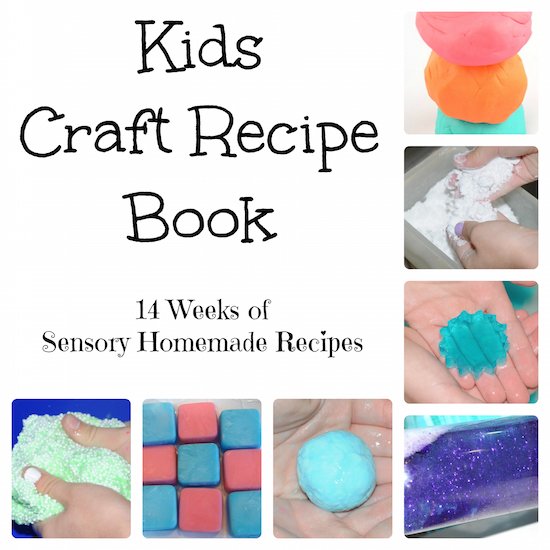 ~This post contains affiliate links and I'll earn a small commission if you shop through them. There is no extra cost to you. This is how we help support our family and continue to bring you amazing content. To learn more see the
advertising disclosure here.
~
Homemade Paint Recipes for Kids Projects
Shake it Paint Recipe
2 Cups water
1/3 Cup liquid starch
¼ Cup flour
food coloring
paper
2-3 golf balls
Put water, starch and flour into saucepan. Cook over medium about 5 minutes. Stirring constantly. Allow to cool. Pour mixture in small plastic containers and add different coloring to each container. Place a sheet of paper in a baking pan and drip colored paint onto sheet of paper. Add golf balls and have your kids shake the pan to make a design. Let dry.
Squeeze and Drip Paint
1/2 Cup salt
½ Cup flour
2 Tablespoons Dry tempra (any colors)
½ Cup Water
plastic squeeze bottle
Mix salt, flour and dry tempra. Stir in water to make mixture the consistency to drip off of a spoon. Use a funnel to fill squeeze bottles. Let child make design by dripping from squeeze bottle or dripping from a spoon onto construction paper. Dry flat overnight.
Poster Paint Recipe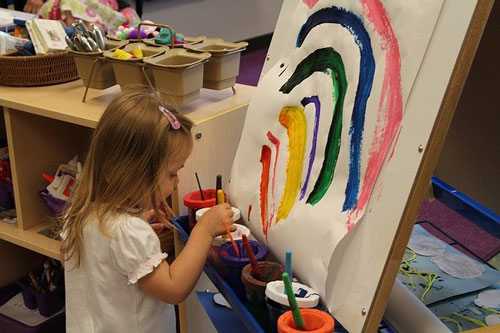 1/4 Cup flour
1 1/2 Cup water 3/4 Cup dry poster paint powder or dry tempera paint
2 teaspoon colorless dish washing detergent (optional)
2 tsp. liquid starch (optional)
Place flour in small saucepan. Gradually stir in 1 cup water. Cook over medium heat until thickened, stirring constantly. Cool. Measure 1/4 cup mixture into each of 4 small clean jars. Add 2 tablespoons water to each jar; blend well. Add 1/2 teaspoon dish washing detergent to each jar if glossy finish is desired or add 1/2 teaspoon starch to each jar for matte finish. Store tightly covered. Mix well before using.
Easy Soap Paint Recipe
1 1/2 Cup soap flakes
1 Cup hot or warm water
Whip with an eggbeater until stiff. Add coloring and store in plastic containers.
Scratch and Sniff Paint Recipe
Mix flavored gelatin or kool-aid package into half the water suggested in the package directions. Paint with the scented mixture and allow to dry. You will have a scratch and sniff painting
Puffy Paint
by sandy (qld)
1 cup self raising flour
1 tablespoon salt
1 cup water
food coloring
Mix flour, salt and water in bowl until smooth. Divide into containers and add coloring.
NOTE: Paint on thick cardboard.
Once kids have painted on thick cardboard. Microwave for 10-30 seconds. Paint will become puffy and dry.
Homemade Puffy Paint
by Dorinda (Wonewoc, WI USA)
1/2 cup white glue
1/2 cup shaving cream
food coloring or glitter (optional)
Mix both items in a bowl in the amounts given or smaller or larger equals parts depending on your project. Stir together for about a minute or two. You can add food color or glitter.
It dries to a puffy marshmallow texture that is not sticky. You can paint this on with paint brushes or use squeeze bottles. My kids used this to make snowman cards for family this past holiday. They turned out very cute.
Side walk Chalk Paint
by Laura (Breckenridge, MN)
1 cup Cornstarch
1 cup Water
food coloring as desired
Mix together until cornstarch is mixed well.
I make 3 cup batches this give me enough for 6-8 colors.
Great fun
Homemade Paint Recipes- Face Painting
Face Paint Recipe with Shortening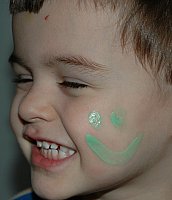 2 teaspoons white shortening
5 teaspoons cornstarch
1 teaspoon white flour
4 drops glycerin (found at your pharmacy)
Few drops of food coloring
In a small bowl, mix shortening, cornstarch and white flour. Add four drops of glycerin. Stir to a creamy consistency. Add any food coloring that you wish. For brown makeup, add 2 1/2 teaspoons of unsweetened cocoa instead of food coloring.
Homemade Face Paint Recipe with Cold Cream
1 teaspoon cornstarch
1/2 teaspoon water
1/2 teaspoon cold cream
Food coloring (variety of colors)
Small containers (one for each color paint)
Small paintbrush
Stir together the cornstarch and cold cream until well blended. Add water and stir. Add food coloring, one drop at a time until you get the desired color. Experiment with different colors. Paint on with a paint brush. Store in covered containers.

See recipes for finger painting!
Share your Homemade Paint Recipes
Submit your favorite kids recipe
Do you have a favorite recipe your kids love to make? Or a recipe your kids ask you to make again and again? Share it with us!
---
Related Craft Recipe Pages:
~
Kids Craft Recipes
, ~
Arts and Crafts
, ~
Homemade Bubbles
, ~
Edible Crafts
, ~
Playdough
, ~
Dough Ornaments
, ~
Potpourri
, ~
Silly Putty
, ~
Finger paint
, ~
Homemade paint
---
Follow Kids Cooking Activities